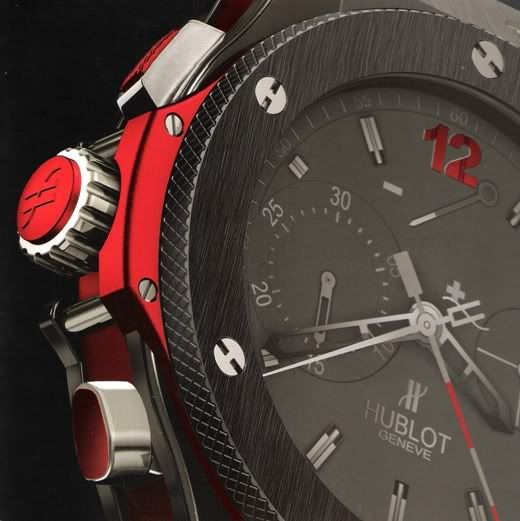 got the invite and so a big thank you first to alan, jacqueline and all the team at the hour glass and hublot... it appears there were other watch events happening all over singapore this evening but i was happy where i was... mostly because of the fine folks i caught up with this evening. managed to have chat with mates and that was definitely the highlight for the night. but there were other good things too of course... come with me and i'll share some of the nite with you...(i didn't stay till the end, probably missed out on lucky draws.. DOH!!!) anyhow i hope u like it ;)
first off the scene of the crime... i mean event ;)
they had some very interesting wall fixtures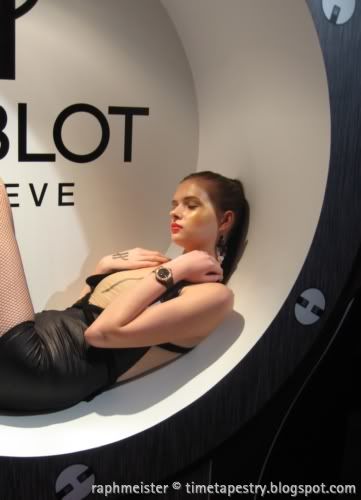 this watch display would look perfect in my bedroom.. uh.. may have some
explaining to do to the mrs though..i dun think
'honey its jus a watch display' will cut it on this one :)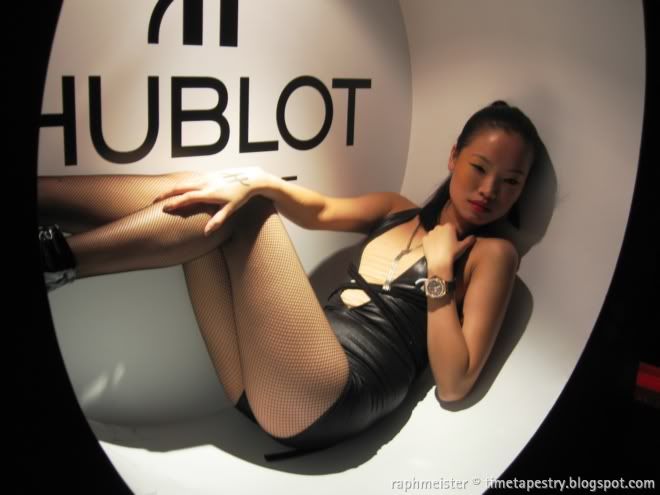 if u're wondering 'how much for the watch displays?'
dun ask, i did and some cuss words came my way ;)
(all this in jest yuh)

and to the watches in the actual displays...
the F bangs in full effect... i wonder what 'F' stands for
... could it be... oh yuh the F1.. what were u thinkin? ;)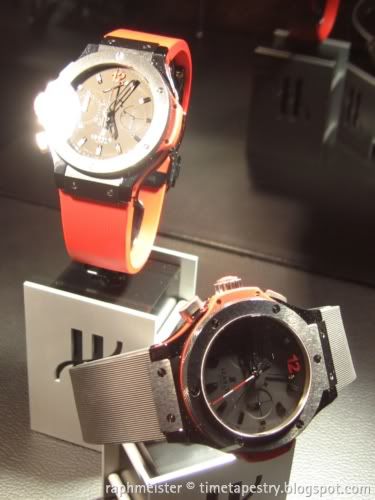 the red strap suits it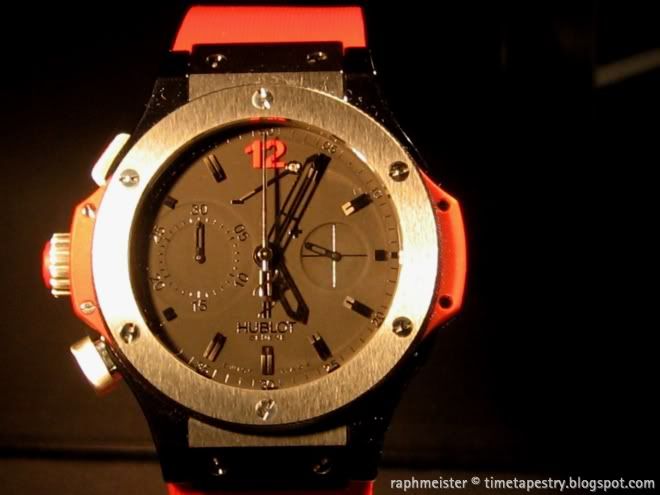 black and grey bangs lookin all stealthy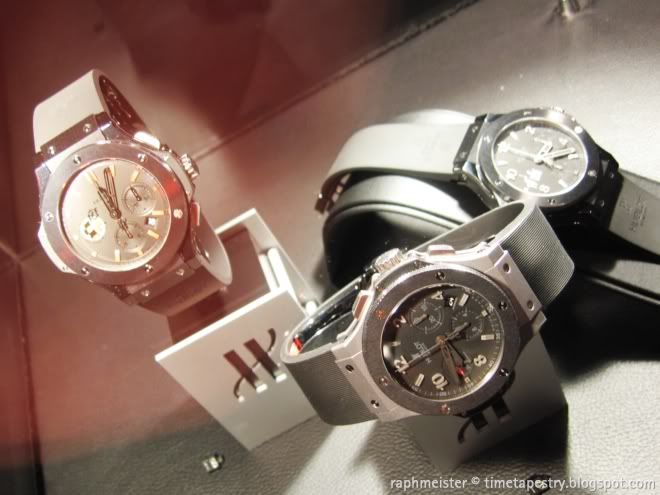 spotted... a top partner in crime... George, a collector, enthusiast and a mate :)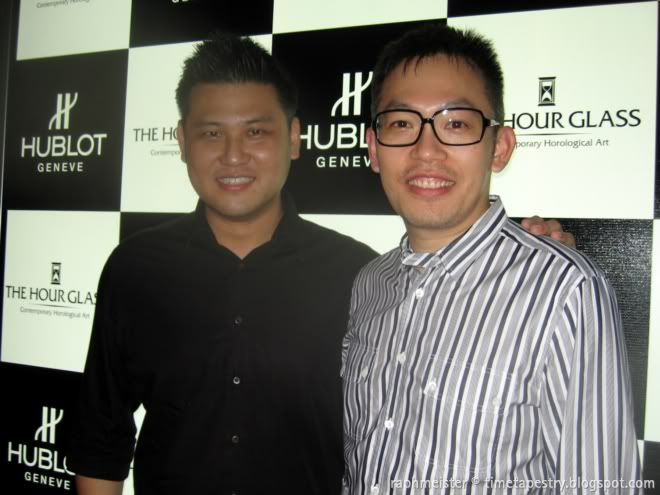 these guys are at ALL hublot events around these parts
alex and noel... good catchin up wif u boyz

hmm this lil lady looks familiar... wonder who
she's lookin at... all bright eyed bushy tailed

wonder no more... c'est moi, le raphmeister
a friend commented on how our
mc for the evening had some very
nice stockings on...


andrea fonseca in full effect



and some difficulty pronouncing Mr Biver's name... somehow it kept sounding like
bea... uhm never mind... Mr Biver spoke on the charitable cause 'make a wish'
foundation of which he was donating $ for every person there... The Hour Glass
is also pledging 5% of the retail price of every F-Bang watch sold through its
boutiques in Singapore and Malaysia to the foundation. Kudos to him and THG
fyi retail on this piece is in the vicinity of S$40k (ouch)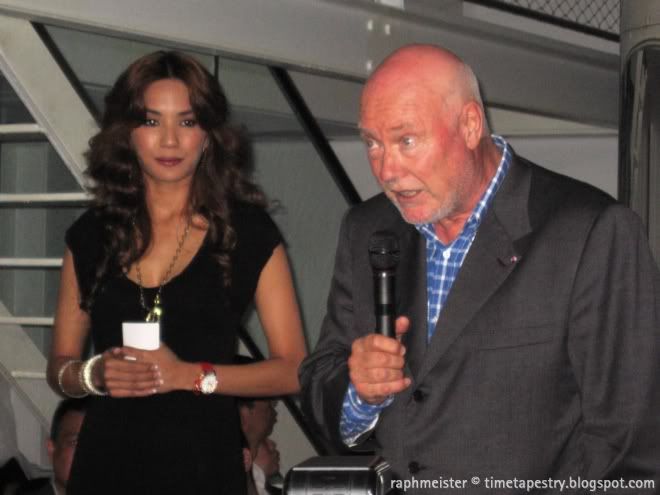 some
eye candy at hand... some coy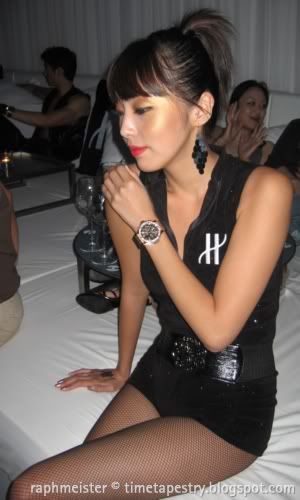 is it getting hot in here? cool down with some of these cool multicolor bangs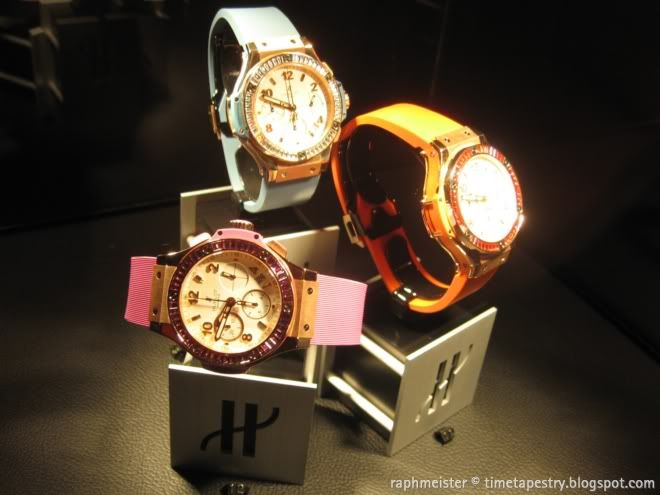 and some bad a$$ lookin bangs... the big bang king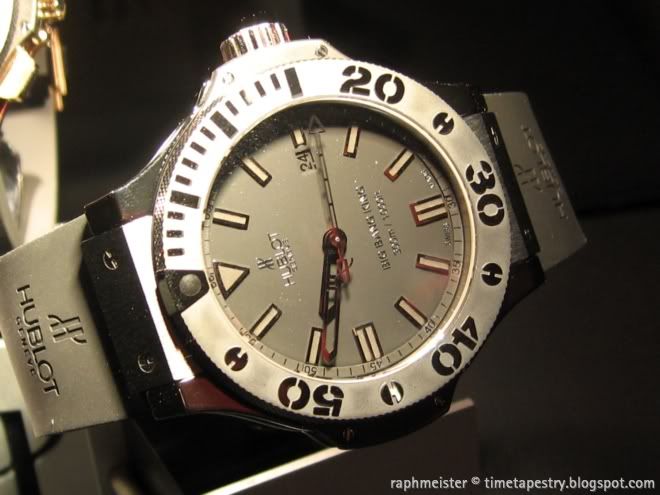 and the Rose Gold Aero Bang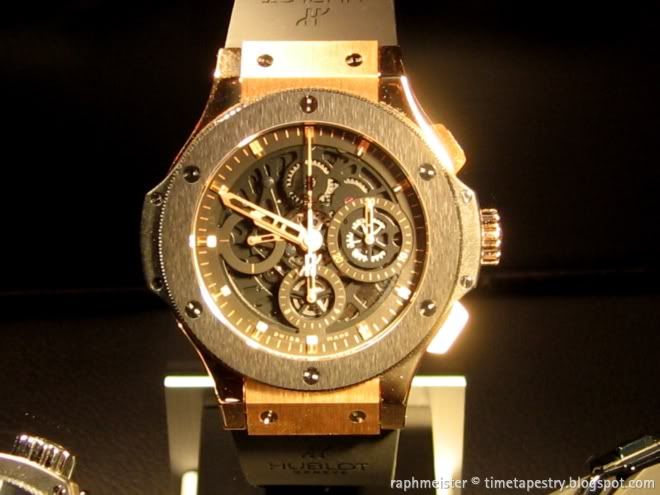 and whats the nite without some wrist shots ay... alex and his mate and me...
interesting thing i noted was that other than hublot, there were a LOT of Rolexes
in da house. The chap in this photo was commenting how hardy, robust & ultra
tough his Rolex was.total agreement on my part 'it takes a lickin n keeps on tickin'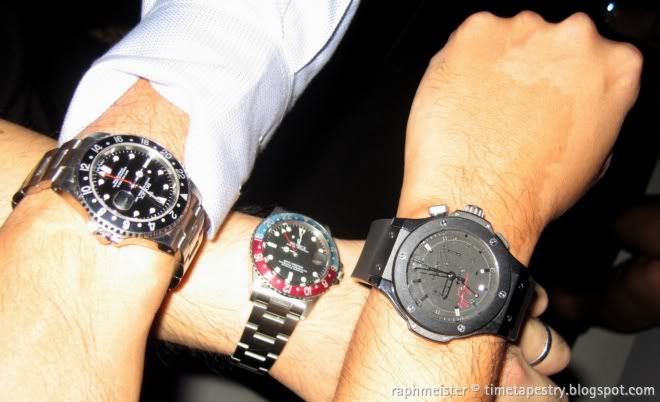 joe also wearing Rolex... oops :)
rosemary among the thorns... namely me, Edwin and Jon. Edwin has some fine pieces and is in financial services like me and George. Jon has a very nice piece on
the way from an AHCI watch maker... great choice Jon :)

Bernard was there... he's heading up a most cool GPHH event meant to honor
the horological marvels this year and the fine folks making em... this should be happening end of the month...
As always he is THE man and a great champion for horology

the mc was championing other causes and i was all ears
(plus other bodily thingamajigs ;)
and wif that thats all for the nite... the rest of the pics aren't fit for print (for one reason or another ;) to end off, the big bang to me is about the looks right now and some in the range are really good lookin watches but for me personally some(or most) of the price tags are not reflective of the value they represent... their ability to sell out though justifies the price asked for them... but i believe they have things in the works for future Hublot watches to have more horological merits with the building of their factory and based on Mr Biver's vision for the brand... which i don't believe lvmh's acquisition should derail(not sure but hope not).
I wish him and his team success in taking the brand to the next level... hope u enjoyed this short report ;) cheers