so i found myself with some free time in Paris(well actually it was managing to secure it after lengthy negotiations with the mrs :) and i thought of paying a visit to Laurent Picciotto of Chronopassion. i had seen his pics on the net and in mags of course, with some great looking timepieces that were Chronopassion exclusives. He looked to be a very cool and interesting individual and i wanted to find out a bit more about the man and what made him tick. so journey if u will down a shopping street in Paris to...

271, rue Saint-Honoré.. this is the place... i was staying down the road from here and it was a nice 10min walk to his shop that day. it was still closed when i arrived and i popped across the street for a sultana croissant and hot beverage :)
i love the clock outside... french train station style clock if i'm not mistaken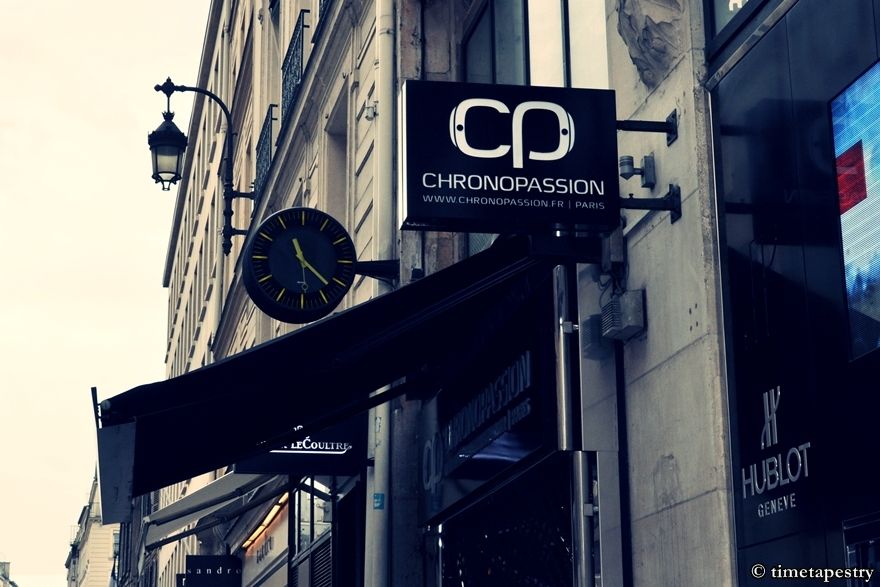 in laurent's inner sanctum in the basement... what a wonderful office! i wish i could do the same to my work space :) absolute wishful thinking in my stuffy work environment of course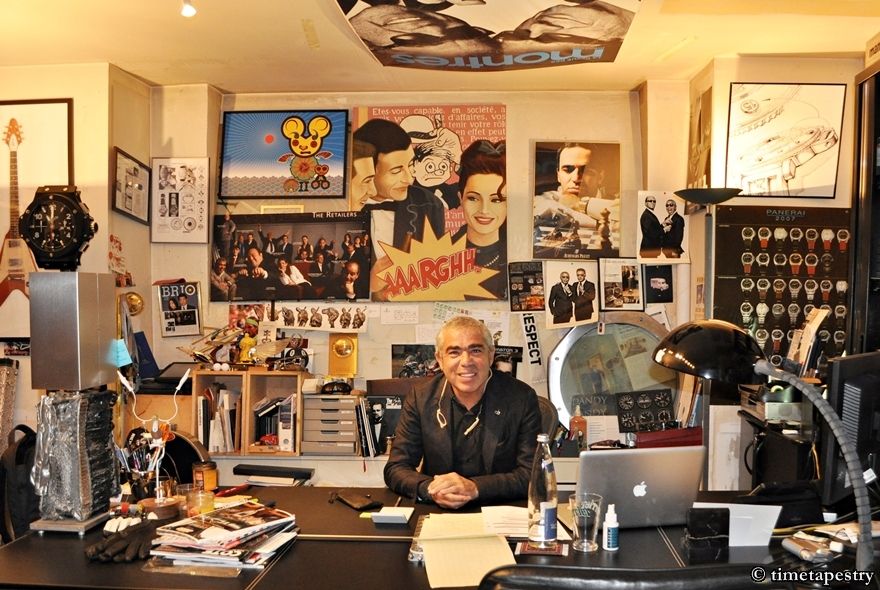 lots of interesting things on the wall and around.. several guitars too and they aren't for show yuh.. Laurent does play 'em and he can ROCK! :)
[to the interview then... note that i didn't have a tape recorder with me so the responses are not ad verbatim and are based off my notes and not too fantastic memory... let's get to it then... stuff you see below in blue are my added comments]
What did u do before Chronopassion and how did you decide to become a retailer for timepieces?
I worked in several professions before watches. I worked for a time in real estate, in banks, and insurance. I was involved in some degree with the music industry, working at getting folks to take up the use of CDs at the time being in CD production, back when they were the new thing... that was sometime ago.
My interest in watches came from my dad, who himself also had an interest in watches and was a bit collector. There weren't many nice watches to view and purchase at the time in the 1980s and the watch culture then was very different to what it is now. Back then, there was very few shops selling watches, mostly jewelers, no dedicated watch magazines and maybe just one or two watch ads in the regular mags,

(raph's addition: and no watch sites/forums/blogs cause there was no internet too! :)

and most people just looked to buy one nice watch and that was it.
I wanted to sell beautiful timepieces and spread the passion for them. I started off with one brand then, Gerald Genta. The first few years were not so easy but my clientele grew over the years and over time I expanded the range of watches that i carried at Chronopassion, looking to work with brands that had something special and that i believed in.
from the 80s then with one brand to now with a healthy stable of brands and some choice niche brands, how has your business, your philosophy evolved through the years and what were the highlights of the journey?
1986 through to 1996 were years of growth for me and learning the trade. basel 1991 was a turnaround year, when i expanded the brands I carried to 15, providing an opulent and varied offering.
1995 was a boom period for the watch industry through to 1999. even though the economy did go
through peaks and troughs, the watch industry as a whole was growing and after 2000, there was a distinct step up for my own business, all through to 2008.
the financial crises posed a bit of a challenge. people were still buying but the attitudes of buyers changed from accumulation without much thought to putting in more consideration on their purchase decisions, finding more about of the legitimacy of what was on offer. more rationalisation and a general change in the mindset of the customer.
I believe in helping my clients find the right watch for them even if it means presenting to them different options, this will allow them to make the right decision for themselves and for me it's important that they know they can trust my advice and in our relationship. i'm not here to sell a single brand but help my clients find the watch they really like.
which is why it is important for me to carry brands that i like and i believe in. i have been fortunate that i have not made any mistakes so far in my choices.
why haven't you chosen to expand or grow your shop beyond the one shop you have currently?
I don't believe in expanding and opening new outlets just because the opportunity is available. there are issues that come with expansion and there is the loss of control, the loss of maintaining the right level of interaction and that finer contact with my customers. i prefer to keep to my store here and maintain that intimacy and immediacy in my relationships with my clients. keep it small and beautiful and have the ability to create.
I am happy with how I have grown the shop to include the dedicated brand boutique with Hublot. I had first discussed this with Jean-Claude Biver

(Hublot's then CEO who rebirthed the brand)

on having the brand boutique and established the first Hublot monobrand boutique with them in 2006/07 and now they have over 30 such boutiques globally

(with the view of growing more).
You have had several successful collaborations, any more in the pipeline?
the most recent one I have done is the Skull Bang with Hublot and there will be others in future of course. selective of course but with a distinctive Chronopassion flair to it and most importantly, is to do something i can be proud of and to have FUN!
Possible ones in the pipeline could be another one with Panerai.

[Raph's note, they did a successful destro submersible watch that was nicknamed the kraken with Panerai, the pam 358]
I also have the good fortune of being on the boards of some major brands and am contributing ideas to these watch houses and do hope these ideas can refresh and renew some of the brands watch lines, even the iconic ones.
How do you select brands to offer in your shop and to collaborate with?

it is important for me that i believe in the brands that i bring on. they have to have a certain quality, something unique and emotive in design or philosophy and be able to resonate with watch lovers. their history, the legitimacy of their story, that they bring something innovative or special.
i am also happy to have worked with and discovered new brands like MB&F and am pleased to see them do well. it is also about the human adventures and who we choose to embark on them with and I am pleased with the ones I have chosen to journey with.
raph's final note:
It was a genuine pleasure meeting and having this short glimpse into Laurent's world and the cave of wonders that is Chronopassion. Laurent is a warm, affable man with a lively personality.
His view of not expanding his business was refreshing as well vs the typical business school mindset of grow and expand and in the process, losing a certain soul and personality along the way(at least that's kinda my take on it anyway).
The purchase of exclusive or high end timepiece is an emotional choice and enlightened retailers like Laurent Piccioto are the kind that will definitely partner with brands they carry to accentuate the uniqueness, exclusivity and beauty of their timepieces, adding emotive fuel to a buyer's curiosity or passion.
And my last comment is a compliment to Laurent... If I stayed in Paris or in Europe, I would be buying all my new watches from Chronopassion for sure for the brands he carries :) All the best to Laurent and his team!
Cheers, Raph

welcoming me to his shop that day...
and into the cave of treasures :) Ap millenary tourby
Ulysse Nardin Freak! Love it
some nice RMs were around...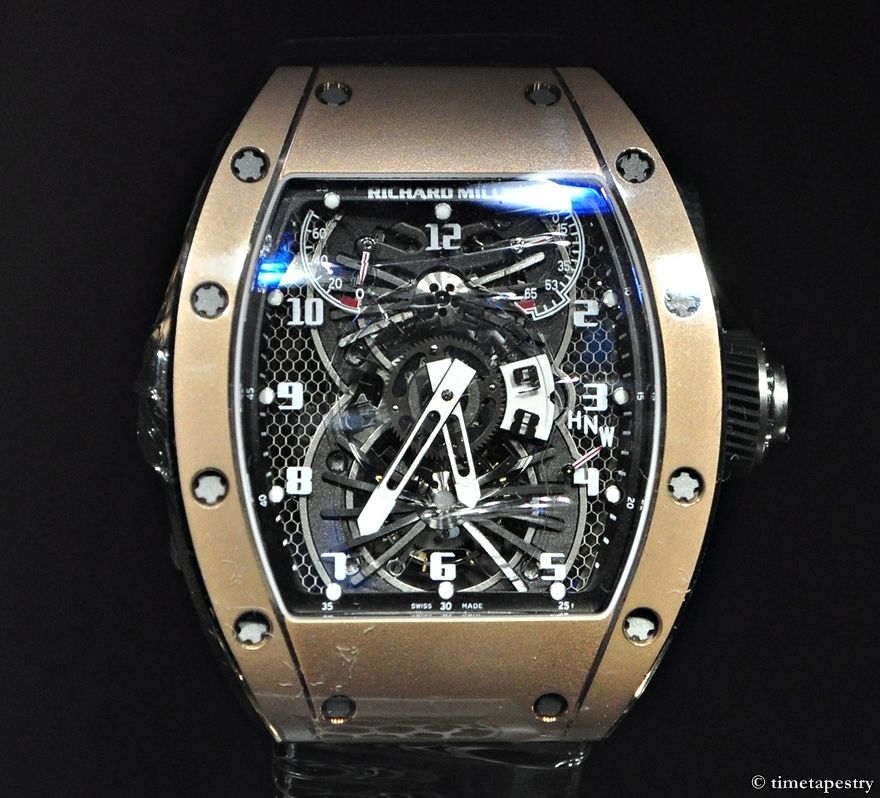 another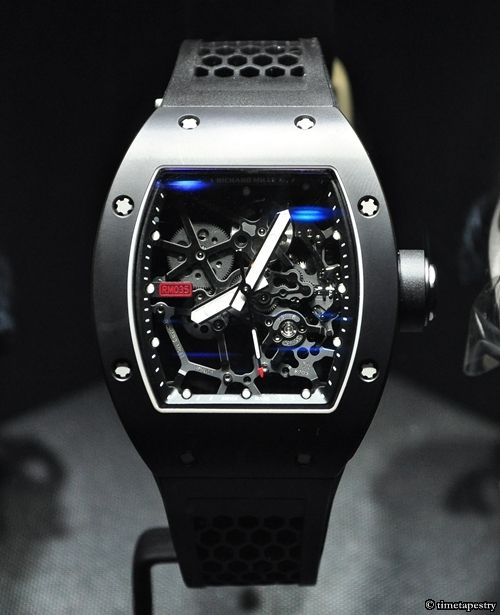 vault
some choice pieces from MB&F, Corum and Jouvenot...