in the mood for some French(inspired) creations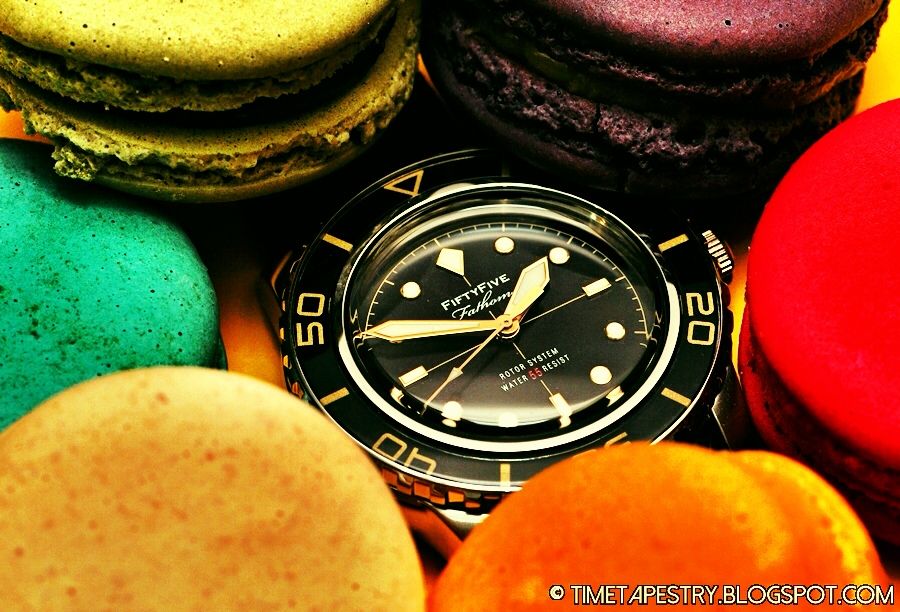 One thing that i won't wear is a replica which is a direct copy or ripoff of an existing timepiece. think of the knockoffs which say 'Rolex' on the dial but are really crappy watches that never saw the inside of a Rolex factory. for some reason Thailand comes to mind ;) anyways, homages though, are a more tricky area.

Homages made by the folks who own the design (vs folks who uhm don't own it)
A reissue is a new issue of an old watch model that was out of production per my definition. The reissue copies the look of the old watch near exactly and can have faux patina'ed tritium looking lume(Eg Basel 2014 Omega Seamaster) or it can be updated eg normal white lume(eg pre-Basel 2014 Omega Speedmaster Mark II) with just the slightest variations/updates in design.
Panerai riding on straight reissues and Rojak homages(bits here bits there and voila... A NEW MODEL!)... milkin it...
A Smart Homage done by an established brand even though they could have done a blatant copy of their past Sub model, was Tudor with the Black Bay Heritage. that was done really well impo and which is why i am happy to own it vs a questionable vintage Tudor/Rolex sub (although, i do get the tritium itch at times)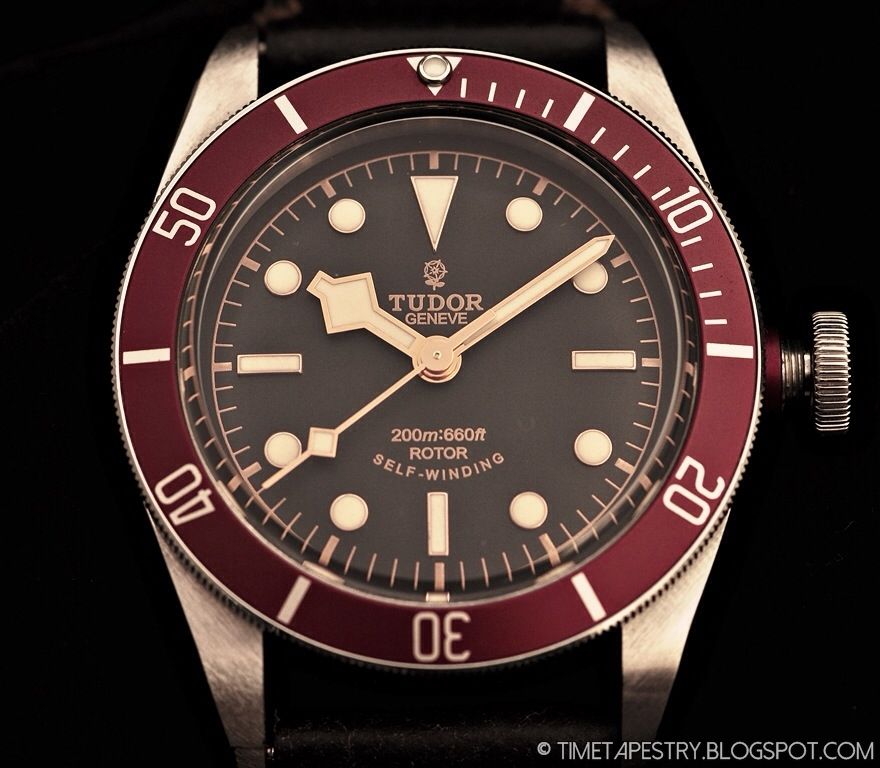 Homage watches not from the brand that owns the design though are a different story. there is a line that is drawn and it differs from person to person, be they a hard core collector or budding enthusiast or folks with no interest in timepieces. where do i draw the line then?
raph's take on homages. Category:



1. Blatant copies

- Wholesale ripping off a design of a more established brand/model and plastering their own brand on the dial or removing the brand(i.e. a sterile dial). stuff in this range isn't for me but i know many who justify it with the "well i'm not forking over a couple of thousand or tens of thousands for the genuine article but i do like it's looks, so i'll get this 'homage'. It's NOT a replica." uhm just changing/removing the brand on the dial and everything else stays the same... it kinda is.

an easy measure is, how much creativity or innovation went into making it look the way it is? for these, its a big fat ZERO. some design changes due to manufacturing constraints don't count yuh :)



2. Middle of the road homages

- Large % ripoffs of designs, slight tweaks to probably just slink past copyright issues (if the design rights haven't lapsed), to make even folks who know watches think it may be from that particular brand.
not talking about folks who don't care what's on your wrist(which are the majority of folks out there) but those who are enthusiasts/collectors who know somethin about watches beyond a handful of brands.
____________the line (which differs person to person)___________



3. Smart homages -

Influenced by single/multiple past designs(note: a LOT of watch designs have come before), slight inflections and design tweaks across them and differences significant enough to justify that they aren't direct or close copies and are therefore acceptable. [of course the definitions of the terms above range from person to person]

a measure here is that some real ideas/innovation/creativity went into making them.
In terms of the line then, think Star Wars and the stolen code and Piett's reply to Vader "...it checks out. I was about to clear them." so the smart homages can be cleared and can go onto Endor but the icky ones, [category 1 above] kinda deserve to be blown up like the death star ;) "

search your feelings... you know it to be true..."
& we come to a smart homage of the Blancpain 50 Fathoms vintage models
The base of this watch is a cool Seiko, the SNZH57, a good quality low cost mechanical watch with some design cues from the vintage Blancpain 50 fathoms range and to other dive watch models from other brands... but on the whole different enough from what those watches are.
the very definition of affordable and good... seiko snzh57. wonderful hardlex crystal over the dial AND bezel...
crystal is also domed for some great distortion at different angles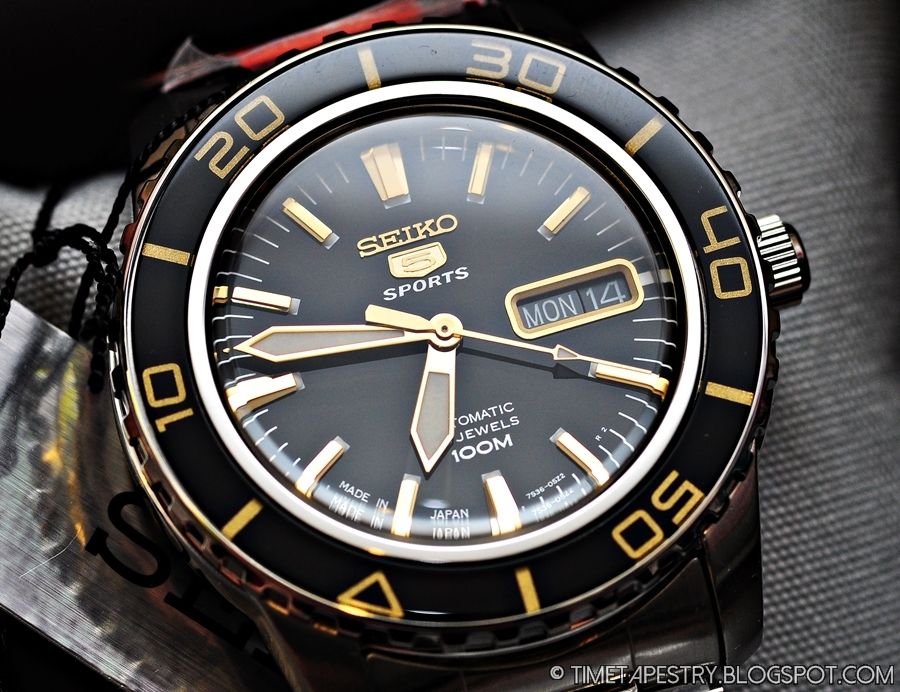 value for money movement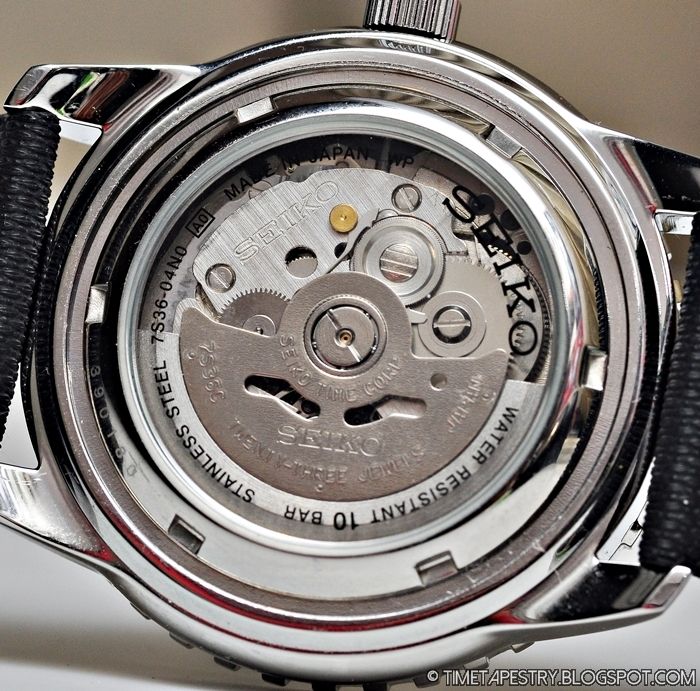 Some smart folks on a Polish watch forum saw the potential though and designed this dial with a 54 fathoms on it... later versions changed to 55 fathoms. so with just a dial change they made the watch, look to my eyes, a WHOLE lot better looking and a smart homage because again it doesn't copy any model blatantly or too significantly in that range.
Additional note: This particular vintage style fff dial came out in 2010 and it was very popular in forums in 2011, infecting one after another. It spawned the modern styled Fifty Five Fathom dials in 2011 as well which i will talk more about in time. When those first came out it was a group order thing on the watch forums but then they became more or less readily available after more stocks were ordered and most of the forummer's appetites for these dials were sated.
Now Blancpain has A LOT of fifty fathoms models(originally made for the French Navy a long time back), a great reference for the history of the blancpain 50 fathoms models can be found here LINK and for all the current range look at blancpain's site of course LINK
vintage with the 12, 3, 6, 9 dial and the distinctive diamond, 15, 30, 45 bezel markings which
has been carried forward to a large degree to their modern range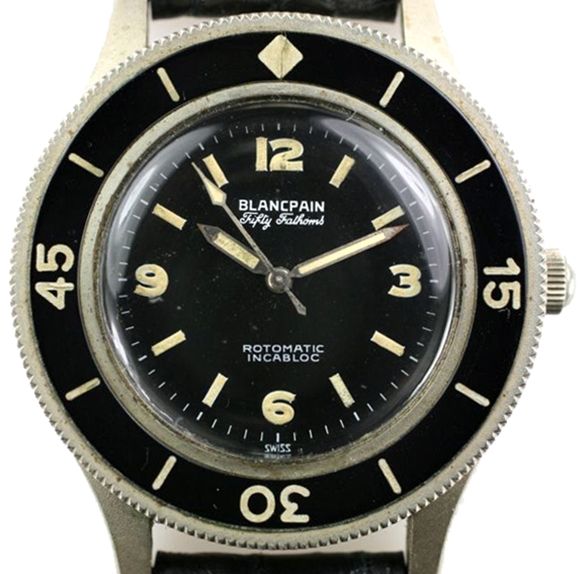 standard modern version.. the red tip hand is prevalent on most(all?)
of the modern range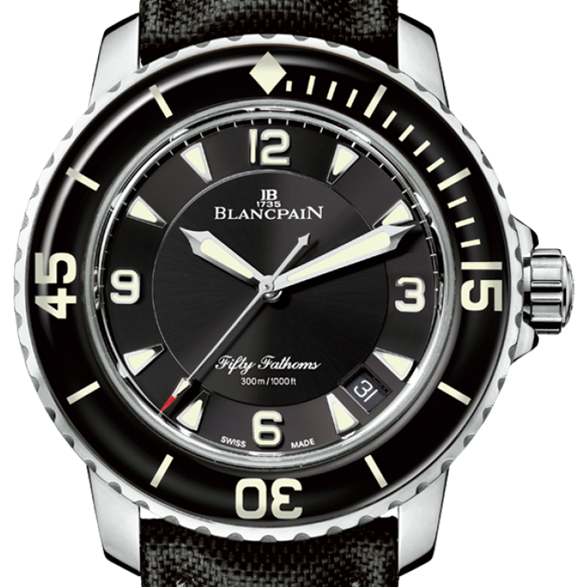 the only modern dial with the dots and diamond shaped 12' o'clock marker
which has the 'no radiation' symbol and text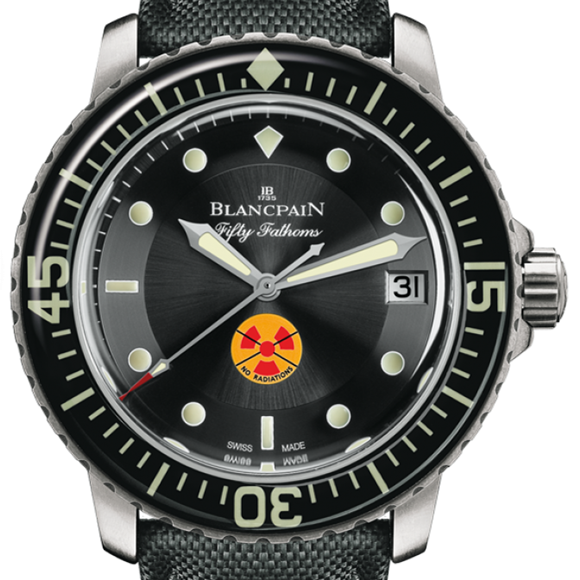 what you will find is that this 55 Fathoms dial is not exactly the same as any of the old to current dials BUT it does copy several design cues from the 50 Fathoms and throws in it's own stuff. Original stuff like the 2 line text on the lower half of the dial(different fonts) with the red 55, the crosshairs across the front of the dial... some thought definitely went into it's creation.
Baron Munchausen to 3 ladies(Uma being one of em ;): Y
ou so remind me of Catherine the Great, empress of all the Russias, whose hand in marriage I once had the honor to decline."
Desmond:
They all remind you?
Baron Munchausen:
Yes, why not!? Bits here, bits there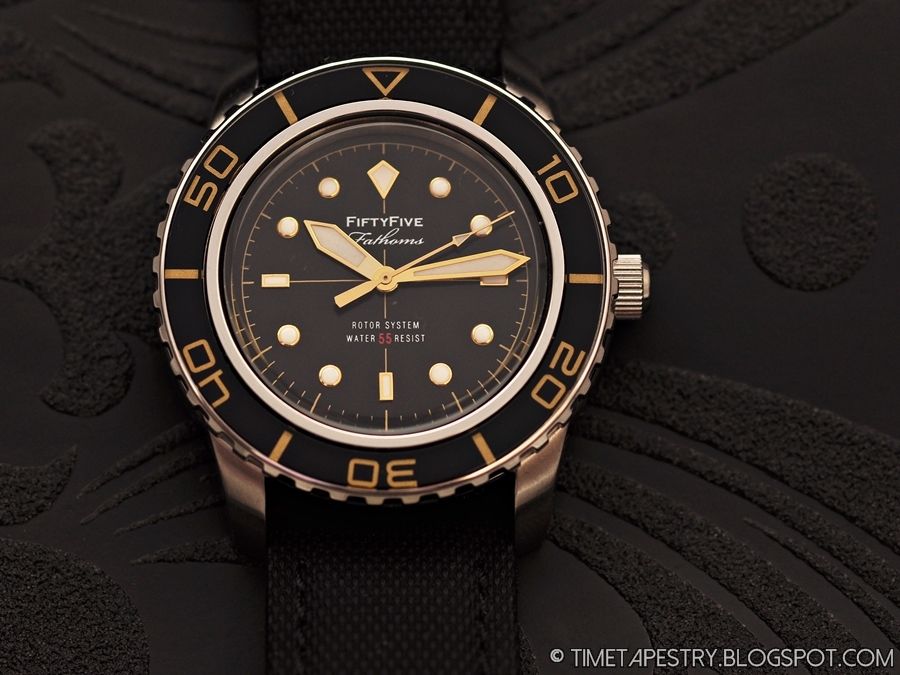 a look at the dial when it first arrived... with this dial you lose the day and date display yuh.
there are similar versions of this dial out there which have the date window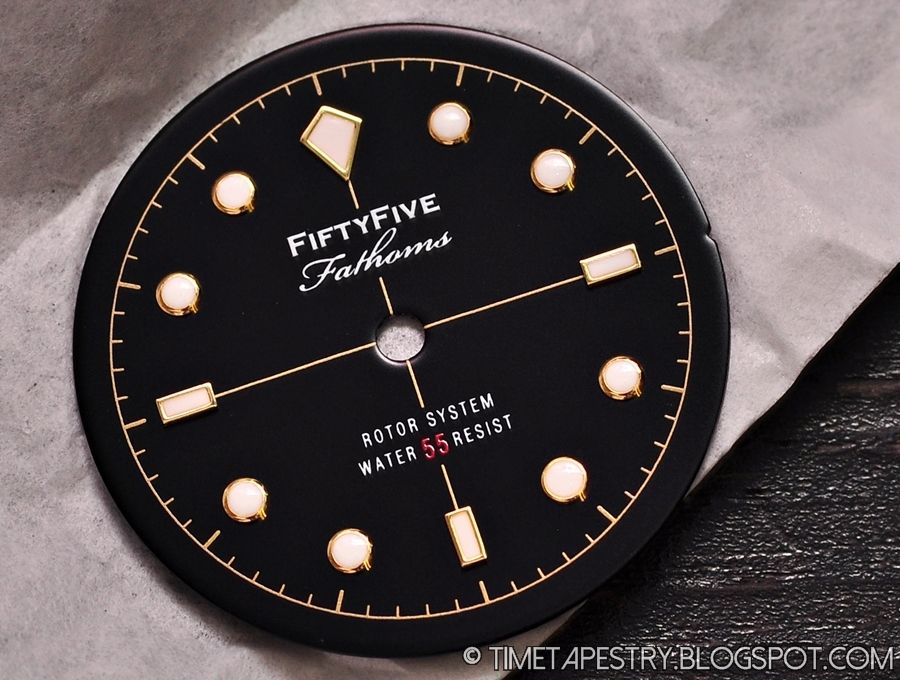 people who know the modern range would not mistake this for the modern tribute watch(per the earlier pic above) which it most closely resembles from the modern range coz of the obvious lack of the not possible to miss 'no radiation' logo and this is clearly not a vintage watch with its modern lume markers and freshness.
people who are into the vintage range are likely afficionados, collectors, etc who would know of the seiko FFF and other homages, of which there are many. it's also easy to learn of them when you google about the 50 fathoms (and would probably know of more blatant copies of them) & know it's a seiko with a healthy dose of Blancpain 50 fathoms design mojo.
why 55 fathoms on the dial? my take on 2 reasons for it:
(1) because it is a seiko 5 so 50+5 = 55
(2) in terms of stated water resistance on the seiko it's 100m or 54.68 fathoms
(1 fathom=1.8288m) and rounded up that's 55 fathoms baby ;)
the people who may possibly mistake it for a blancpain then are the teeming unwashed masses(of which you aren't because you are on this blog and you have read up to this point of the post ;) kidding yuh), and collectors/folks who don't care much about blancpain 50 fathoms range(this was me in the past) or even what watch another guy out there is wearing.

so to someone who doesn't know timepieces, it may look like some variant of the 50 fathoms, but to someone who doesn't know timepieces, a MB&F may look like a $5k watch ;) for me personally, i'm proud it's a sub-US$150 seiko with a nicely designed US$35 dial and after a US$30 service and strap change... it looketh amazing

OR you could just put it down to cognitive dissonance and me justifying my purchase of this yuh :) whatever the case, determine for yourself where you draw the line and enjoy whatever you choose to buy.
to my eyes though, and this is personal taste thing, i think the looks of this FFF is better than many of the
modern range of the fifty fathoms and their tribute watch... and that's saying something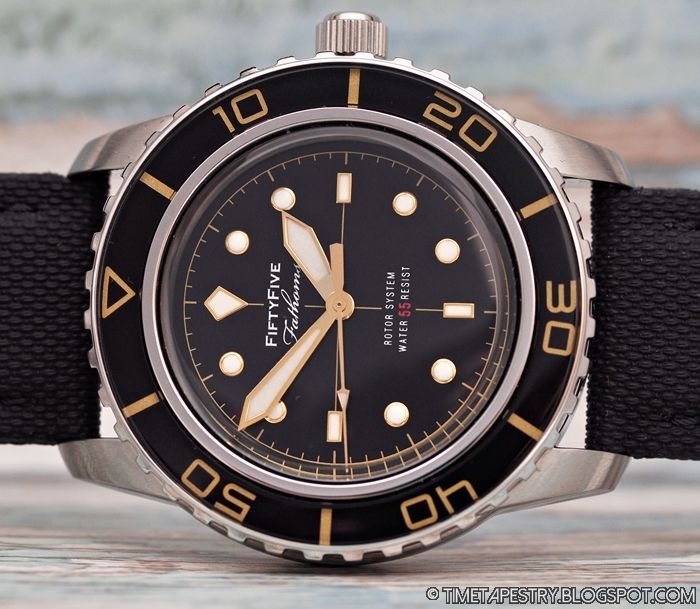 it benefits of course from the very nice case from the seiko with polished sides and brush finished lugs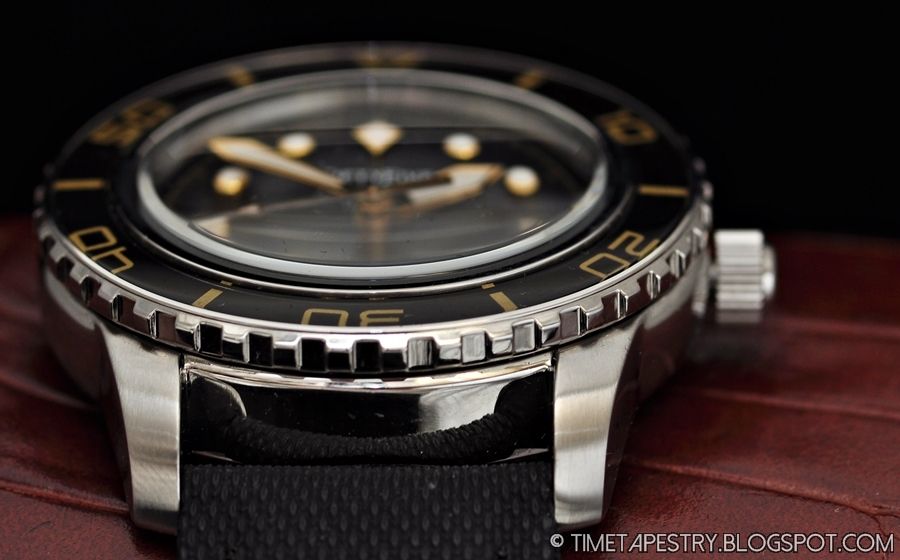 and that bezel is a beaut :)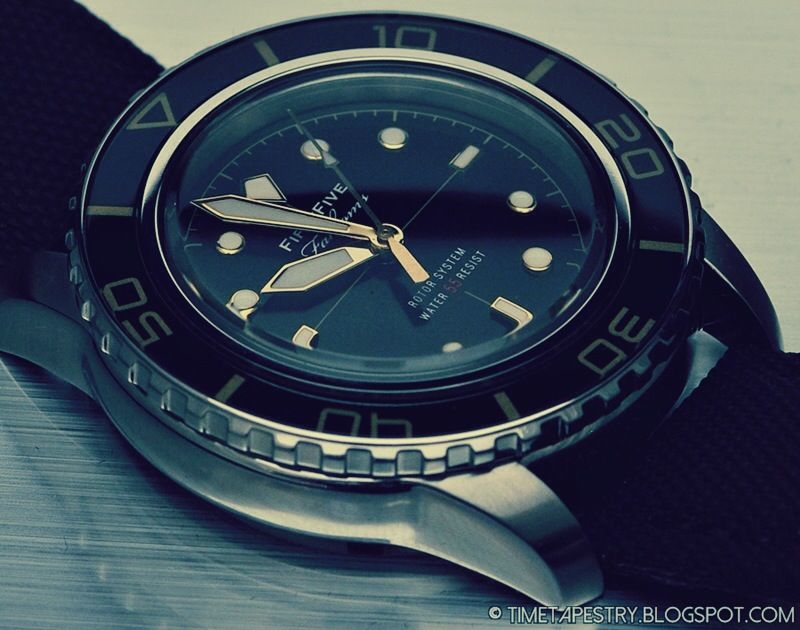 some specs:
Diameter: 41mm without crown and 43mm with

Height: ~13-14mm

Lug width: 22mm

stainless steel case

7s36C

auto movement

-

no manual winding which means you got to get the rotor going for it to power up(note: this is very easily done yuh) and non-hacking(seconds hand does not stop when you put it to time setting) auto movement

hardlex crystal over the dial and bezel and case back

120 click uni-directional bezel

for the J1 version vs the K1 version, there's made in Japan on the dial and on the rotor and Japan noted on the hardlex case back and on the movement (seen below pic)

Note, this model comes in a number of different variants:

SNZH60 - Black dial and black bezel with gold accents on a gold plated case

SNZH55 - Black dial and bezel on steel

SNZH53 - Blue dial and bezel on steel

SNZH51 - White dial, black bezel on steel

SNZH59 - Black dial and black bezel grey accents on black gun metal case
Some

negatives

amidst this glowing review:
no screw down crown so i don't suggest you go diving with this. swimming pools and the shower should be safe :)

as noted above, non-manual winding(gotta shake the rotor to power it up) and non-hacking movement

and that's it i think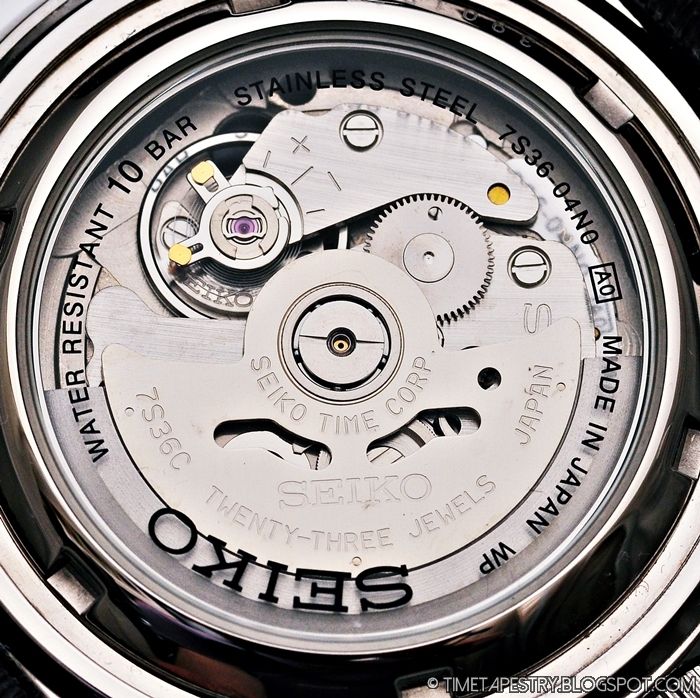 did i mention it glows? superluminova away :)
how to put it altogether: [Note the below is 2014 prices now it may be 1.5 times or double depending on how prices have gone up yuh]
get the watch - ebay or seiko authorised dealers. Made in Japan (J1) model should be in the S$200+ range. the K1 model probably $10-30 less which kinda negates the need to get that instead of made(or assembled) in Japan goodness. You can check with K2(contact below) if he has it as he had one when i was there to do this dial swap
get the dial - 2 versions of this dial type available, one from yobokies(with an 'automatic' word in red - you can google 'yobokies' to get to his photobucket account) and the one i prefer and bought which is from dagaz LINK
go to a watch servicer/repairer to swap the dial out - i personally recommend

k2 watch co at tanjong katong complex.

Mr Goh is a friendly and knowledgeable chap who has been in this business for ages.
Total Damage

~ should be below US$300 but prices may rise with time


Recommended Seiko seller/servicer/modder ;)
K2 Watch Company run by Mr Goh since 1982 (30+ years... It's a local horological institution ;) he sells seikos too and can deal in 2nd hand pieces

Add: 845 Geylang Road,

#03-K1

Tanjong Katong Complex, Singapore 400845

Tel : 67460270

Opening Hours: 1-7pm (i think) public hol unknwon. Best to call to check if he's open
iPhone pic while he assessed what other watches I should buy since i was there ;)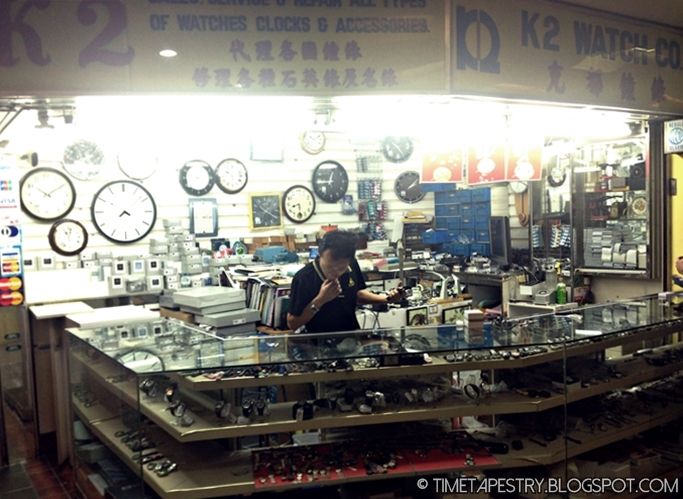 the macarons didn't last long as props... quickly consumed after the pic was taken
And on the wrist...

it holds up very well
the hands lume is stronger than the dial lume so under strong light sources(eg. the sun) it looks greener overall for a non-matching lume dial & hands set... both look the same white under normal lighting.

good presence and gotta be careful not to knock it around coz of height and bezel size.

overall a pleasure to wear... and uhm no one commented on it but that is cause i am typically surrounded by folks who generally don't care much about watches and what adorns a man's or woman's wrist :)