Have yourself a Merry little Christmas... [
Audemars Piguet Royal
Oak
15202
Jumbo
with
Christmas
lights in the background that the
missus had put up sometime back
]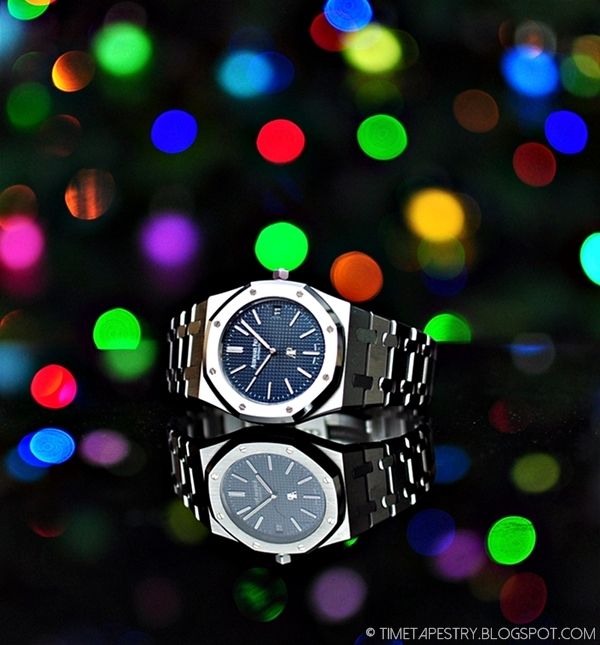 I end this year in a similar way to how i started 2014
LINK
... with a post with an Audemars Piguet Royal Oak and Swatch Sistem 51 views and pics. I also reflect on a few simple truths as we approach the end of 2015... but first,
Well wishes to you and yours for the New Year and a Merry Christmas(for Christians or people who celebrate it!)
hmm what has changed? oh i am keeping a beard! :)
of course many other real and fictitious interesting(& non-interesting) people have beards
too. the beard does not make one interesting of course but it's a breakaway from the norm and
staid archetypes... i may not keep it for long(it's up in the air) but while i have it, i'm lovin' it
[don't ask why i had this collage done up]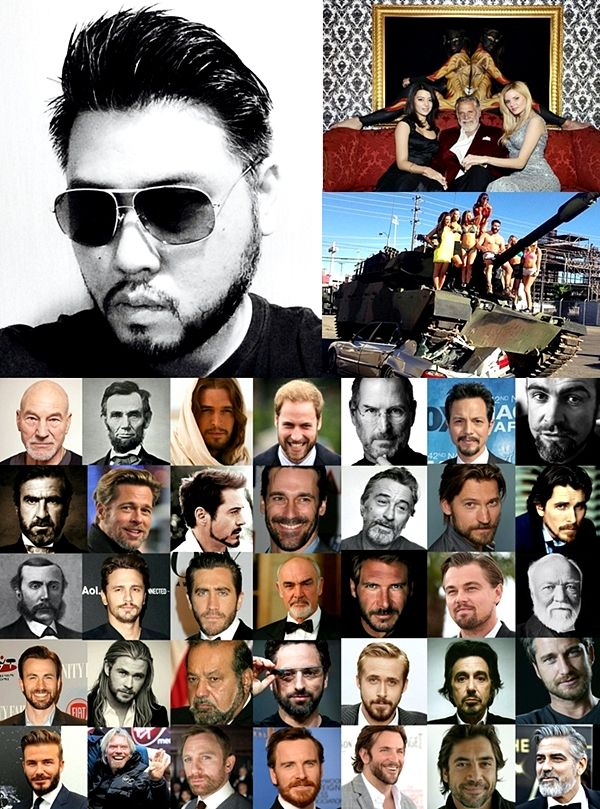 ok enough of that and bloviating on some simple truths...


(1) "don't believe the hype, it's a sequel"
actually even if it isn't a copy of a copy of a copy doesn't mean it's any good. lots of things out there are hyped up. from food, apparel, lifestyles, and watches of course, to sell sell sell. especially with marketing teams out there trying to create greater demand than supply for goods with inflated selling prices relative to their costs of production... we all just have to be more discerning i suppose, and separate the wheat from the chaff.
"I had it all. Even the glass dishes with tiny bubbles and imperfections, proof they were crafted by the honest, simple, hard-working indigenous peoples of... wherever"
~
fight club
(2) relate-tivity...
Q. should i be
(a) more relatable to the youth of today [keepin up with the kardashians and be a swiftie(who i absolutely adore ;) etc] or
(b) maintain old skool references that people of my time will get (yippy kai yay... nothin?) or
(c) drop references that people who know good(to me) stuff will know and appreciate [references to star wars, pulp fiction, godfather, princess bride, love in the time of cholera(the book), U2, radiohead, jimi hendrix etc etc etc(did u get yul brynner in the king and i on that last one? nevermind)] or
(d) all of the above...
A. i'll try and go with (d) in some sorta way
'Cause the players gonna play, play, play, play, play,
And the haters gonna hate, hate, hate, hate, hate...
Baby, I'm just gonna shake, shake, shake, shake, shake,
I shake it off, I shake it off ~ Ms Swift
[note: please do not shake too vigorously with a grand complication on your wrist yuh ;) ]
(3) "That's right, man.
I like to read
!" [James Franco justifying to Danny McBride why he still has certain type of magazines in his house in 'this is the end' :) ]

well the reality seems to be that people are reading less. there is also less dialogue and meaningful engagement in an online, google and social media driven, virtual world. google to get what you want, hit the sites and youtube vids and that's normally enough.
most folks want things simplified and easily absorb-able. hence
the rise of short-form blogging platforms like instagram... a means of viewing an orgy of images of cool stuff, bacchanalia or whatever and driving marketers to create associations of their products with what is or who is cool to, once again, offer up their wares.
"All the ways you wish you could be, that's me. I look like you wanna look... I am smart, capable, and most importantly, I am free in all the ways that you are not" tyler durden ~
fight club
and uhm speaking of folks selling stuff, we come round to reviewing a watch i bought this year, the...
Swatch Sistem 51!
First blogged in Jan with tech specs in that post here
LINK
and finally
making it's way to my hands in October from the orchard gateway store which
had a cool sistem51
setup and all the range on offer in quantity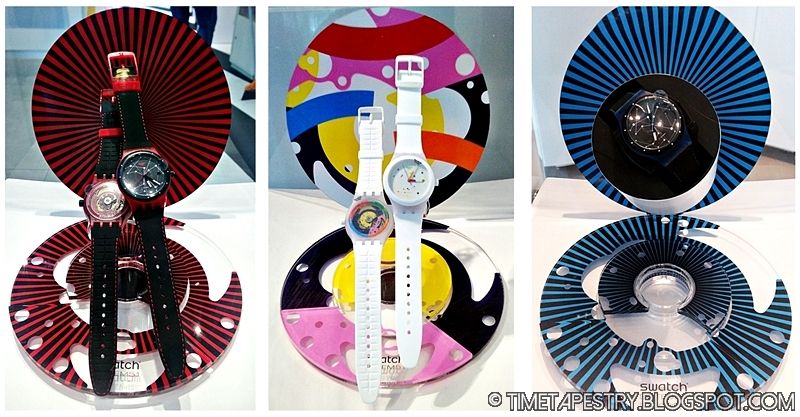 Purchased and worn for more than 10 days on and off since then. Note this review is based on the piece i picked up and your results may vary as it is mass produced by the machine.

[i just heard the terminator music in my head... te-teng teng teng-teng*2]
Pros:
+ Lotsa Power Reserve at 90 hours or 3.75 days
+ Low cost and low price ~ S$209 retail [i think if you get it at takashimaya during the sale and you are a taka card member you get a 10% off so that's a good deal]
+
Accuracy: High accuracy for my piece. looks to be less than 5 seconds plus or minus daily(see below timing challenge) which is excellent!
+ see thru case back and transparent rotor
+ A good sized 42mm case and it's light because it's plastic fantastic!
+ They came out with 4 designs for the first release.
This blue one is my fave and the red a close second. i hope for other models to come out. There are n
o issues reading time coz of the white dots at the hour mark on the bezel.
Day 1(16Dec): [fully wound - and in sync to the second as of 16Dec14 715am] and then worn for about 12 hours
Day 2(17Dec): minus 4 seconds [checked at about the same time and worn for another 12 hours]
Day 5(21Dec): swing to plus 4 seconds [ left in several random positions and picked up
~84 hours since it was last worn] time stopped a couple of hours after
open case back
Cons & Other Thoughts:
- Alignment is a bit off on my piece. i.e. at the 60min mark, the hour hand should be dead centre at the hour marker, let's say 12 o'clock... that doesn't happen for my piece and it points to somewhere behind the hour mark
- Hermetically sealed means it can't be serviced so within warranty, it's a replacement and
out of warranty... it's to throw it away and buy a new one
. I hope future ones won't be hermetically sealed so servicing is an option. With 51 parts it should be simple to service. This is the biggest con for me as it's not built to last even though it's a mechanical.
- Not a con: Some folks commented on the noisiness of the rotor but i don't find that to be an issue at all on my piece when worn on my wrist in a typical low noise office environment.
- Some of the bits on mine aren't in the best shape. see the movement pic below.
- Swatch lugs and strap attachment design means you can't easily switch to other straps or nato etc. the strap it comes on is some silicon thing so may not last too long.
alignment issue... hour hand not spot on in the centre at the 60min mark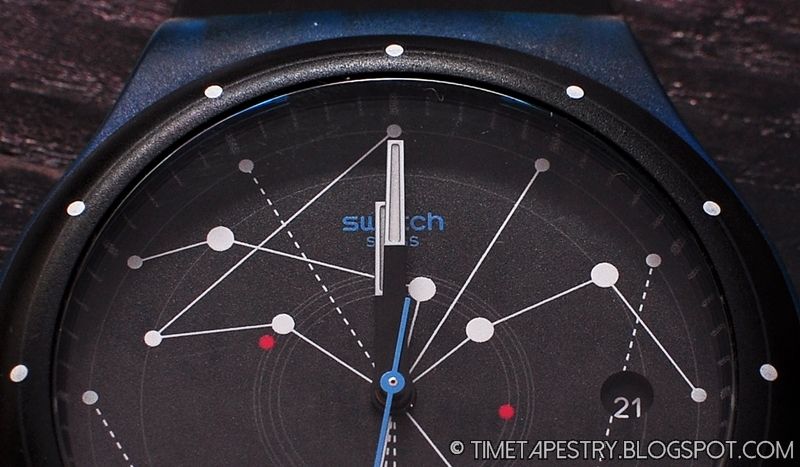 movement... a bit rough but it's kinda be expected at this price point but still...
wrist shot... good sized and light and comfy
a closeup of the dial... it's some constellation thing... i like it!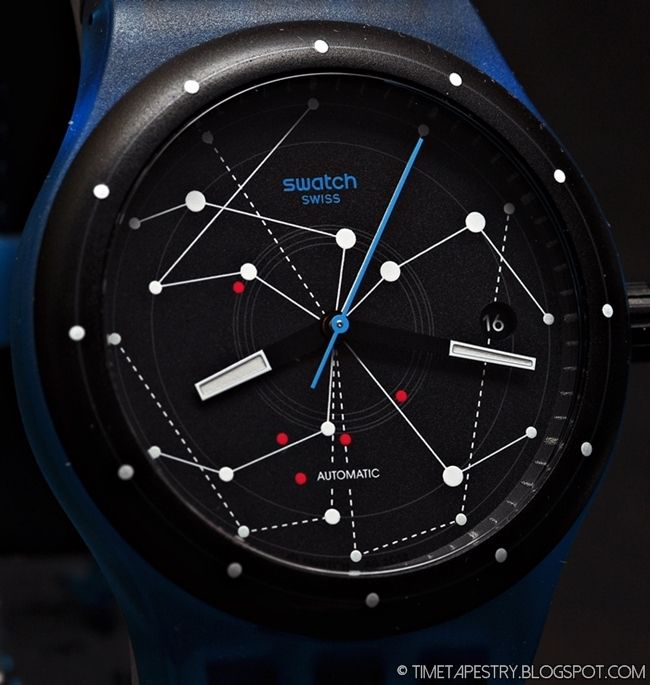 so what am I supposed to get for my S$209? Innovation! First ever fully automated assembly of a
mechanical movement
• 51 components
• 1 central screw • 90 hour power reserve • 100% Swiss made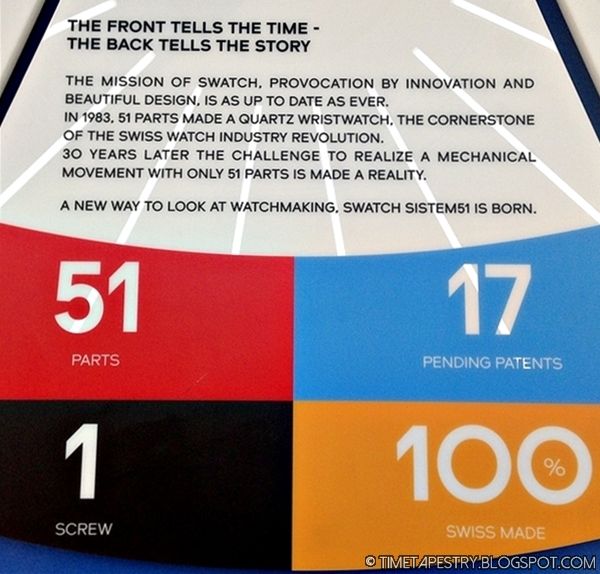 Overall:
It's a clear buy for me.

Either in these current 4 models based on your preference or for the ones that may come in future(?). it's definitely a significant piece for swatch and should be owned by most cognoscenti and swatch lovers, a cool mix :)
The only issue I have for mine is the hour hand alignment niggle and it's a question whether i should get it replaced coz of it. Note 3 out of 3 watches I saw in the shop all had this issue though and i took the one it was least pronounced in... hmm it should something that is checked for before sealing up these watches if not already part of the QC process.
and that's it. thanks for continuing to read the blog and hit me up on facebook and instagram @timetapestry if u haven't already :) here's looking forward to a great 2015! cheers, raphael
press info on sistem 51 :


Thirty years ago Swatch turned the watch world upside down. Today, Swatch Sistem51 presents a new point of view, sets new standards and celebrates the Swatch credo: simplify and innovate. Never before has simplicity been made so intriguing and surprising.
Sistem51 is an automated (self-winding) mechanical movement made from 51 components – no more, no less – made possible by a simplified and more efficient design. Most mechanical movements have at least twice as many parts; some have more than 600! 51 is the magic number (and Swatch's lucky number, too).
Sistem51's components are welded together to form a single assembly centred on a single screw. When Copernicus put the sun at the centre of the solar system, he changed the whole way we perceive and understand life. Sistem51 is a Copernican idea in contemporary terms!
Sistem51 is a world first: it is the only mechanical movement ever made whose assembly is 100% automated. The high-tech escapement has no regulator; the rate is set at the factory with a laser, making the manual rate adjustments normally required by a mechanical watch unnecessary. The movement features a 90 hour power reserve.
Sistem51's movement is made entirely of ARCAP, an alloy of copper, nickel and zinc with exceptional anti-magnetic qualities. And since all movement components are hermetically sealed within the case, no moisture, dust or foreign objects can interfere with its operation. The resulting inner peace guarantees the movement a long, serene life and enduring performance.
Swatch Sistem51 offers one last surprise – transparency. A distinguishing feature of Swatch, the transparency of Sistem51 creates a unique look, distinct from any other Swatch. Automatic movements are driven by an oscillating rotor; the rotor in Sistem51 is a transparent disc that rotates in both directions around the central screw. This signature feature opens up fascinating views of the movement beneath it, a movement whose visible surfaces are printable. The design reaches beyond appearances to reveal the innovative depth of the watch itself. Finally, and this is no surprise, Sistem51 is 100% Swiss made – a guarantee of quality, end to end.