As a watch lover, without reading the press release info, when it comes to watch certification I want (i) relevant standards and tests, (ii) reliable non-subjective processes (iii) credible and neutral assessments/assessors. So let's check out the press release from Omega and i will then circle back at the end to see what gets checked off :) all my thoughts in red font and all press release info in black.
At a press conference at Geneva's Cité du Temps on Tuesday, Swiss watch brand OMEGA and the director of the Swiss Federal Institute of Metrology (METAS) announced their collaboration on a new watch certification process that the brand will begin using in 2015 to test each of its Master Co-Axial watches.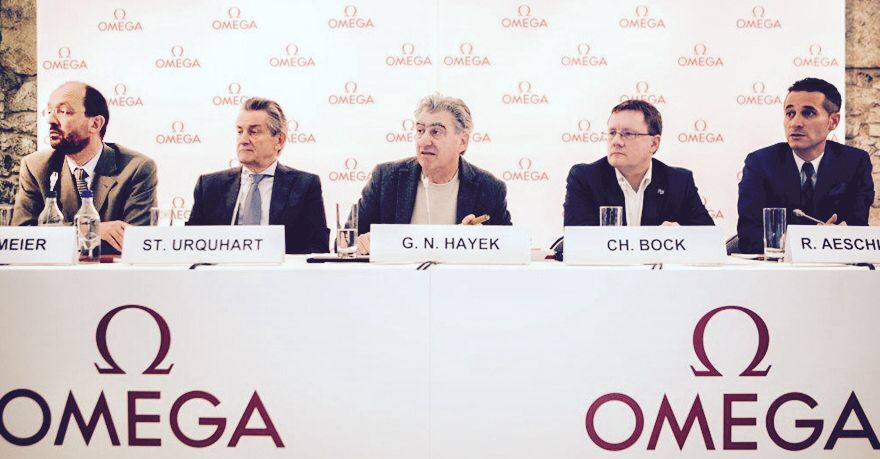 Swatch Group CEO Nick Hayek was joined by Dr Christian Bock, the Director of METAS, Stephen Urquhart, President of OMEGA and OMEGA Vice Presidents Raynald Aeschlimann and Andreas Hobmeier.
After welcoming media and guests, Stephen Urquhart recalled some of the technological milestones in OMEGA's long history, including its launch in 2013 of a mechanical movement resistant to magnetic fields greater than 15,000 gauss. He explained that the increasing number of magnets in our daily lives can affect the performance of watches and showed a short film explaining how OMEGA had overcome one of watchmaking's greatest challenges.
The anti-magnetic movements were introduced on a large-scale in OMEGA's Master Co-Axial watches earlier this year.
Nick Hayek then pointed out that Swatch Group has long been a leader in its promotion of the Swiss watch industry and the "Swiss made" label and he expressed his satisfaction with the innovations that have made it so robust. He added that Swatch Group is committed to retaining its leadership position in the Swiss watch industry and said that the partnership with METAS was the logical next step.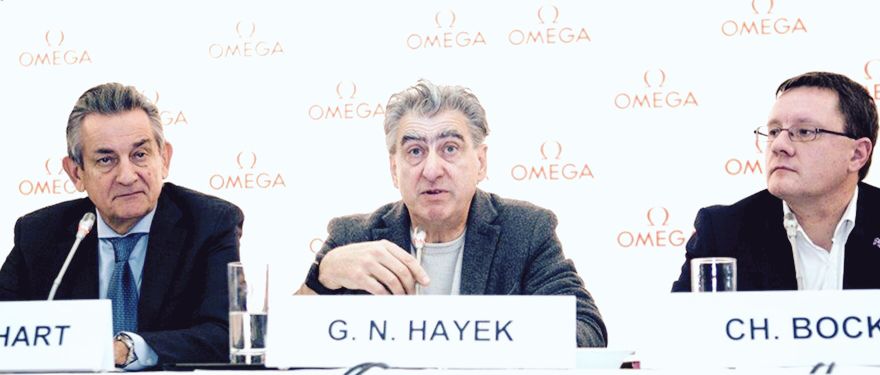 Mr. Hayek suggested that in recent years it has become obvious that the COSC chronometer certification, long the industry norm, needs to be strengthened.
In the middle of 2015, the first OMEGA watches will be produced with the Master Co-Axial Officially Certified designation. A significant difference between the new certification and its predecessors is that it will test the finished watch instead of its movement.
Dr Christian Bock, the Director of METAS, was introduced and explained the role that his organization plays in the Swiss federal government. The Institute, he said, is the centre of competence for the Swiss government for all matters involving measurement and measuring procedures.
The METAS Director said that the new certification process would give OMEGA and other Swiss watchmakers the opportunity to demonstrate the quality and timekeeping performance of their watches to a greater extent than has previously been possible. He added that it was important to point out that METAS is completely independent – with no bias or prejudice – and only agreed to work on projects when it was convinced that its neutrality was not compromised. The agreement with OMEGA has no suggestion of exclusivity and other clients would have access to the same certification.
Raynald Aeschlimann, OMEGA's Vice President and Head of International Sales, said that the certification of the watches by an independent institution that is part of the Swiss Federal Government made as bold a statement about OMEGA as its monobrand boutiques and the transparent casebacks that reveal the movements inside. "All of these define our brand. The boutiques place our watches close to the consumers where they can explore them in detail. The casebacks allow the examination of the movements that are such an important part of our story. And this new, completely independent 'Swiss Made' certification confirms the quality of each watch that earns it. It's an important milestone for both our brand and the industry."
Andreas Hobmeier, OMEGA Vice President of Production and Procurement, spoke in detail about the tests each Master Co-Axial watch will have to pass in order to earn the "Officially Certified" distinction. The watches will be tested for their precision during and after exposure to magnetic fields greater than 15,000 gauss – they will have to perform within a tolerance of 0 and +5 seconds per day, for autonomy (functioning without winding, measured in hours) and water resistance.
Owners of watches that are Master Co-Axial Officially Certified will be able to access online or via a smartphone the results and performance parameters of the tests passed by their watches.
In response to a question following the presentations, Mr. Hayek said that the current level of innovation certified with the Master Co-Axial calibres is presently unbeatable and added that the new standard would motivate other brands to move ahead to meet the new criteria. "This," he said, "would benefit the entire industry – not only in Switzerland but in China and Japan and in other countries with a history of innovative watchmaking. More importantly, it would also benefit the consumers and that has to be a good thing."
Circling back then...
(i) relevant standards and tests - This is a tie-up with METAS so Omega says this is the benchmark I set for myself and it will be verified that my watches meet that benchmark. Another company can tie up with METAS and set their own benchmark that differs from Omega's so this does not really have to be an industry level certification. If it was put forward as such though, the
pertinent question would be which other brand would like to reach this level? Would Swatch Group want other brands in its stable to move towards this high bar?
More accurate:

COSC's main achilles heel was testing the uncased movement to -4+6 so this cert ups that by testing the cased watch to 0 -+5.

Higher Anti-Magnetism:

Watches functioning fine after 15,000 gauss exposure which is something only Omega can meet at the current time. This standard is relevant as magnetised watches is one of the more(most?) common reasons watches become highly inaccurate.
(ii) reliable non-subjective processes & (iii) credible and neutral assessments - This is through METAS involvement.
end of day, we get watches that are checked and certified to be more accurate and with better anti-magnetism and that is a good thing. i look forward to more of such steps in the right direction for the industry as a whole and it is good that Swatch Group with Omega, is showing the way in this regard. cheers, raph