its not always about the getting the latest and greatest is it? so much hype and marketing baloney ramming all kinds of timekeeping monstrosities into our consciousness... of course there are nice watches too but have you seen what they are going for these days? prices have been on the up and up for the past couple of years with no signs of stopping...

fear not though, there are actually a lot of interesting watches out there with cool movements that won't cost you an arm and a leg... no they weren't on show at this years basel and sihh... i am talking about vintage pocket watches :) (these belong to the greater than 100 years variety)
before you zone out because like me you know how impractical pocket watches are in this day and age, thinking along the lines "if i cant wear it on my wrist what good is it?" fret not, i ain't hanging no pocket watch on me either, they just aren't practical (even the RM ones which look like a scorpion mated with an alien space ship)... but if recased in a wristwatch... hmmm things can get a little interesting... so i got on the hunt and found some nice acquisitions... exhibit a. got me one recased quarter repeater and exhibit b. a chain and fusee pocket watch movement sans case... and am loving having the 2 of em :)
the chain and fusee pocketwatch was from one of the frodshams...
english watchmakers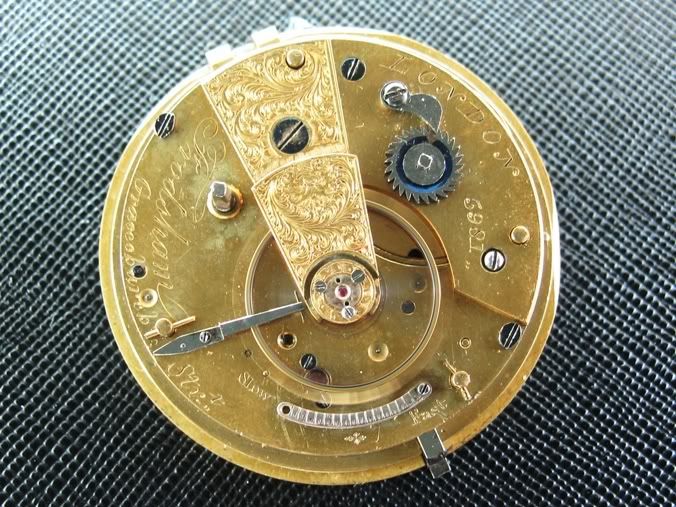 looks like bicycle gears and chain?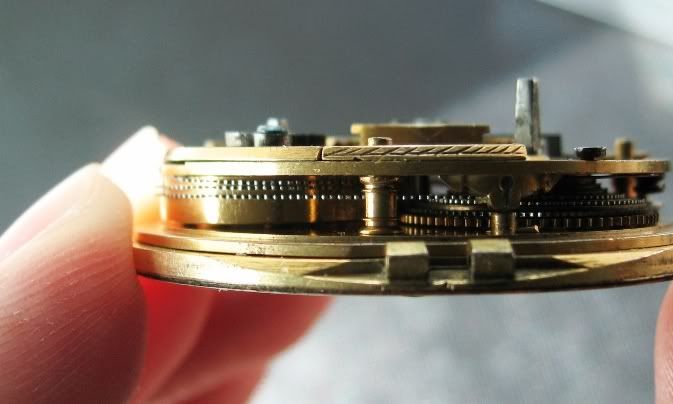 i like looking at it ticking aways :) still living and breathing after all this time...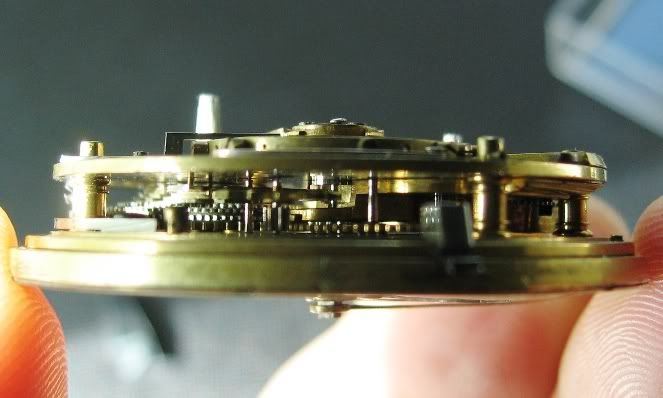 dial is in a reasonable condition...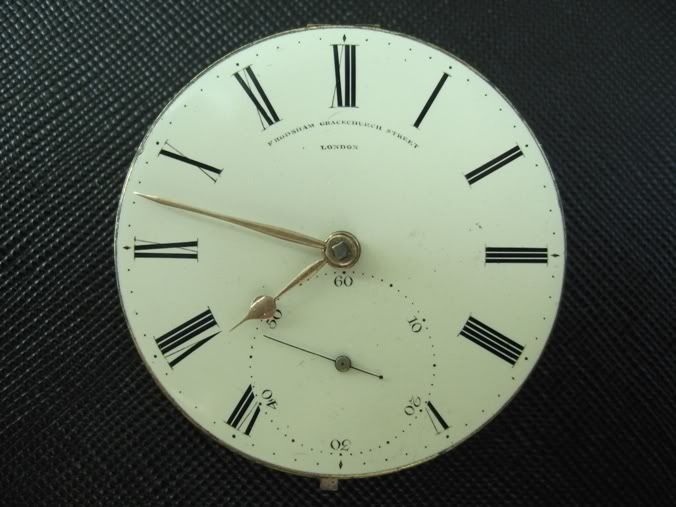 but its more of this that i like looking at... balance on hold...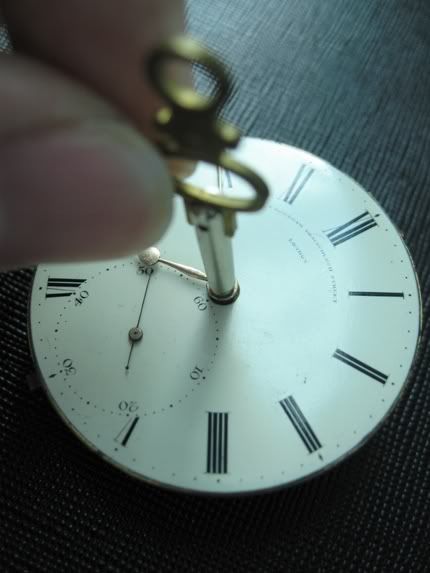 giving it more power... balance wheel in motion
next one up... a little about the founder of the company... charles frodsham was a true independant watchmaker (not an engineer fiddling around with watches) the guy built a prize winning marine chronometer at 20!

my line here would be "if he was making marine chronometers for the british navy, he's probably a good enough watch maker for me" so i got me a recased quarter repeater with some real vintage value from charles' fine company :)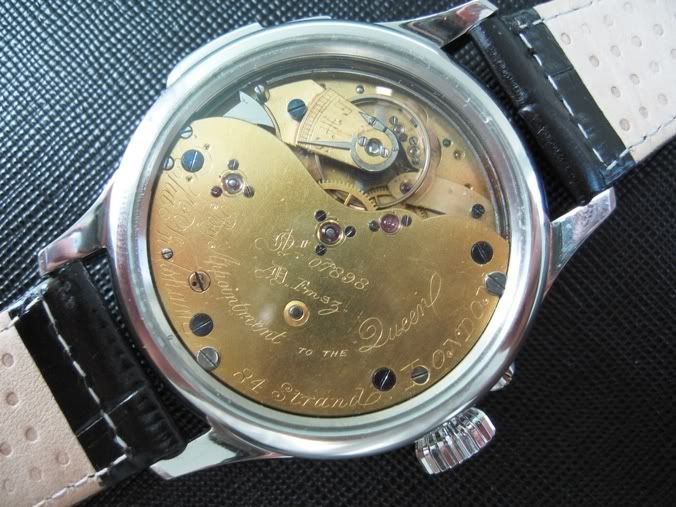 After 1850, Charles Frodsham came out with a new ebauche and for the next 15 to 20 years all higher grade 3/4 plate watches bore the date code AD Fmsz. The code is formed by the sequence of the letters in Frodsham with a Z added to get the digit value 0... the other words on it are 'by appointment to the Queen', Cha Frodsham, 84 Strand and 07898... its about 120 years old and it still keeps great time and chimes fine (uh... ok, the chiming mechanism thinks its 6-7minutes faster than it is ie at 655hrs, it chimes the time for 700hrs

...

but i'm cool with it though..)




the hammer is the thingy on the left side... it makes a pretty fine sound ;)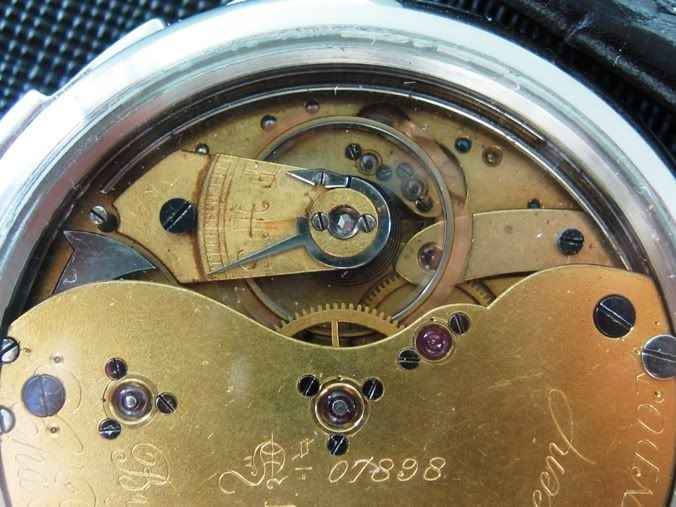 simple and beautiful and pretty loud too ...
the repeater that is...

oh and is the trend of watches of today ... ITS HUGE.
i mean its a pocket watch movement yuh :) not big for bigs sake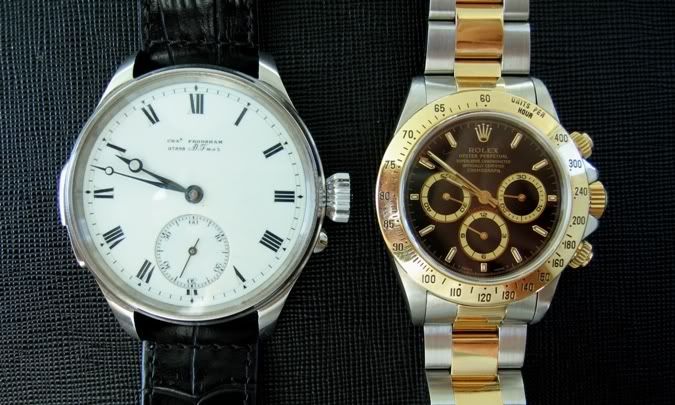 one bad thing about pocket watches though is getting them serviced. finding someone good who won't kill you on the fees and for the repeater, the servicing charge for that may be something else altogether, but we'll cross that bridge when we get to it...


Some history of the man and the company ;)
Charles Frodsham
Charles Frodsham (1810-1871) was a renowned watch and clockmaker. He took over Arnold & Co in 1843 at 84 Strand, London. The family business Charles Frodsham and Co. still hold the Royal Warrant as clock suppliers to the British Royal Family.
1810-1871
English clockmaker and chronometer maker.
Member of the Clockmaker Company.Free CC.1854. Master CC.1855. Son of William James Frodsham. Supplier to the British Royal Family (from 1854).
1830 (at the age of twenty)
Presentation of his first marine chronometer at the Greenwich Observatory competition where he won second prize.
1842
Establishment of Charles Frodsham & Co.
1851
Presentation of a ¾ platinum watch at the London Exhibition.
Construction of marine chronometers for the Admiralty.
Extensive research on the self-compensating balance wheel and spiral.