apologies to more sensitive viewers but the 'pulp fiction' line just had to be used in reference to this JLC bada$$ dive watch...


JLC's Master Compressor Diving Pro Geographic Navy Seals.... damn thats a mouthful...
limited edition of 300 in pink gold... I LIKE IT!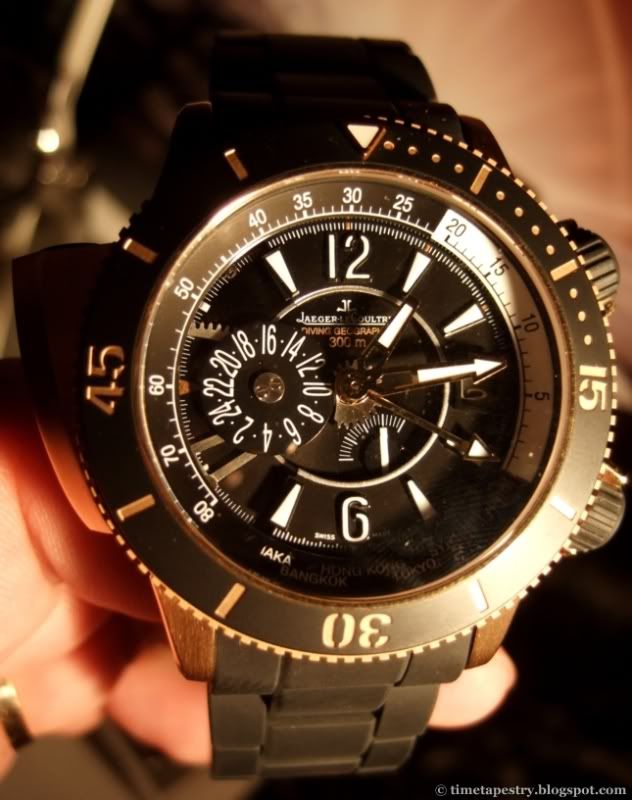 but lets begin this tale uhm... at the beginning... i got a msg for me to mosey on down to forlino over at One Fullerton... billboards guided me to...
JLC MECCA !!!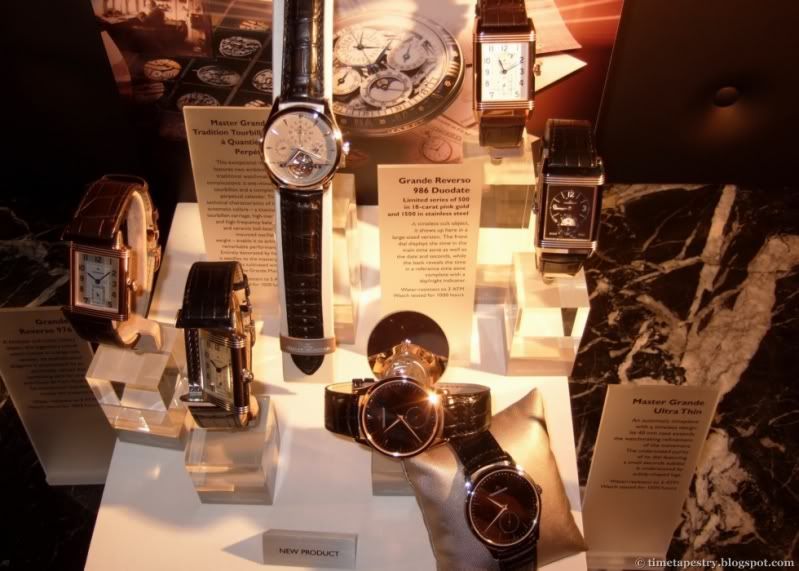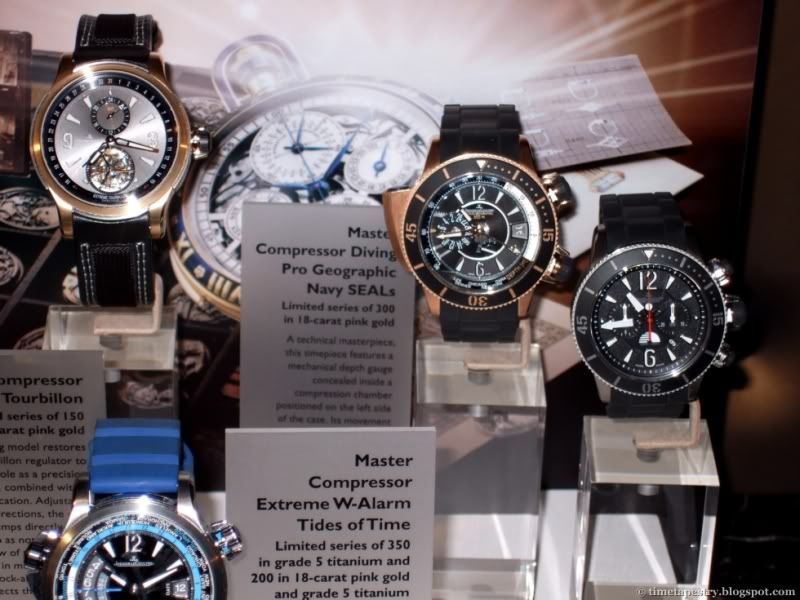 the raphmeister was in da house and imbibing...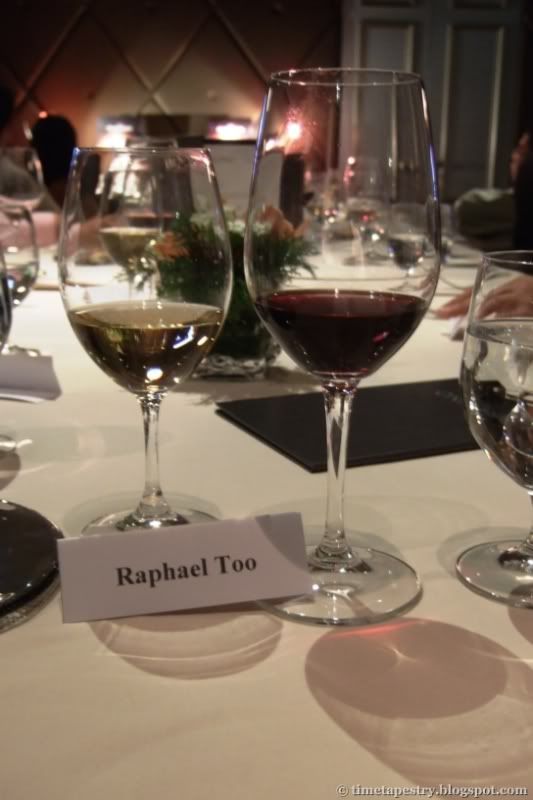 he was liking what he saw on display... this marc newson atmos is da BOMB! (not literally yuh, it aint gonna blow up spraying shards of glass in different directions jus in case u were confused :)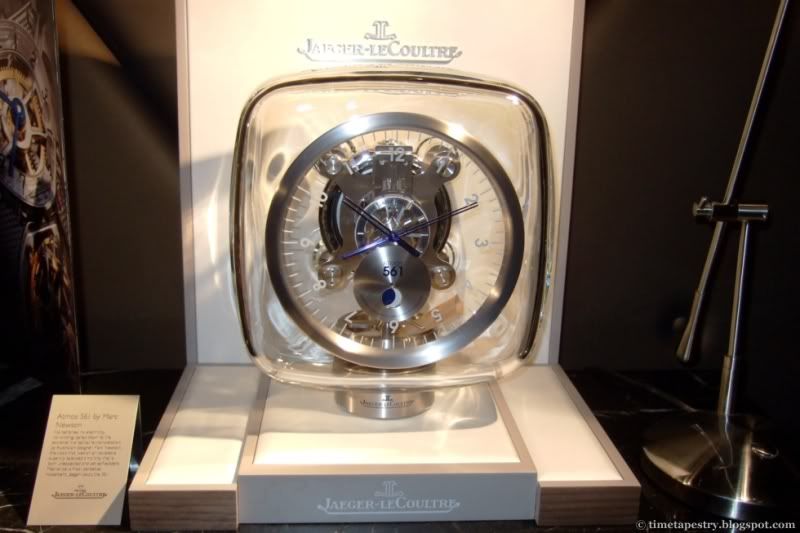 and the grail... the ultimate piece from the grand maison for moi...
the gyrotourbillon two... lost... entranced...
in its dance... come home to papa...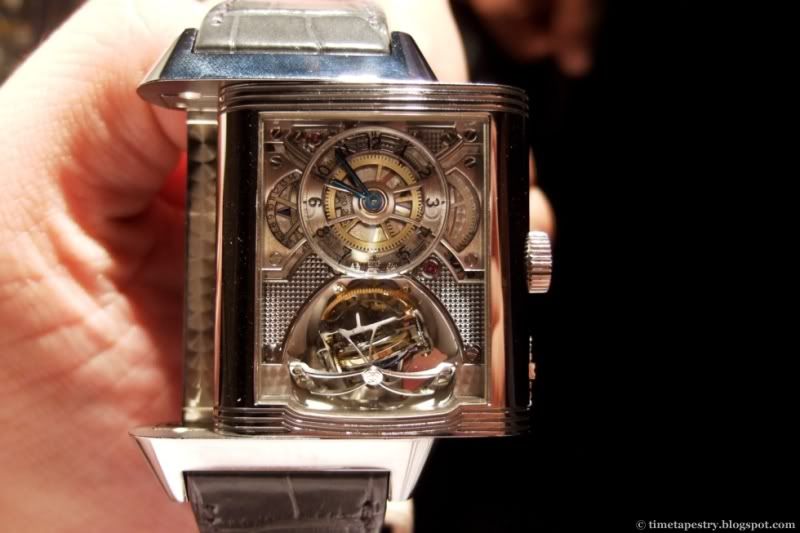 a smart looking master compressor extreme world alarm in blue was asking for some attention too...
and dis bada$$ beauty too...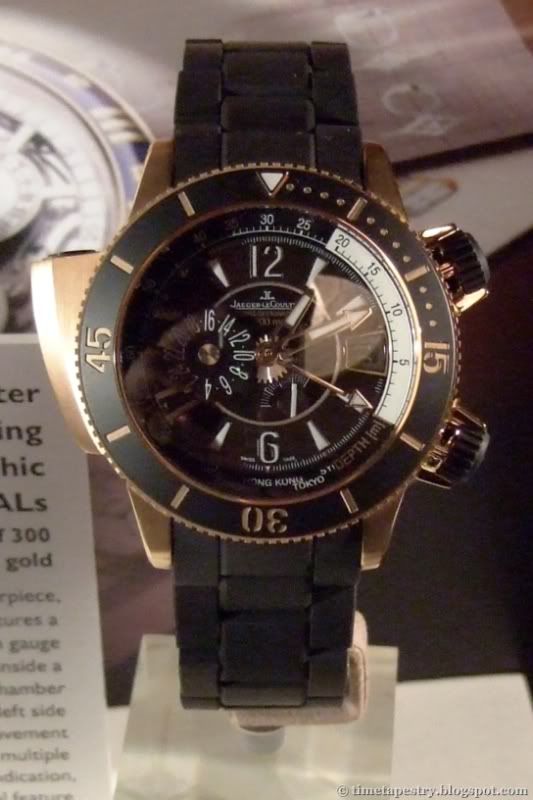 ok i m no fan of the design on this... just my humble and personal opinion... it somehow reminds me of hannibal lecter in silence of the lambs with the muzzle thing across his face... dun ask me to "rationalise" why

[sorry in joke for the folks on my table]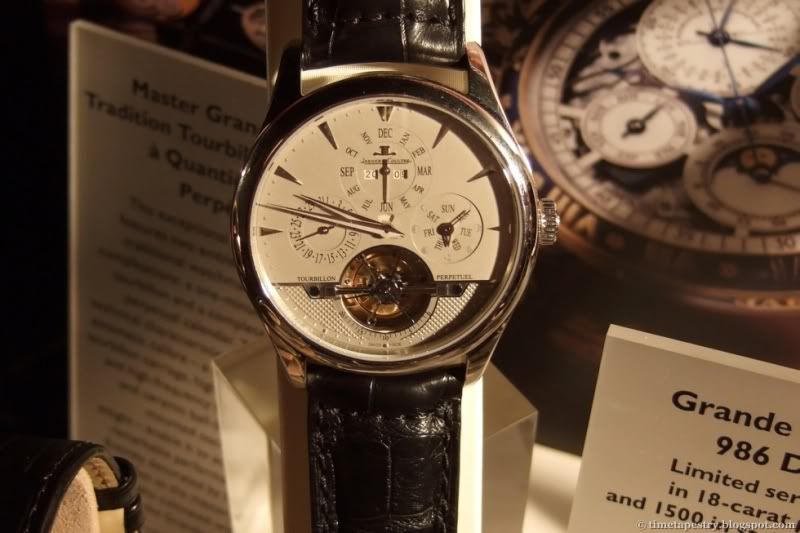 me likey this though... jlc reverso duo date... the dark side appeals more to me...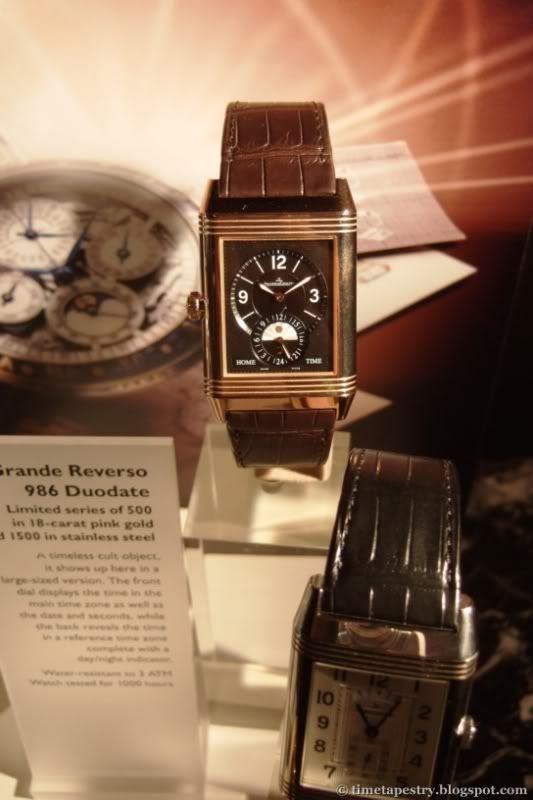 the light side is nice...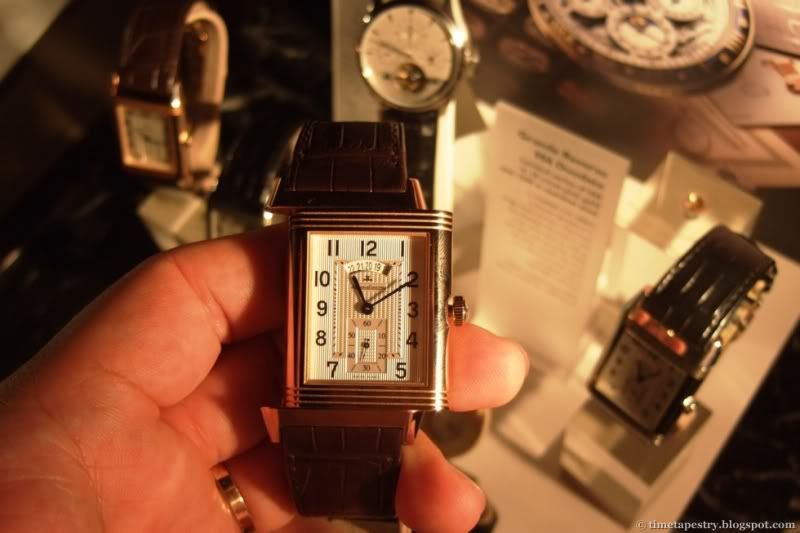 but one shouldn't

underestimate the power of the dark side

...

uhm ok... i mean the dark dial of the duodate...
other new reversos were out to play as well... nice...
chee hong trying to see if he could bust the mc tourbillon... but it was made of hardy stuff...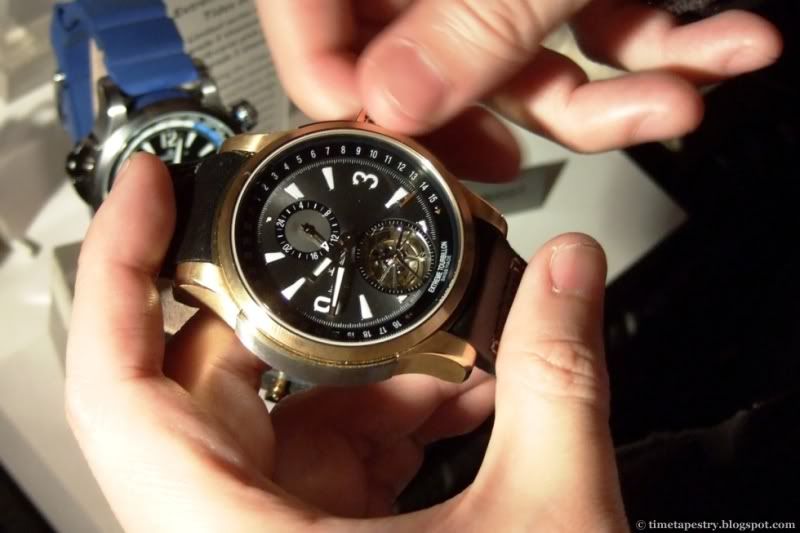 the mad beast... u can almost hear a bull snorting in the distance...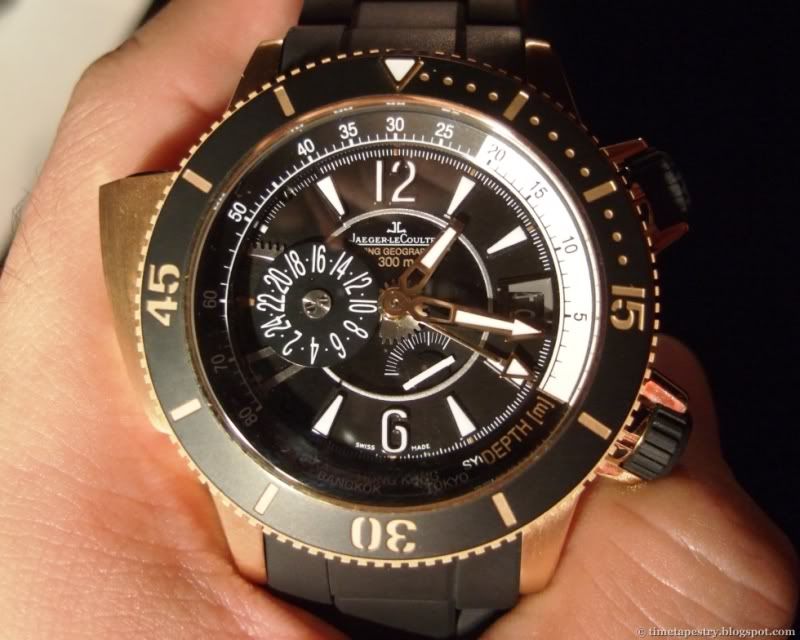 classy and nice for the ladies... (doh! i forgot to take pics of the lady squadras and duettos... those were very nice too)
and finally with some of the fine folks from jlc and joe.. from left to right it would be garina, the raphmeister, xavier and joe...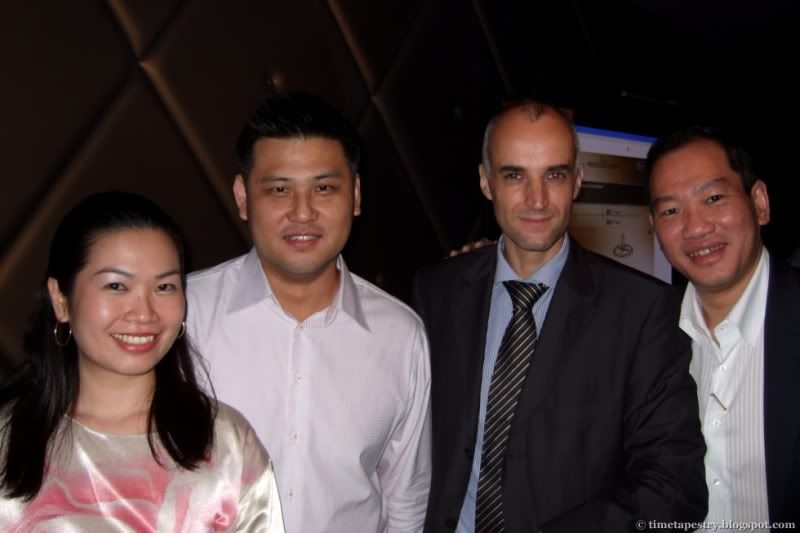 alethea and raphmeister... chatting about how fine jlc watches are...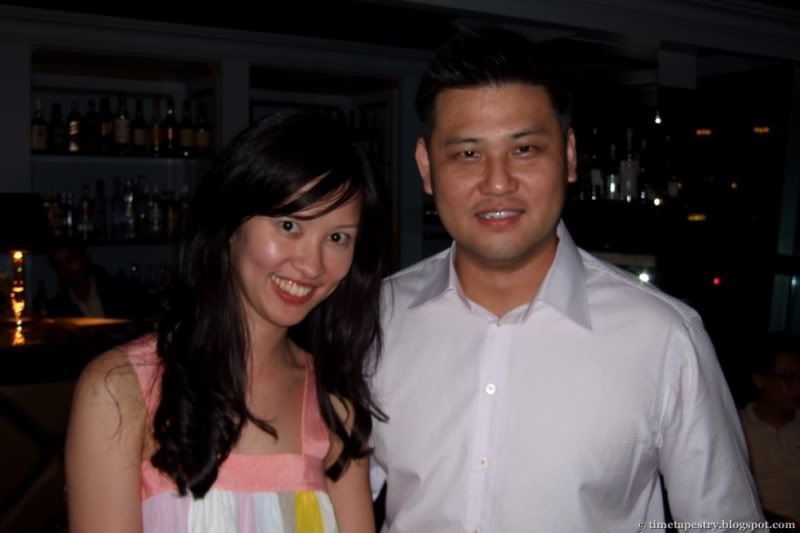 and to end off, i would like to thank Jaw from Horomundi, the fine team at JLC from Xavier, Garina and Alethea to the retail staff at the boutique... it was a fun night for me.
good food at a nice place, good company (great dinner pals vernon, kok choon, harry, jeff, russell, chee hong, didi etc) and good catchups with mates i haven't seen in a bit (CH and Linda, Ben and Keat Yi, Ben and Yvonne etc) a fine time :)
now to save up for that gyro 2... damn...