Watches and wonders have kick started in HK and fb mates of mine that are there are posting up pics of the events. though more important things are happening in the streets of HK with the Occupy Central protest but I am sure it's not affecting the watch afficionados from having a great time. alas
i'm in Singapore working my buns off...
anyhoot, Lange had their pieces in Singapore before they headed out to HK and this was from my visit down mid-Sep to their Ion boutique to check them out.
now i do really like some Lange & Söhne timepieces alot. i have often looked at the original(and to me better) Datograph
LINK
and considered it... before buying something else. it was not only that, at that point in time, i had my eye on another piece but also that i am not much of a dress up guy(or dress watch guy) and have an overall preference for more unique and/or sporty watches which are versatile. of late, with the ever increasing watch prices, it just keeps on getting further out of reach for folks without loadsamoney.
iPhone shots follow as that was what i had with me then but i did choose the best amongst them to share my thoughts on the pieces below.
from left to right then: (1) zeitwerk striking time in pink gold which chimes at the quarters and the hour
(44.2mm * 13.1mm) - my thoughts on this piece? it is pretty darn big and it chimed a a little softly
(2) and (3) Grand Lange 1 Moonphase Pink Gold and Platinum(41mm * 9.5mm) - lovely pieces impo
and i found it hard to take the plat off my wrist.. till i heard the list price was S$82,600!
(4) Richard Lange Perpetual Calendar Terraluna(45.5mm * 16.5mm) - i am not a fan of 'complicated
dress watches that are super huge'. 41, maybe even 42, max perhaps but 45.5... that's panerai territory
First we start with the heavy hitter... Richard Lange Perpetual Calendar Terraluna

there's a ton of marketing stuff about this watch see HERE but all i could think of is it's HUGE!
the dial is also a bit of a miss for me personally as it seems a little busy visually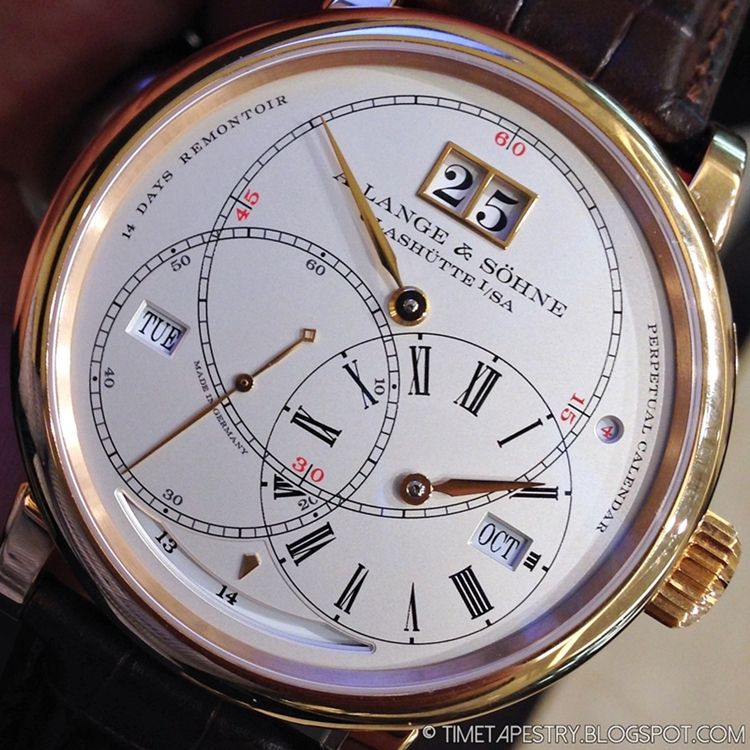 from Lange's site on the moon phase: "In slightly more than 29.5 days, the moon orbits the earth once – in an anti-clockwise direction. A planetary wheel train assures that the moon phase is always correctly displayed. The mechanism is engineered to such a high degree of accuracy that it takes 1058 years before a correction by one day is required. In the middle of the celestial disc, the earth disc rotates through 360 degrees once a day. It is daytime on the half that faces the sun (the balance) and night-time on the other. The peripheral 24-hour scale provides a rough time-of-day reference for regions in the northern hemisphere."
wristshot and if i had noted it right, list for this is S$301,100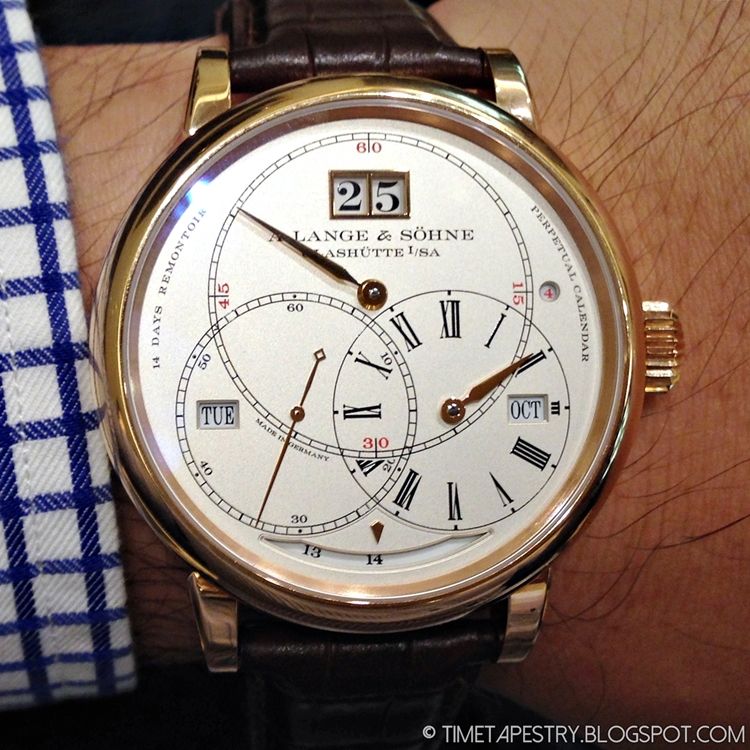 the moonphase on this is really a joy to behold and is a thing of beauty. simply wonderfully done
from Lange's site: A patented coating process is responsible for the rich colour saturation and crisp details of the disc.
It eliminates all non-blue colour spectra in the incident light. The result is an intensely blue colour surface on which
the 382 sharply contoured stars stand out in vibrant contrast. The diameter of the smallest stars is a scant
0.07 millimetres – less than that of a human hair.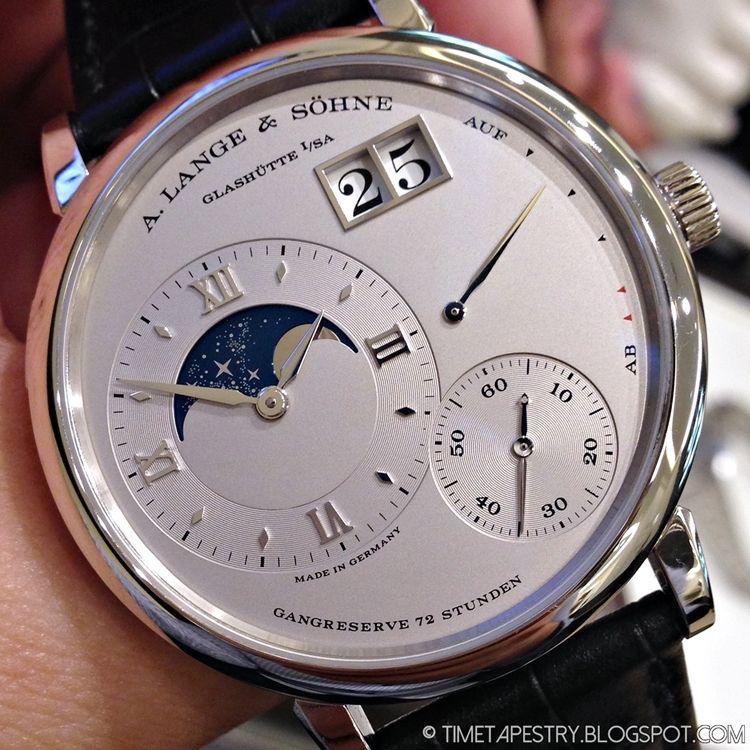 the back is the covered up 3/4 plate movement which means there's not much to look at. i find the balance wheels
a bit tiny for the watches but there's probably some reason they are the size they are.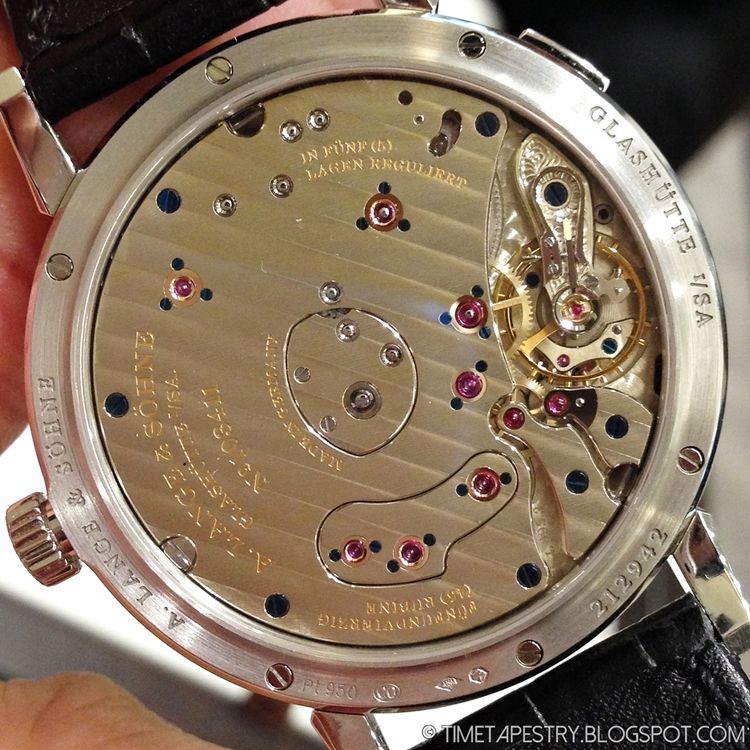 on the wrist... love it. now take a gander at the price tag and then have a look at your bank account... DAMN!
list price is S$82,600 for plat. Pink Gold is S$63k [note: 3rd gen regular 1815s at 38.5mm are
S$32,400k for the golds and S$34,200 for the palladium. 2nd gen 40mm 1815s are S$32,600]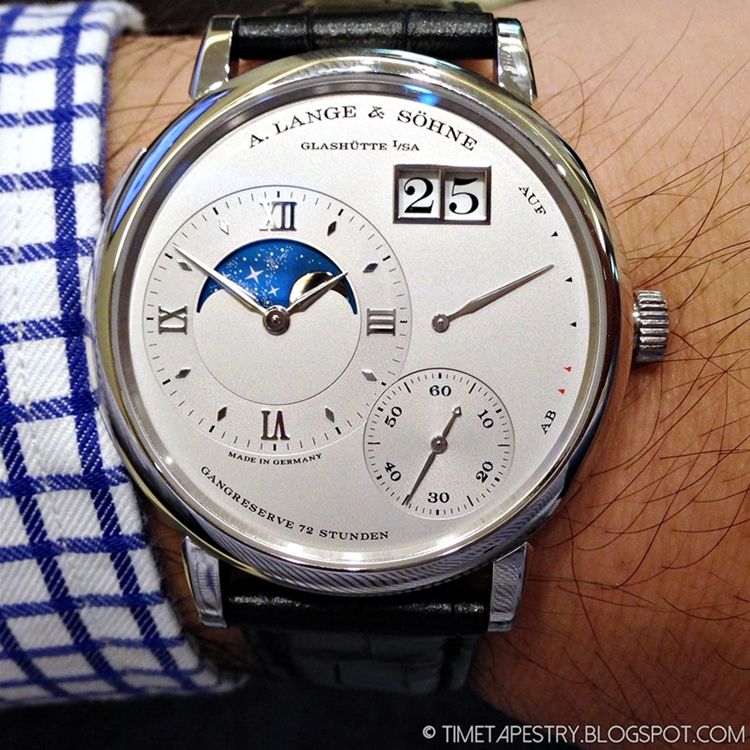 1815 tourby in pink gold list price is S$214,900. the LE plat one is S$263,600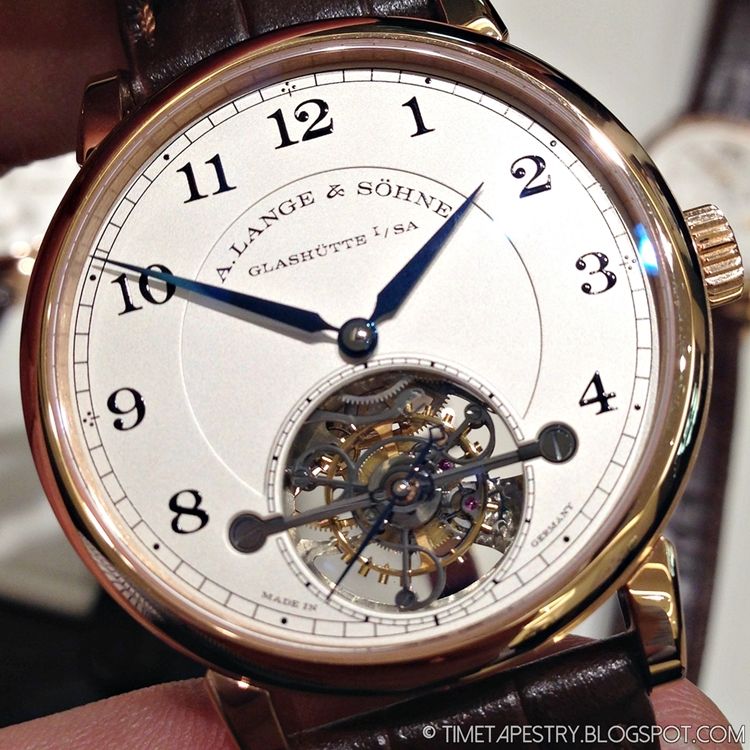 some nice see through action going on there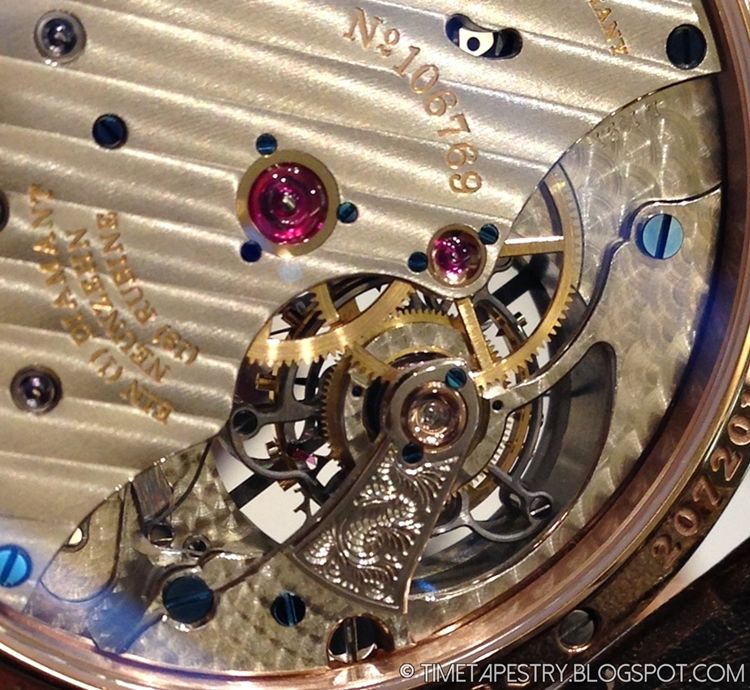 and that's all there is. a nice visit down to Lange and thanks to my hosts there. to the question then, which dress watch for you? Patek 5070 vs the Lange Datograph Plat. probably the original Dato at a more reasonable 50-55k vs the 80s of the 5070... probably...
signing off for now. cheers, raph