The title has no relevance to the post... well maybe... just the word obtuse perhaps... in the 'not sharp' definition of it. for those non-movie goers, its a line from shawshank redemption and I suggest you watch it if you have not as yet :) anyways back to the topic at hand...

There has been a number of posts on several forums popping up about forged carbon fibre for watch internals or case in the ... uh case of the Alinghi and I must say I have never personally handled it but what has been said so far by folks who have handled it are

... its light, apparently its very light. I am actually curious how light it is gonna feel(90-100gms, slightly heavier cause of the titanium caseback (they should have stuck with the carbon caseback imho) hope some of my mates get a piece so i can see it in the carbon. gshock light? hmmm
... it scratches, but cause it has a rough swirly patterny look to it, the scratches won't be too obvious and maybe it will look good with them? (shyeah and monkeys might fly out of my... nevermind :)

some of the marketing hype about it from AP and some of their blinded fans are that its really tough. it ain't gonna flex as its compressed baby and it ain't gonna be easy to break or chip as its made of the hard stuff... right... I just hope they sort these things(refer to pics below) out then before the first guys getting the Alinghis get their watches... it wouldn't be good if just after a bit of handling they start chipping away or pieces start breaking off. eg "oops I dropped my alinghi, but not to worry its made of hardy stuff ... AAAAARRRRRGGGGGGHHHHH!!!!!!"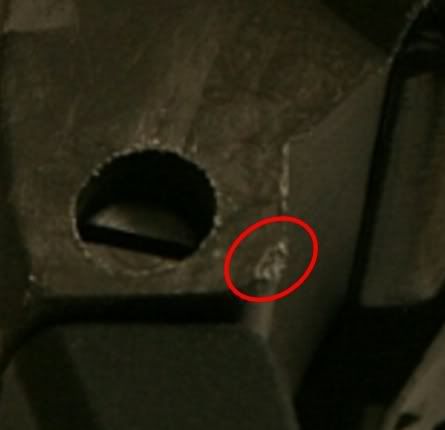 chipped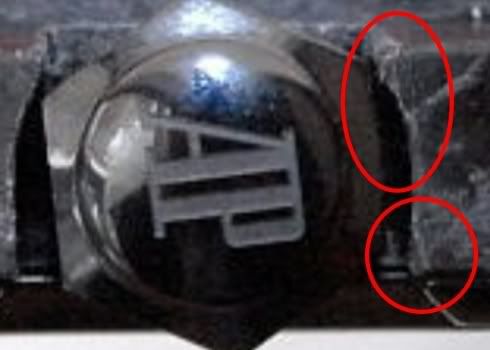 very rough at the top and chipped at the bottom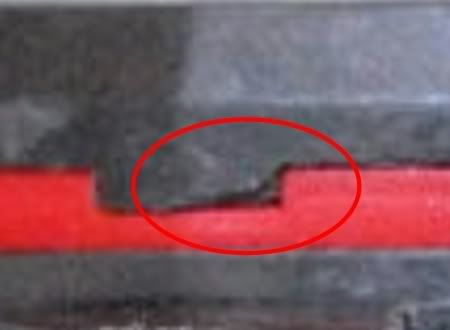 uhm I dun think there should be a hole there

I don't fancy these watches but am a fan of the Audemars Piguet Royal Oak Offshore line. my personal opinion are that there are better ROO LEs out there now (see 2 posts down) and that will be other better ones in future (RB3 perhaps? or pvd'ed stealthy lovelies :) of course these photos could be of prototypes and first renditions and the issues may be addressed in the actual production pieces and I do have faith in AP
end of day
to sort these little kinks out ;)