here's the story then... Audemars Piguet get their hornback leather from Malaysia from a company called Porosus as it creates leather products from a species of crocodile called "Crocodylus Porosus". These crocs have very good hides, giving very good quality leather and therefore very high quality straps. A hornback strap is called that as it utilises the ridge section of the back of the croc hide which is thickest and most resilient. It has been rumored that for every hornback strap, 1 young baby croc has to pay the price but lets not dwell on this shall we :) Instead lets look at the result...

It totally blew me away to see my themes bracelet on the hornback. it totally rocks!!! the three dimension aspect of it is just so damn good.

* EXCLUSIVE: I also heard that future themes models that came on the ingrassato calf straps in the past MAY now switch to different straps in future, possibly hornbacks :) The reason being the ingrassato straps suck big time as can be seen in pics posted by owners with these torn or cracked straps etc *

some badly taken pics today... the story will continue tomorrow as well as the mystery of the 88 you see in photo 1...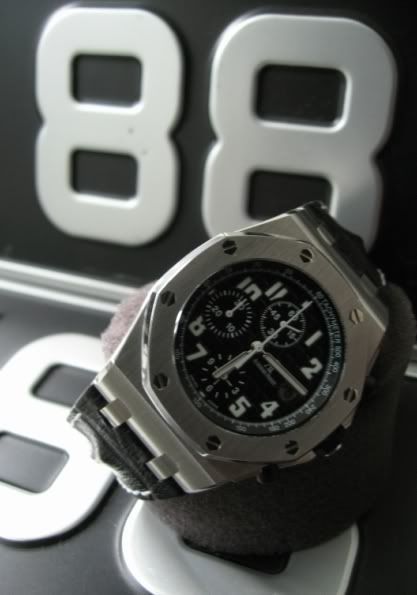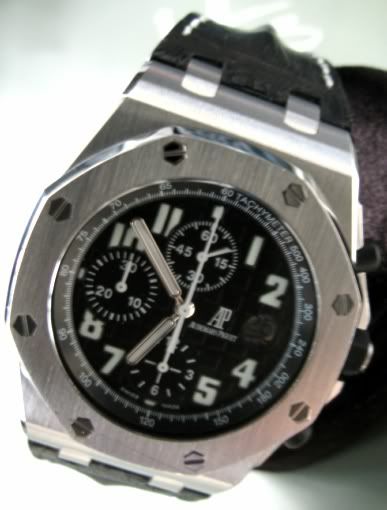 To add on to the story a little. When I first purchased my themes on bracelet a year ago I had already decided that I would want to get the hornback strap as I thought the combination would totally rock. There was some resistance on hearing how pricey it could be... about S$2k to do the change. thats a fair bit of change to go from a bracelet to a strap yuh :)
my "new" themes was out with a friend after its trip to the spa for the change today :) big ups to a cool dude who has recently had the good fortune of becoming an alinghi owner. now that is another fine watch (not the Team Alinghi yuh ;) well not yet anyways :)