interestingly enough, my son was flipping through my XXL sized watch magazine today and he stopped at the Patek ad... do you think its a sign? that papa should get a Patek to look after it for him? hmmm... but its one thing to believe that i am fated or required by my wonderful son to own a Patek at some point the other question is which one should i be getting? this post doesn't look to answer that question as yet as I have only begun thinking about it ;) [note this is all tongue in cheek yuh, i won't buy a Patek because of the ad and because i have a son.. in terms of heirloom watch, he's got a couple already :) ]


somehow knowing what he wants at such a tender age?

he flipped through the mag and came back to this
page again.. damn..

this post instead looks at 3
Pateks I will

NOT

be getting
as they are priced in the
'totally out of the raphmeister's range'
zone but are interesting pieces that a friend, bruno from horomundi,
[note these watches are NOT his just photos of pieces he's taken]
have shared some live pics with me on...
first off we have this... the sky moon tourbillon ref 5002p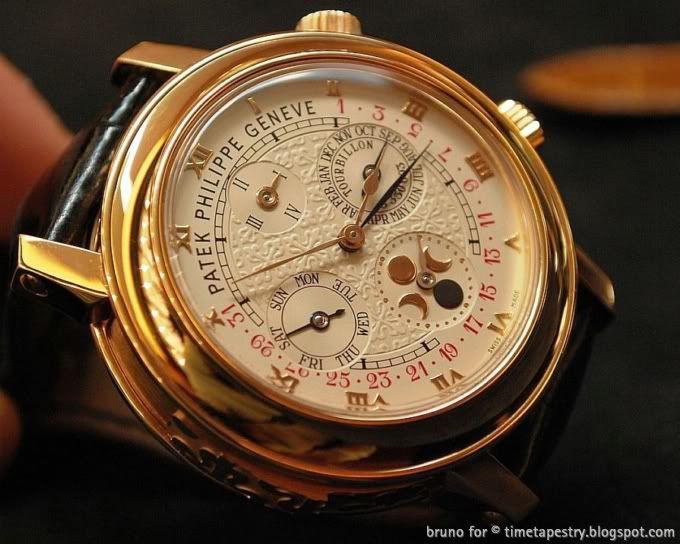 this is an expensive watch and that is putting it very very mildly... a pink gold version of it hammered for over US$1.2m... over a million bucks and sellers are looking for over that amount for this watch. u can get a WHOLE lot of watches for that or just this one Patek. And whats special about it? It is one of the most complicated Pateks made with mean solar time and perpetual calendar on the dial side and the night sky, phases de lune and sidereal time on the back. It is the first Patek with 2 faces and it is a grand complication with minute repeater and tourbillon to boot.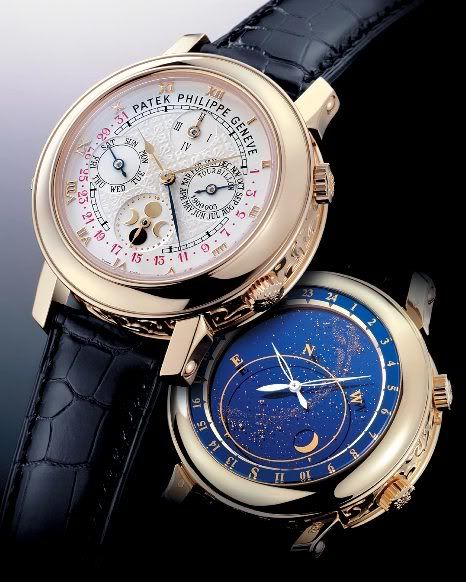 ok basic complications you should know. minute repeater = ding dong watch. tourby = that thingy that turns around and negates the impact of gravity, note that its covered up in the 5002 like in our next watch. but what is mean solar time and sidereal time about? you can google or wiki it up but its got a lot to do with equinoxes and equators and the earths rotation and other astronomy related info that would make any science geek really happy. For sidereal time based on my read, it basically means that the time is measured by the rotation of the Earth, with respect to the stars (rather than relative to the Sun), don't ask me any more about this though yuh ;)
and then we have the 5101p 10 day tourbillon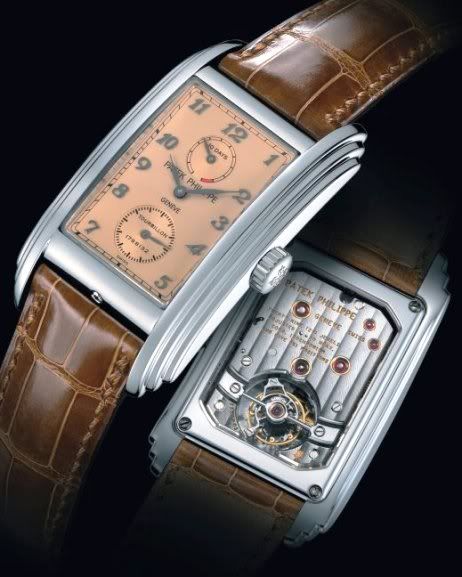 this one with the tourbillon on the back. going by the 'if you have it you dont need to flaunt it' approach or pushing the stealth wealth maxim. again the price doesn't sit comfortably with me. for around $270k i guess some might say, it should make coffee and serve it to me in bed too but being reasonable, i guess i would say i would rather top up a little more and get a gyroII from jlc for around this price point. the longish case could also make it tough for smaller wristed folks to wear. doesn't appeal to me aesthetically but can understand why some may like it and acquire it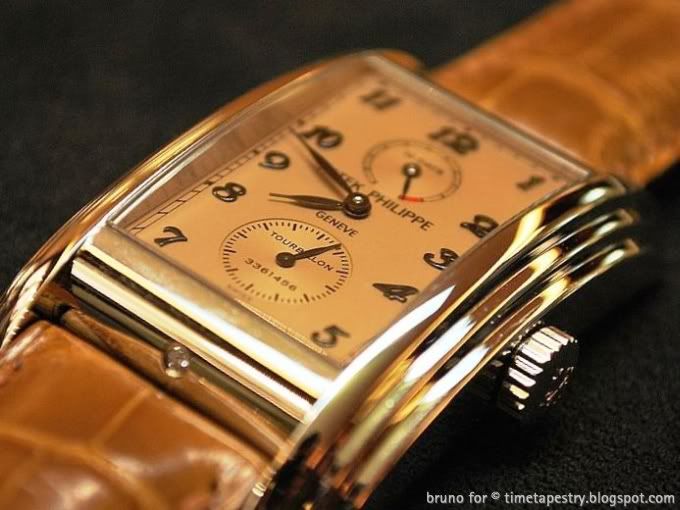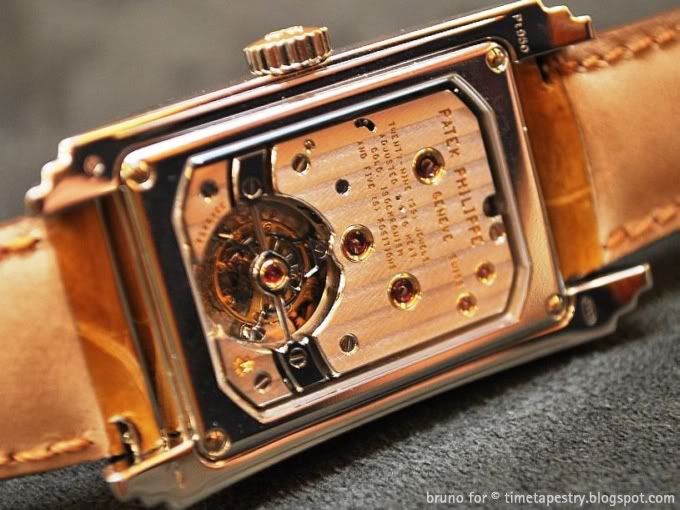 and the last one was this...the 5070p.. a lovely chronograph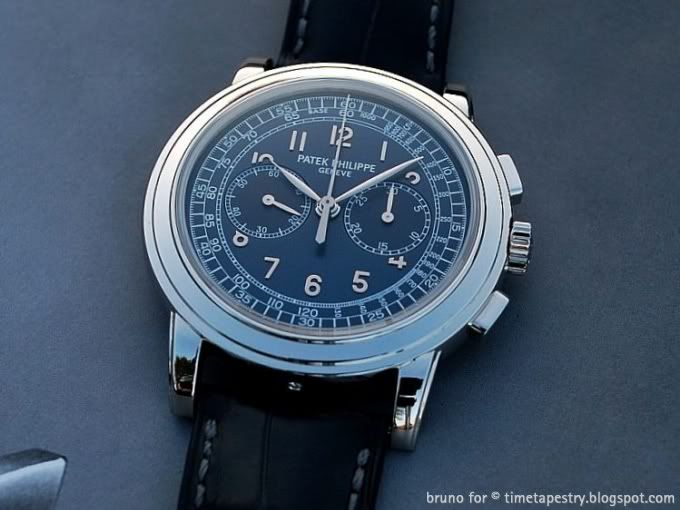 this one I like. the 5070 lineup from Patek is simply good looking. i was thinking of having a standalone post for this but i would say that it should be seen together with its more expensive brethren especially since it looks better than them in my view. the 5070 was hot when it first came out as it was a 42mm sized Patek, meaning its large for a Patek, but it got hotter and hotter and prices have subsequently risen for it... it was also a question as to when Patek would stop manufacturing it as obtains the base, which it modifies and finishes to the extreme, from nouvelle lemania, the CH27-70. the 5070p, p for platinum, is the latest one out from Patek and was shown at the watch fairs this year.
for me, i think the 5070 is one of the best looking modern Patek chronos around and is a great marriage of classic styling and modernity and so is a successful evolution in their lineup. some nice live pics follow...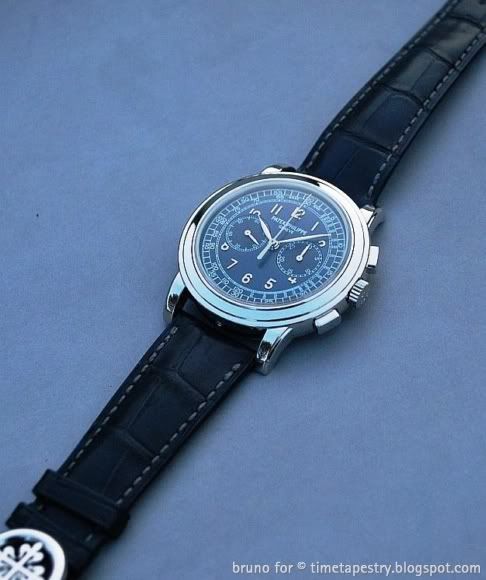 and a final shot of all 3 beauties taken together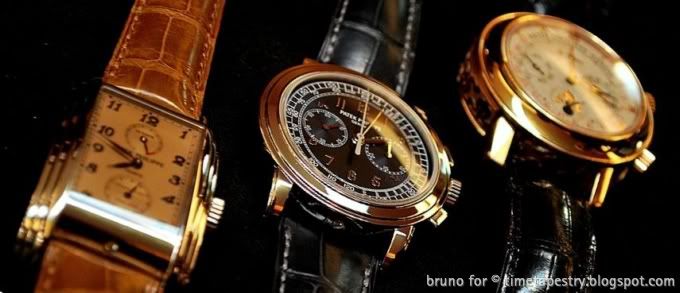 [raphmeister note: a sincere thanks to bruno for sharing his live pics of these 3 fine Pateks with us.
Note that these watches do not belong to Bruno and were just photographed by him]