yesterday was a nice night... the food was great, the company excellent and the watches impressive... i headed down to bellini grande after an interesting day at work having been invited by Vacheron Constantin for this dinner... I would like to thank Kok Choon(a top guy) for this and our gracious and charming host, David Heng and his capable team for a very nice dinner affair... i'll tell the rest of the story with pictures from the night...

the venue was ghoulishly decked out for halloween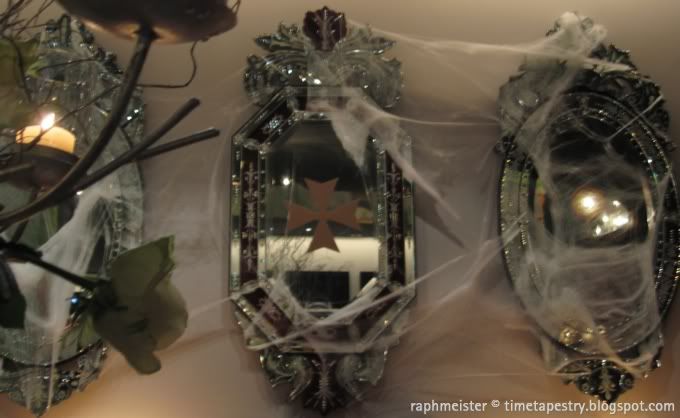 i spotted 2 vampires... uhm more like vamps wif some nice VC pieces on...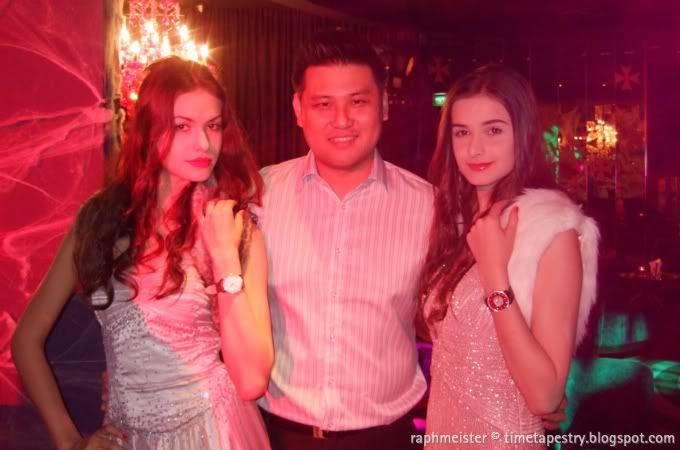 just a couple more pictures of the lovely models for the night... (oh and there were male models too but uhm
somehow they didn't show up in the photos... spooky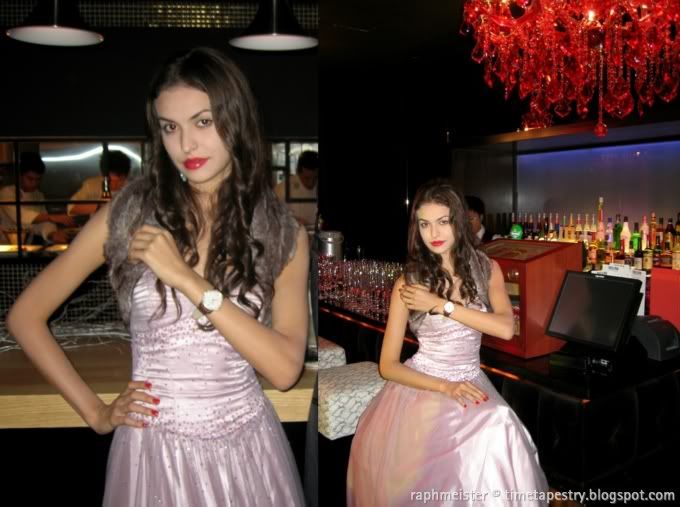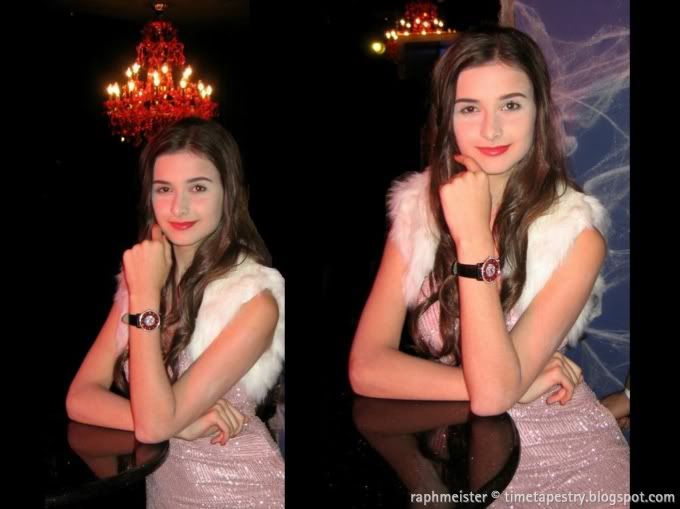 ok it wasn't all just vampish models there... some of my mates were too

me, jeff and lionel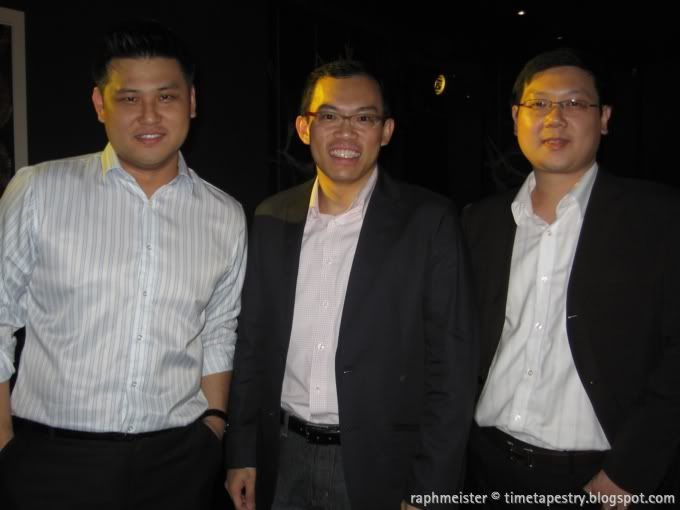 raphmeister, stefano and teng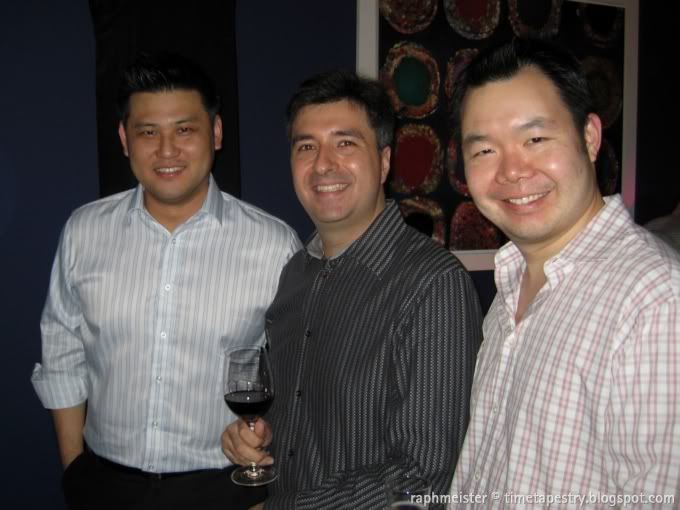 As you may know, Vacheron Constantin has more than 250 years of uninterrupted history. its a haute horlogerie brand that has a rich heritage and impressive values of excellence, creativity, social responsibility, respecting and passing of traditions and sharing of passion... they have some very nice timepieces in their collection...
onto some fine watches then... malte openworked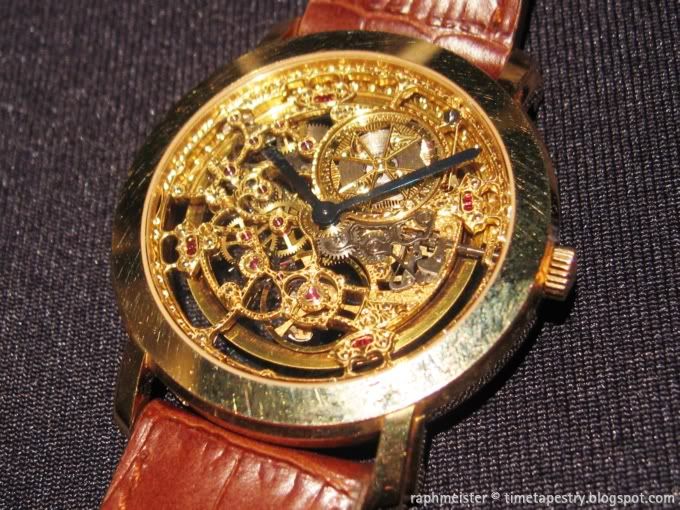 the malte tonneau haute hoaillerie openworked tourbillon...
a blingy and impressive piece... this falls in the 'if you have to ask how
much it costs, than you can't afford it' category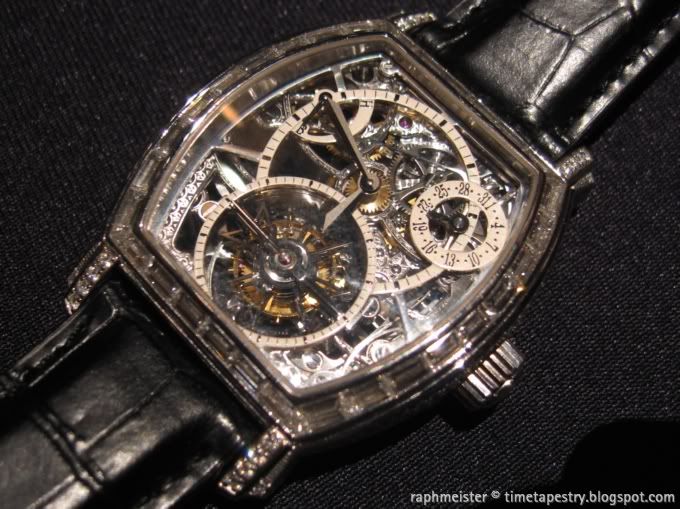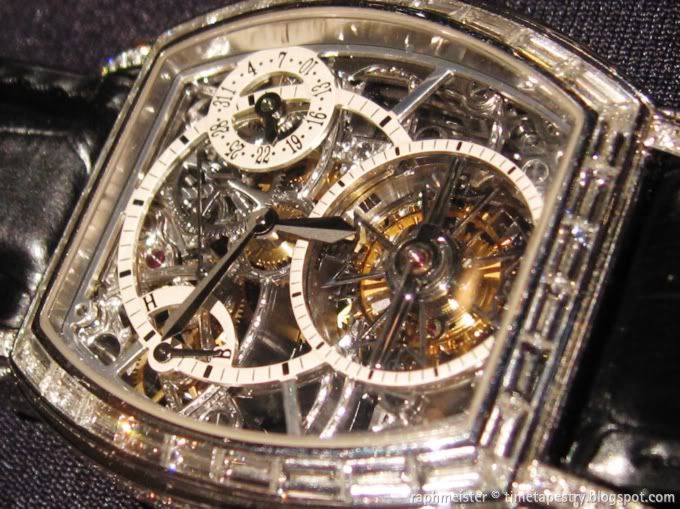 the lovely rose gold overseas chrono... its hefty and solid built and a worthy
contender to the royal oak offshore... i prefer the dual time chocolate dial
version but that ones limited and wasn't around for the nite...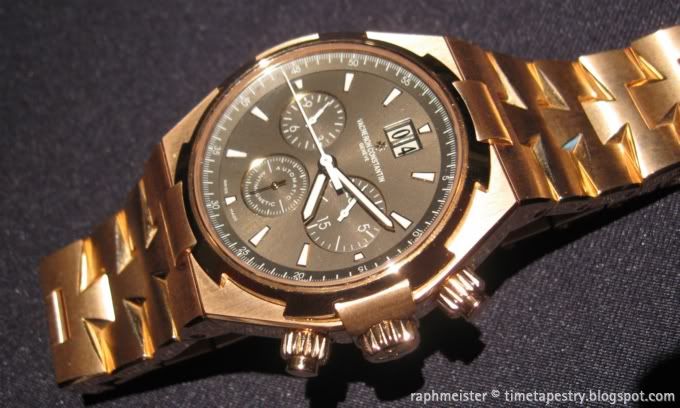 ladies overseas dual time with ice on the sides

the simple and elegant chronometre royal... a lovely piece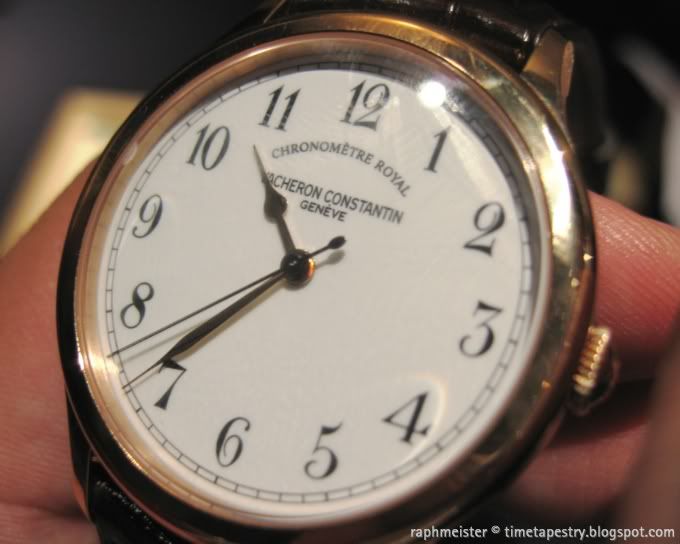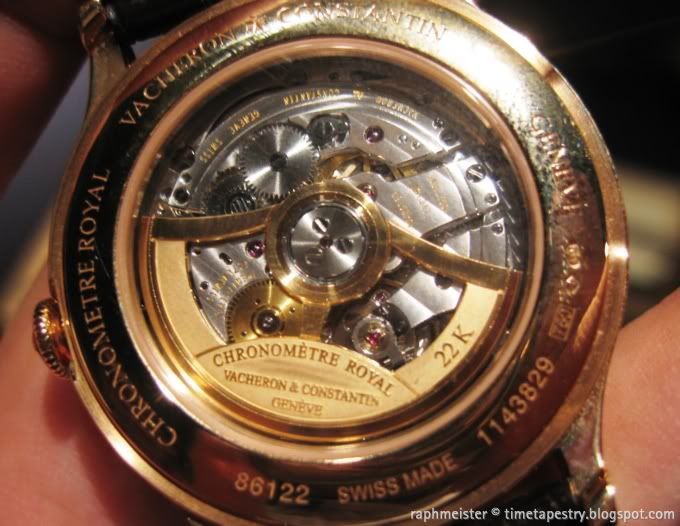 the royal eagle chrono... interestingly, the royal eagle line was the first that got
me interested to know more about the brand a long long time ago

2 more pics of the mighty and solid overseas in rose gold...

i really like the bracelet design on this piece and how it suits it so well...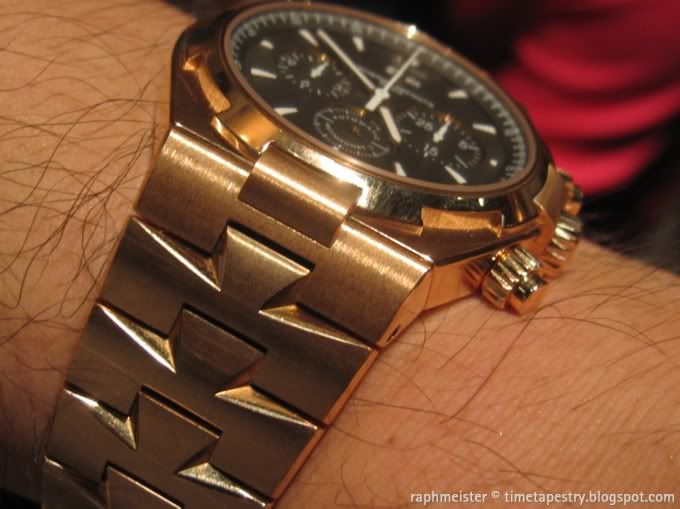 next up is photos of my dinner companions who were dinner... oops i mean some photos of my dinner companions and some of dinner
the menu for the nite was
excellent and there was a nice wine pairing for each course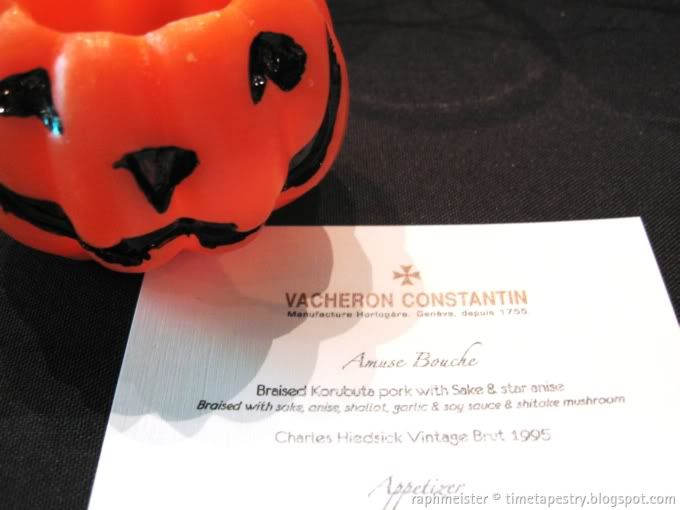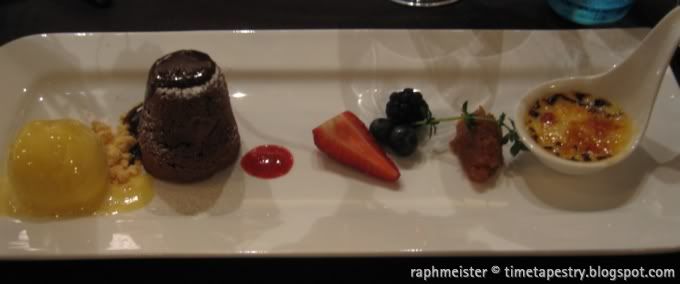 cool folks were chatting at the end of the table...
massi, his wife francesca and linda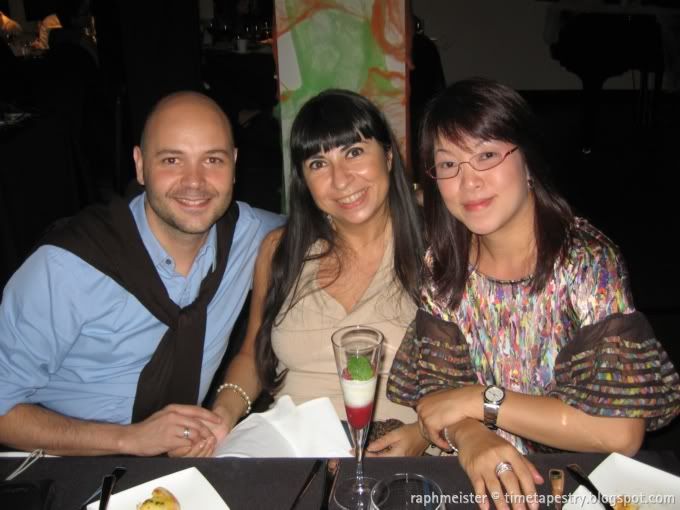 my dinner companions...

this guy came here not only for the food of course...
some serious watch photography going on by massi...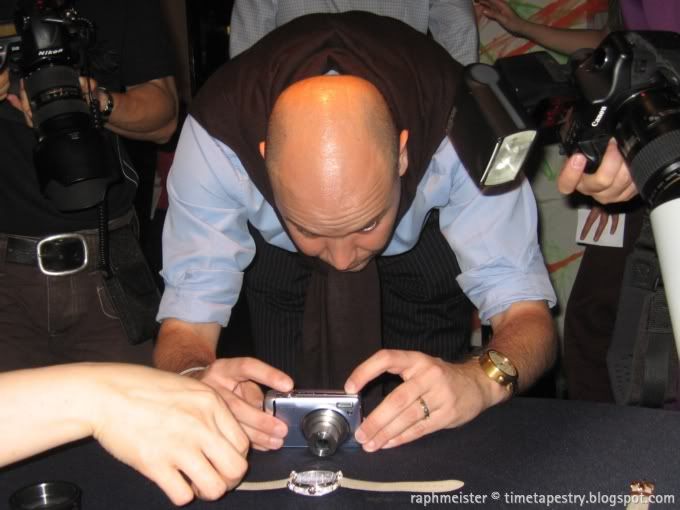 chee hong, vernon and lionel talking in detail on aesthetics and function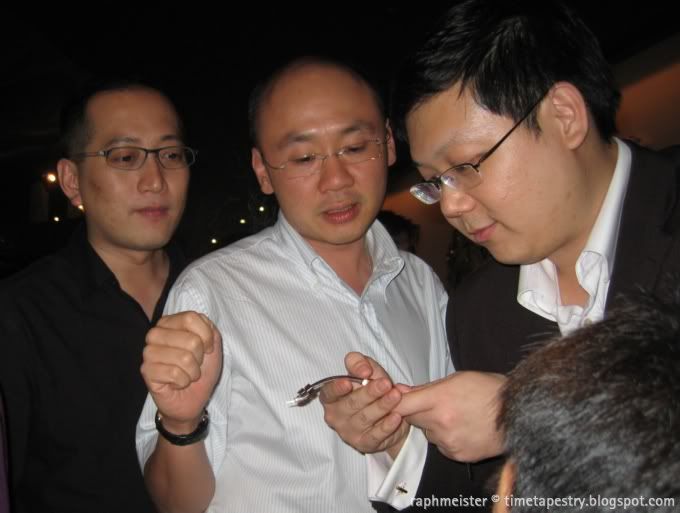 a couple more pics of a few other nice non-VC watches from the night...
hmm i wonder who's journe this is... a simple and luvly watch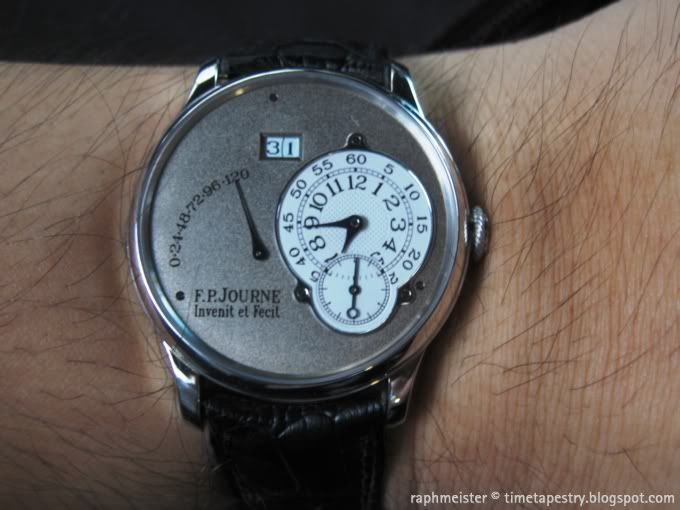 interesting eye sported by this skull... wait a moment, its my
vianney halter classic
give it back skeletor!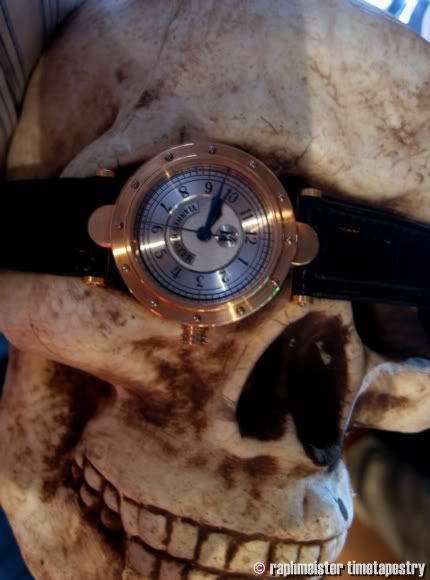 the freak was in da house... i wish it was in my house
some nice iwc backs were baring all... one in a pocketwatch movement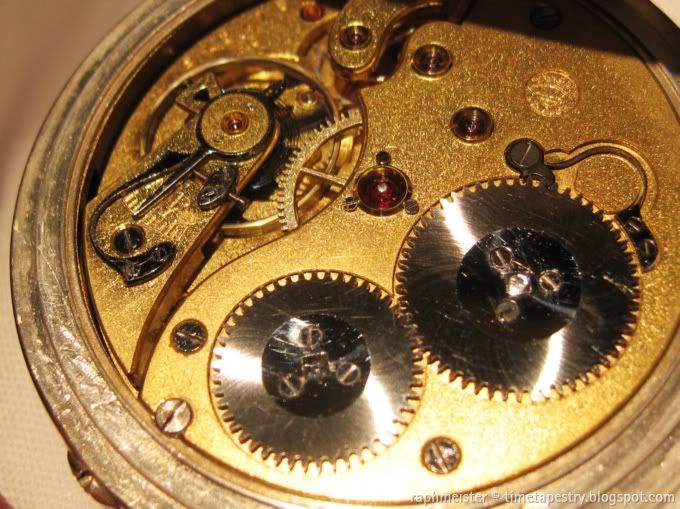 and another in the portuguese regulator...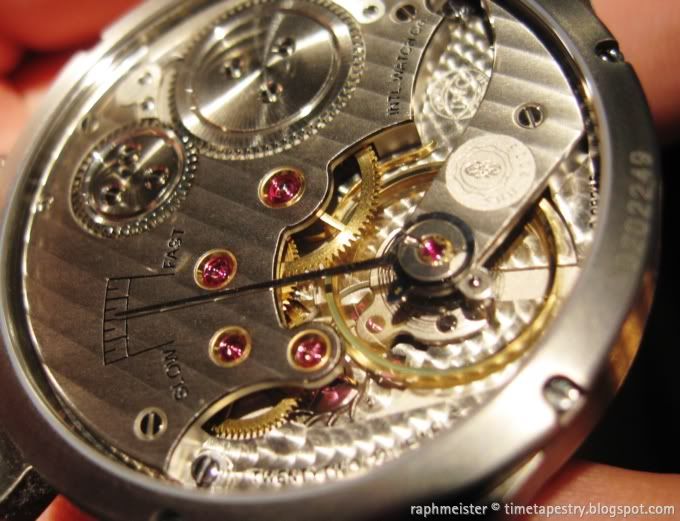 David, spoke a couple of times thru the nite and was a fount of information
on all things VC... a knowledgeable and personable man and a great host

some of the new ladies at vc to thank for the nice nite too... pei yu and may yee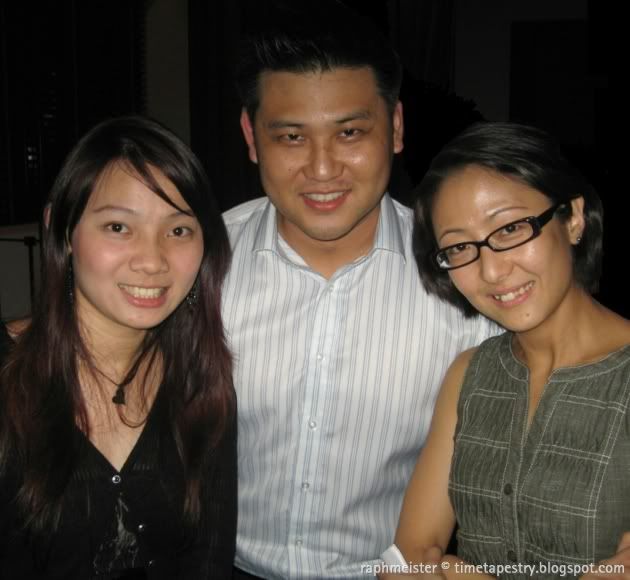 and thats all folks... i hope you enjoyed the post. cheers, raph