as brando said in on the waterfront... "I could have been a contender, I could have been somebody"... this post is about a contender... or specifically a watch contending to be in my collection :) Before I begin this, as a number of my mates are current owners, in the spirit of being a bit more sensitive i would just like to note that what follows is just my personal review and observations of the watch, reflect my taste which of course will differ from the many that have it or really really want to have it.


So lets look at the contender then... A mighty fine watch...
The Lange Datograph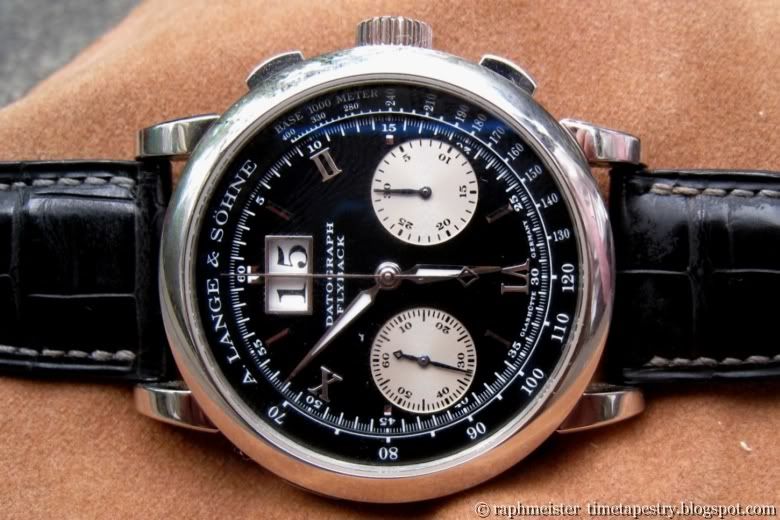 owners have been known to want to wear it this side up... who can blame them :)



First off whats great about this watch



- it has an amazing movement. the movement can be seen to be one of the finest hand wind chrono movements and it looks spectacular. big date, column wheel chrono, flyback, low frequency 18,000, jumping minute for the chrono, multi-dimensional, German silver and stainlesss steel and German movement pedigree (rubies, with the gold chatons, blued screws, engraved balance cock and swan neck adjustment) and finished to Lange's high standards.

theres just so much to admire when you flip the watch around.



- an icon for the brand. regarded by many connoisseurs and collectors as a top chrono movement achieving top end chrono standing in collector/enthusiast circles.

- its stealthy and versatile in plat. from wearing it to suits to jeans and your boss may not know its pricey if they don't know their expensive watches past Rolex and Patek ;) hopefully they don't mistake it for a steel IWC (ouch)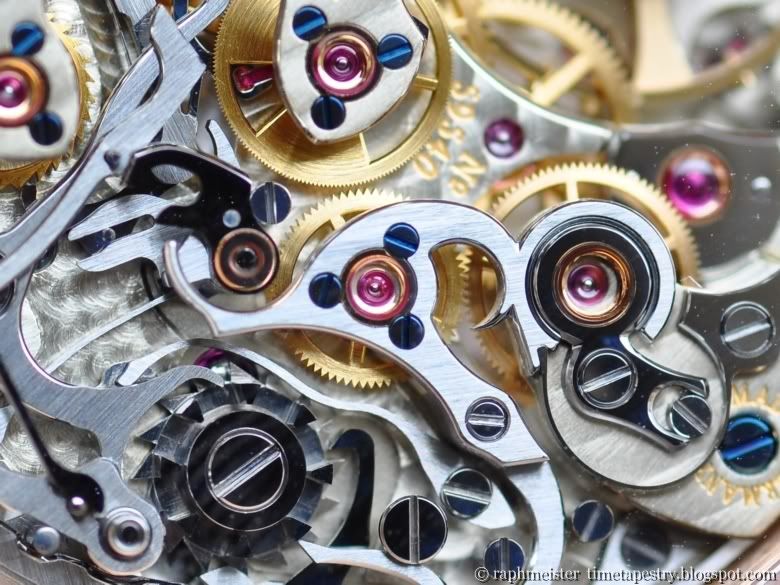 So why haven't you bought it already? Well there are some things that

I

don't like about it


- i find it a tad disproportionate. i think it could either have a bigger diameter dial/case or a slimmer movement/case. right now, it looks a tad pudgy to me at 39mm * 12.5mm.

- in platinum its very heavy for a dress watch. owners right now are baying 'whats bad about that?' well it may be just me but i feel that dress watches shouldn't be so heavy. the heft and thickness of the dato lets you know its on your wrist all the time and if not worn tight, it might roll about as the weight is centred on the head like an uhm platinum ingot. have to be careful when wearing and taking it off too, don't want to drop this lovely... DOH!

- it has a rather 'cool' German dial design thats not a clear winner to me... for me it feels a bit too cold, teutonic, inert somewhat and a little busy too. a slightly larger dial could have made a difference perhaps? some also ask if a big date belongs on a classic chrono... for me i don't find it too bad except for the missing zeroes....


big empty date... wheres the zero?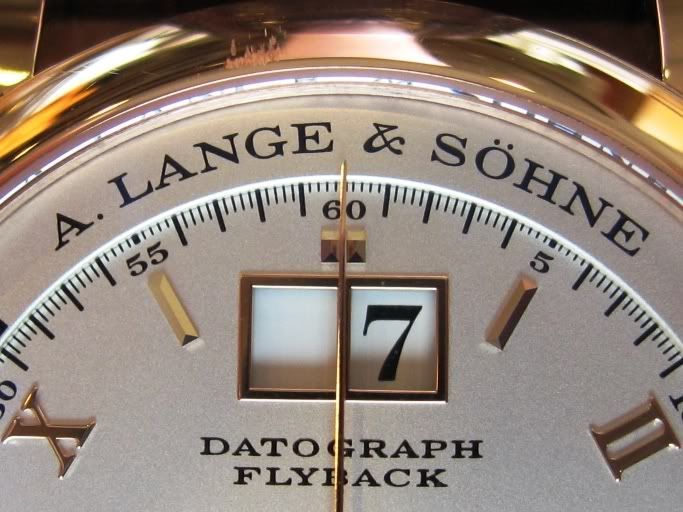 - nitpicking a little :) 36 hour power reserve? luminous hour and minute hands?


- it seems to be rather readily available so no hurry to get it if u want one perhaps.
there are more than 10 plat datos trying to be sold right now on various dealers/watch forums/pre-owned sites

that i have come across.
no matter how high they move the list price from S$75k to S$109k, the secondary market price for a Plat Dato has been hovering around S$60k for a long time.

of course at S$60k its ok if you bought it at S$50k when it first launched and not good if you bought it at over S$80k now. (note the rose gold piece is selling about S$65k new... u could get the plat pre-owned at S$60k and have enough left over for a Rolex :) haha... sorry bad joke)
its a regular production watch and more and more will just keep on coming out every year. About 500 datos produced a year so maybe 5,000 in all since it launched in 1999. with quite a number in Singapore I reckon.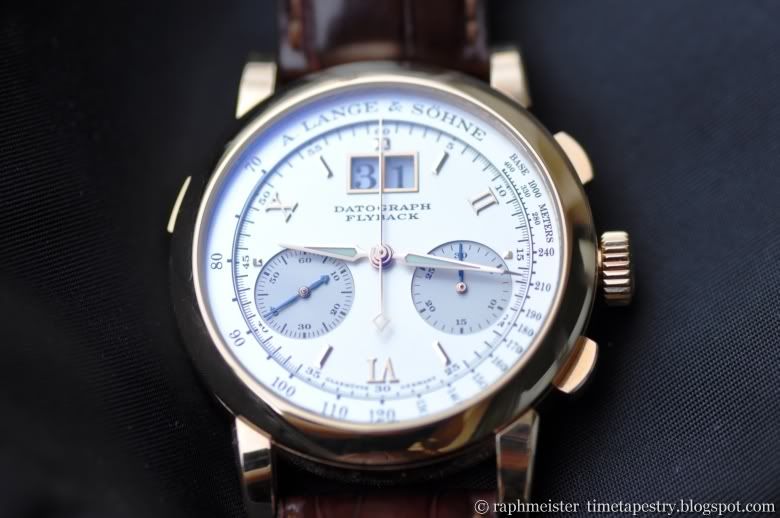 A sidenote:
Not in contention as the price is just too high... the 5070 is another great chrono but compared to the Dato, it may be a
tad too big at 42mm
for its thickness. and that stepped bezel is something to get used to. was the 42mm case necessary? of course not, the movement is only 27mm in diameter. i find that it costs quite a fair bit for what it is but that could be said for many Pateks. quite a fair bit of 'hype' generated with all the talk of patek possibly not using the lemania movements anymore because of the swatch folks, impacting prices on the 5070s and the 5970 and variants... a nice and pricey piece nonetheless.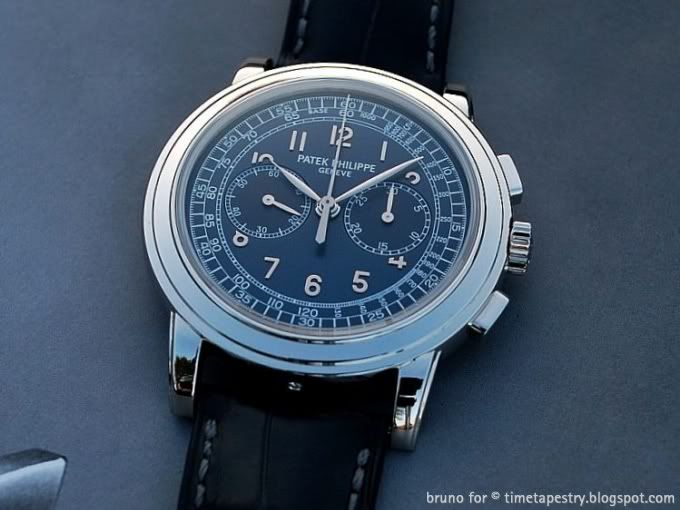 I have live pics of 2 versions of the dato above but the one that i desired the most was the rarer rose gold black dial version. rarer as it has been discontinued. rose as i like its warmth and black dial as thats just how i prefer my chronos :) Little (and rather known) nugget of info, Philippe Dufour, the Godfather of Independents, and a watchmaker I respect, has this model and it has been referred to before as the 'Dufour Dato'. As I won't be owning a watch by him anytime soon(due to price and opportunity costs), its good to know that a watch that was in contention is loved by a master.


Philippe Dufour holding his Pink Gold Datograph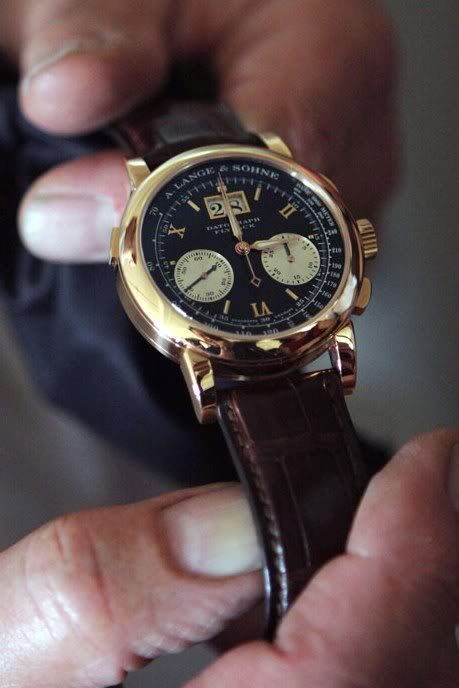 Picture source: Horomundi.com
and the last word... A little bit about me and my taste
then and a question...
- i like more 'warmth' in my watches. this observation was told to me by a watch loving friend of mine and i think he's spot on ;) the dato is too cool for me but many others will love that.

to each his own yuh and we can agree to disagree on this one

- the watch as art to me is about soul. jazz. flair. creative innovation all mixed in together

... and as i
have limited funds for this passion of mine i hope to acquire something special that has all of this when getting something in the S$40-60 range :)


so I end with a simple question... which watch do you think won out over the dato and is now on my wrist causing me to smile as I type this? :)