[ before i begin this review, please note i WILL BE slagging off certain brand's watches. now this is not to say i dislike ALL the watches in these brands ranges, there are many that i like and love in these brands ranges, its just stating my view of these specific models in their stable, all in a rather tongue-in-cheek manner...as i would really be fine wif owning all of them if i had the dosh :) so even though the criticisms may sound harsh at times, take a chill pill, relax and just read on ;) ]

i admit it, i am biased :) i like my own watches the most which is why i own them. but at the same time i can try to be objective... the question posed is this, which is the ultimate haut de gamme sports watch... of course the contenders will be audemars piguet, patek philippe and vacheron constantin. the rest of the big name houses do try but they're not really anywhere are they? oh and for this head to head, its not how deep u can go in the sea with it that matters yuh. the 'how much of a head turner factor' comes more into play ;)

the contenders in the 70s, 80s would be the standard Royal Oak Jumbo 15202, the Patek Nautilus and the VC 222, all designed by Gerald Genta. of this lot the royal oak is the king. the rest are trying to beat it and get a slice of its crown but hey, they'll always remain contenders regardless how high u price them.

in this day and age it should be the Royal Oak Offshore(updated by Emmanuel Gueit originally with subsequent dial updates), the Patek Nautilus 5712 and the VC Overseas Dual Time(the vc overseas chrono just is a bit of a minger). Each sport a complication, chrono for the offshore, moonphase and PR for the Patek and dual time and PR for the VC and each are larger than their classic styled cousins and offered in steel as well as other metals. a wild card thrown in is the Richard Mille 005/10, base time and date only RMs but at the price of these watches only coming in golds and titanium make it a logical contender. at the extreme of it all is the countless number of AP limited editions wif a focus on one of the more recent, overly-aggressive, over-the-top piece, the Audemar Piguet Survivor... so lets get to it...

first then... the defender :) the 'base' royal oak offshore

whats good about it?
1) its got a great look. a fantastic upgrade from the lovely royal oak. a winning design enhanced the right way.
2) its not soo extremely oversized like some watches out there. interestingly if you compare it with the oversized brigade that came after it, it doesn't wear too huge... or it may be just me having gotten very comfortable with the size :)
3) good bang for buck as compared to others here

whats bad about it?
1) its got a teeny tiny movement in an oversized case for the movement. they got round this by saying its got the anti-magnetic iron cover but we know dats just some justification... not that we need it mind you :) [for the other watches, i don't think their movement are all that big too yuh so this point applies for some of the others...]
2) the movement is not a great chrono movement now is it. the base time calibre JLC 889 based AP is fine but its mated with a dubois depraz chrono module and because it ain't integrated, it has a magnifier over the date which isn't all too great. modular movements are also known to have some pecularities eg. stuff jumping on start/stop/reset of chrono... again, does it really matter? if u want your fine movement pieces go for your classic pateks, langes, dufour and voutilainens :)
3) the biggest problem is its the base model in a successful lineup. if you're going for flash, this won't do now will it? :) at S$20+k its just not expensive enuff... but of course this only matters to those who buy it to be showy and not because its really really good lookin and a great haut de gamme sports watch... which it is...



loved it when i got it and still lovin it many watches later...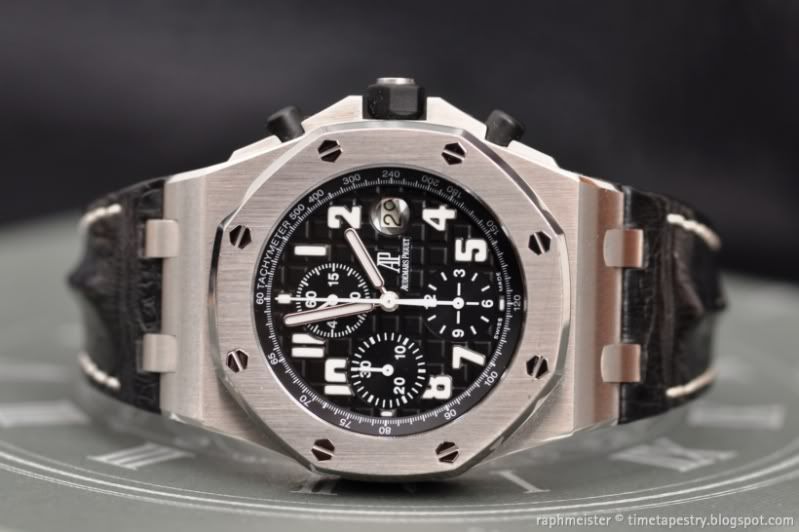 a good design enhanced the right way...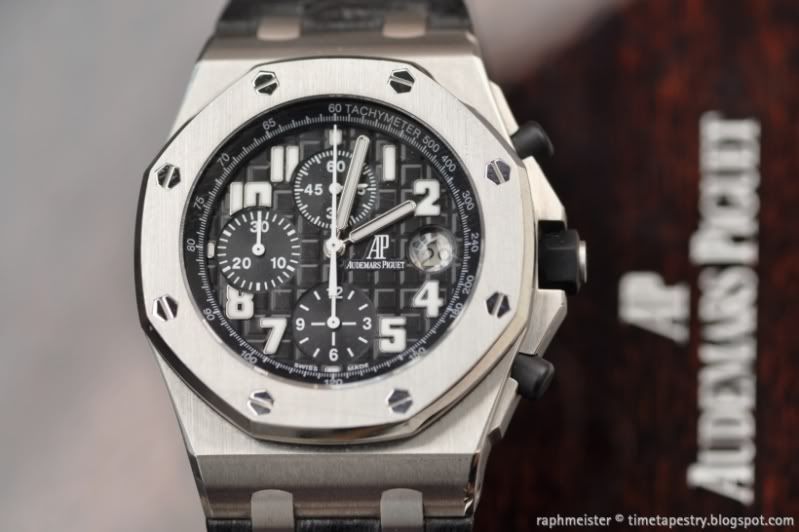 next up... the rich playboy contender... the patek philippe nautilus

whats good about it?
1) looks... well it looks alright. not damn i need to get it now for the steel and the white gold pieces and maybe just a little, 'its nice and i would like one but wont die without it' in the rose gold :)
2) its got patek class and its got nice details, which is important
whats bad about it?
1) its too slim... its thin and lacks oomph thats needed in sports watches... it feels kinda limp. like a refined gent playing paintball or something...running around all upright and uppity and getting shot up badly by the real meanies in this group... noe wot i mean? :)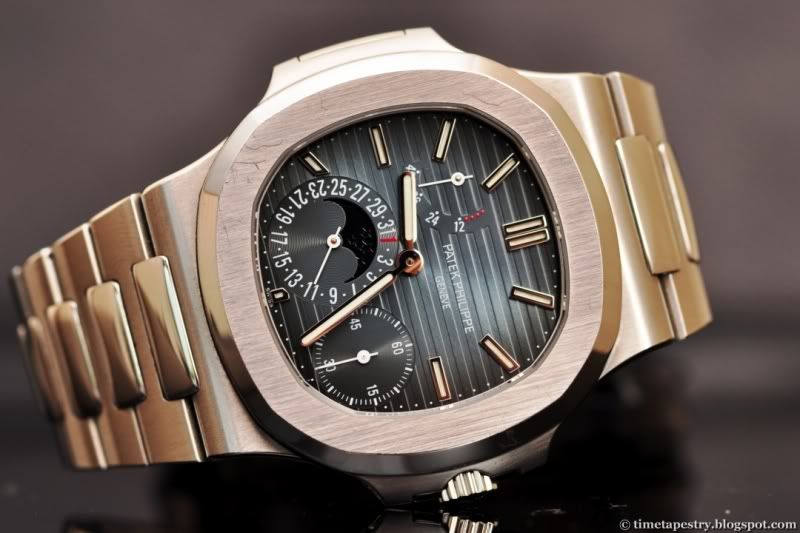 nice to look at movement but is that key in a sports watch?
this one is the best of the lot for the nautilus range in my books...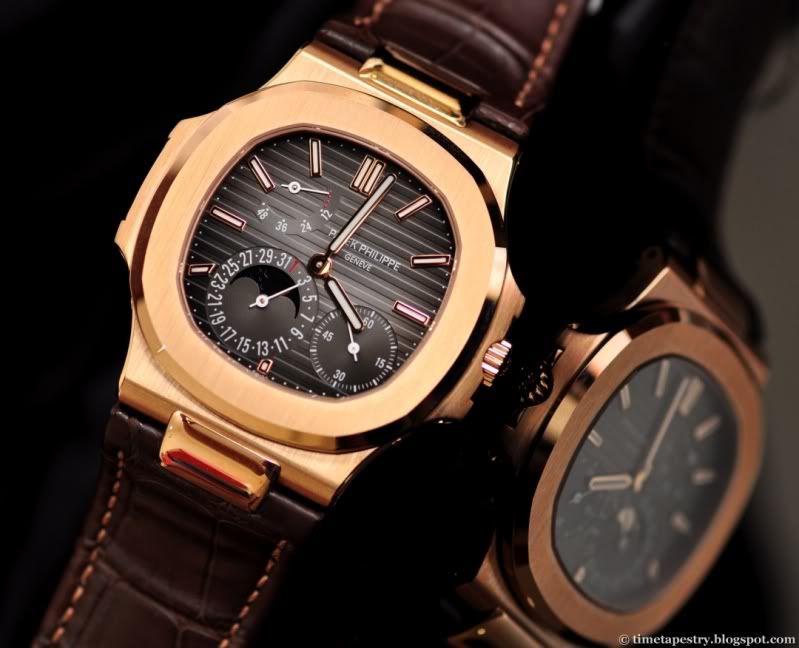 the ostentatious boys... richard mille rm005/rm10

whats good about it?
1) its loud. c'mon now... u don't buy these watches to be discreet now do you? for that u go with the classic styled pieces... for this, you want people to stare at your wrist and go "DAMN! he's got an RM on. thats freakin cool... must hv cost a bomb!' this sorta reaction puts a smile on the RM wearers face as he pulls up to the club in his yellow lamborghini... discreet... very discreet ;)

whats bad about it?
1) its loud. everyone who sees you will be thinking 'look at that wanker with his flashy RM. u think only u can afford an expensive watch?' but pay no attention. some will have more wealth than u and some won't but does it matter now really? of course if u had real $$$ u would not buy a base RM, it has to be the RM4v2 at minimum now, doesn't it ;)
ok a felipe massa limited edition rm005 and a rm10 rg...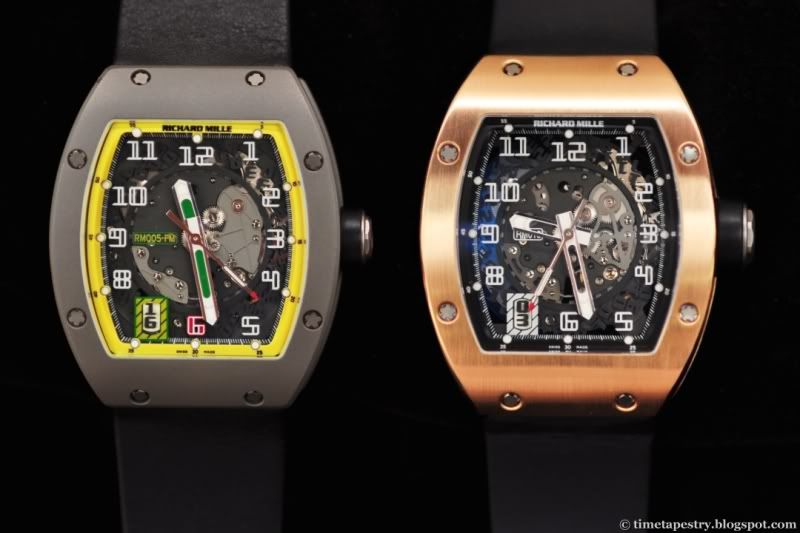 wasn't impressed by the finishing(if u can call it that) or the quality/materials of the movement...
interesting movement aesthetic... but dats about it...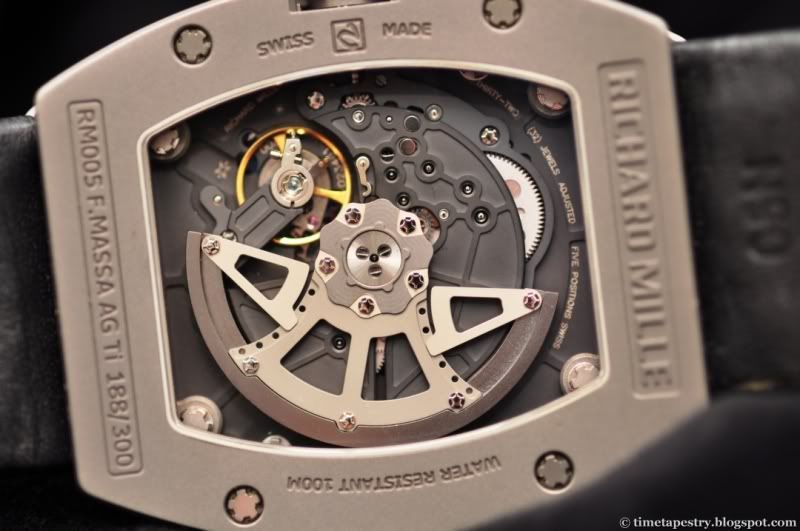 super light and feels toy like... easily smashed against stuff as you will hardly know its there... ouch...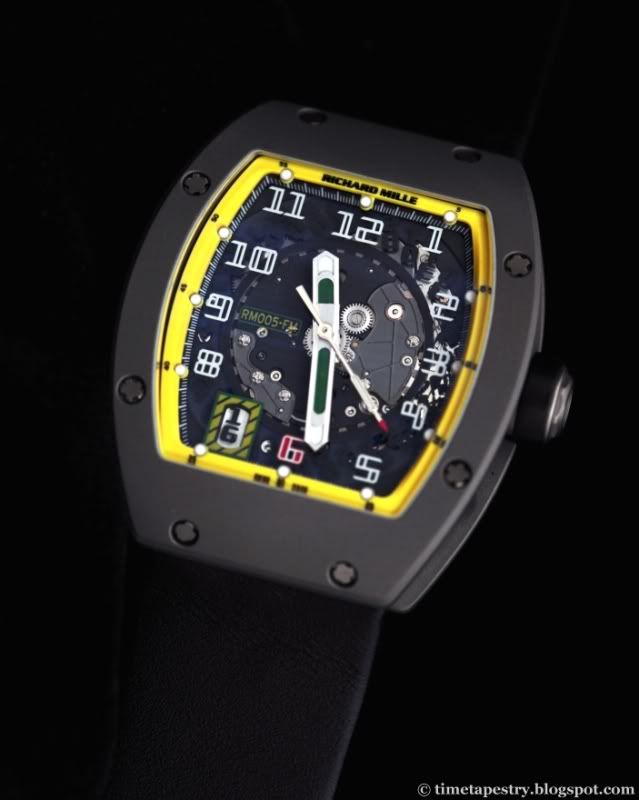 upsized case so there some transparency thing going on... also making all rm005s undesired and for the smaller wristed boys..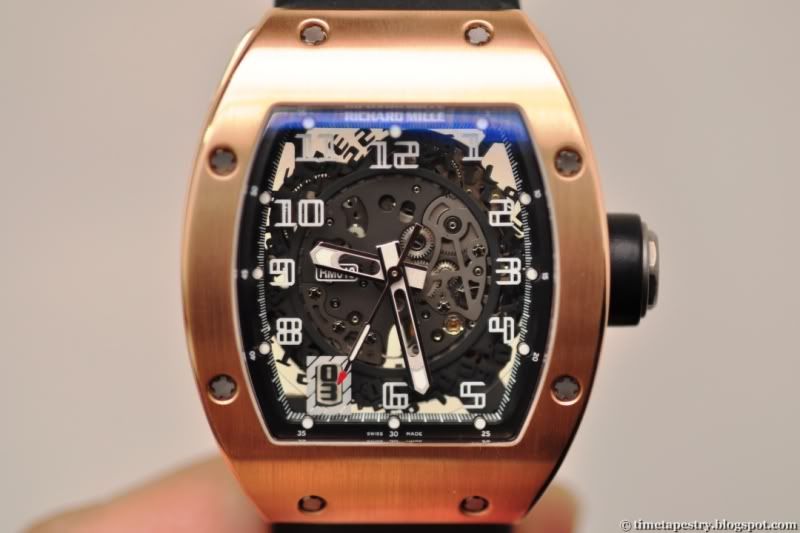 the try... vc overseas

whats good about it?
1) the styling of the bracelet and the generous doses of the maltese cross logo styling all over. nice guilloche dial on the steel pieces, cool dual time function. gorgeous in rose gold and choc brown dial.

whats bad about it?
1) its quite weak in the metal. the whole idea should work but somehow its not something that grabbed me and said u gotta get me... with a bracelet in gold it weighs a ton which means it feels like a million bucks but you'll get a proper workout from wearing one. just not worth it and the weakest amongst these lot (please note i really really like other VCs :) do check out their 2009 lineup for the patrimony traditionelle chrono and small seconds... those are VERY COOL or VC get it :) kekekeke [sorry about the corniness :) ]
the minger... vc overseas chrono... i dun have any pics of choc dialled dual time rg handy unfortunately...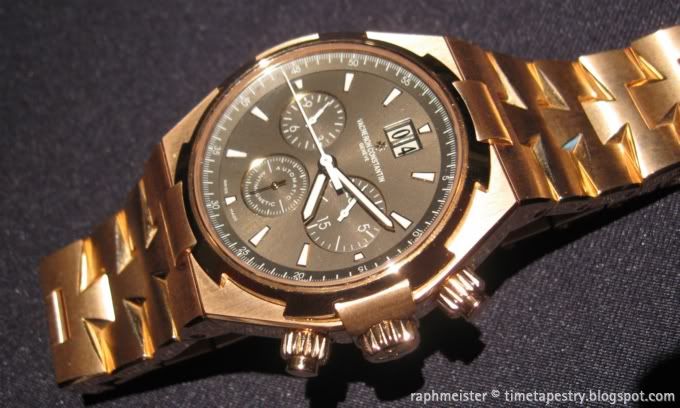 the wrong kind of evolution... the AP royal oak offshore survivor

whats good about it?
1) its got some royal oak offshore styling... meaning it is built off a good base but then it goes pretty awfully wrong very fast...
2) people who buy this are saying very clearly... i am able to get a hot limited edition from AP and i have money, i am a boy who likes his toys but don't necessarily have a lot of taste. (oops i think that last part is in the category below)

whats bad about it?
1) have you seen the gun barrel of a crown???!!! and the shiny things on it to make them seem like night sights!! Gawd! its a watch designed by a teenager with an army fixation. buzz haircut and loadsa gi joe toys... its just sooo wrong.
2) over-the-top, over-designed, overkill, extremely contrived and just not an End of Days(i.e. the right way to do an LE ;) of course not at current prices which are 4x what it was released at)
3) a thousand pieces and its limited? limited used to mean 50 or 100 pieces... a 1000 pieces!? if u wear it on your yacht in monaco during the f1 race, 6 out of your 10 neighbours could have one on and we cant have that now can we... even if the ladies on your boat are way finer than theirs ;)
4) AP ROO limited edition?... like it matters as theres gonna be another 5 RO/ROO limited editions next year and the year after that and the after that year etc etc etc... its kinda takin the piss or killing the goose that laid them golden eggs... over milkin it in a big way...
the wrong end of a gun barrel... ok ok it ain't that bad... or is it... hmm...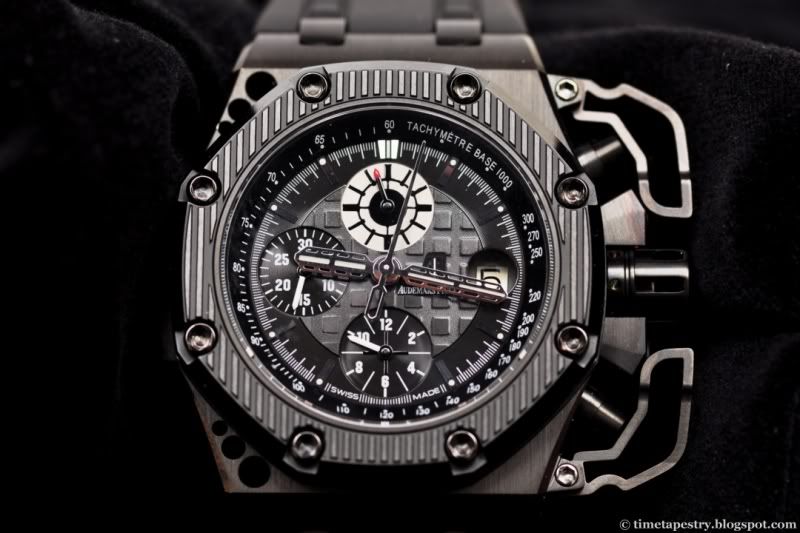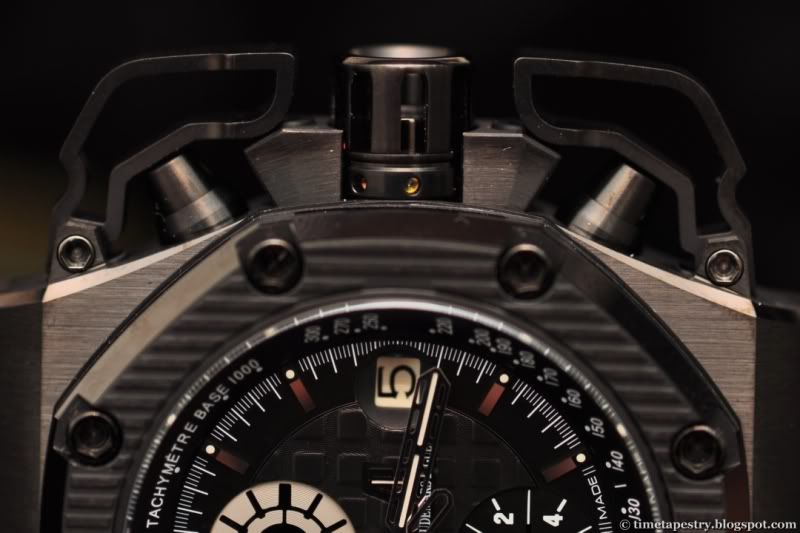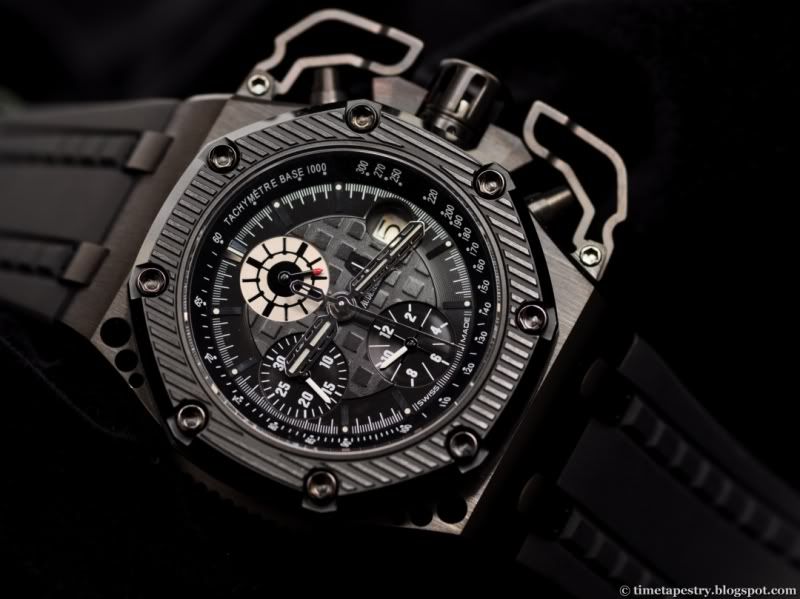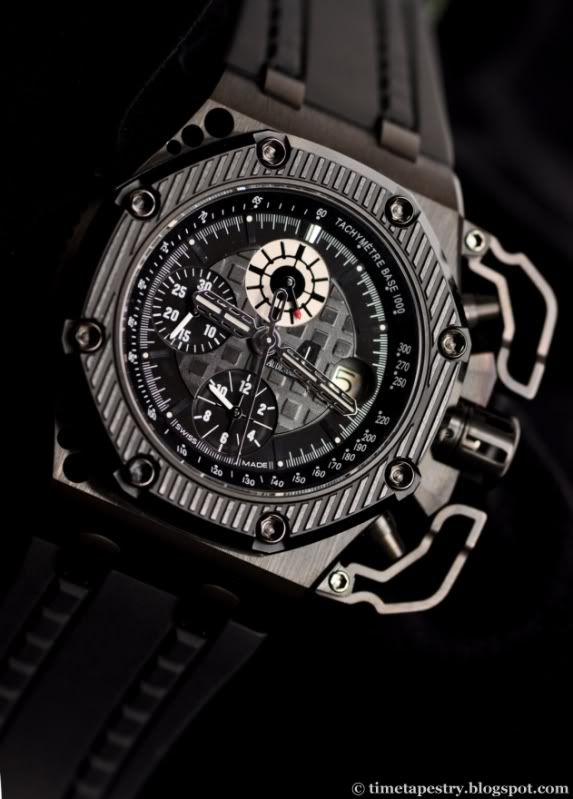 a much better recent LE... but some may also find it over-designed in some way... it was nice to me initially but its desirability has also worn off with me somewhat...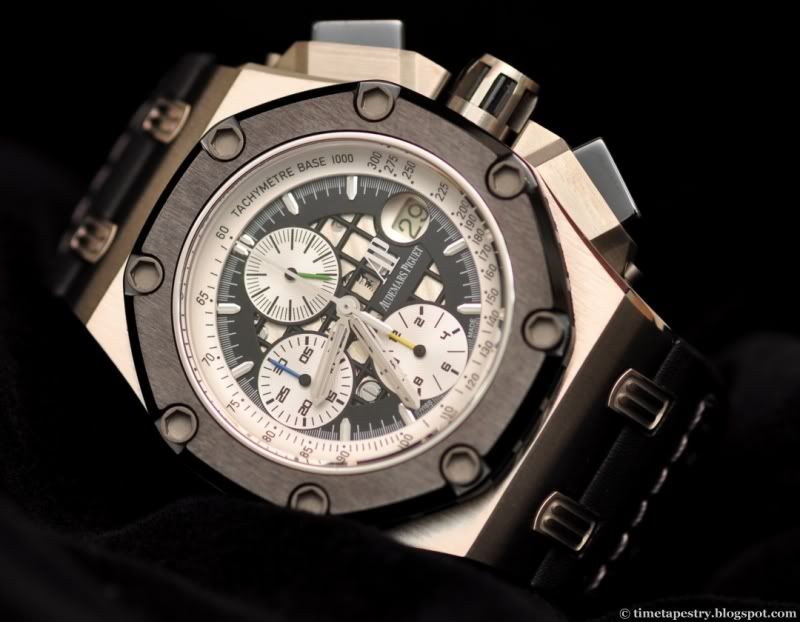 every year new alinghis as long as AP is tied with them... whats so hot about that?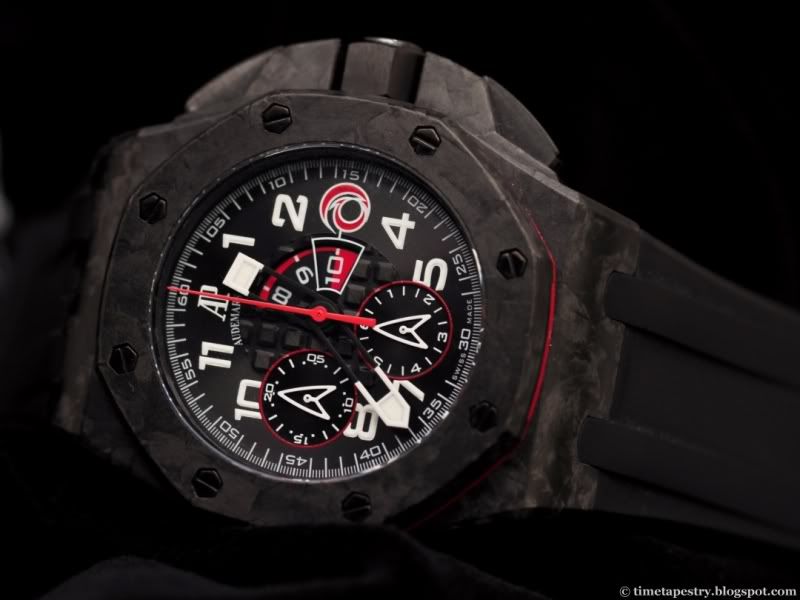 ok so after the pluses and minuses, the praise and the rants, the bad jokes and taking the piss out of some of these boys, whats my conclusion?
.
..
...
....
.....
......
.......
........
.........
..........
...........
.............
...............
get ready for it...
.
..
...
....
.....
......
.......
........
.........
..........
...........
.............
...............
the answer is... drumroll please.........
the non-limited edition Audemar piguet Royal Oak offshores :)
these watches are not loud for the sake of it. there are so many fine pieces in the range. they are not sucker watches(eg. 5-10k more for a color change and some words to say why its an LE) and they work. from the white rubberclad to the rose gold rubberclad. the black themes to the safari. these are just very nice watches and if you are going for balanced design, not extreme design stylings and OTT flashiness, then this is the watch for you (and for me it seems ;)
the patek may cost more than twice but the ROO is just nicer to me...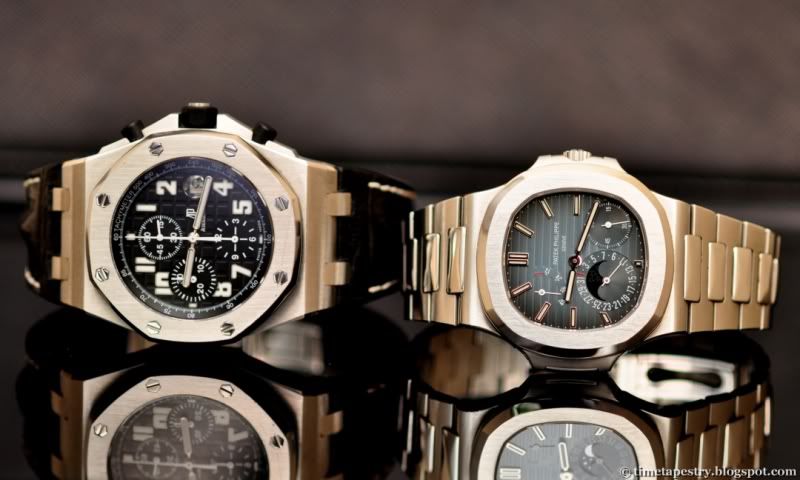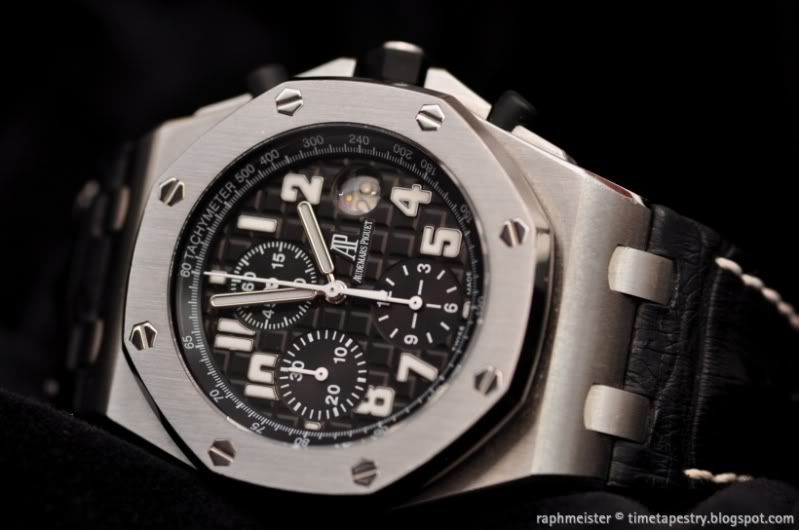 hope u enjoyed the post as its all for fun and all of it is subjective anyway right? cheers, raph :)