well for one thing his nick made me think of robotech coz the machines in there were called mechs (if memory serves me right)... but i think its more about the love of mechanical watches which inspired him in choosing his nick, of which he has some great ones. so we touched base sometime back but only got round to meeting recently... and what a great time it was :) some fine watches from him and some of my pieces...
mech and me watches... 4 each... and not a bad one amongst them impo :)
this is what a micro-gtg is all about ;)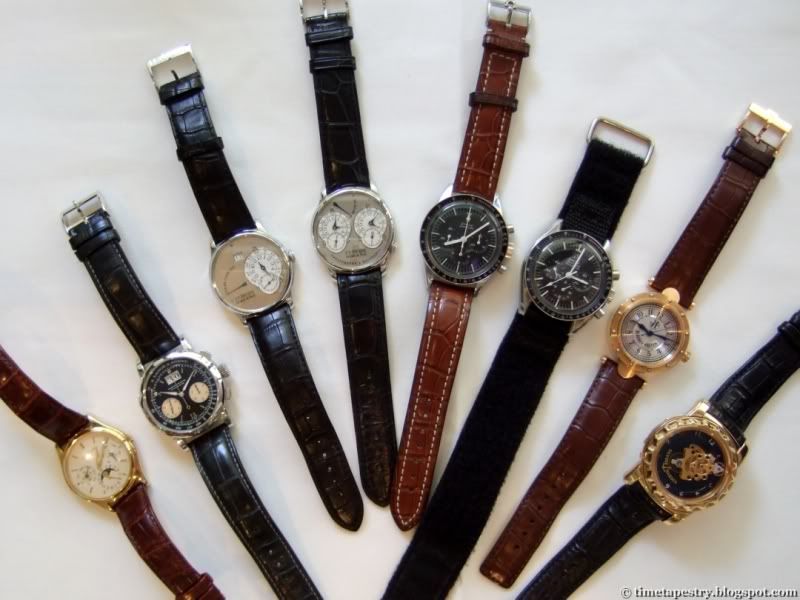 another angle... the rose gold classic staring down
two steel 321 speedies and two plat journes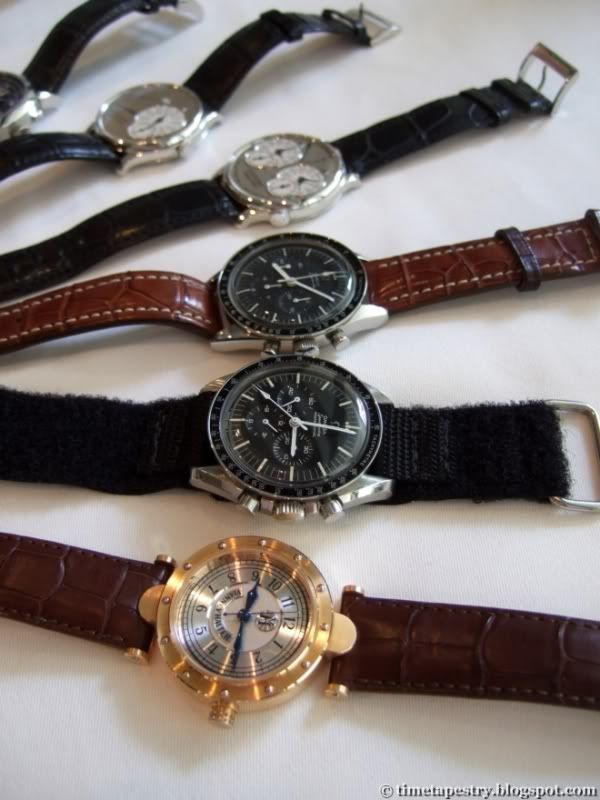 lets get a little closer... two 36mms but visually they look different in size due to the different thickness. the patek is soo thin and the classic is thicker and has the protruding lugs and bigger crown...
we both also have a love for the 321 speedmasters... or as i would view it... the real deal since 321 speedies were the ones tested and worn to space and the moon... mech's dial is a replacement dial from omega which appears a bit more matt and mine is the original to this watch... a 40 year old dial with patina and thicker indices and fonts... hmm my hour hand is also thinner which is right for this model... his has the straight lugs and mine the bombe lugs...
2 different styles of sapphire casebacks... and 2 wonderful calibre 321s...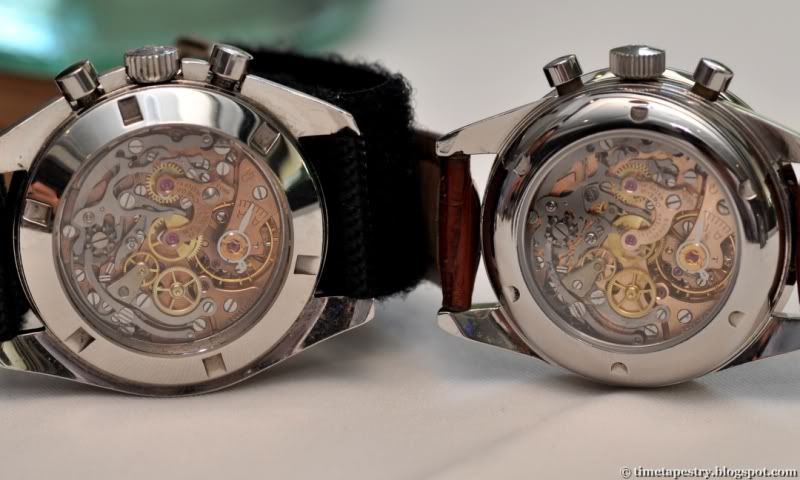 the colored metal watches... the vianney halter classic, the patek philippe 3940J and the Ulysse Nardin Freak in rose gold... check out the size difference :)
the platinum boyz... beautiful journe resonance, the teutonic cool of the plat dato and the simple class of the plat octa rdm
oohhh lets look a bit closer at the resonance... A very beautiful watch in my books and an iconic journe piece. the wonderful effect of resonance realised in a wristwatch... a fine timepiece indeed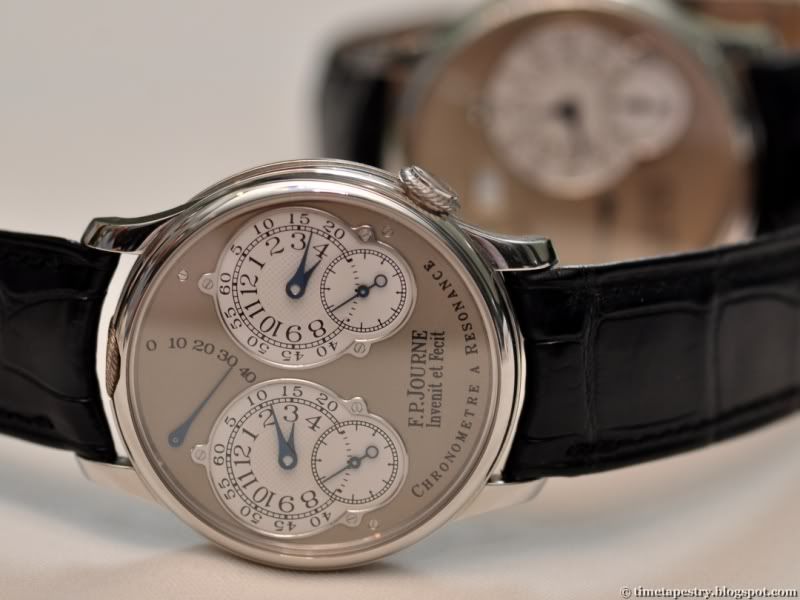 the movement is no slouch of course, with its dual personality ;) the brass version on display here...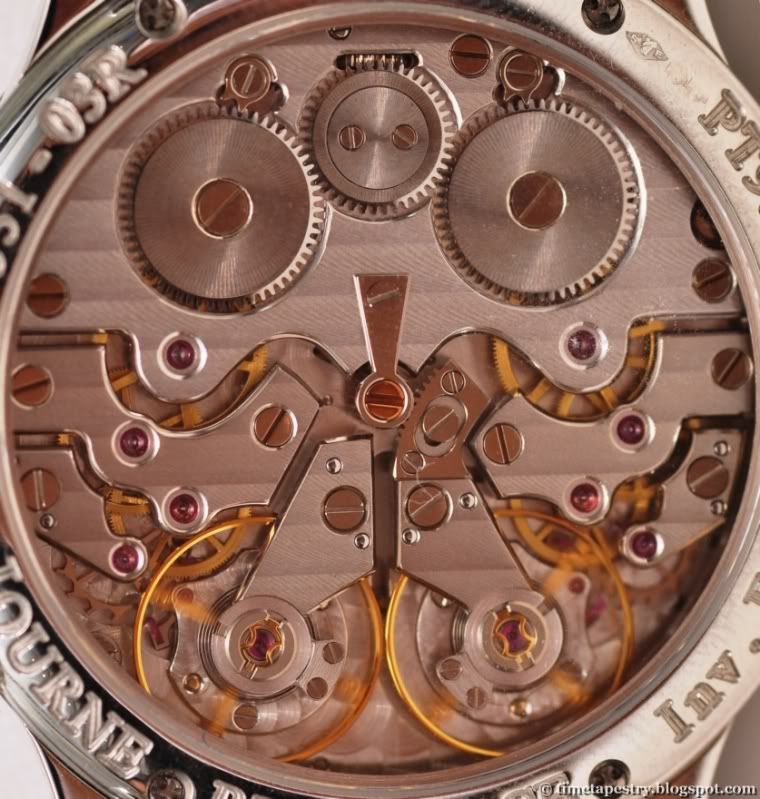 and on the wrist... c'est magnifique ;) love it...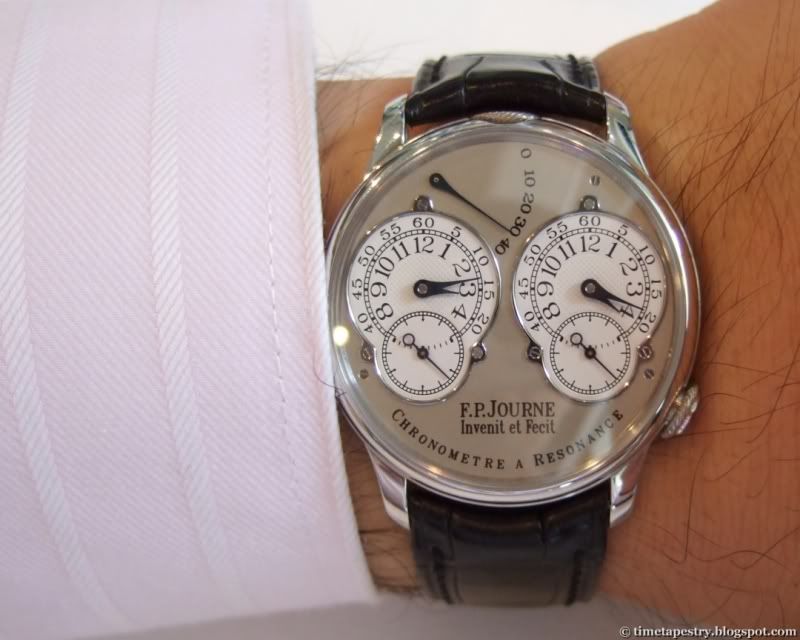 next up the datograph... i have commented a lot about this watch already and i have a few nitpicks about it but end of day it is a gorgeous piece and one i would gladly own...
damn and it works on my wrist too... aaaarrrgggghhhh!!! but in the case of the dato, resistance may not be futile as for me i may not be able to rationalise forking over what it costs i.e. low S$50k with the slight issues i have with it... but i have learnt to never say never ;)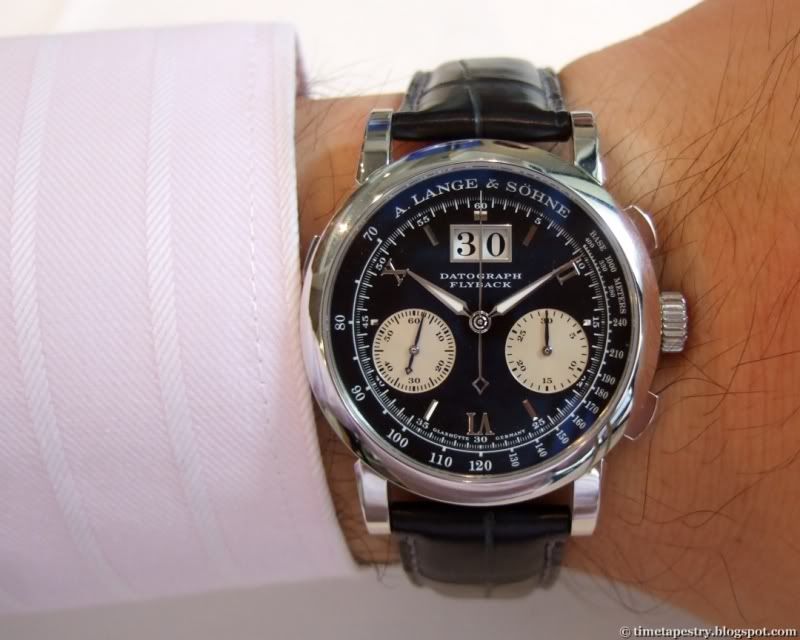 and a pic of it with the watch that i chose above it... with no regrets whatsoever...
no matter how many shots one takes of the movement, one just wants to take it again given the opportunity :)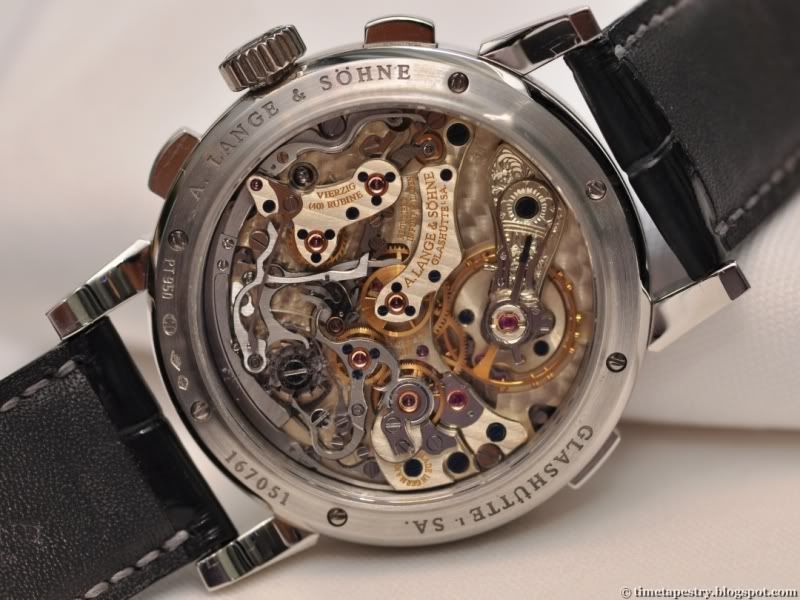 two classics :) one classic patek perpetual calendar and one classic vianney halter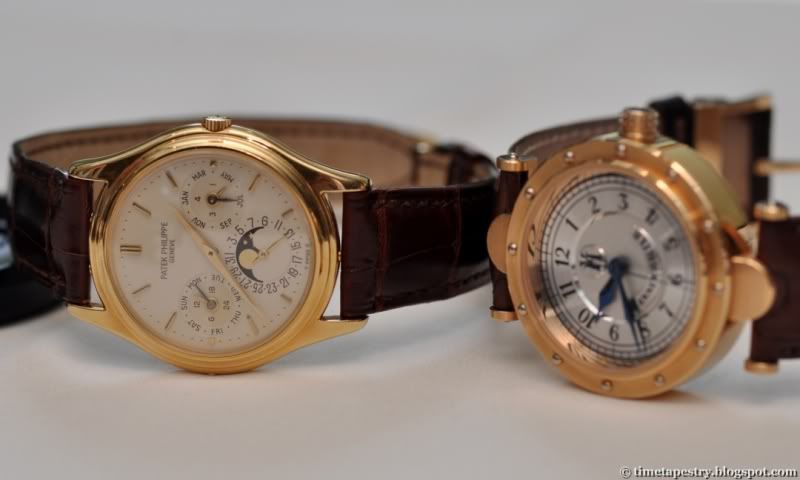 well finished and lovely geneva sealed movement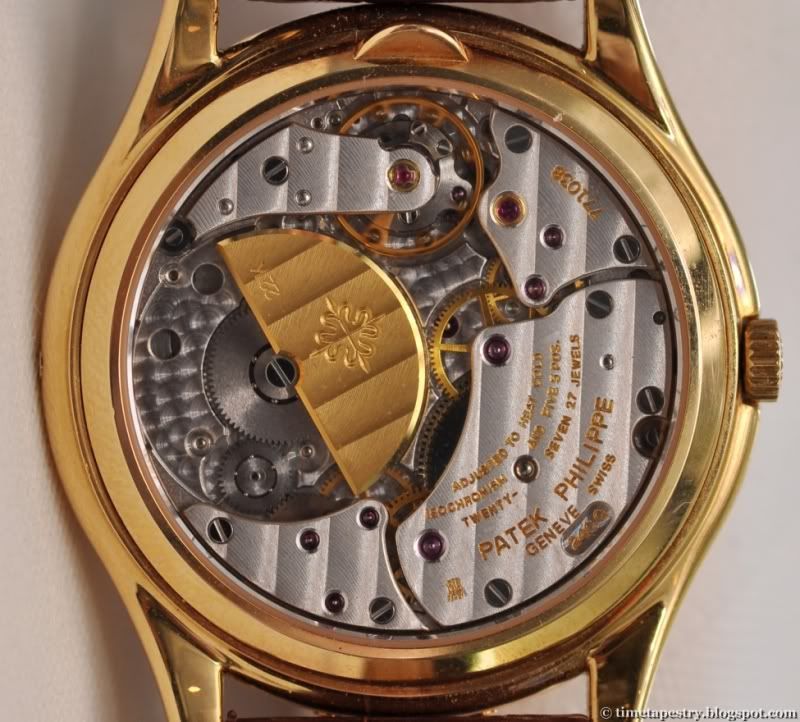 the freak and the classy gentlemens piece...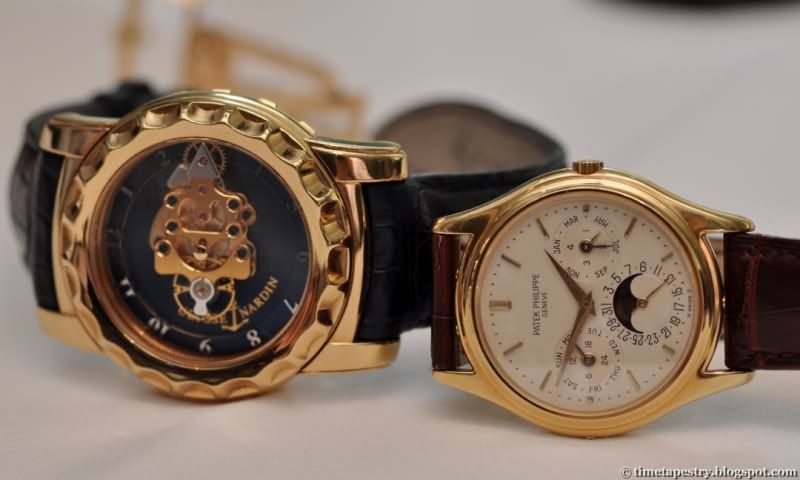 definitely too small for me but a wonderful and lovely watch for smaller wristed folks in my opinion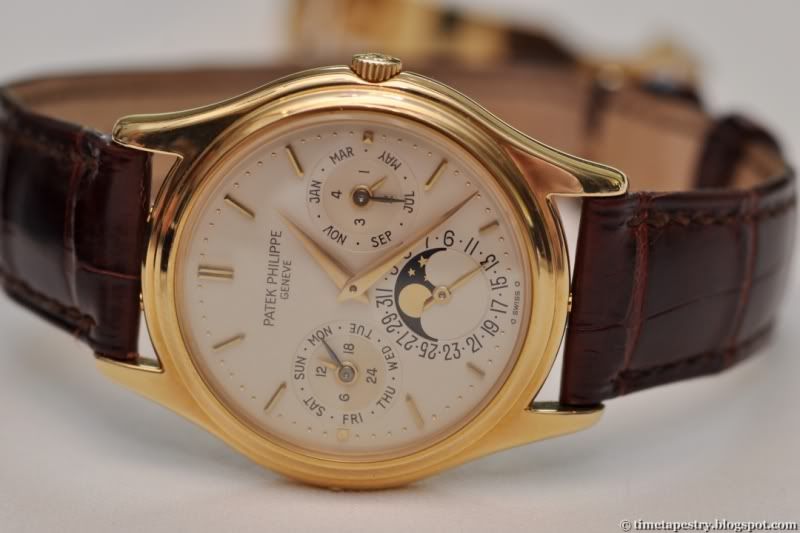 yes i know i can always take loadsapics of this piece but i can't help myself :) i love this watch and all that it is...
more importantly, other than the fine watches, it was good to catch up with another passionate enthusiast with interesting views on collecting. a fine meal then with a fine collector which is always a good thing :) i hope that you too, my dear readers, also have the opportunity to meet interesting and nice like minded collectors/enthusiasts along your journey and none of the icky kind :)