a fantastic cal 83 movement with incabloc beats inside this lovely timepiece...
The obsession with big watches...
size has been a lot in focus with watches for the past decade and even more so in recent years. we've seen the march towards big watches being very much the norm now not only in sports watches but also in dress watches, its all been marching down the big watch path... sports watches have gone from 40mm to 44mm to 47mm to 55mm to 'one shudders to even consider it' sizes. the dress watches moving from 31-35mm in the past to current typical sizes of 38mm-42mm to 44mm and gulp... more...
Now i love my larger sized watches yuh but sometimes some watches have gone a bit TOO BIG... my view is that specific watches should be a certain size (well different people have different size preferences of course) or are just right being a certain size. An example is for clean simple dialled watches as if its too big it looks kinda like a big dish on your wrist. even for sporty watches, there is a limit relative to size of the wearer but for the majority of folks not built like AHHNuld or Sly, the max is probably 47mm.
taking relativity into account, a watch with its lugs extending beyond your wrist when looked at flat on is just comical. either you bulk up or you look at the smaller watches yuh. this advice is so you don't make a horse's behind of yerself :)
yes even the mighty Royal Oak Offshore sits pretty fine on my 7 & 1/3 inch wrist (to me at least :)
was there another target?... yup there was :) two actually...
the nicely sized 38mm patek 5296G sector dial was also on my very short list for a dress watch. I was in 2 minds about this as it was appealing but for one or two shortcomings. first off the biggest issue with it which was the price. in Singapore it lists for S$34,800 and if it sold with a discount of 20% we're still looking at a price of S$27,840 thereabouts and honestly thats just too damn high for a nice simple watch. there was a time this piece was selling in the very low 20s. i think the overbuying from some rich tourists from neighbouring countries may have boosted demand and subsequently prices for this and other pateks in Singapore...
even a Richard Lange, which was not on the list coz of its 40mm diameter and lugs which extended out a fair bit, is going for a rather high S$29/30k with all the discounts by Sincere as they drop out of Authorised Distributorship for Lange and The Hour Glass picks it up...
Second big problem for the 5296G is that date aperture. its like someone asked the question, how do we spoil this wonderful dial... i don't even like the font used for the date wheel...
Patek 5296G Sector Dial... a could have been... a possible kwisatch haderack ;)
potential target number two was this lovely piece... the vacheron constantin patrimony traditionelle with the new in-house 4400 movement & geneva sealed
the first problem with this piece was that theres like only one that came and i believe it got sold in a flash. i could put my name down for it, place a deposit and wait, all of which are not my fave things to do... when theres an itch i want to be able to scratch it u know wat i mean? :)
but the big problem with it though is that i would prefer it in a white metal, which for this range would most likely have to be white gold. my current preference for dressy watches is for it to be in a white metal as my slightly louder artpieces are in rose gold currently. more rose could be too much of a good thing...
list at S$23,100 means that its starting at a decent price... wouldn't be surprised if next sihh announces it in white metal and maybe even yellow gold and plat? perhaps... but then delivery again might take awhile=interminable wait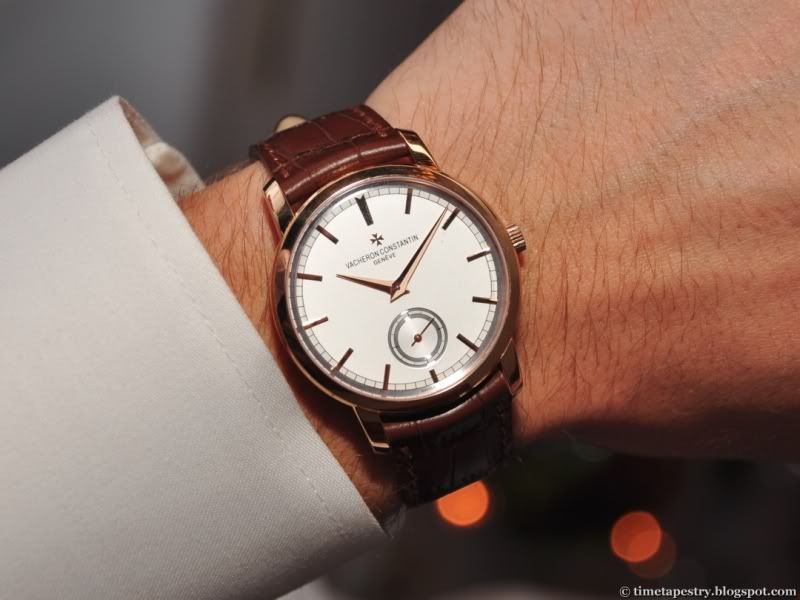 Unveiling the acquisition then... drumroll please...
u won't be able to guess this...
even if you had like 3-5 tries :) ...
i give you then...
the 34mm Vintage IWC Cal 83 sector dial ;)
a beautiful sector dial, makes it extremely easy to read the time. wonderfully proportioned sectors and minute track. simple art deco arabic numerals brings it all together perfectly...
it bears or should i say the dufour simplicity arabics dial bears some resemblance to this dial... of course the dufour is breathtakingly amazing but its out of my league currently... maybe one day... the roman dial one with breguet hands... one can dream :)
so what does it have going for it?
There is no chopped off 6 – the chopped off numbers on some watches (not all watches mind you) just put me off BIG time. The good thing on this is that there is no mutilated numbers (eg. some have their sides chopped off, tops chopped off, bottoms chopped off etc) eg. Lange 1815 has a chopped up 6. some of the new portugiesers have chopped off numerals as well.
no decapitated 6 in sight... nice :)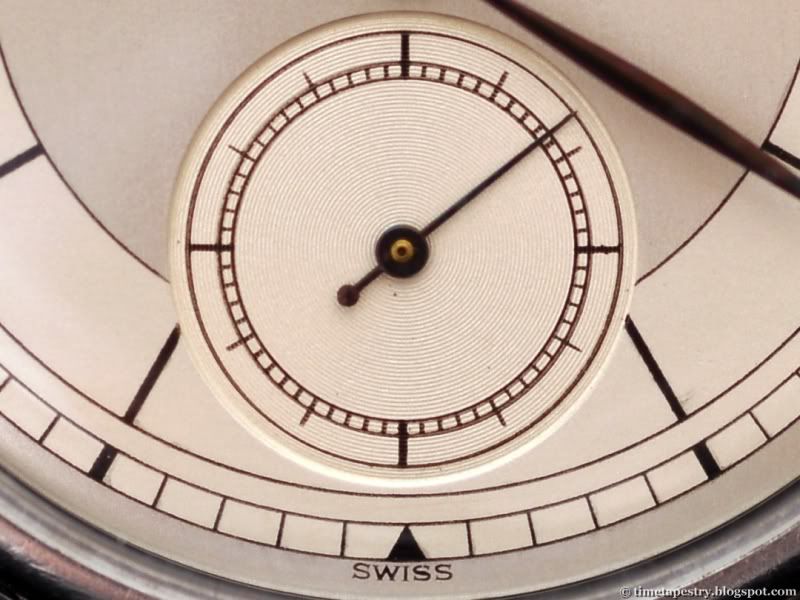 There is no date aperture – the last thing you need on a clean simple dial is a hole with a date. The key aesthetic issue with the 5296G.
It has a wonderful full bridge movement (read more about this lower down)
It has a great sector dial and railway minute track that makes reading the time soo easy
Its in a white metal, my preferred color for the dressy watches
It has the 'International Watch Company' in script on the dial as shown below instead of the modern IWC's "IWC" in capitalised letters...
this is soooooo much nicer than the "IWC" upper case letters in modern IWCs...



Downsides of this piece in particular?



If i were forced to find one... hmmm... well, Its kinda old, uhm about 64 years old to be correct and may be due for a servicing soon... BUT it is keeping pretty decent time which is very cool :)

note though that i am not an accuracy freak. for folks who are, just get a quartz watch ok.

anything less than 3minutes a day deviance is fine with me even though most of my watches do much much better than that. this has a 1 plus minute a day deviance as far as i can tell...
ooh u sexy thing u... the beauty of this movement is so apparent...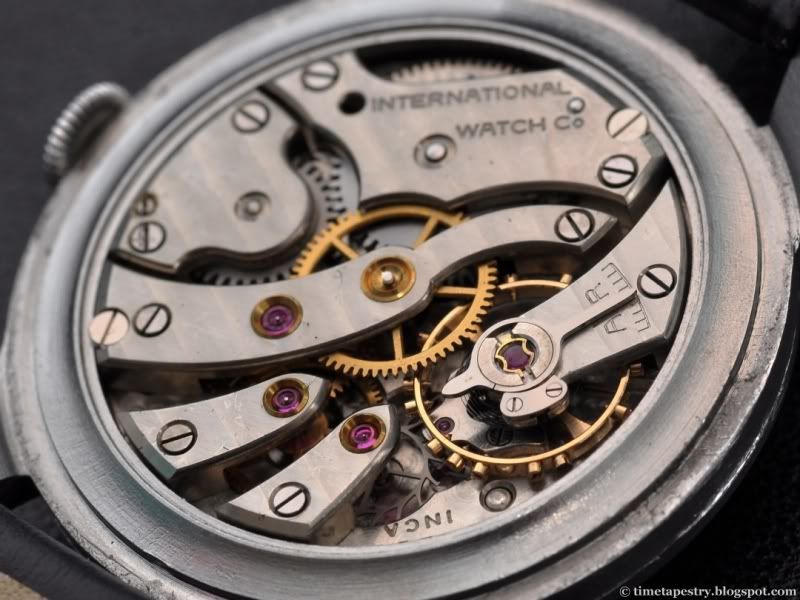 A bit about the IWC Calibre 83 then...
The highly regarded IWC Calibre 83 manual wind movement began life in 1936. The movement in my watch is signed "International Watch Co" with movement identifier C83. The C83 was the same one used in the Royal Air Force Mk X issued timepieces. This watch is likely to be from 1945 based on its movement and case number [this was obtained using the wonderful "DateYourIWC" program, google to get to it]. A small 12 ligne, 18,000vph movement, it was produced in 1930s and 40s, has an elegant six-bridge design and was one of the first wristwatch calibers and it shows as its similar to the refined IWC pocketwatch calibres of the time like the 95 and 98. The one in my watch features incabloc shock resistance and is rarer than the ones without it.
Do read these 2 fantastic articles which make mention of the Cal 83...
and the verdict... we have a winner!

This is a fantastic acquisition. Aesthetics matter to me and this watch is just great looking. I also get a very nice full bridge movement from a wonderful brand with a great history for a fraction of the price of other contemporary simple watches...

Although it's a bit small for todays tastes I am very happy with it. I think size of the watch is eventually more about your state of mind and wrist size so i am happy that i am very comfortable with this strapped on and happy that my taste has led me to this wonderful piece. All said, its a charming lil winner and a very rare one at that as i have yet to come across a similar watch :)

a simple and beautiful vintage
a sense of perspective of the size on my 7 & 1/3 inch wrist... the 38mm fp journe on my wrist first...
and the dainty iwc on my wrist next... not too shabby huh :)
side by side next to another wonderfully well proportioned modern dress watch... the 38mm Journe Octa reserve de marche... 2 wonderful pieces... i think i'm done with dressy watches for a bit :) oh and notice how the lug lengths are about the same even with the difference in diameter. this does make a significant difference yuh
i hope u enjoyed this post of my latest precious :) cheers, raph