[note that this is me sharing based on what i have experienced, seen, felt along this journey of passion... it may not resonate with everyone who isn't geared in a similar way as the raphmeister (watch mentalist) and its all good... to each their own... and one man's richard mille is another man's seiko ;) ]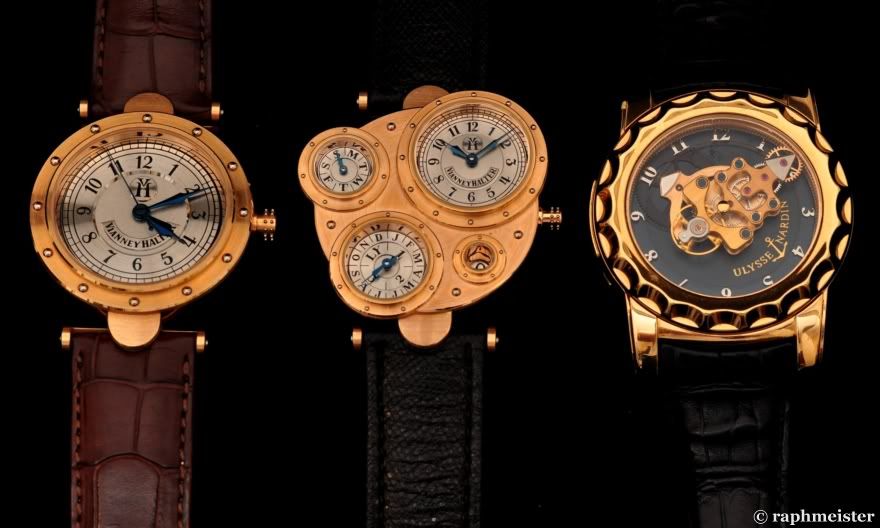 this post has been somewhat a long time coming... i wanted to share in this one about my learning much and loving many different expressions in timepieces & why it is i have acquired what i have in my short and
mostly
excellent journey...
there's just so many wonderful and different expressions of timepieces out there that we can realise and regard as important for ourselves... so much for us to admire, appreciate, enjoy and also to hopefully acquire the ones that call to us the most... i chose to go with the simplest acquisition philosophy end of day... choose the "best of" in the different expressions i love and desired to wear and in this adventure it has led me to these treasures...
the best representation of the "timepiece as art" is the Vianney Halter Antiqua...
it is created and hand made by an amazing artist artisan who is highly technical but a respector of the aesthetic qualities of the watches he creates that carry his name. for folks who wish to obtain an expression of a timepiece as art look no further than
Manufacture Janvier and all their offerings here
...

(to read more about my path from enlightenment to acquisition...

knowing the grail

...

quest for the grail

...

ruminations

...) [so as not to limit you though, these are other contenders for folks looking for some soul in a timepiece... FP Journe, Philippe Dufour and Kari Voutilainen are some makers of these...]
the timepiece as art is not about luxury... it is as with all art... expressions of and for the soul...
the best "innovative creative tour de force" piece is the Ulysse Nardin Freak...
folks who don't read up on it don't know how amazing it is that this watch exists in our reality... please
go to this link
and the articles noted in it to find out what it takes to birth a concept [alternatives? scratches head... uhm Daniel's escapement, JLC Gyro II perhaps, Greubel Forsey Quad tourbillon possibly, some of Claret's complication cocktails & such? hmm]
Innovation... often over-used abused in marketing hyperbole from so many big brands... in this case though, its justified... it took vision, leadership and creative genius to give birth to this freakish delight...
the best "sporty luxury millionaire playboy watch" goes to drumroll please... Audemars Piguet Royal Oak Offshore...
b!tch all you want about unlimited limited editions(which i do on occasion too :) but these are da bomb y'all ;) i know u're thinking wat about Richard Mille dude? and RM is definitely up there too in these stakes but AP RO and ROOs showed the way and many many many have followed(with more wannabes sprouting every year). Would there be so many black watches in the world if not for the End of Days? Would there be so many big watches or limited editions being popular if not for what they first accomplished. the founders of the bigger watch trend and the king of sports luxury... whichever way u wanna take it ~ stealthy or blingy or shouty... if u want an upgrade u, let me Audemar Piguet you! ;)
no bs cutting edge materials... this one in stealth luxury mode... and punching way above its weight... highly compressed entirely unique forged carbon body... highly scratch resistant ceramic bezel... not burdened with an unnecessary association to give it a totally unnecessary limited edition tag... all the good looks without the shortcomings of other illustrious brethen(bezel scratch-ability, weight[its not too heavy not too light], replicability)... the bumblebee delivers in style & substance...
the best "watches to get u respectin' watches as robust reliable luxury products with top notch servicing" is that old king of Swiss Watch-dom ~ Rolex.
Patek can step aside on the passin' over to the next gen thing for a bit. Rolex is king for me on this one. Own a Rolex as a first watch and u know wat good (mass produced and mass marketed) quality is about. and pray tell why do u have 2 of the same model Rolex raph? bcoz i am passing my first Rolex to my son someday... [sticker shock story: i popped into the very same shop i bought my 14060M no date submariner recently... and its current rendition is going for more than 50% of what i paid for it 8 years ago...my son may be getting a pricey Rolex when he hits the age i am thinking of passin this on to him... but of course its not the money that matters yuh... really :)]
father and son timepieces someday...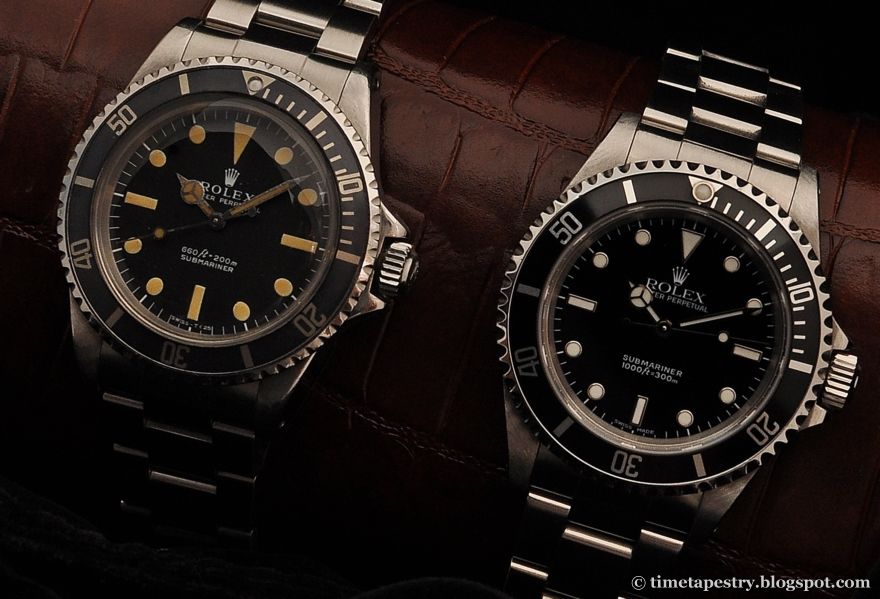 the best "beat em up, kick the shizzle out of em, take a lickin and keep on tickin concept watch" is the casio g-shock.
put it to torture tests against so called sports divers or tuff watches from the Swiss luxury houses or even quartz variants or offerings from other Japanese watch brands and after the fancy mechanicals have expired and others movements' are on their knees beggin for mercy, this lil fella will be smirkin and askin "is dat all u got punk?"
light, comfortable and tough, durable, wif loadsa varieties of design & colorways and functions to choose from, cheap and good and most of all, a lot of fun...
check 'em out here gettin' ready for their usual leisure swim...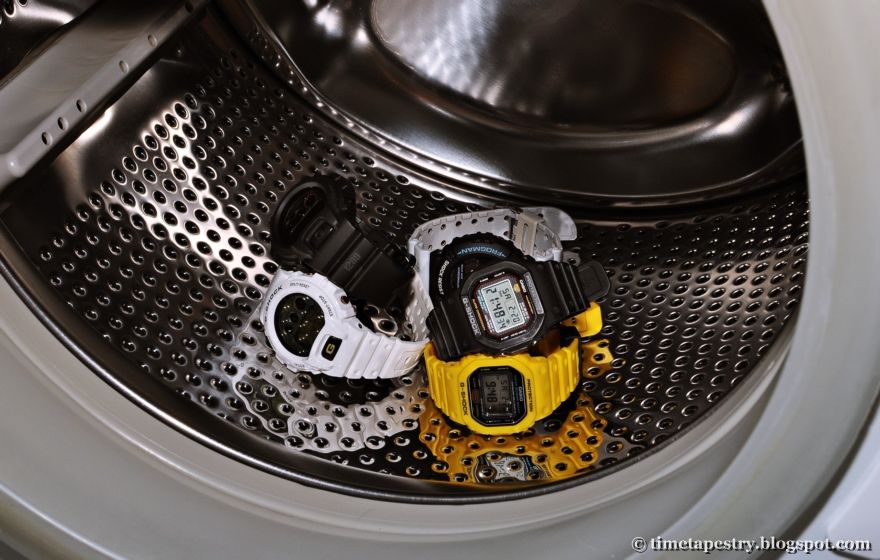 there are more to speak of but perhaps these are meant for another time... a part 2 perhaps... looking at the rest of it though, i think i've managed to cover most if not all the expressions that matter to me in some way or form and satisfy my needs for a long while
[this last bit here to make my boss, Mrs Too, happy... DOH!]
to end off, this is all just about sharing a perspective... its not saying u r wrong to love your Romain Jerome, Jacob & Co or any >US$8k list price ETA movement (sic) timepiece [replicas don't feature here as they're below even all that crap...oops] its just sharing why i love what i do and why i acquired them...
finally, choose your own expressions to love and to own... and repeat it with me now... "enjoy the journey
" :) blessings, raph