i love watches yuh... including these ultra kicka$$ haute horology ones i had the opportunity to take shots of today... as i am fond of saying... 'let me audemars piguet u!' oh and yes they have other cool watches other than the royal oak and offshores :)

The Tradition of Excellence "Cabinet" collection was sold as a set of 8 watches with a cabinet specially built by AP for this set of 8 watches which are limited to 20 examples each number.

"Eight masterpieces in limited editions of just twenty constitute the Tradition of Excellence collection, built up between 1999 and 2006. Each year for the past three years, the Manufacture has offered a model embodying the quintessence of watchmaking know-how in a particular field. More than ever, cutting-edge technologies are placed in the service of hand-crafted creativity, culminating in accomplishments that push back the frontiers of the watchmaking art. Each watch is accompanied by complete documentation presenting the specific features of the model and the technical and philosophical choices that governed its creation. Enriched by the technical and aesthetic research required for these creations, and the integration of the inner workings with stylish exteriors achieved by the technical departments, the Tradition of Excellence collection takes all the time it needs to optimise the activity of all those involved. Finally, an original marquetry-work cabinet has been created by a craftsman in the Vallée de Joux, specifically designed to house the eight masterpieces of the Tradition of Excellence collection."

enuff words then... some cabinet pieces comin up!

Jules Audemars Number 1 ~ Tourbillon with minute repeater and chrono with split second in the Tradition of Excellence Collection. limited to 20 pieces each.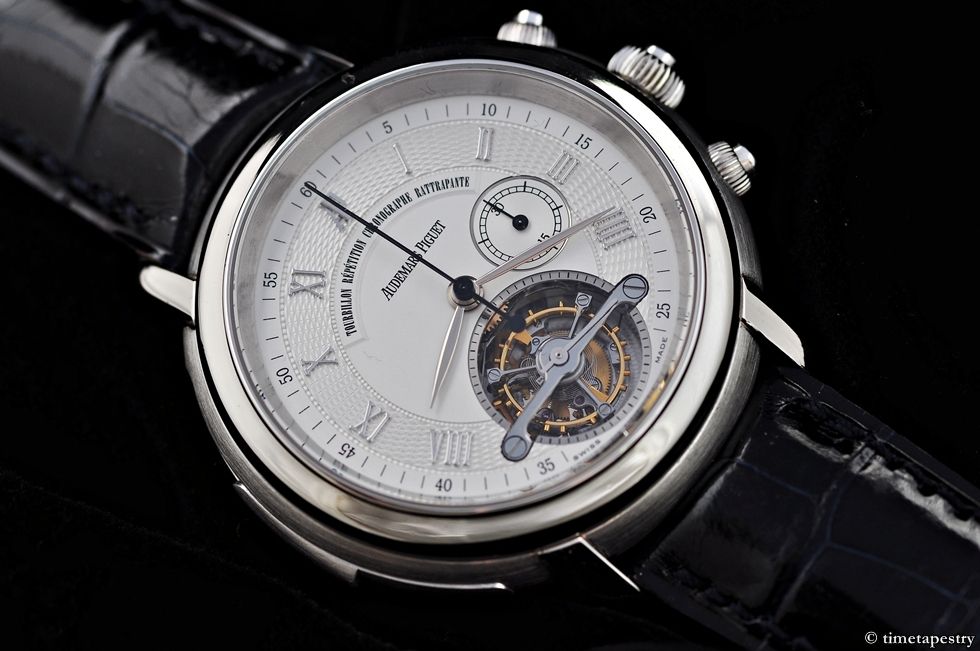 the movement is exceptional... the chrono has 2 pillar wheels and a titanium clutch lever with dual adjustment for altering the position of the chrono wheels. reduce jump on starting the chrono hands.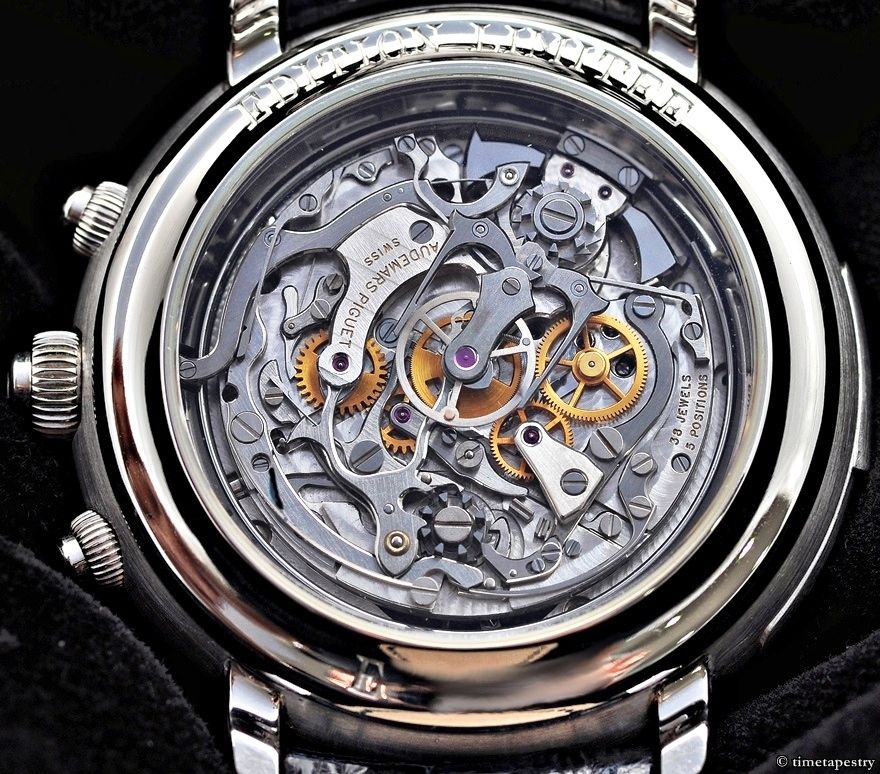 Jules Audemars No 2 ~ Tradition of Excellence Collection ~ minute repeater and perpetual calendar with window leap year indicator and window big date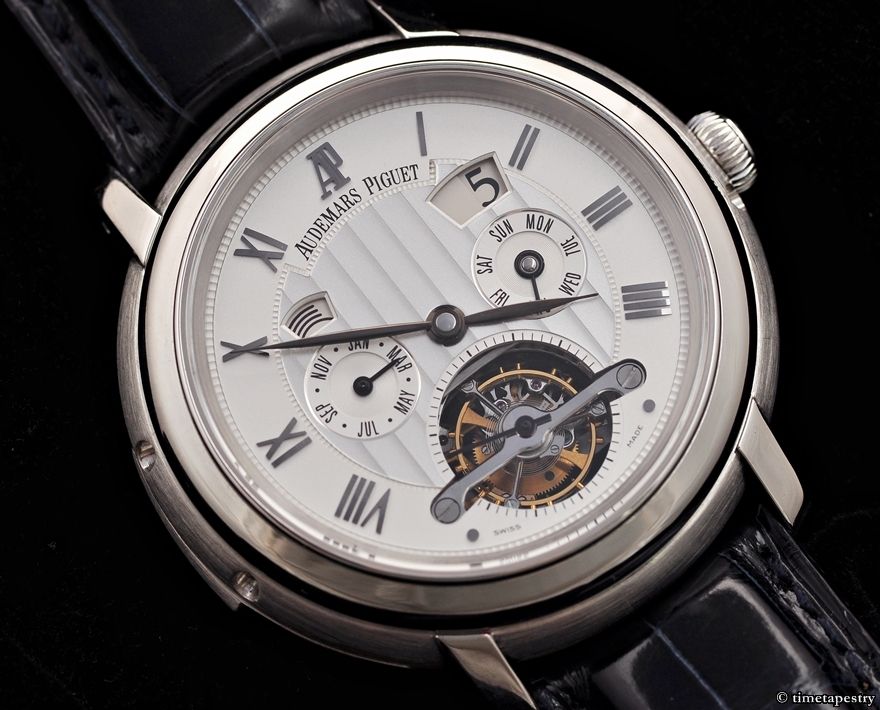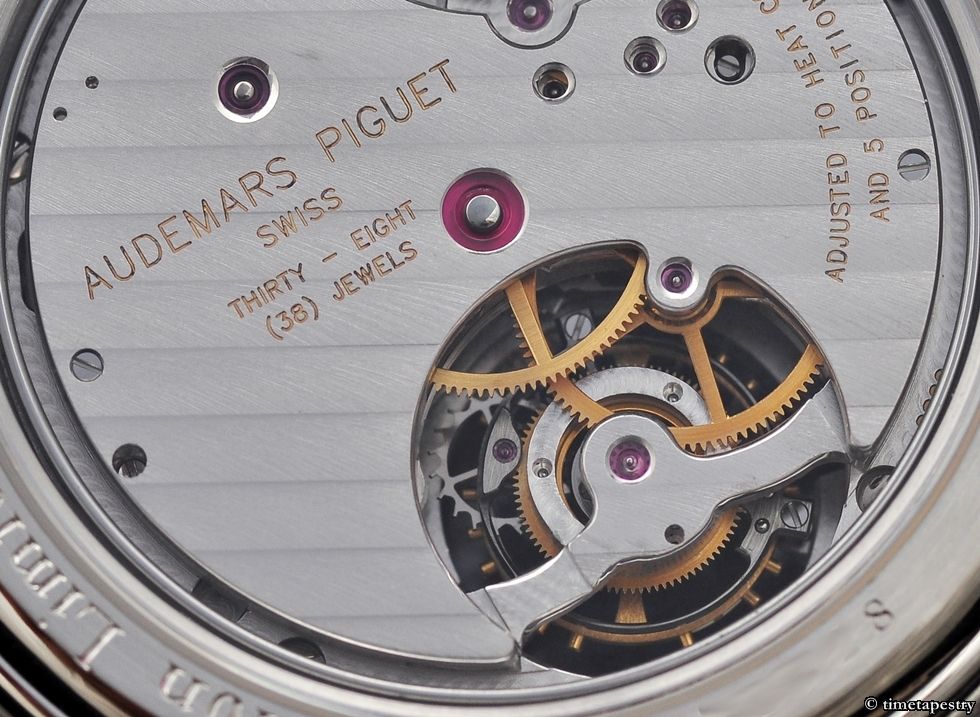 Tradition Perpetual Calendar
Royal Oak Number 4 platinum offshore ~ Tourbillon, chrono and 10 day power reserve with special indicator(unique Double Power Reserve Indicator with unprecedented last day resolution -
displays power reserve in days, and an auxiliary fine PR indicator for the last 24 hours), manual wind. limited to 20 in the world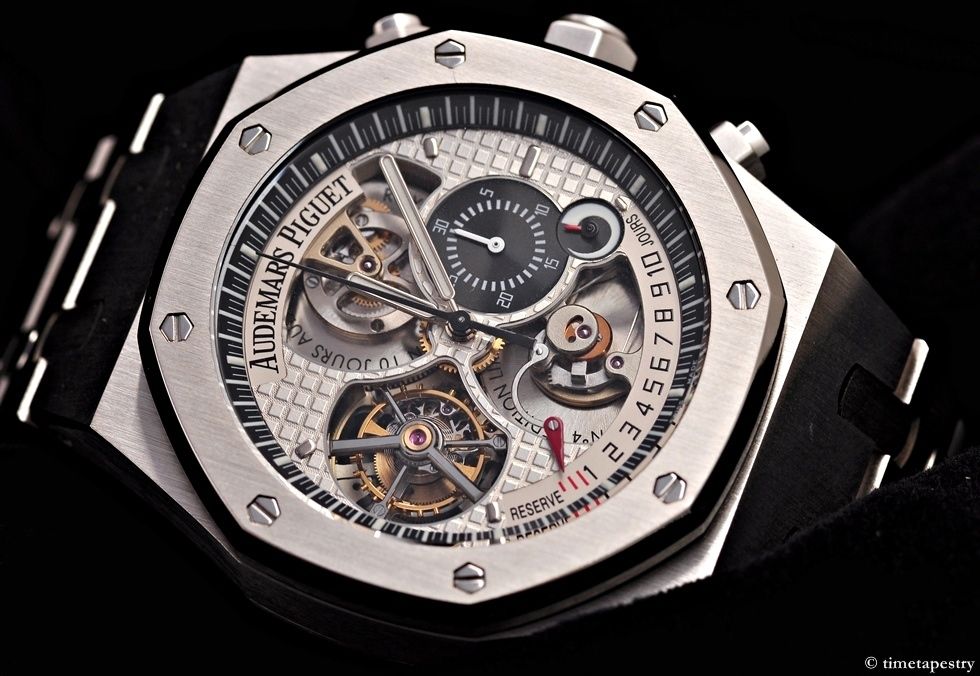 The chronograph contruction utilizes a new, ultra light coupling lever made entirely of titanium, thereby reducing its inertia. The theory is that such a design and construction will significantly reduce/eliminate hand jump up
on chronograph function engagement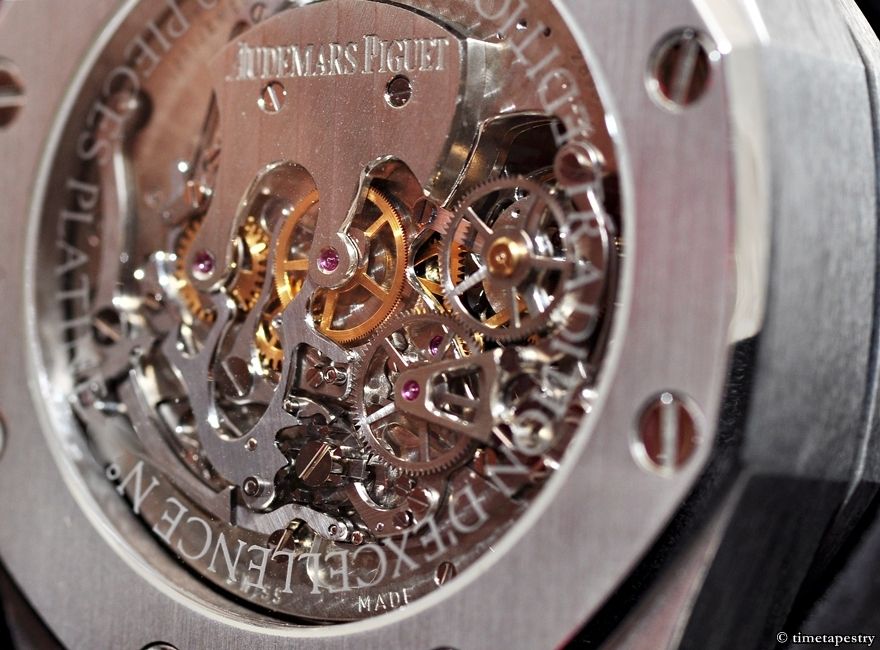 a last pic of this exceptional movement...