As always, i would like to thank the fine folks at Swatch Group and Omega for the invite to this nice intimate dinner amongst a small group of voices in this community. It was a pleasure to hear and speak with David Ponzo and his capable marketing ladies, Pauline, Maria and Fiona, who were wonderful hosts for the night. Good food, good company and fine watches, what's not to like ;)
Omega definitely has a pretty broad offering and i believe that is to appeal to it's many fans and buyers which would also be a wide and diverse demographic across geographies with varying tastes and weights in terms of what they look for or value in a luxury timepiece. the great thing about it then is that, through that range there is probably at least one or two pieces that would appeal to someone looking for a luxury timepiece... as a first proper watch after they start work... as a gift for loved ones... for folks who want ultra sporty pieces, to innovative techniques, to watch movement lovers... there's something for nearly everyone, and that's not a bad thing at all. sharing below then watches from that evening and some quick notes. personally, i had hoped to see the 'first watch on the moon' speedy but it was not present that evening... i do know it will retail for S$6,850 and will be in Asia in Q4 this year... looking forward to reviewing that at a later date. on to the evening then...
a nice intimate setting at forlino
david sharing with us on the pieces that were released this year... 2012 also is the year of the London Olympics and he shared with us on the pieces that would be launched for this event and the nice advertisement with the Stones tune 'start me up' u should be seeing that on tv screens soon or on youtube
now to some of the watches... first up the very nice omega deville with the 9300 movement
oh yeah, it works on my wrist ;)
next up a range of speedmasters that don't look like the moonwatch... but some of them are real nice too... example this beautiful chrono piece
with it's outstanding 9301 movement... [i need a timepiece with this gorgeous and significant movement ;) Omega believed in George Daniel's (RIP) work by taking on his co-axial escapement which was a very good thing in my books ]
and some others in the speedmaster lineup...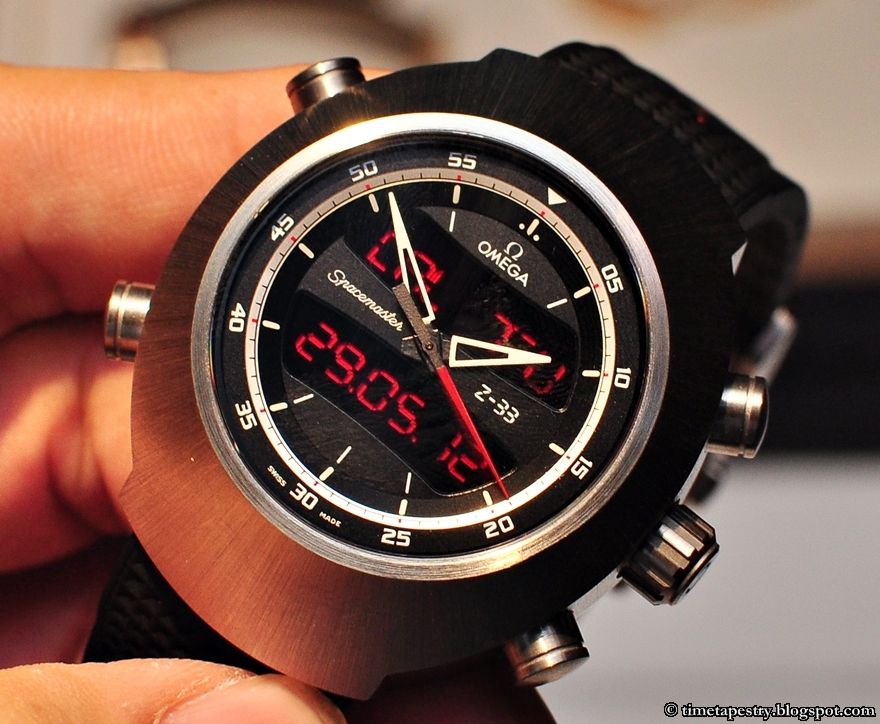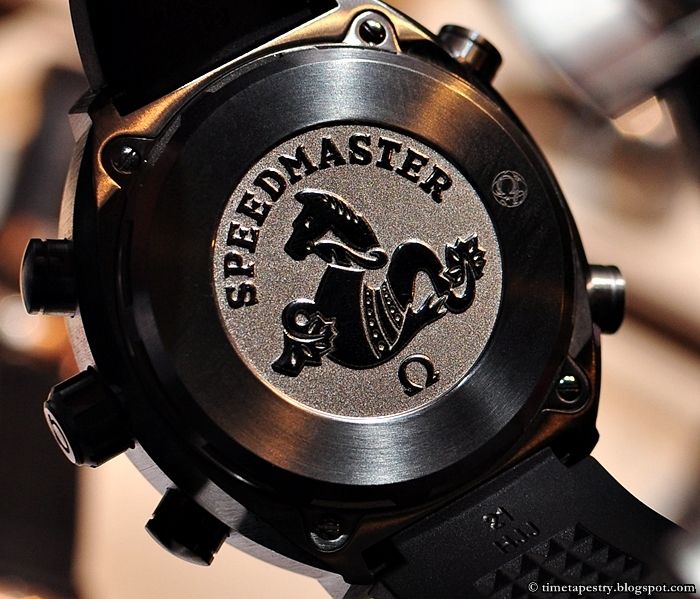 sharing some info from Omega: "OMEGA's Time Machines
H. G. Wells wrote his popular science fiction novella, The Time Machine, in 1895. The narrator, called the Time Traveller, explains to his dinner guests that time is simply the fourth dimension and reveals that he has invented a machine that allows him to travel through time as easily as he would between two places.
A year before the book was published, a different type of time machine had been launched in Biel. While its movement through the fourth dimension was not quite as dramatic as that described in Wells' novel, the 19-ligne calibre was clearly a step into the future. Its unprecedented ease of repair and accuracy revolutionized the Swiss watch industry. The movement was named Omega for the 24th letter of the Greek alphabet – a word that had come to represent perfection. In 1903, OMEGA officially became the only watchmaker to be named for one of its movements.
Innovative movements have continued to be at the very heart of Omega's watches. In 1999, we launched the first watch equipped with a Co-Axial escapement and in 2007, our proprietary Co-Axial calibre 8500 signalled a revolution that was every bit as significant as the one sparked by the original Omega calibre.
This year in Basel, we are again introducing new movements. Our Co-Axial family is being extended with GMT and day/date editions. The analogue/digital calibre 5666 offers dedicated functions designed for pilots and equips the new Spacemaster Z-33.
OMEGA's innovation extends not only to technologies but to new materials. This year in Basel, CeragoldTM will have its world premiere in a striking new Seamaster Planet Ocean.
The Time Traveller in the 19th century novel had figured out how to navigate through time in both directions. OMEGA's time machines only move forward but they do so with incredible accuracy, precision and style, on any of the Earth's surfaces, deep below its oceans, high in the sky or, when the need arises, on the Moon."
the seamaster planet ocean cera gold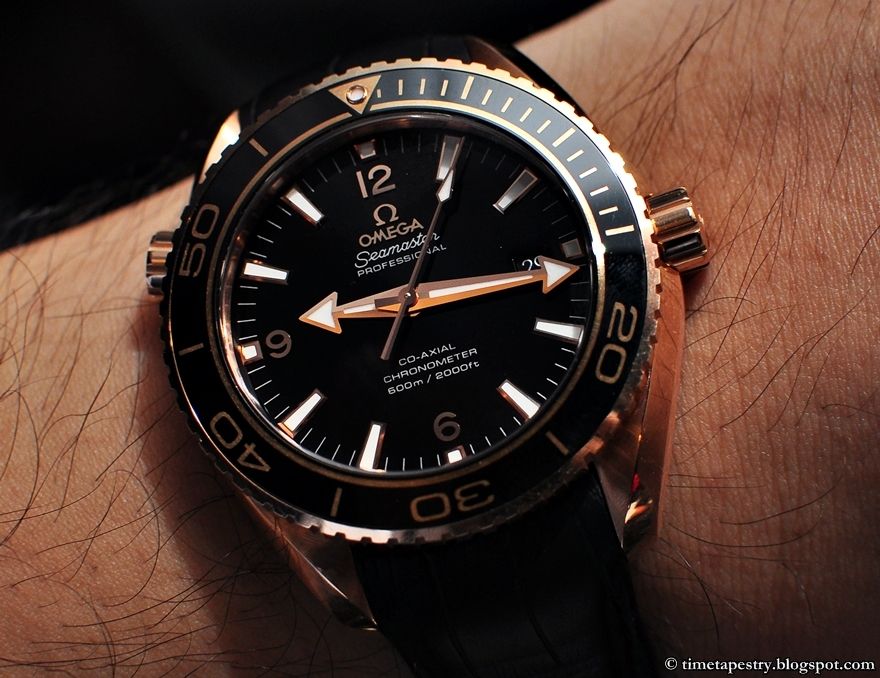 and for those who want a bit of bling ;)