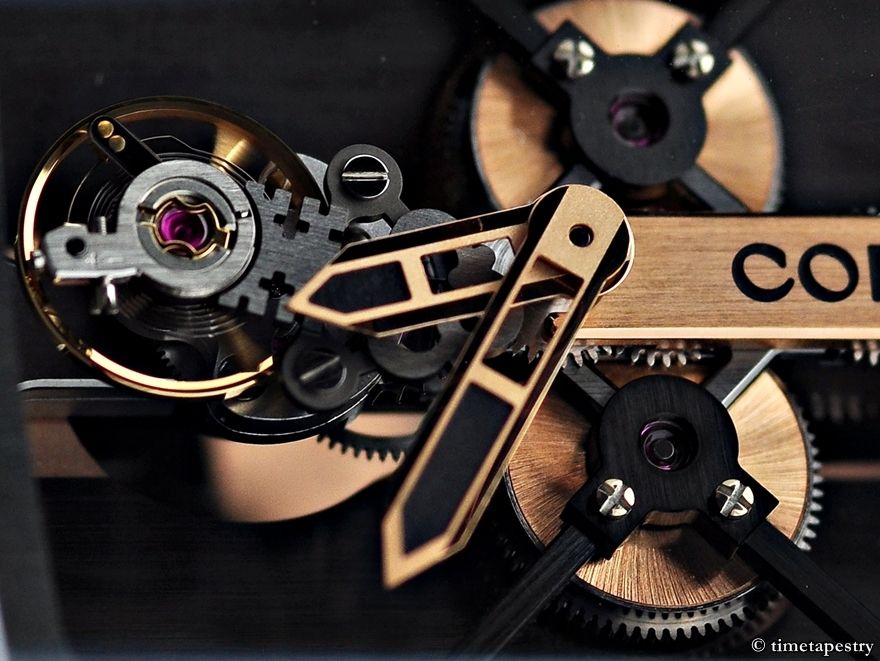 I had the opportunity to take the pictures of Corum's 2012 novelties last month [better late than never aye ;) ] Before going into the post on the watches, I would just like to say that I like Corum and some of it's offerings. I like them enough to purchase a Golden Bridge for my wife as a gift(LINK) knowing that is what she wanted and certifying that the brand and the watch was cool in the process.
S

o in my books they definit

ely

do have worthwhile watches for folks to consider and the question then is which calls to you most in the lineup. What follows in this post is a mix of my words, thoughts and pics with official text & prices(list price in Singapore dollars with GST

included)

from the brand.
I would also like to take this opportunity t

o thank

Nicole Segundo, Managing Director,

and

Kate Ong

,

Marketing

Executive, from Corum

for their fine hospitality and sharing with me on the brand and their offerings.

A

s this post is a rather long one, i would also like to note my final thoughts of it all here and that is, Corum's offerings made me wish i had a whole lot more $$$ so that i could pick up some of these great pieces for myself[rose

gold ti-bridge

] and my missus[myst

ery moon]

. all in all, an interesting and varied collection and they look to be heading the right direction :) here's wishing them

more good years ahead!
Founded in 1955 by René Bannwart, and a name simplified from the word quorum(the minimum number of persons present and necessary to hold discussions and make valid decisions), the brand had looked to establish itself at the forefront of the Swiss watch industry and be highly innovative, in the process bringing new ideas and creations to the table. They have a very interesting and rich history and back catalogue. Through the years, several innovative timepieces, interesting patents, and creations have come forth from the brand and I do advise folks to find out more about their past as it is telling of their present and future. You can read more about this here LINK
Focusing closer to the present then. The company had a new owner in Severin Wunderman in 2000 and at his request, Antonio Calce joined CORUM in 2005. Antonio was
Director of Product Development for the Piaget and Panerai brands ea

rlier in his career with Richemont
and was made General Manager of the Panerai Manufacture from 2000-2005.

Together they established a strategy to conquer new horizons, while remaining faithful to the pioneering and independent spirit on which the brand has built its success. In 2007 Antonio Calce was promoted to serve as CEO.
Positioned as an exclusive brand, CORUM offers high-quality watch collections featuring an innovative and distinctive design, and equipped with sophisticated mechanical movements. Its 150 current models, spread between two key pillars – Admiral's Cup and Corum Bridges – and one satellite pillar composed of the Romvlvs and Artisans collections, enjoy a legitimacy rooted in the brand history.

And we come to this years' novelties… first off the tourby...
i love tourbillons because of what they represent. the craft and beauty of them and the technical excellence they dis

play

... Corum executed this beautifully... Admiral's Cup Legend

42

Tourbillon

Micro-­‐Rotor

($93,090.00)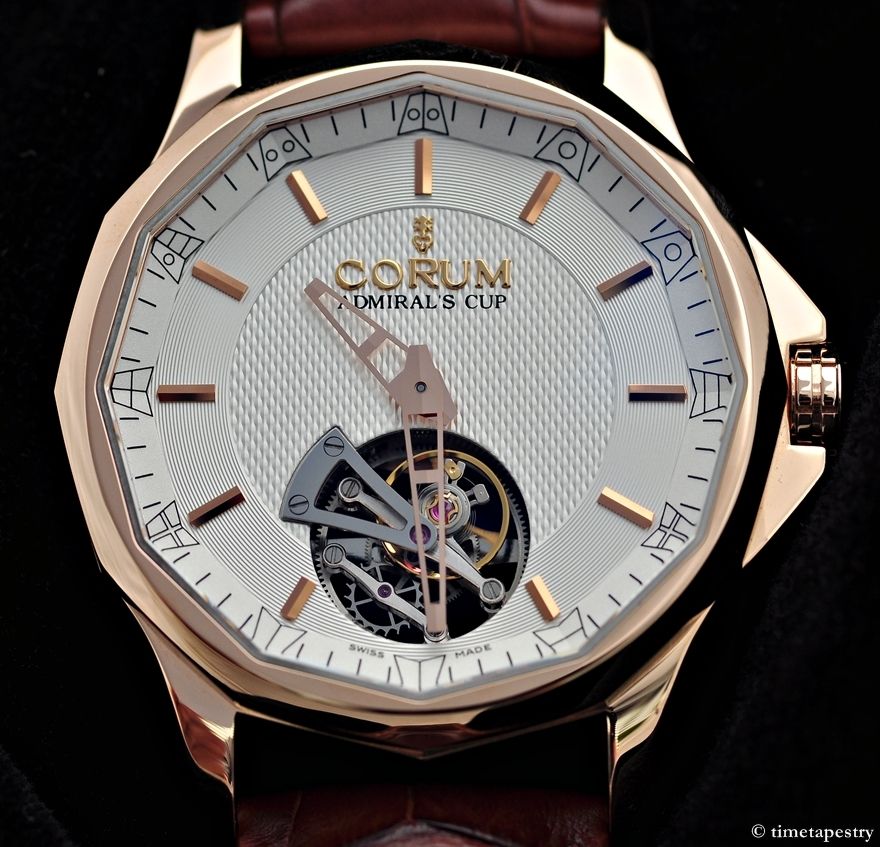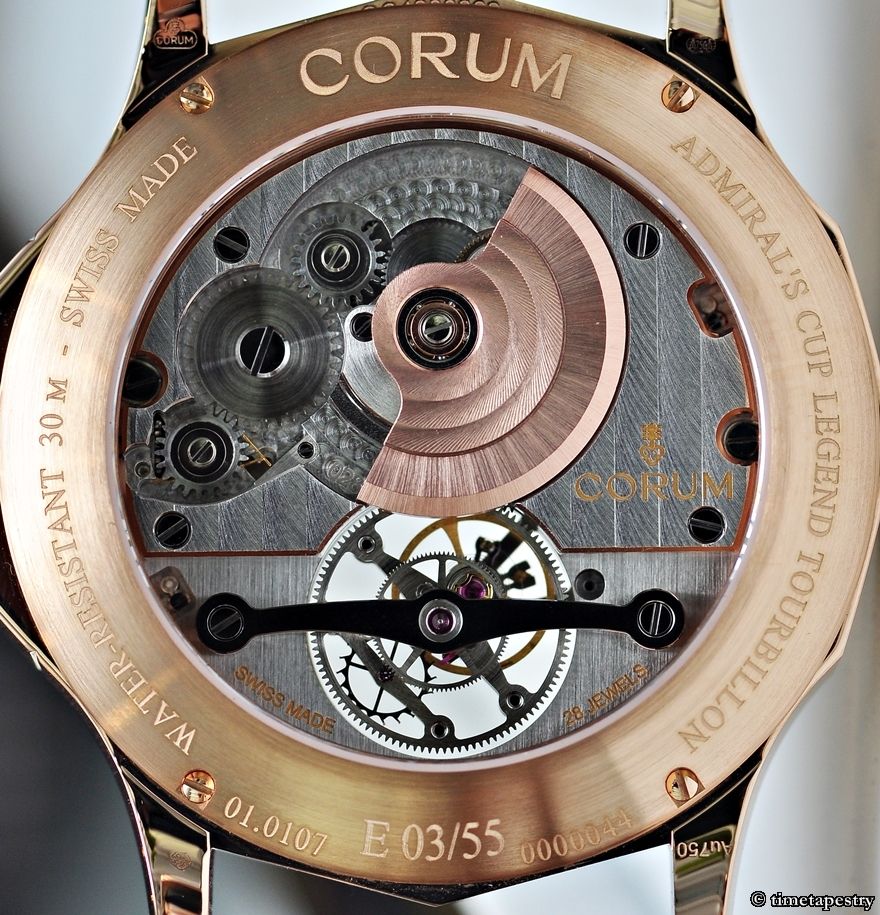 next up a beautiful beautiful timpiece. the Admiral's Cup Legend 38 Mystery Moon
($22,791.00) this is a lovely women's timepiece impo. it has a

lovely

mother-of-pearl dial carrying the Sun and Moon... perhaps a 2nd

Corum watch gift for the mrs? :)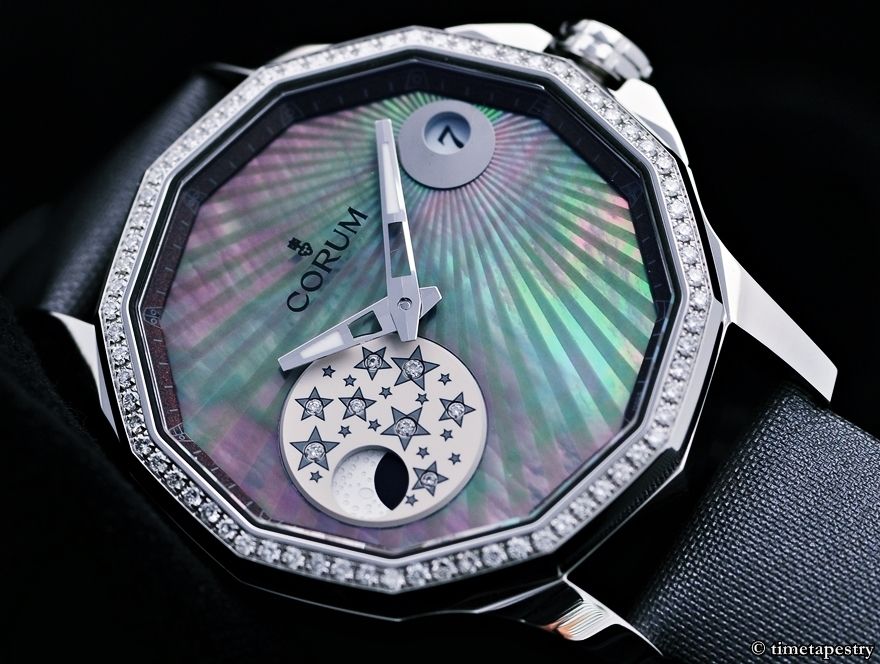 the moon-phase display and a sunburst date indication play a

fascinating game of chase without ever catching up with each other as the entire dial revolves around its

center(yup the entire dial turns, see t

he pic below with the dates at 7, 22, 28

), pushing the aperture on to the new date in successive jumps and leading the moonphase subdial in its wake
and we have the bridges :) i love some of the models and wanted to walk out with one of em

on my wrist but i think that wasn't on the cards :) the one i would pick up if i had the money is the rose gold one pictured here
Ti-­‐Bridge

Tourbillon ($146,804.00 in RG and $103,362.00 in Ti)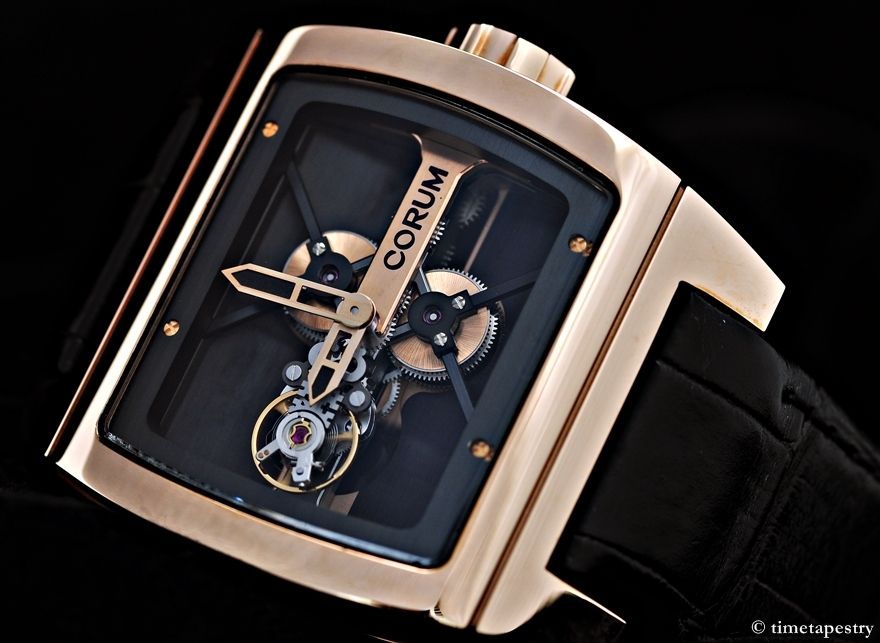 The brand's flagship complication model, the Golden Bridge was introduced in 1980 and remains a benchmark with its unique baguette movement. Moreover, it is also regarded as an avant-garde watch thanks to its movement placed in the centre of a transparent sapphire crystal case.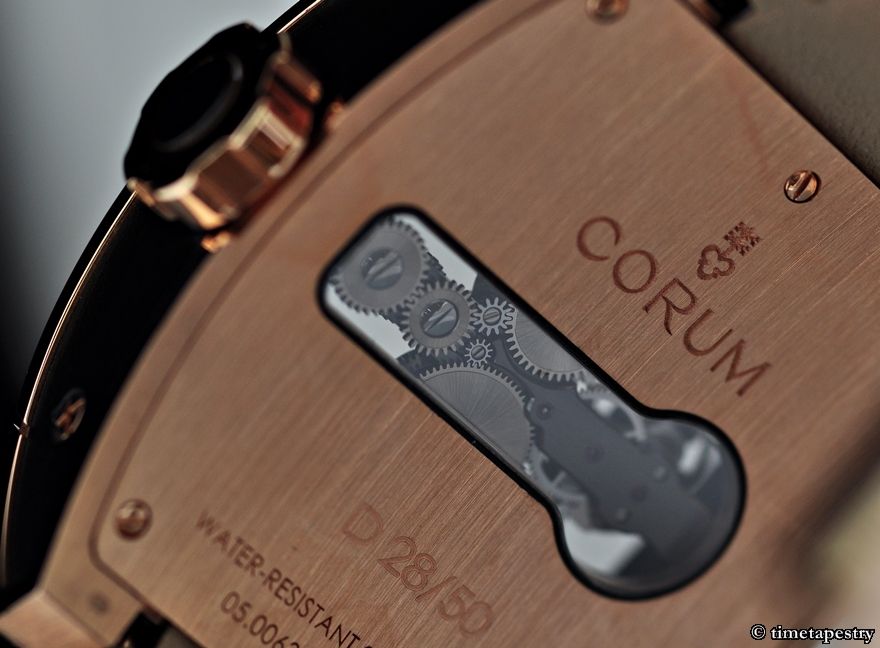 The 2010 version of this model with its flying tourbillon and titanium case then took the brand's technical expertise to a new pinnacle of achievement. The CO 022 baguette caliber of the Ti-Bridge Tourbillon was designed, developed and produced in-house by the Corum team. Equipped with a flying tourbillon that has no upper bridge and thus seems to be floating over the movement, its escapement beats at 21,600 vibrations per hour. This mechanical hand-wound movement is endowed with a 72-hour power reserve.
Caliber CO 022, which represents an aesthetic and technical feat, has a mainplate and bridges made from ARCAP that is treated to a gold finish. This new alloy made of copper and nickel is completely non-magnetic, anti-corrosive and enables complex finishing operations. Although a resolutely futuristic material, it may be adorned with traditional decorations such as satin-finishing and chamfering, creating effects that make a fine contrast with the "sunray-brushed" decoration of the two barrels.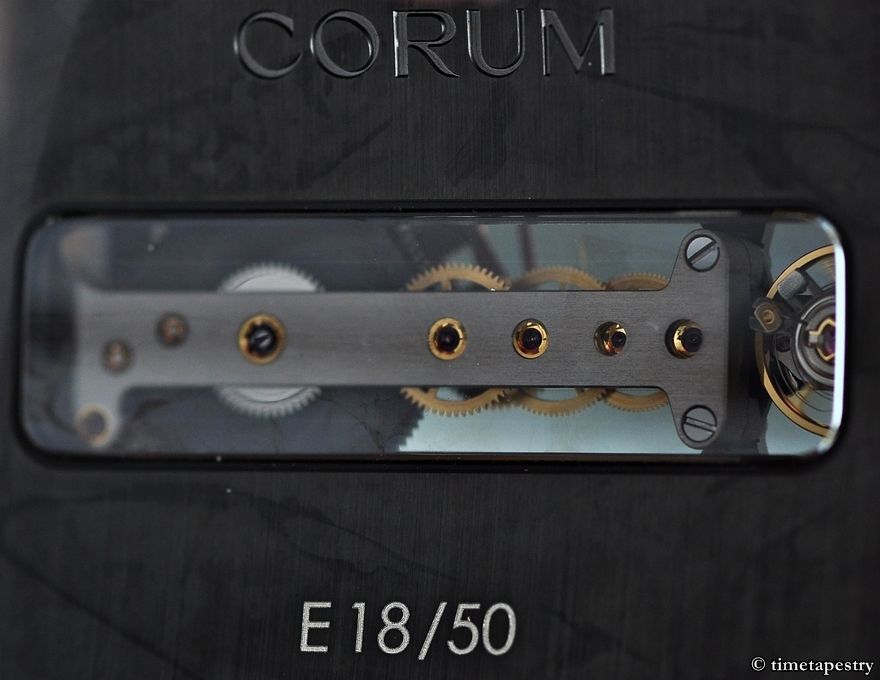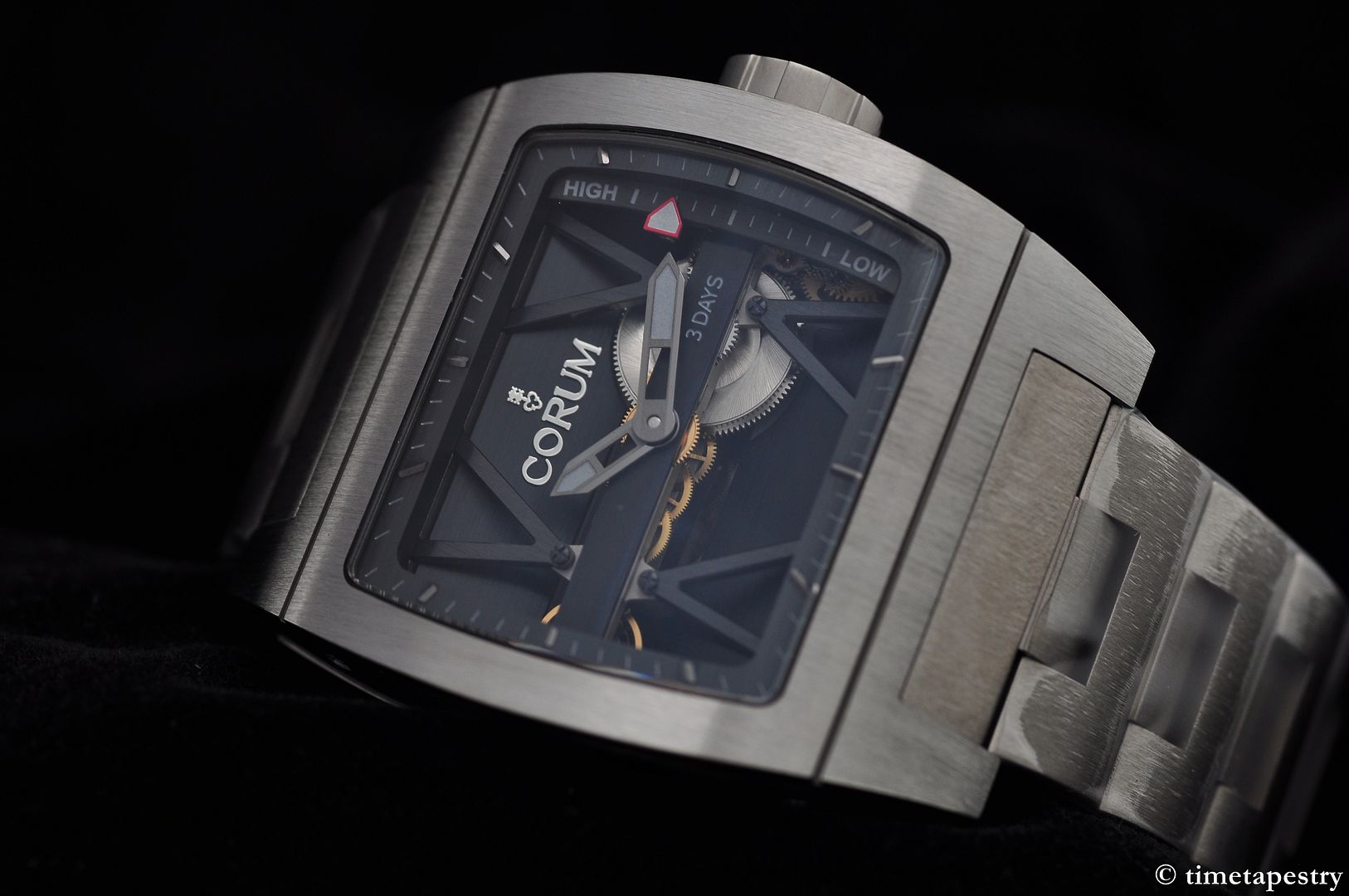 Another specific feature developed for this caliber is the power-reserve indicator fitted on a toothed sliding piece in phosphate nickel. The choice of this material, combined with a "LIGA" manufacturing process – an acronym derived the German words for lithography, electroplating and molding -– which is a type of electroforming, serves to create a part with far more precise measurements than those achieved by classic mechanical machining. It thereby guarantees the extremely accurate indication of the level of the power reserve – which in this case amounts to three days in all.
The Corum Bridges pillar experiences a substantial evolution in 2011 with the presentation of an exclusive new creation: the Golden Bridge Automatic with the first linear-winding automatic movement.
The Caliber CO313 is one of the rare movements with linear oscillating weight on the market – lies first and foremost in resolving the inertia issues inherent to any movement of this type. Hence the use of a precious and dense metal, in this instance platinum, for this linear oscillating weight weighing 4 grams and which swings 1 cm, before its motion is slowed down or "damped" by a system of gaskets
that send it swinging back in the other direction, thereby supplying the movement with all the energy it needs to continue moving.
and finally the admirals cup. not being someone too interested in sailing, i must admit the nautical connection is

slightly

lost on me, but i am sure it resonates with folks in that community. they do have very smart looking models in their lineup though which transcends that tie

to

sailing and nautical pursuits which is a

good thing
In 1960, the first interpretation of the Admiral's Cup model paved the way for CORUM's success. This model remains thanks to its history, which is inextricably bound up with major sailing competitions and prestigious sailors, as well as for its inimitable esthetic based on a twelve-sided case, a dial set off by twelve nautical pennants, and the Admiral's Cup trophy engraved on the caseback. These are its distinctive and unmistakable identifying characteristics.
The "Admiral's Cup" is currently worn and represented by Ben Ainslie, one of the greatest living sailors and four-time Olympic medal winner who has already earned an impressive number of records and distinctions, and by Loïck Peyron, regarded as one of the best sailors both on multihull and monohull boats with a breathtaking list of accomplishments to his credit, including 43 transatlantic crossings and four round-the-world races.
T

he collection is structured into three distinct segments: Seafender, characterized by sturdy designs encompassing ultimate sports functions – Challenger, with a more sporting chic design offering a range of chronograph complications – Legend, offering more elegant and classical models featuring cases with softer lines and more classic complications (

see tourby above)
Admiral's Cup Challenger 48 Day & Night ($13,589.00)A map of the world viewed from the North Pole enables instant visualization of the time zones as well as of which zones are in daytime or nighttime around the world at any given moment. This world map complete with day/night indication is a first within the Admiral's Cup collection. comes in a dark and light dial version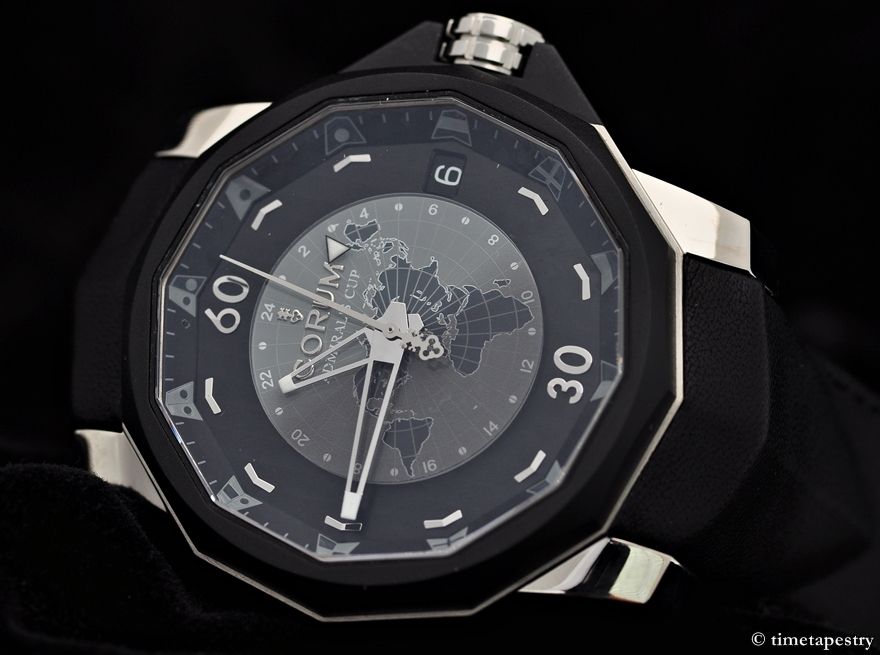 the main attraction of this authentic time "show" appears at the centre of the dial adorned with a Côtes de Genève finish. A world map transferred on the metal and bearing the 24 timezone grid pattern is topped by a transparent rotating disk. The latter plays a dual role: around its circumference, a small white indicator – adjustable via the crown – points to a second time zone. This function enables the user to check the time in another part of the world at any given moment. Moreover, when the white indicator is adjusted to GMT, the rotating disk which is tinted on half of its surface will show which side of the Earth is lit up by the Sun and which is plunged in darkness.
Admiral's Cup Legend 42 Chrono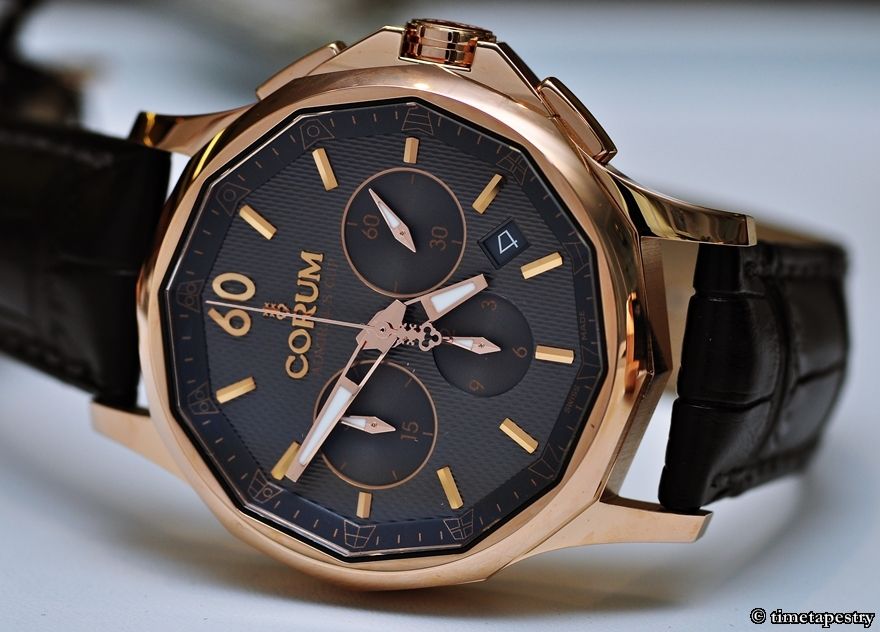 Admiral's Cup Legend 42 Annual Calendar($40,553.00 in RG and $14,338.00 in steel) with it's notable 12 nautical pennants from the maritime international code of signals serving as hour-markers, along with a twelve-sided case and with a annual calendar complication
the annual calendar automatically takes account of 30- and 31-day months, thus requiring just one adjustment per year, at the end of February
next up, the ADMIRAL'S CUP CHALLENGER 44 CHRONO RUBBER ($13,910.00)

The perfect watch for hot, sunny days! Resolutely sporty and geared up for all manner of aquatic adventures, the new Admiral's Cup Challenger 44 Chrono Rubber features a colourful vulcanized rubber case. This rugged yet flexible material earns its pedigree through a high-temperature, high pressure injection procedure that modifies its structure to give it a matte look and a velvet-soft feel.

Available in four colourful variations, this timepiece is equipped with an automatic chronograph movement chronometer-certified by the COSC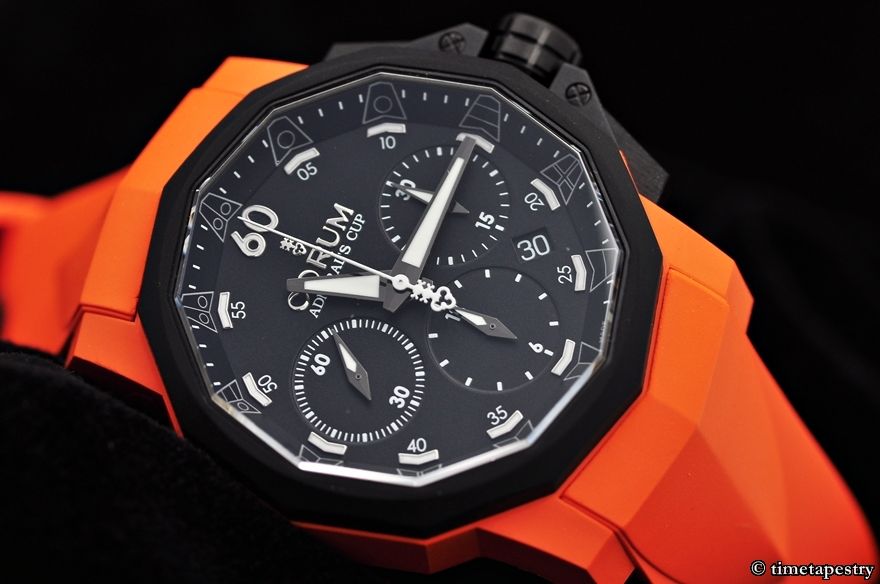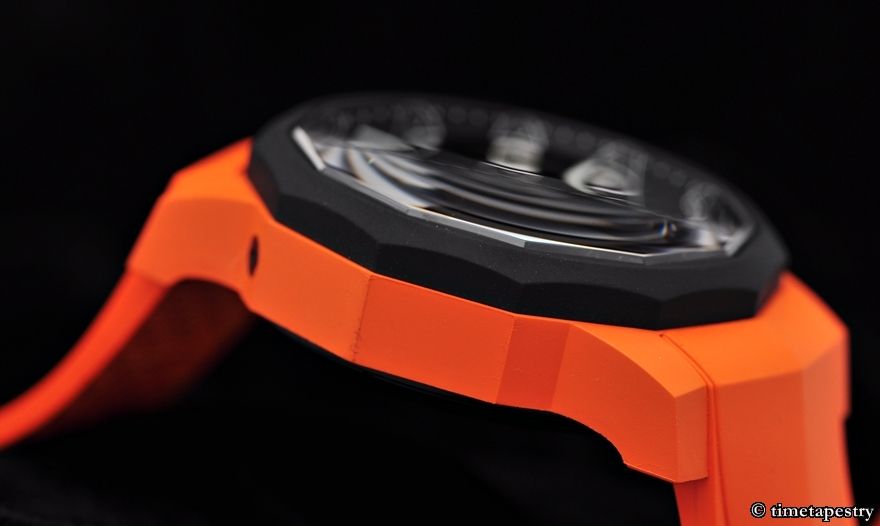 and that's all folks. time to start earning more $$$ ;) happy hols everyone.

cheers