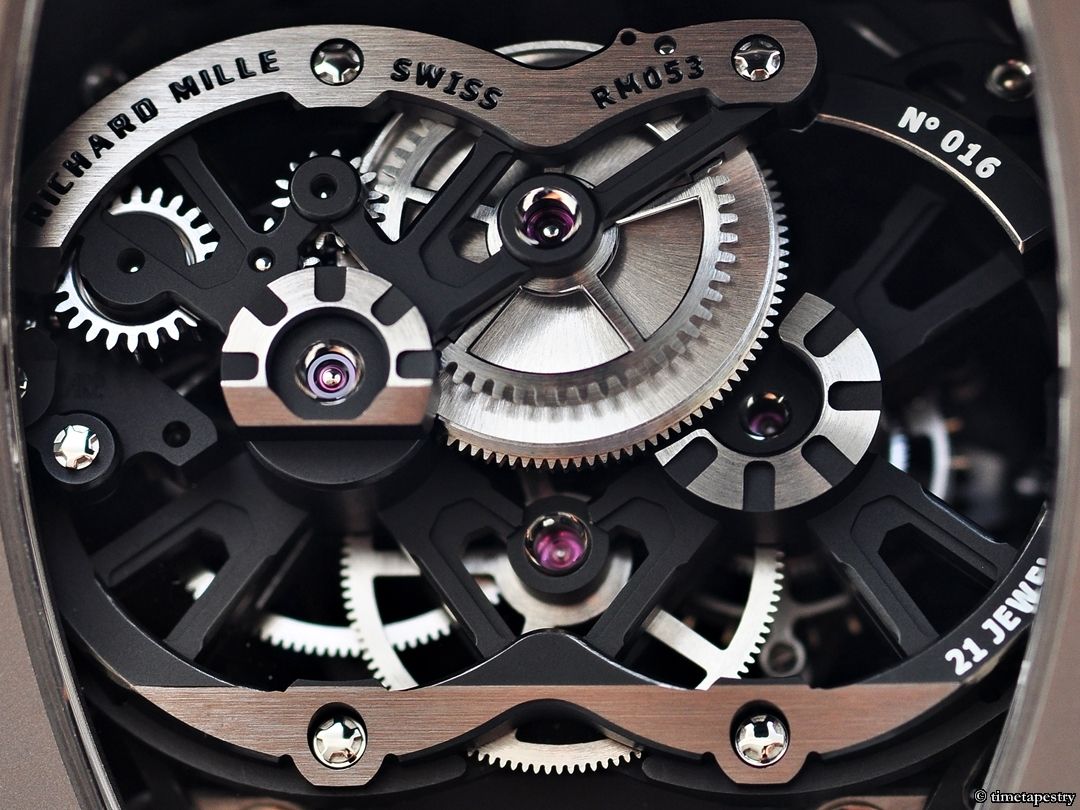 Before I talk about the watch and the fact that Richard Mille is about to be majority owned by a lux group(Kering sounds like caring, which is also noted on their site ;) actually that's all there is to say about that so I won't be saying more about it later), the one thing that stands out in my mind about this RM piece and a number of their tourby offerings with APRP (Audemars Piguet Renaud et Papi)movements is that it makes a statement... and that statement is 'I have screw you money" :)
raphmeister's definition - screw you money:

excessive amounts of money wielded with utter lack of care or interest to show that the possessor of it does not have to give a flying fudge about anything logical / reasonable / sensible / practical and chooses to do whatsoever they wish to do with that money, no matter how inane, foolish, unnecessary, incredulous etc etc etc it may seem to all others[be they aristocats or hoi polloi ~ note all misspellings are intentional].
It speaks not only of excessive wealth but of the owner's attitude in the use of that excess and a self developed perspective of value. Your taste or likes do not matter to them and they can afford and will buy whatever it is they wish to even if it is not 'beautiful' or 'worth the $' in others eyes.
Person A

(overbearing, believe they know-it-all type): That is just not practical. That makes absolutely no sense! Who would buy that… blah blah blah
Person B:

Yup, he's got screw you money
left dial is seconds and tourby cage and right dial is hours and minutes
To the watch itself then... it differs from the typical RM watch face in design and it's dial angled layout is similar to that of a driving watch(this one at a 30 degree angle) and it has a look of race car dials but it's actually designed for the sport of kings, polo. tonneau shaped titanium case, mix of micro blasted grade 5 ti and diamond hard titanium carbide hard shell to withstand the hits and shocks, which it kinda needs as it is a decent sized 50mm 42.7mm 20mm case size. 48 hours power reserve & the kicker, t
he retail price is

US$580k :)
not my best movement shot but just wanted to show light flowing thru from the front of the watch to the back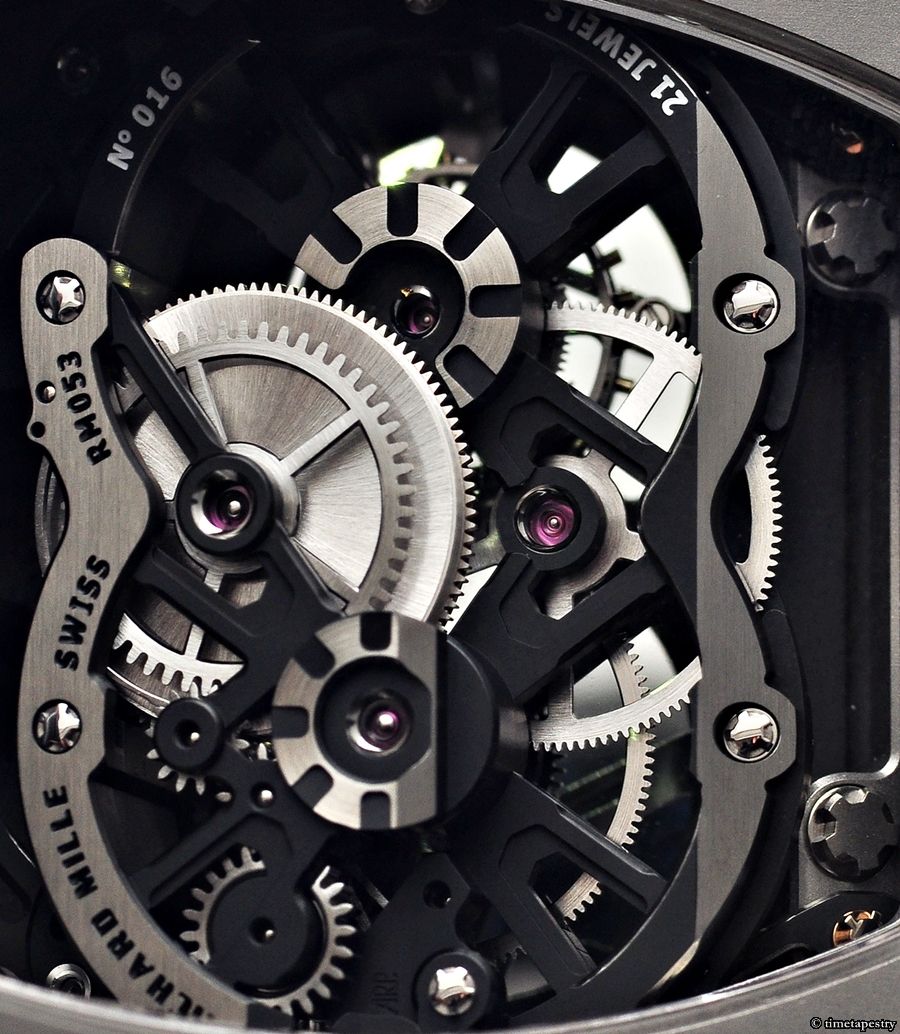 Polo Tie-up ~ Richard Mille has been highly successful in his marketing tie-ups with sports folks. In tennis(Rafael Nadal), running(Yohan Blake), F1 (Felipe Massa), golf (Bubba Watson), his brand ambassadors actually wear their tourby watches while doing their sport of choice. With Pablo Mac Donough in his ambassador stable and requesting for it, a RM watch to withstand the extremes of the sport of polo was kind of a matter of time. so 2012 sihh saw the birth of the numbered, 15 piece, limited edition, manual wind tourbillon timepiece.
i must say it does have some very nice angles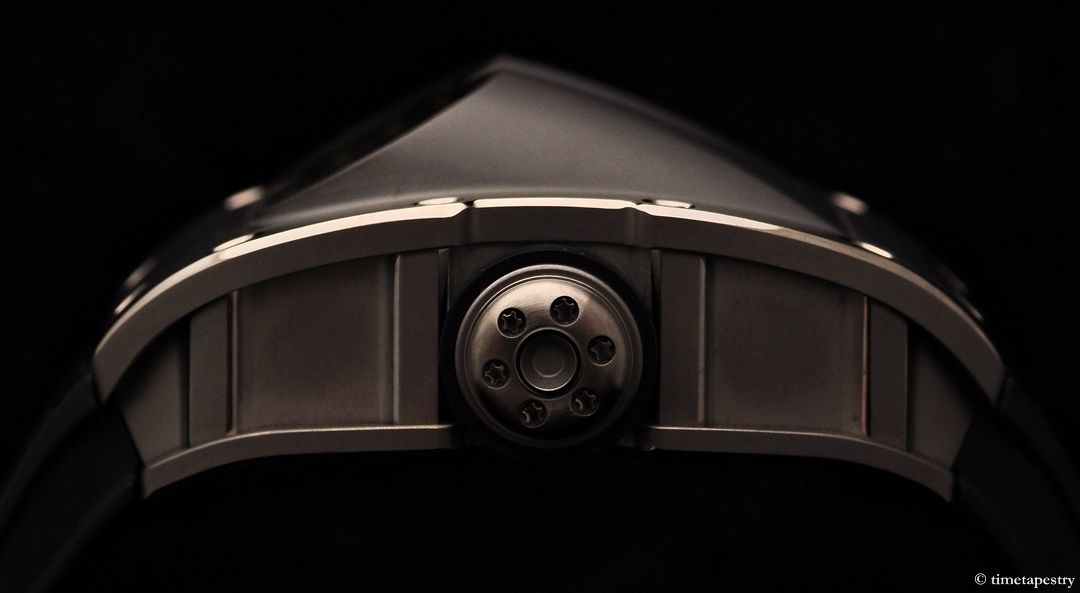 and that movement is killa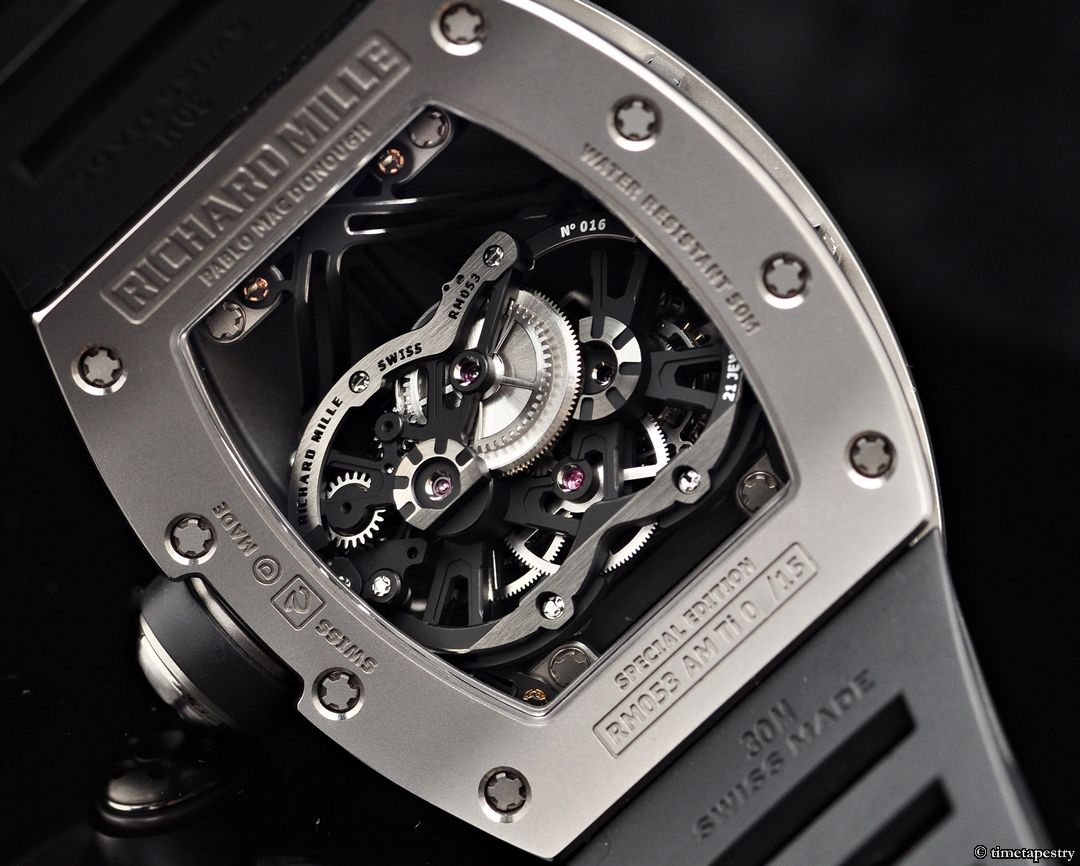 the movement which is a treat to me eyes is also inclined at 30 degrees too and it's a beauty. free sprung balance wheel with variable inertia, fast rotating barrel at 6 hours per revolution vs the typical 7.5 hours... whatever... just LOOK AT IT! ;)
note this is the bit that can't be seen when worn on the wrist which more or less means hiding your best bits... [which may actually work for some ;)]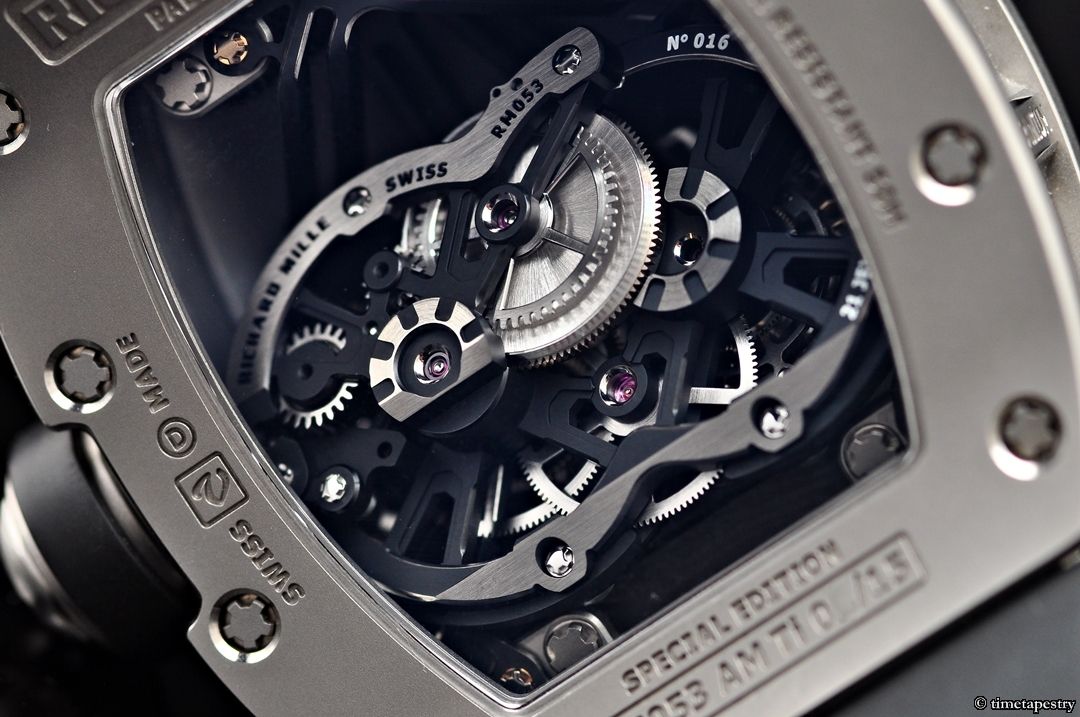 while the back is really really nice looking, the front is a bit ho hum in a way for RM what with it being so covered up... yuh I get the whole polo smashing and breaking your watch thing but still... (wondering about diamond hard sapphire cover and other outline-y bits in the carbide thingy)
but as noted in the earlier part of my post... the purpose of this watch is not to say 'I make sensible and practical choices in life' or that and so for the purpose I have noted for it as a tourby LE RM, with no bling no colored gold or plat... it serves it's purpose well enough ;)
signing out, raphmeister 'baller whilst he has a RM053 on his wrist' too