Seven Friday

on the twenty Seven sep,

Friday... twas meant to be...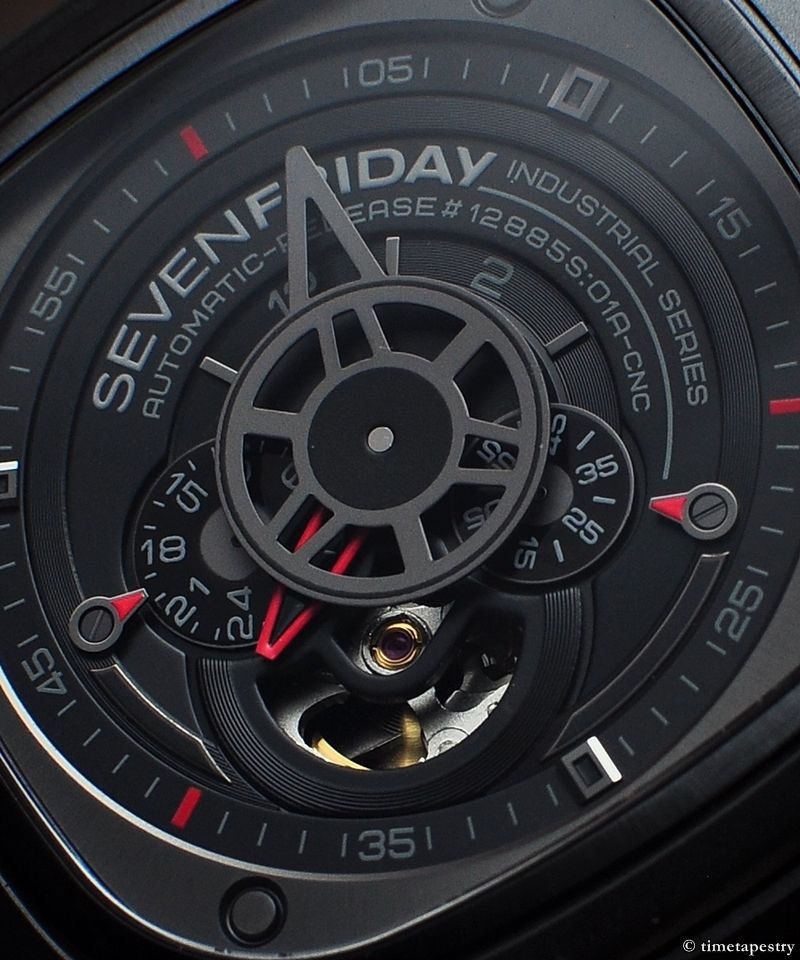 thanks to the cool folks at the watch bureau / red army watches for letting me handle the watches and NO THANKS to them for poisoning me to the point that I had to buy one of the watches on the spot! :) [kidding of course]
1) founded by Daniel Niederer, who spent a fair amount of time in Singapore managing a range of watch brands, and is the head(owner?) of a design co. Studio Divine. Fair to say the guy knows a thing or two about design(or can tap on talented people in this area) and selling watches.
2) Studio Divine were given the following brief to come out with a design: steel, tools, engines, wheels, machines, industrial plants... uhm and that's it
3) the watches launched Q4 2012 and has become hot in no time at all benching off the interwebs, social media to fuel it's awareness and growth
4) MB&F M.A.D. Gallery sells these! Fantastic endorsement for these watches and if you think about it.. if u go to MAD and can't buy a HM or LM but love watches(probably the reason u r there to begin with) and don't want to get a non-watch bauble then.. u most likely will be stepping out with a less than 1k Euro Seven Friday
5) it's not only popular with the guys... in one country, over 60% of the sales goes to the ladies.
- Time only watch with a 24 hours indicator, small seconds on a rotating disc
- All P series watches share the same case which measures 47.6 * 47 * 13mm. lug width 28mm. it doesn't wear that big as there are no extended bits from the case for the lugs ie they be integrated to the case
- Water Resistance: 3ATM or 30metres or 100feet
- Glass: Specially hardened and antireflective treated mineral glass
- Movement: Automatic Miyota 82S7 with Open balance
how do u tell the time? and what 5 layer dial u talkin bout?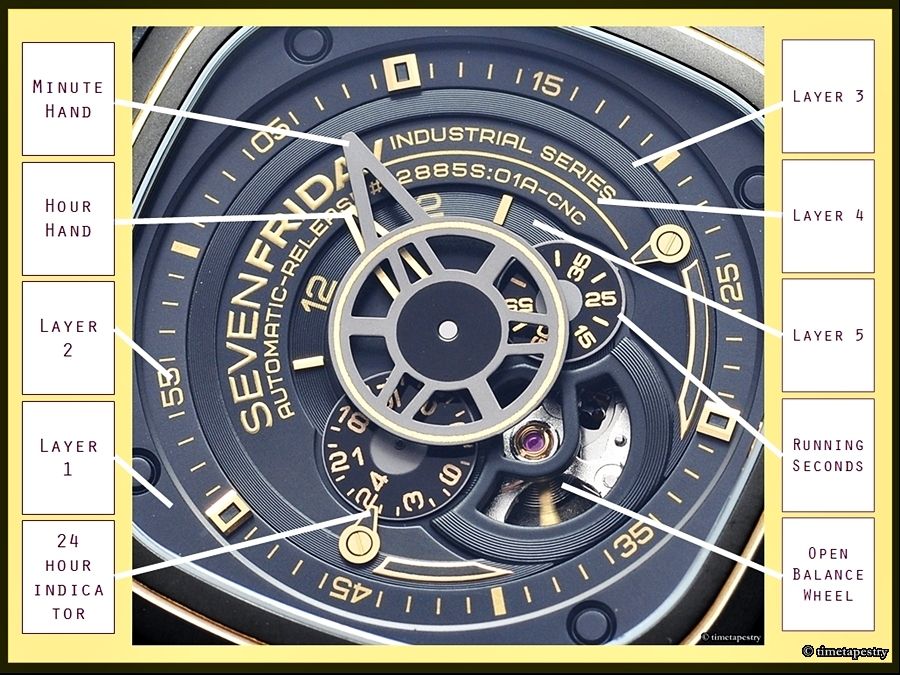 - a great new design with the machine look of independents like urwerk, mb&f and hautlence and stepping out with their first watch in style.
- they kept the watch cost low by using mineral glass, miyota movement, low cost assembly and focused on design and aesthetics. no frills or added complexity eg. having a means of adjusting/using the 24 indicator disc as a second time zone. if it were a gmt watch at this price... whoa mama
- the dial has the 'I need to tell the time, look down at your wrist, and BAM! what a beautiful face' effect ;)
- these are great priced and fun watches. for retail S$1.4k to 2k, it has a lot going for it to easily make folks press the buy button
some possible minuses
- may be slightly difficult to tell the time quickly
- no screw down crown or higher water resistance
- some folks may not take to the squarish cases but that's a taste thing
- says Zurich on the box but is Japan powered(Miyota) and assembled in a low cost location (Zurich be where the company be based... sou desu ne)
enough words, to the watches!
Genesis... the P1-1: Retails S$1,490
P2-1: Retails S$1,590... I really like the copper tone inner ring and the perlage bit... very nice looking piece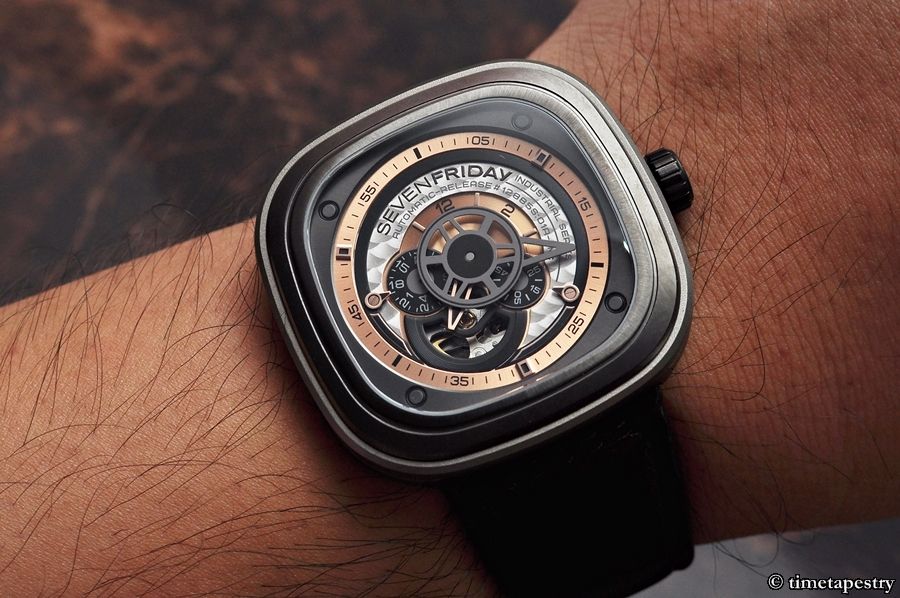 P3-1: Retails S$1,590... It was a toss up between this one and the one I got for my first piece. red and black is a great color combo
back of the watch
wristshot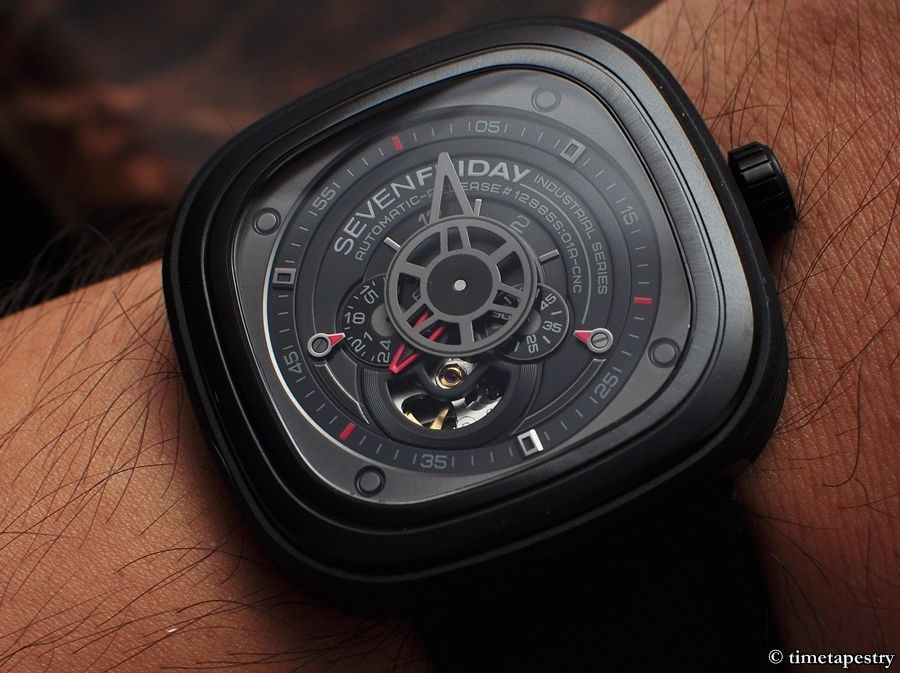 P3-2 SevenFriday Riviera Limited Edition of 350 pieces: Retails S$2,074... solid Canadian wood around the case of the watch
Canadian wood... not Norwegian wood yuh ;) I don't believe this is waterproof so it scared me off this piece a little
I love the colors of the dial for this... the blue red and white together is just great...
sold out in Singapore but I believe some of the retail channels overseas still have a couple of pieces left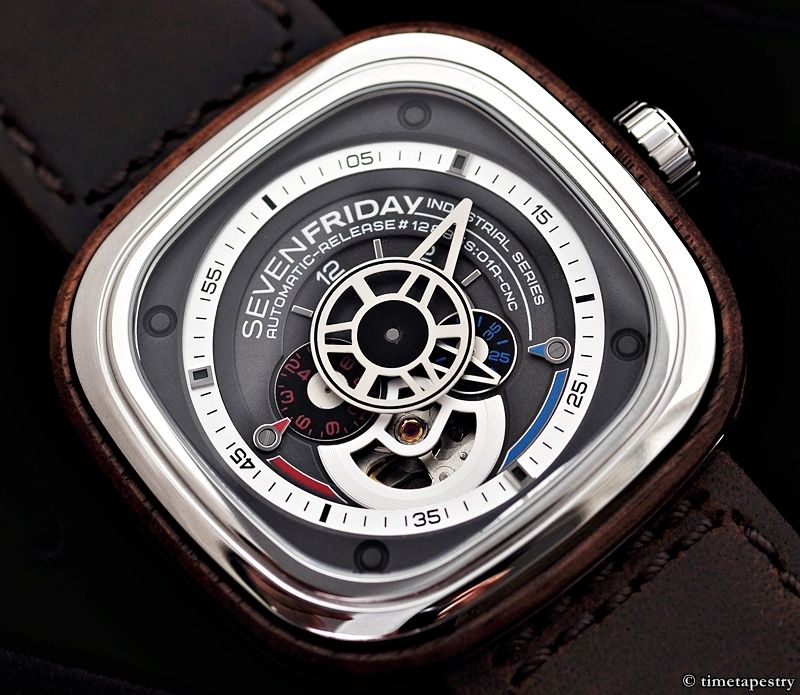 they then came out with the second iterations of the P1 and P2... first up the all white P1-2 SevenFriday Bright: Retails S$1,590... ring around the middle bit of the case in white is white rubber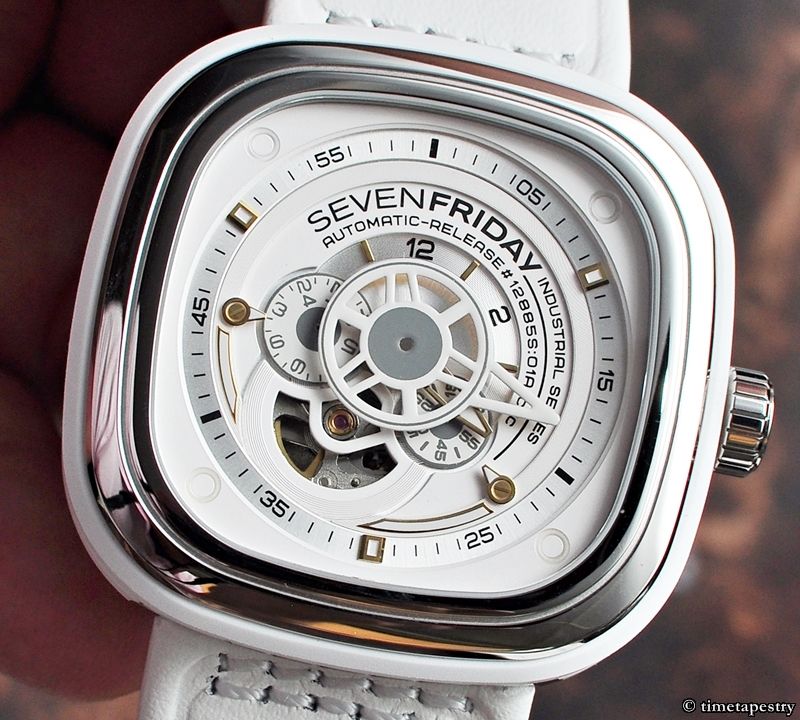 wristshot... goes well with my pink shirt and looks to be a great piece for the ladies if their wrists can carry it off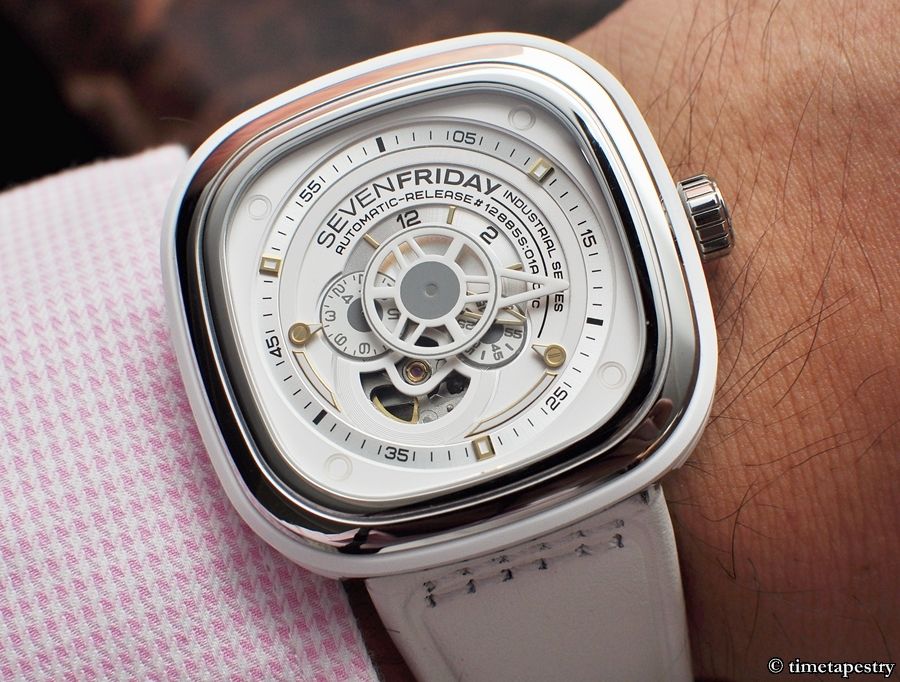 the wonderful P2-2 SevenFriday Works : S$1,778... I love the subtleness of this dial. at certain angles all you see are the glint of the indices and the hour hand... the dial is simply beautiful and makes you stop to look when all you wanted was to get the time :)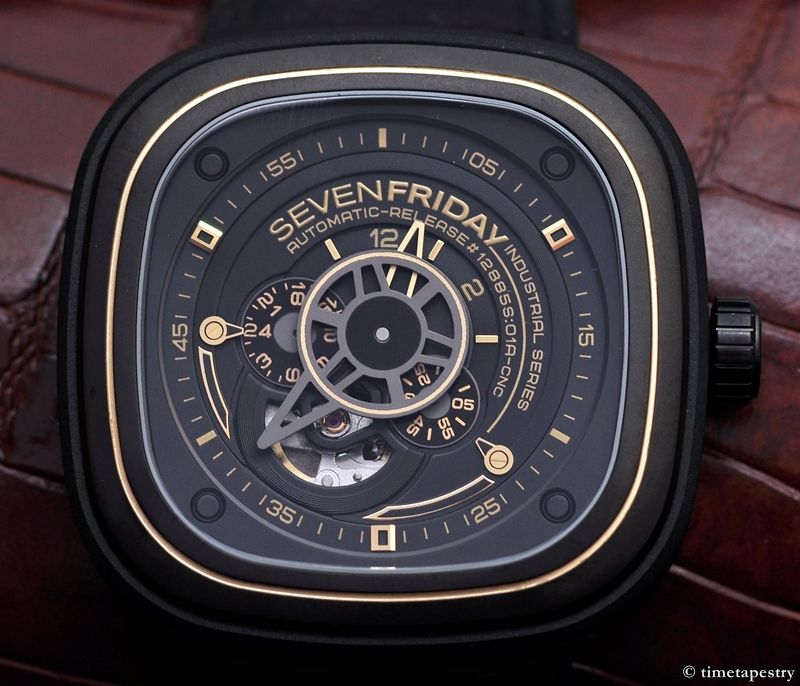 so how good a proposition is seven Friday? it's good enough for me to have to get one on the spot, a first for me, and that's sayin somethin :)
some wristshots and I will be sharing a later review of it in time since it is in my possession... darker
& lighter
oh and they don't come in standard watchboxes... the top darker one is the one that will come with the Limited Edition and the others will be in the light wooden box that looks like a wine box crate thingy
Look out for more Seven Friday watches on Timetapestry :)
Press Release:

SevenFriday launches its iconic watches, inspired by industrial elements and designs in Singapore. Steel, industrial plants tools, engines, machines, wheels – the brand's universe as well as its design, are strongly inspired by those elements. The products' design is a result of this inspiration in combination with high-end production and complex construction. It is a merger of contrasting material and styles in harmony. The shape and style lie between the spectrums of modern and classic, creating an exciting atmosphere that will appeal to watch-lover who appreciates unique expressions of time. Within the distinctive squircle steel case and an interface consisting of hands, disc and dial movements. The indicators are designs and arranged to bring the complexity of the movement to the surface for the watch owner's appreciation. The dial alone is constructed out of five layers of dial to create a 3-dimentional composition. The complex construction attracts and fascinates the spectators and offers the special appreciation for timelessness.
SevenFriday created three different designs with a variety of materials, finishing and colours completes the uniqueness of the collection and takes the user on a tour of on-going discoveries. SevenFriday watches are available at all Red Army Watches and Krasnaya outlets and prices start from SGD$1,490.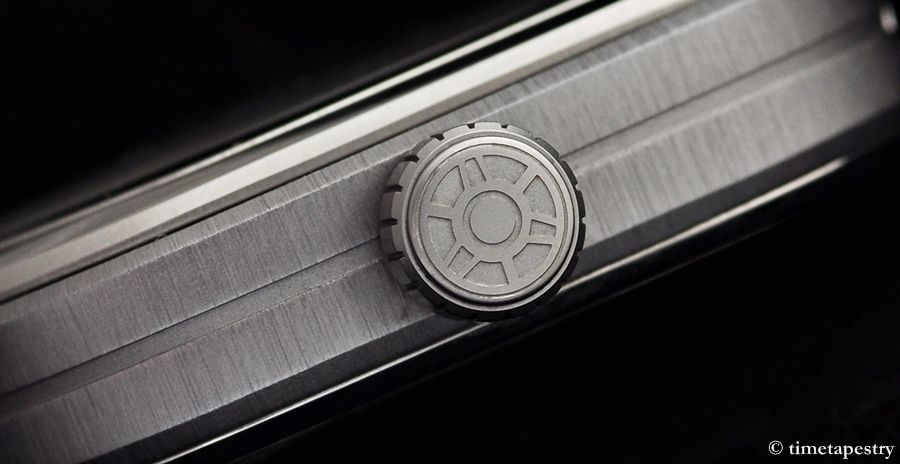 About SevenFriday ~

SevenFriday, a Zürich (Switzerland) based company, was officially founded in May 2012 by Daniel Niederer, though he had already been working on product and brand development for more than a year and a half prior to the official launch. The company started with three models P1, P2 and P3, which uses different materials but on the same design.
Singapore Authorised Dealers:
Red Army Watches - Millenia Walk #01-78, Wisma Atria #03-02, red dot Traffic #04-04

Krasnaya - The Watch Art Gallery - ION Orchard #B3-03

Fook Hing Trading Co - Bras Basah Complex #01-23

Watches of Switzerland - Paragon #01-19, VivoCity #01-13, Centrepoint #01-22, Tampines Mall #01-48, City Square Mall #01-12
if you're outside of Singapore there are authorised dealers in other countries noted on their website
LINK
and if u don't have a AD where you are, the watches can be ordered from their site too.