The Rolex Daytona is an iconic timepiece... nay a legen-wait for it-dary timepiece. From the earlier manual winding Valjoux powered chronos, to the first automatic chrono in their stable, reworking the zenith el primero. It
has adorned the wrists of men and women with exceptional taste ;)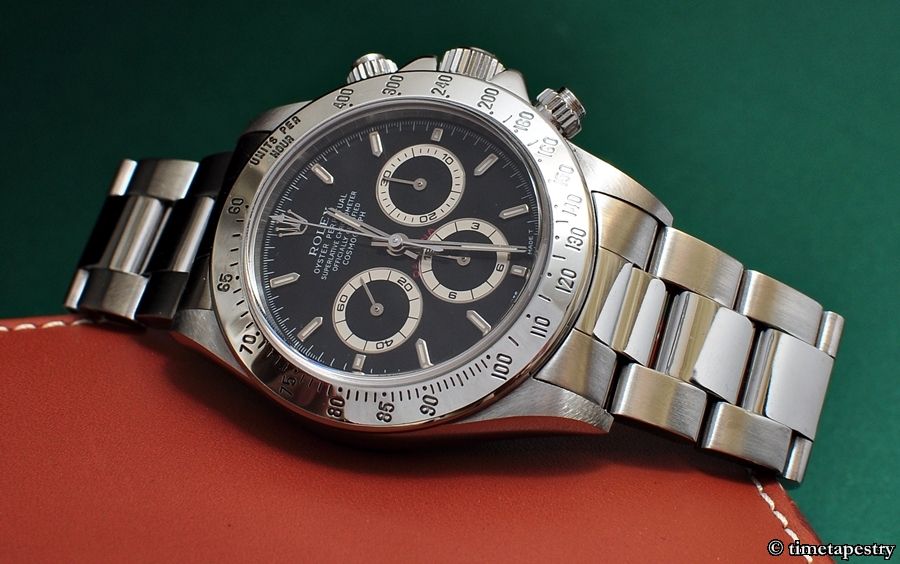 Evolution
1963 - 623x, 624x & 626xs Newman Daytonas, Exotic Dials and some models not crazy popular watches in their day becoming hot vintage buys now
- Cosmograph. No Daytona on the dial initially. That came in 1964 onwards to denote Rolex's sponsorship of the 24hrs Daytona race in Daytona Beach, Florida.
- Valjoux 72 based calibre(there's a movement shot of this below). Diameter 36.5mm
- In the 80s because of the quartz invasion, Rolex just had to come out with a self winding chrono and so...
1988 - 16520 series launched: The 16520 was a highly popular series at launch and throughout its life with long wait lists(up to 5 years even) and people willingly paying premiums to jump the queue to own it. it wasn't surprising to hear some folks paying twice the retail price for them and it was(and still is) selling higher than the two tone(gold and steel) 16500 models.
- 4030 movement based off Zenith El Primero - hertz down from 36,000 to 28,800. Rolex said it was so that the movement could last longer between servicings. Escapement was changed to have a larger balance and has a Breguet overcoil balance spring and microstella fine adjustment screws (all for better accuracy)
- Mark I and II dials that are in the first series of the range have floating cosmograph i.e. there is a space between the cosmograph word and the 4/3 lines above
- late U series(1998) onwards started having the superluminova for the luminous bits. earlier dials also had more hash marks in the 30min register
- Dimensions: Lug width 20mm, Diameter 40mm. Bezel width 38.75mm, left side of the case to right end of crown 43mm. Thickness ~12.7 mm including crystal. Weight: 120g
2001 - 116520 series. no wait lists for these I would think and should be readily available at your nearby authorised or pre-owned dealer
- 4130 Rolex Manufacture movement. lesser parts than 4030, more part standardisation and easier serviceability (I wonder if it costs less to service based on this?)
- Parachrom hair spring: nice blue color(not that this matters yuh ;) and more anti-magnetic(this matters :)
- vertical clutch chrono reduces start stop jumps
- more solid bracelet and clasp
- running seconds at 6o'clock (vs 9 o'clock)
First some pics followed by my personal take on this piece
Mark IV dial which I believe is the most common. The sub-dials for some series have changed color over time and are referred to as patrizzi dials (after Osvaldo Patrizzi's mark IV sold at auction with this change. Mr Patrizzi was the previous head and founder of Antiquorum)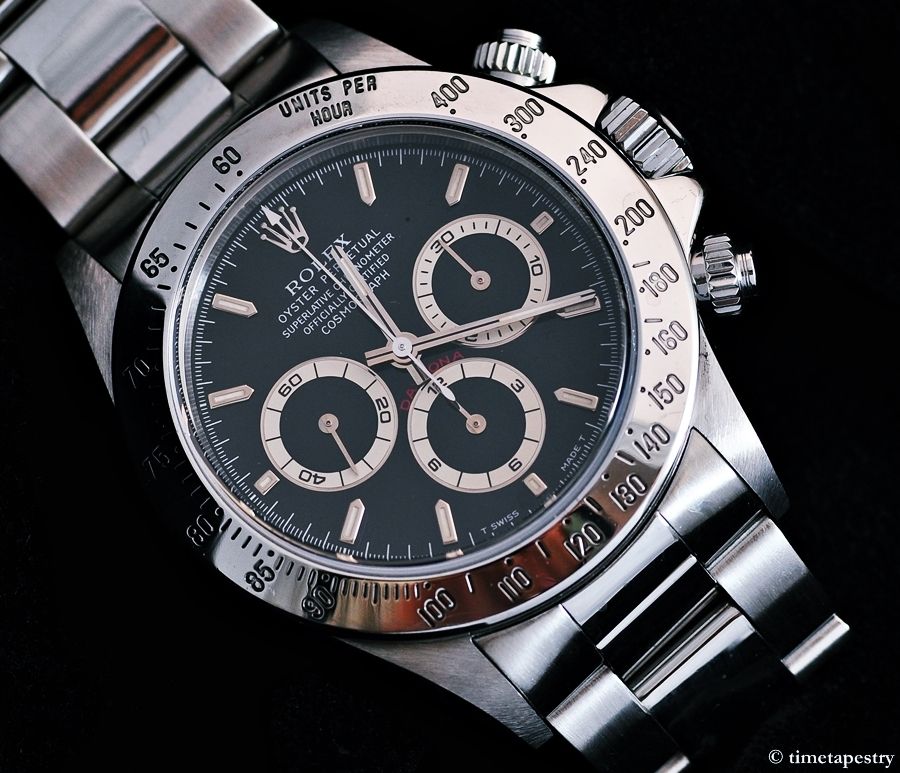 Applied white gold indices with Tritium for luminosity and
white gold baton hands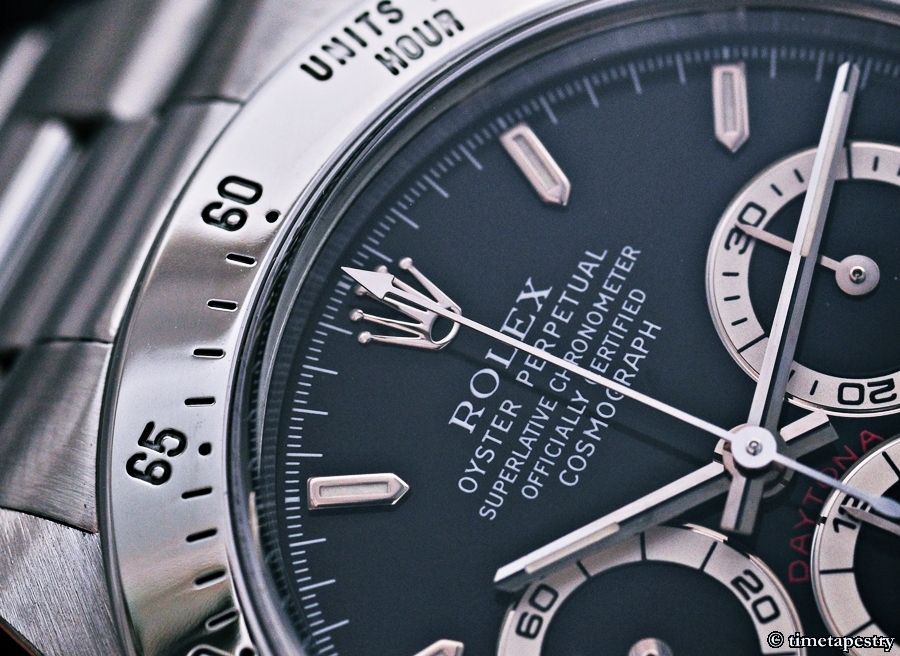 hello beautiful... lovely

silver subsidiary dial rings

3 dots under the crown signify triplock [has four o-ring seals(2 on the winding stem, 1 on the crown and 1 on the case tube) and are rated to 100m]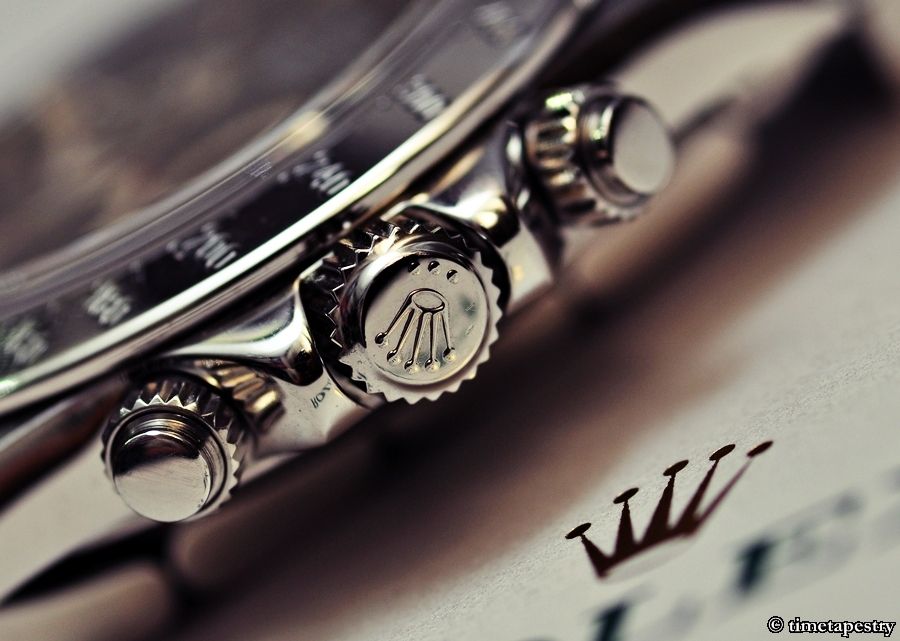 first thing you do when dealing with pre-owned Rolex is verify authenticity either at Rolex Service Centre or with trusted watch technicians... iphone shots of my watch movement as it underwent inspection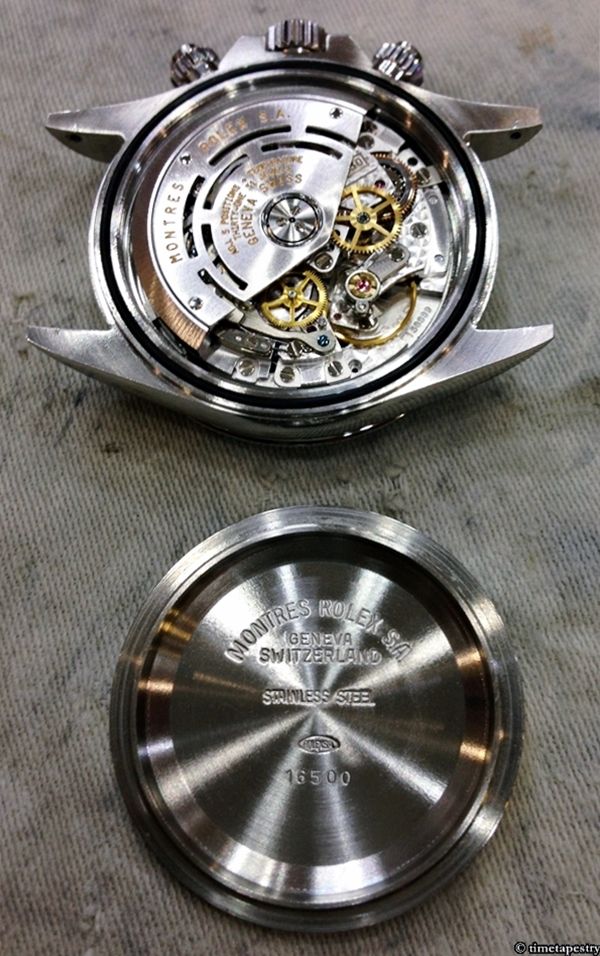 & it's legit! :) Cal. 4030, rhodium-plated, oeil-de-perdrix(read perlage) decoration, 31 jewels, straight-line lever escapement, monometallic balance adjusted to temperatures and 5 positions, shock absorber, self-compensating free-sprung Breguet balance spring, Microstella regulating screws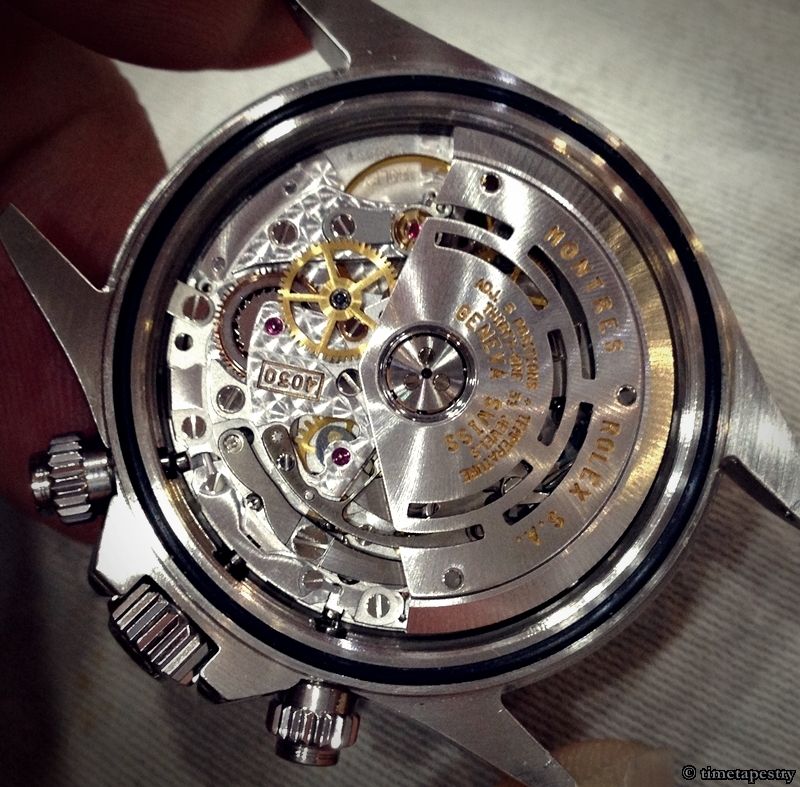 Review
- Dial: Great placing of the sub-dials for the 4030 Daytonas. Nice matte-ish sub-dial rings and lovely white gold bacon... I mean baton markers ;) i personally find the 116520 black and white dial a bit too flashy and shiny in comparison with the 16520
- Case and bracelet: the case and bracelet is finished well with a mix of brushed and polished finishings. my version is the 78390 bracelet(polished centre links) with the 503B end links so it's non solid end links(SEL) which means it may rattle a bit when shaken
- Movement: COSC(Contrôle Officiel Suisse des Chronomètres) certified and for my piece of ~15 years still keeping excellent time. COSC standards - standard deviation rate of -4 to +6 seconds within 24 hours. COSC certification is given for watch movements tested for several consecutive days, in 5 positions and at 3 temperatures. Rolex is the manufacture with typically the most COSC certified movements annually
- i would recommend folks to get a Rolex Daytona because many of the models are timepieces that can be with you for your entire life and passed on to the next generation similar to that other brand ;) for the all white metal ones, you will look good wearing them now, 10 years from now, 30 years from now and so on. note the same goes for other classic watches that are out there and is the reason they are called classic but some folks may argue about which are truly classic watches(hmm I feel another post coming on)
wristshot... the first of many to come :)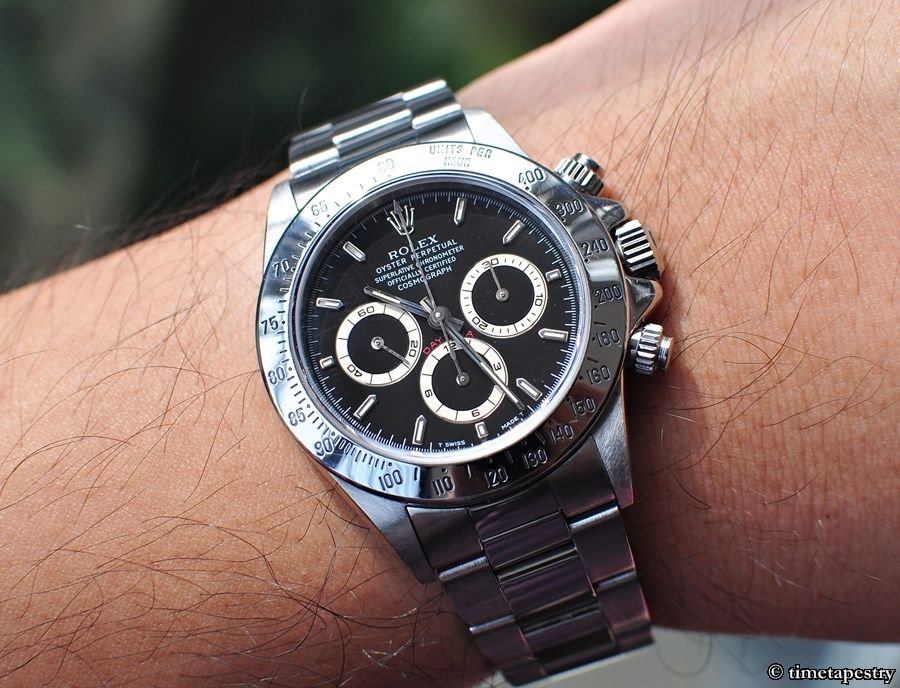 MkII no officially certified line on the dial went for S$20k at the 26 Oct 2013 Antiquorum auction. it was the one piece I had considered bidding on in my hunt for the 16520
Tomorrow, Christie's is having a major auction for Rolex Daytonas on 10 Nov - ROLEX DAYTONA "LESSON ONE" 50 EXCEPTIONAL EXAMPLES OF THE WORLD'S MOST CELEBRATED CHRONOGRAPH WRISTWATCH
LINK
Per Christies: What do Porsche's iconic 911, Quentin Tarantino, the Mandarin Hotel in Hong Kong, the epic movie "Cleopatra" starring Elizabeth Taylor and Richard Burton, the MetLife Building in New York, the unforgettable "She loves you" from the Beatles and Roy Lichtenstein's "Drowning Girl" have in common? They all celebrate their 50th birthday this year, in 2013. And so does Rolex's most mythical chronograph, the "Cosmograph Daytona".
"Rolex Daytona: Lesson One" is a sale created to celebrate this anniversary. Its purpose is to illustrate the history and evolution of the celebrated chronograph through some of the purest, most original and best preserved examples one could possibly find in collections around the world. Multiples of each model have been inspected, in order to determine which is the most beautiful and perfect to be retained. Some have actually, in their constellation and dial version, never appeared on the auction market before.
So what caught my eye? Sooo many Newman Daytonas... I think the first 30 lots are Newman Daytonas in some form or metal. and then 31 you have the 16520 floating cosmograph followed by other 16500 and 116500 Daytonas. Some pics of Daytonas I have taken from the past
below some that will feature in this auction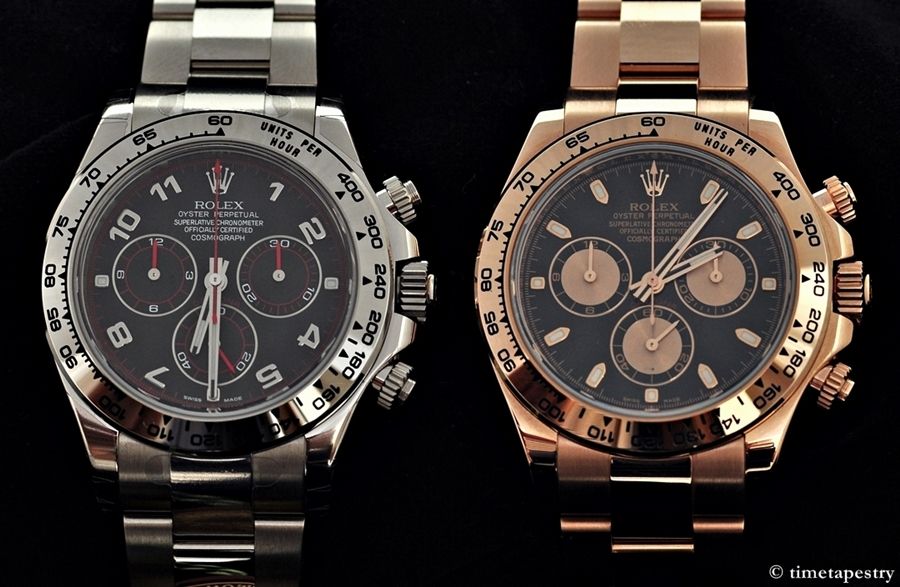 sporty and classic looking
6241 Gold Daytona (so called Paul Newman)... love love love the exotic dials...
the lovely Cal 722... a classic & beautiful column wheel chronograph movement...
one of the nicer 116500 models to me.. the YG 116528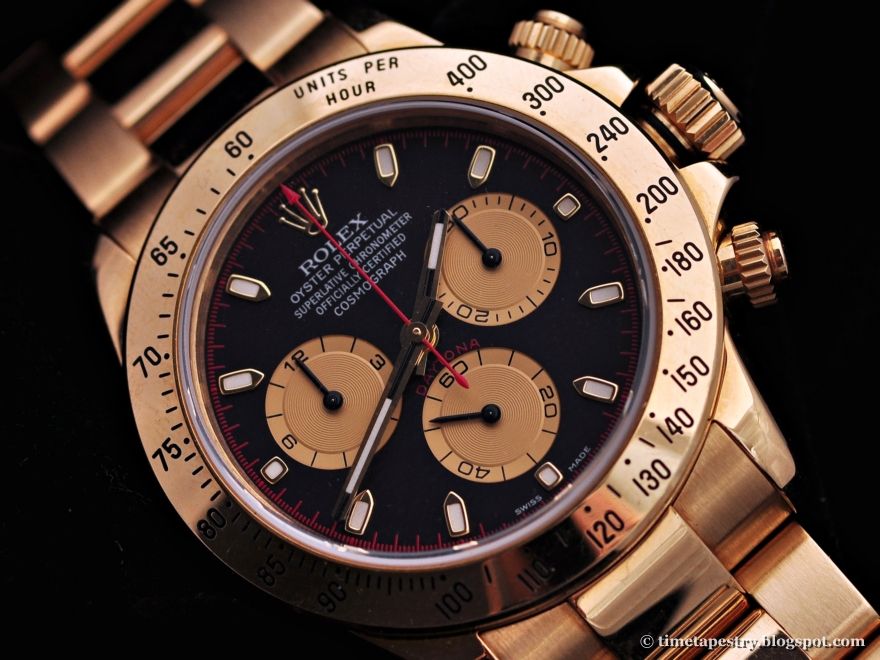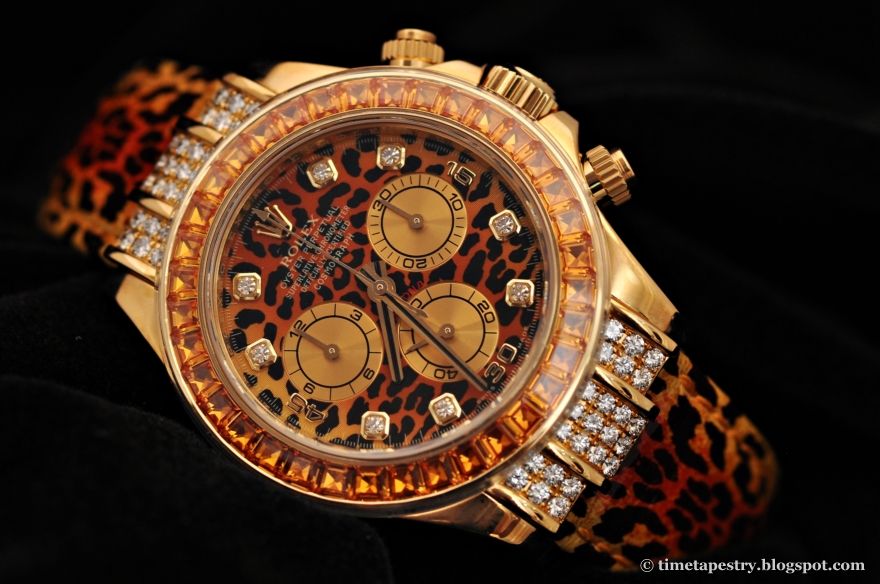 Cosmograph no Daytona on dial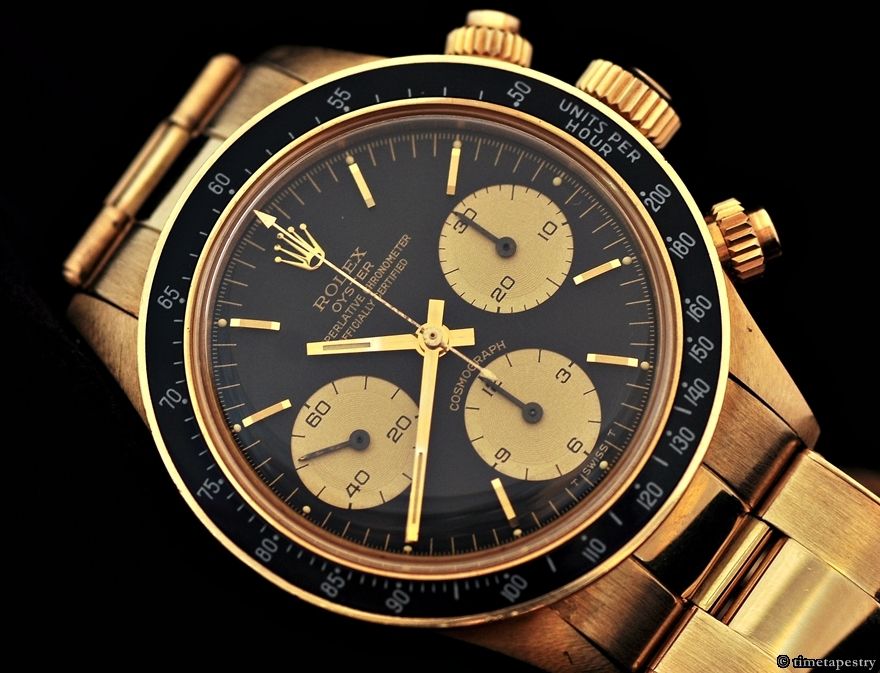 the modern
everose is lovely too...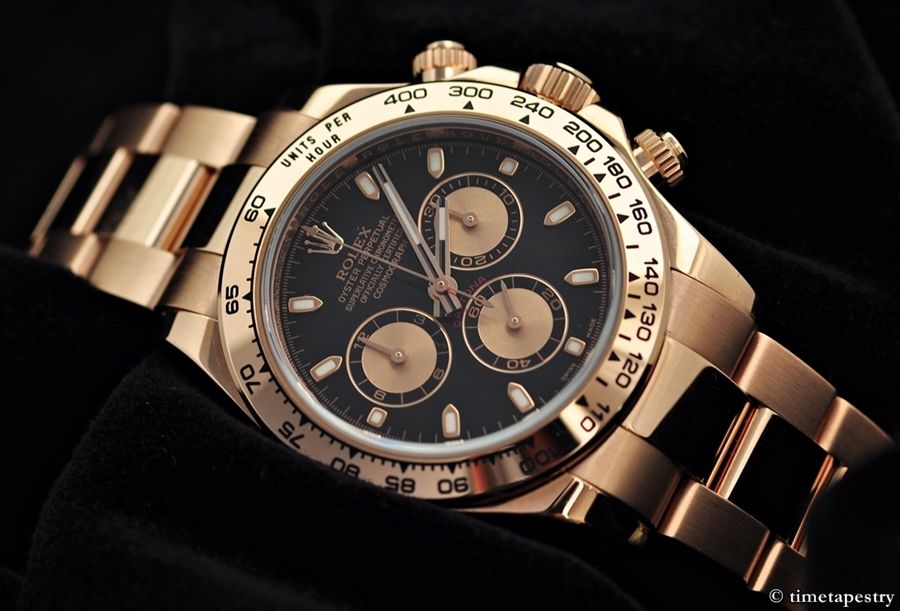 one day maybe? ;)