Now i had already posted about liking the longines heritage 1935 piece here LINK which was inspired by a piece made for the Czech airforce (great pics of that piece here LINK)...
but there were others i like out of their range and Longines were kind enough to send me their
Baselworld kit to remind me... (thanks to em for it) it came with one of em cool drive thingies...
but mine didn't work which meant i had to do a lil more leg work:(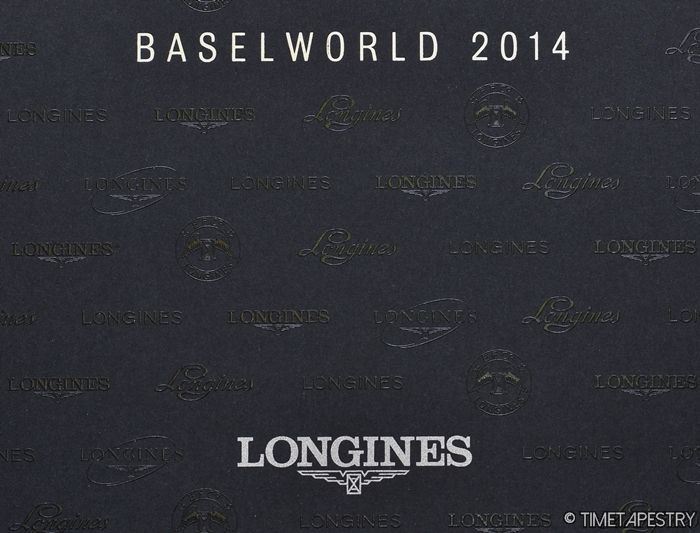 flipping thru the hardcopy and this called out to me first ;)
not that she looks pretty fine with her
elegant
Longines uhm... Elegant ladies timepiece but she's an Asian Chinese model...
they must
have their eyes
firmly on the Chinese market!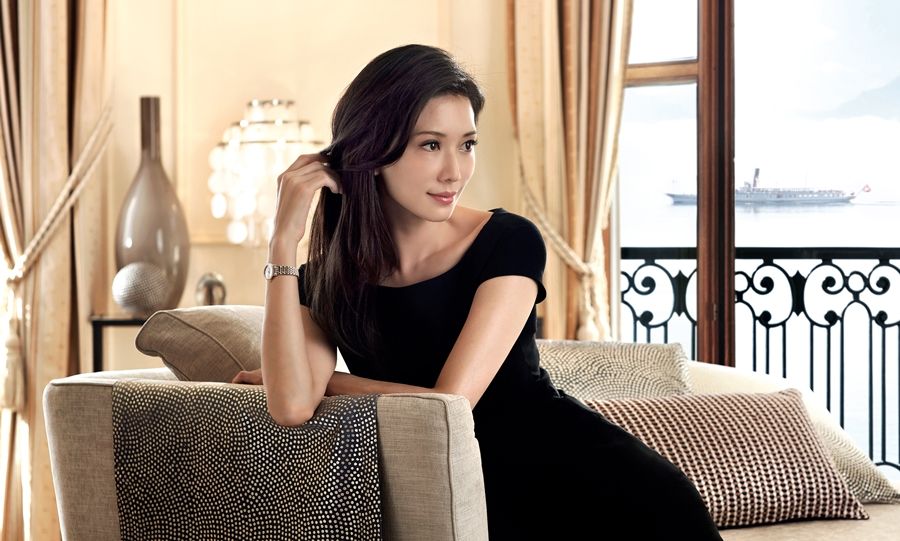 onto some other pieces i like from em then and their press text. note the first ones came out some time ago but they are still nice to me. i think the only thing stopping me considering them as possible targets were their price points which i can't recall right now.
The Longines Column-Wheel Single Push-Piece Chronograph Heritage and Tradition
As part of the Longines Heritage Collection, The Longines Column-Wheel Single Push-Piece Chronograph models take their inspiration from the rich history of the brand with the winged hourglass logo. Fitted with an exclusive Longines movement, they recall the very first chronograph wristwatches created by the brand. These models are found in three different versions, in steel or in rose gold. Their white dials are adorned with black numerals and a red twelve that matches harmoniously with the blued hands. The fluted crown, in which the push-piece is inserted, completes the traditional aesthetic design of these timepieces.
The Longines Column-Wheel Single Push-Piece Chronograph model houses the L788 calibre, a monopusher movement developed by ETA exclusively for Longines and which, like its illustrious predecessor, is equipped with a column-wheel and measures 13¼ lines. All the chronograph functions can be controlled by simply pressing the single push-piece.
Taking its inspiration from an historic timepiece, the third model in steel is fitted with moving lugs. This version has a thicker case with a more angular profile that gives it a great deal of character. On all three versions, the movement's blue column wheel can be admired through the transparent sapphire crystal case back.
Longines Equestrian Lépine ~
A tribute to a long-lasting passion
To mark the year of the horse, the Swiss watch brand is presenting its Longines Equestrian Lépine, a pocket watch in rose gold.
In 2014, Longines is celebrating the year of the horse with an exceptional creation, a rose gold pocket watch whose back cover is decorated with a horse flying over a jump.
With a diameter of 49.50 mm, this new model is fitted with a manually wound L506 calibre and shows the hours and minutes, as well as having a small seconds at 6 o'clock. Its white dial features a railway track minute-ring, large painted black Arabic numerals and a second minute-ring with red numerals. Pink Breguet hands complete the harmony of the dial while the sides and the bow are finely worked in imitation of the original model.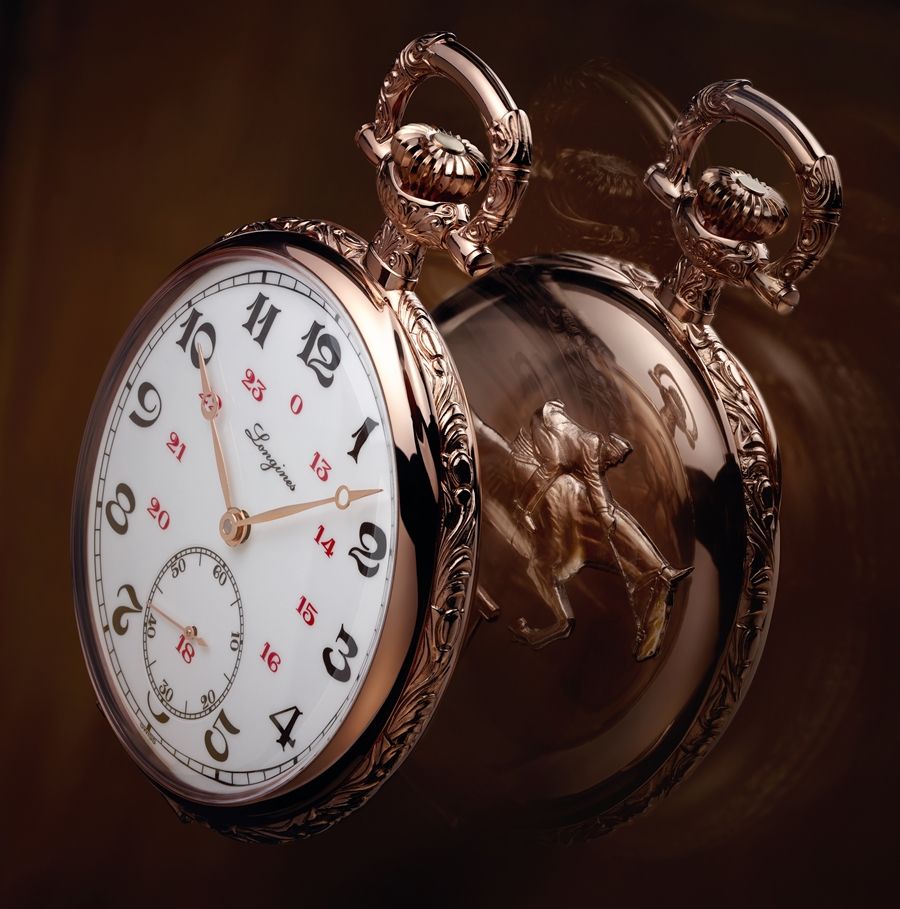 The model that served as an inspiration for this new product is a metal Lépine pocket watch dating from 1927 which is now on display at the Longines Museum in Saint-Imier.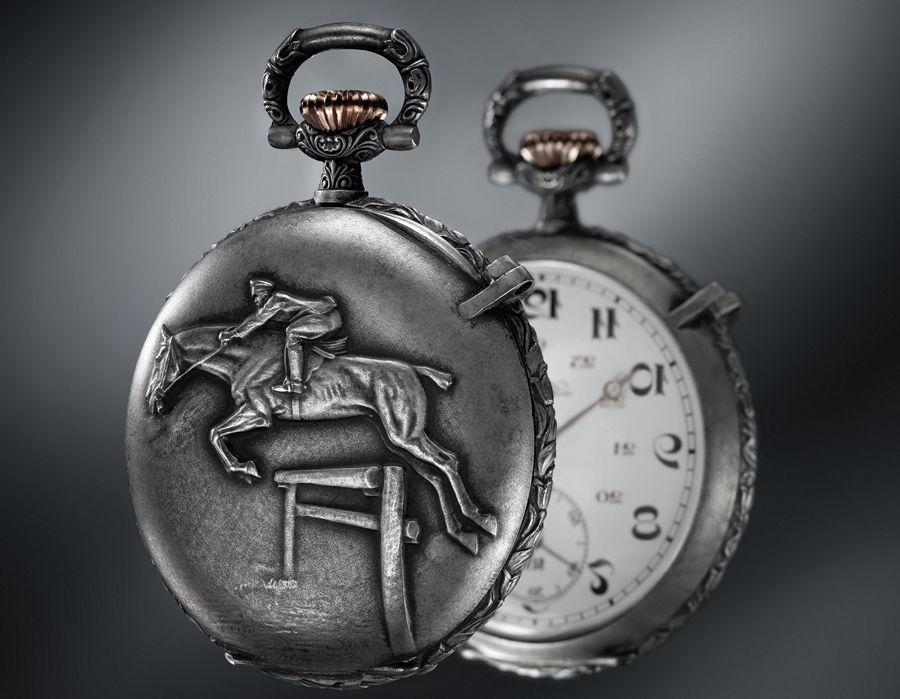 again eyes firmly on the Chinese market ;)
浪琴表博雅系列(
Longines Elegant Collection
)腕表是经典设计和流利线条的完美化身,彰显着浪琴表的典型特质。直径
25.50
毫米的精钢表壳上镶嵌有
52
颗钻石,白色珍珠贝母表盘上饰有钻石时标,搭载
L595
自动上链机械机芯。