Part I can be found here LINK and since that fateful day, I have looked to acquire this fantastic piece. I was down at Montres watch shop to salivate over this and the owner and mate quickly pointed me to the sign which read "Once drooled on, considered sold" which kind of meant I HAD to buy it [At least that's what I'm telling the Mrs and I'm sticking to it ;) ]
my royal oak jumbo... close to perfect...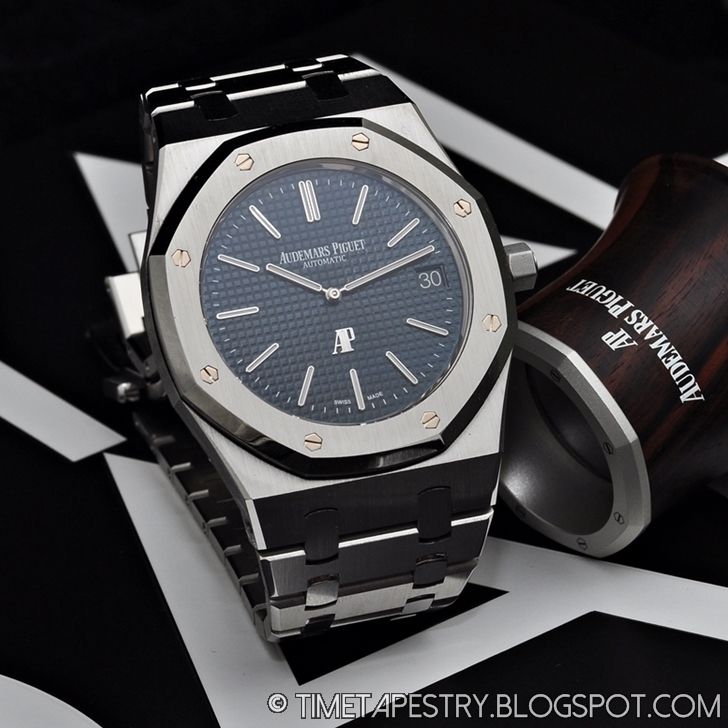 dial goes from dark blue to a lighter blue to a wonderful bluish gray depending on the light and angle it hits it at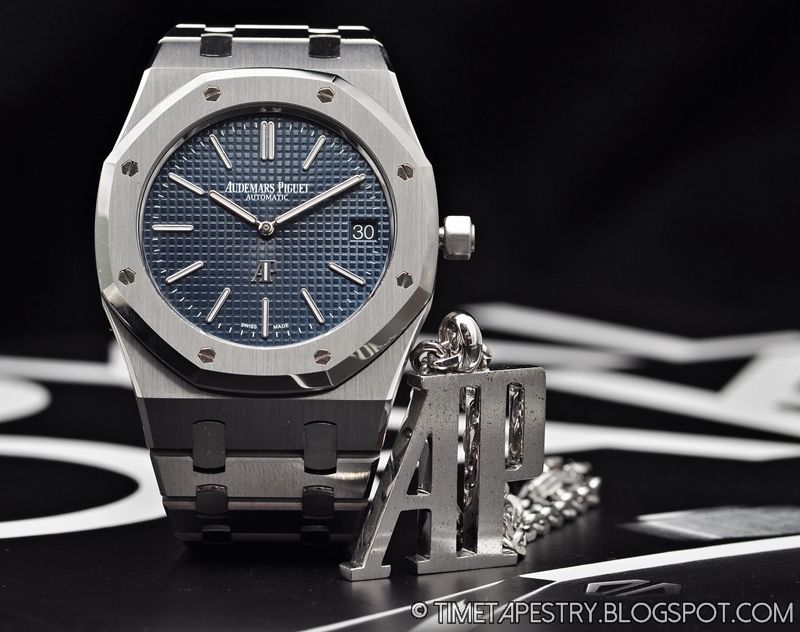 Thoughts on The Royal Oak
There are a plethora of Royal Oaks(RO) and Royal Oak Offshores(ROO) out there. So many models, one can pick and choose what is the one that sings to them the most(at a price of course).
In the past my AP ROO Themes Black
LINK
was all that to me and because of my love for the End of Days, I also pulled the trigger on the bumblebee
LINK
... For now, my Offshore lusting days are over as I gravitate towards more reasonable sized watches. I pined for something more refined, more classic sized and I have 'her' in my hands now :)
Among the Royal Oaks then, the Jumbos starting from the A series to the 15202s are regarded as THE Royal Oaks. They are a
purist's watch, a connoisseur's timepiece for good reason. One of which is that they are just really, really good looking. Out of the sea of octagonal bezels then, it stands apart. It is the antithesis to the Offshores that bear it's name and other large/shouty pieces.
This latest Jumbo retains a huge amount of DNA from the original A series design by Genta, who is renowned for this and the Patek Nautilus design the most, and what little has been updated has been done so in a tasteful manner and I am sure many who love this range would approve of.
Ok time to get onto more pix in this review.
Box is now a cool dark green emerald-ish color vs the brown in the past.
it's nice but of course i don't buy the watch for the box :)
under the bright light of the sun on its unboxing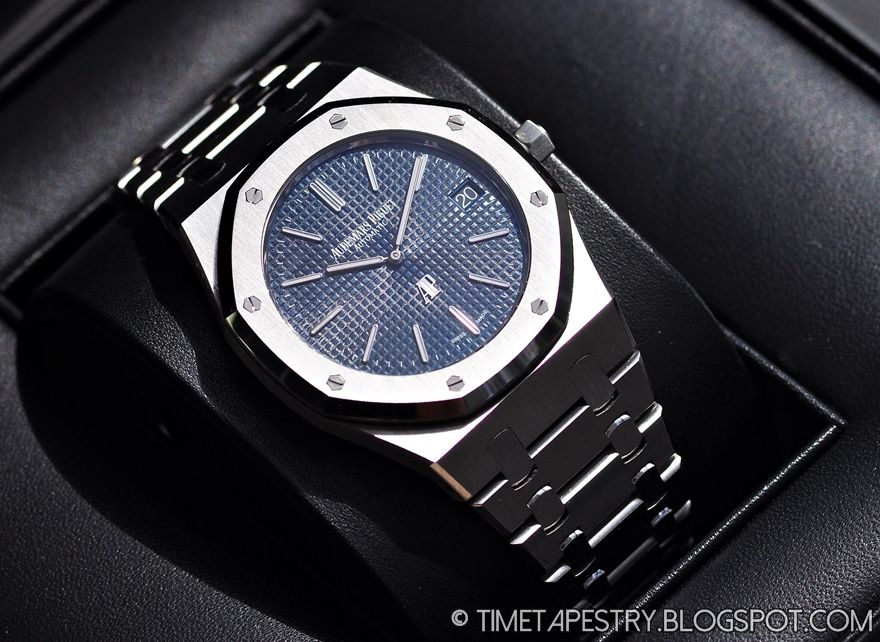 time to break out the loupe :)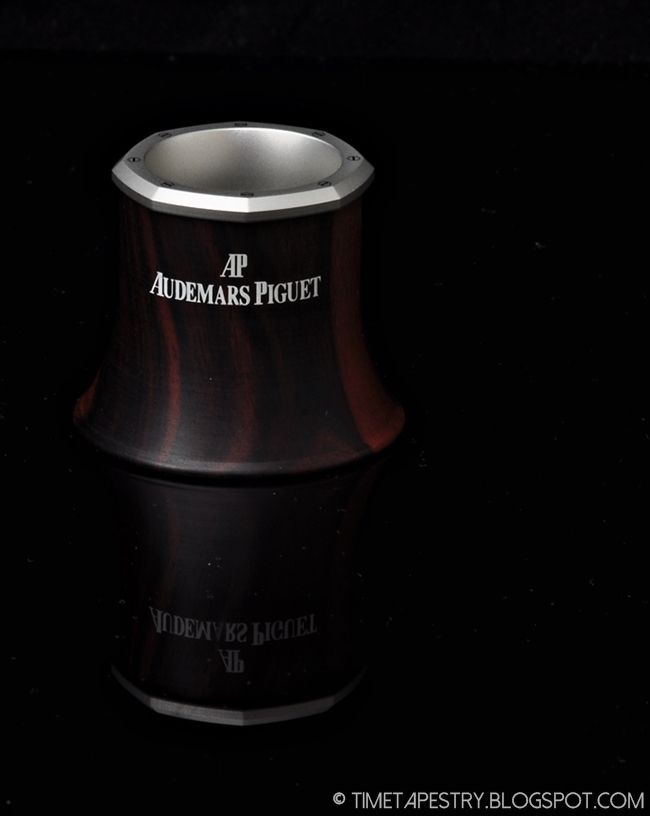 Aesthetics
The key updates then with this 40th anniversary edition Jumbo:

(1) Date wheel in blue font matching the dial (2) Modern fonts (3) Larger AP logo
The case size is not large by today's standards comin in at 39 x 8.10 mm. It wears well for it's size on my 7+ 8inch[updated] wrist.

The petite tapisserie pattern dial is a beauty and I think AP making it smaller in the I series than the H series was a good thing(see below on dial variations). M

oving the AP logo back to the 6 o'clock from the last Jumbo model, which had it at the 12 o'clock marker, and to have it same as the A series was the right thing to do.

No seconds hand is a wonderful thing... it's looking at a calm surface, nothing frenetic or jittery... zen like clalm...

Hmm, should I yank the second hands off on my other watches?

White gold applied hour-markers and Royal Oak hands with luminescent coating are maintained as they should be
"Any intelligent fool can make things bigger and more complex… It takes a touch of genius
and a lot of courage to move in the opposite direction" - Albert Einstein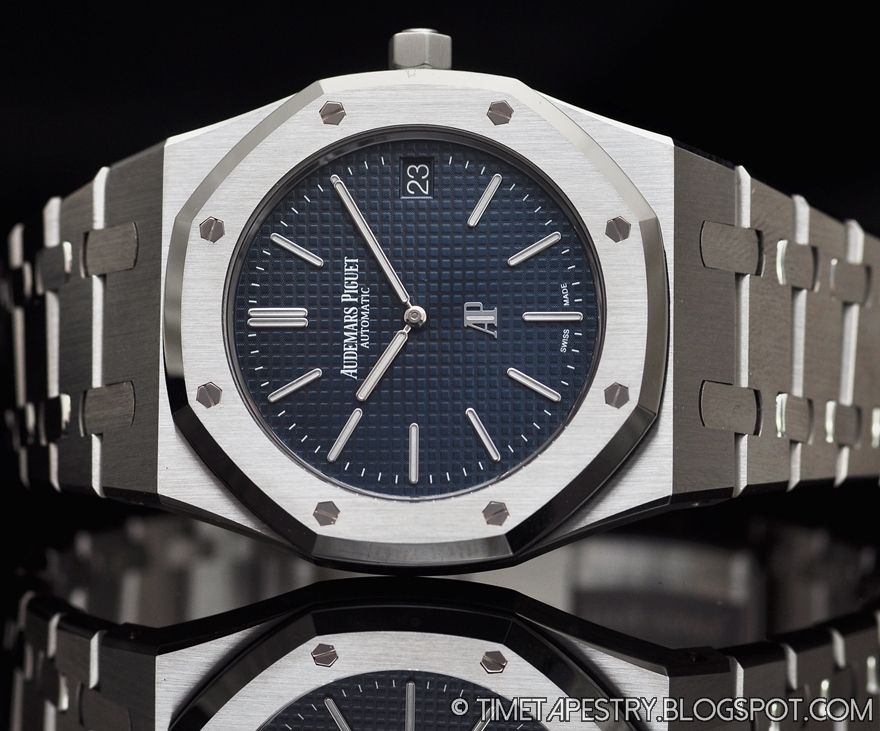 all stealth fighter-ish in the darkness
Bracelet and clasp:
Just based on what is noted on folks who post about it on the interwebs, this bracelet and clasp is a vast improvement over the one in the last version and of course in the A series.
The bracelet construction has always been great and the new 15202 has a slightly thicker and more robust feeling bracelet vs the older Jumbo. This is thinner than the 15300 bracelet. No shortcuts here :) The s
atin brushed finishing throughout this piece is wonderful and provides a nice texture to the metal.
one side of the double deployant clasp. two pushers at the side to release & open
External Finishing:
The case and bracelet finishing is at a totally other level and the light play over it is simply fantastic. T
he combination of polished and satin brushed finishings gives this watch a wonderful not so subtle shine and sparkle to it... all in a refined manner of course ;)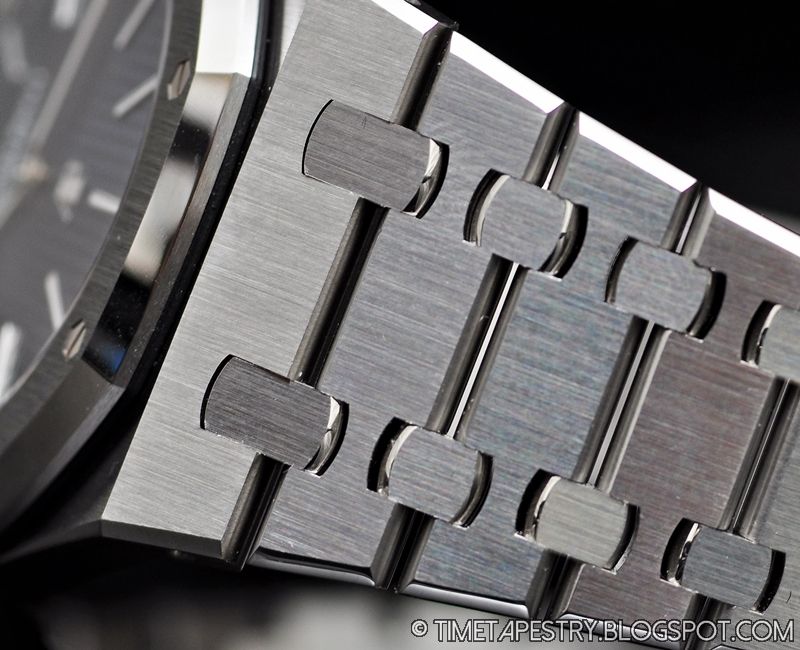 Octavio Garcia worked on this update and he did a fantastic job. AP have taken real care to do
this well and have exceeded expectations for this 40th Anniversary edition
Movement:
AP worked with Vacheron Constantin, Jaeger LeCoultre and I believe Patek to create a reliable, ultra-thin automatic movement back in the 60s. The result was the caliber 2120, and with date the cal 2121. An ultra slim movement at ~3mm height which found it's way into the first of the Royal Oaks and still is it's beating heart today, 40+ years later.
It has a
40 hour power reserve and the wi
nding efficiency is excellent as it rotates/spins on rails really well.
Sapphire caseback:
Truly something that became important since the 90s. It's a good thing impo as it means u don't have to crack it open to enjoy the beauty of the movement which is now finished exceptionally well compared to the past.
No quick set date and you have to go from 10pm to 2am back and forth to change the date which is ok. Not great that there's no quick set date but one can live with that.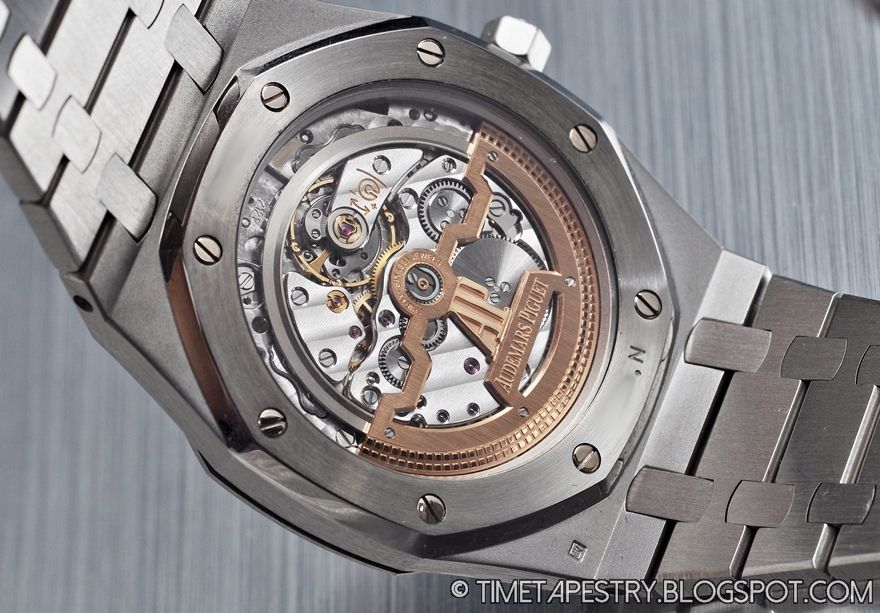 Wonderfully finished movement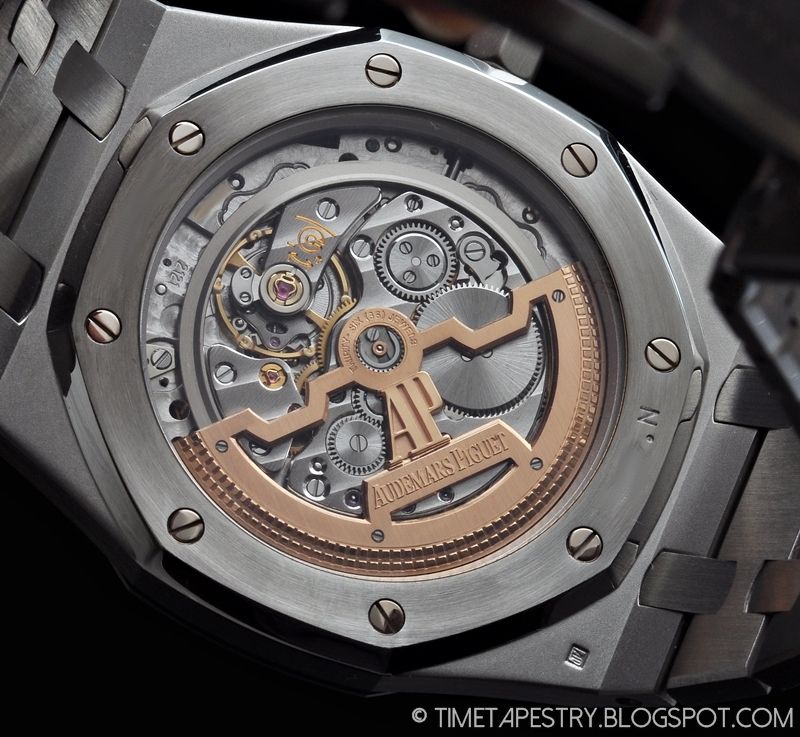 On the Wrist:
It wears really well. One issue for me though is my wrist is on the larger side so i may need to get a 1.5 link as i am not sure if they sell a half a link by itself. this will cost me $. The alternative is for me to lose some weight which was on the cards anyway but this might spur me to do better. see it's making me want to be a better(slimmer) man :)
Accuracy:
To the minute accuracy after several days of wearing
oh and it's not always 1010yuh :)
separating the men from the boyz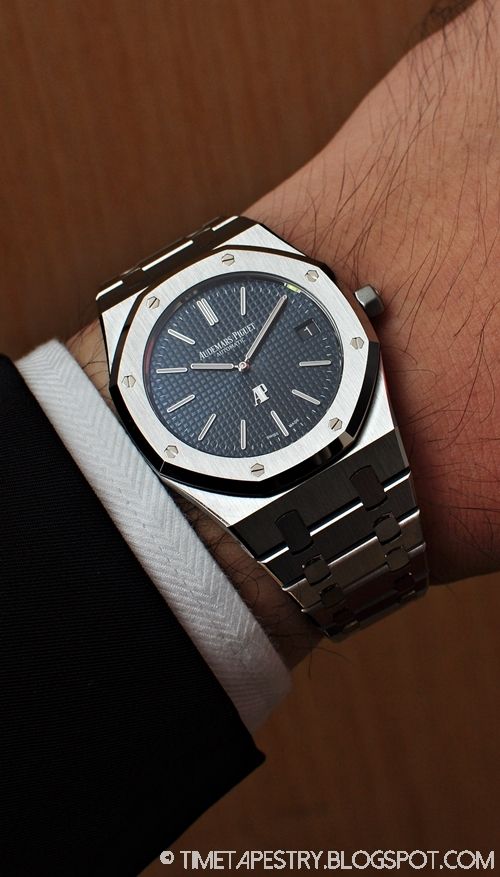 driving home happy
yup it looks good in suits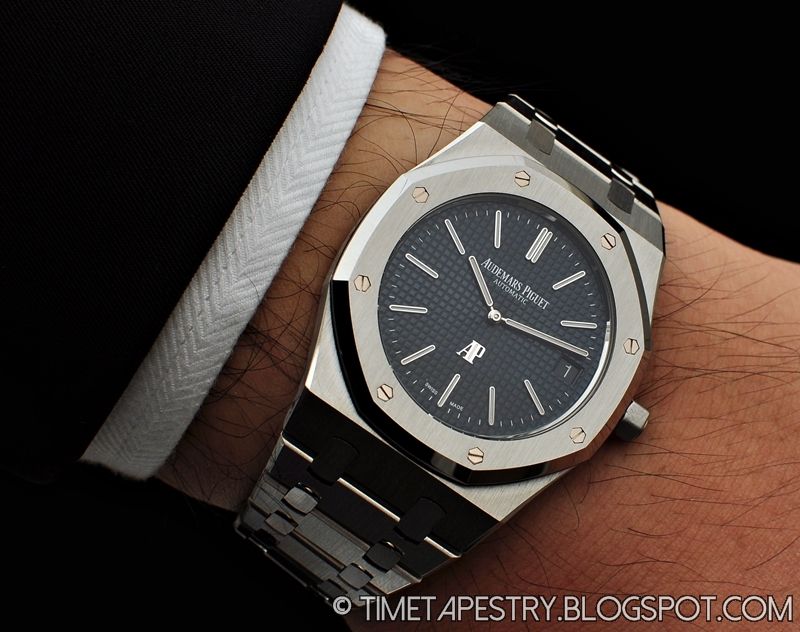 Cons
Scratch magnet - if u stare too hard at it it will probably get a scratch. Kidding of course but close to everything out there looks to be raring to have a go at it. Metal taps, soap dispenser tips, zippers, seat belt buckles, lift doors, anything made from metal i suppose... Oh and keep it away from the kids.
Not so versatile - This Royal Oak is more refined and sophisticated than other lux steel sports watches(barring maybe the Patek Philippe Nautilus Jumbo) which makes it impo less versatile. It doesn't go so well with short sleeved tops and uhm wearing it with flip flops are out. Long sleeved shirts, either casual or formal, work with it but as I am in Singapore, it better be a cool place.
Little niggles - (1) rotor design could be more interesting in this update. The rotor in the previous 15202 is nicer. (2) AP logo is a little better slimmer as the ones used in the H series[more on the dial variations below]. And that's it.
looking at it by itself, it doesn't look too bad but when compared next to the slimmer logo, the slimmer logo edges it out
the middle bit also has more rounded ends vs a more flattish ends in the thinner logo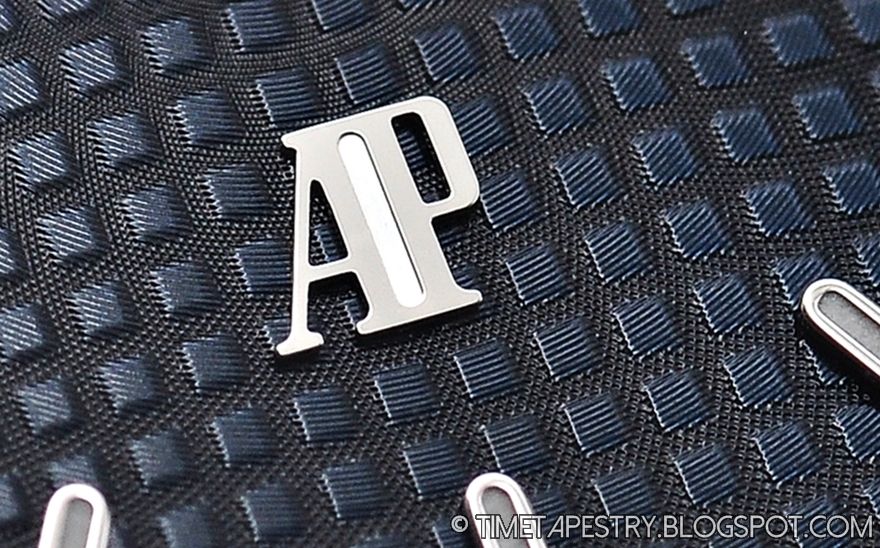 Ref 15202STOO1240ST01 Dial Variations ~ Different Dials for the same reference Jumbo
The Mark I, II, III notations for these dial variations are introduced by me. Hey if it works for Rolex vintages, it'll do for the ROs :)
The Mark 1 dial was too light. The blue of the dial and the wordings were too light. The font for 'Swiss made' looks too old school and it seems as if it's trying to look vintage-ised in a way and that doesn't make sense for this watch.
So there is a lighter blue and a darker blue dial and there is a thinner AP logo and a broader AP logo. The light blue dials all have the thinner AP logo, and the dark blue dials probably early I series likely have the remaining stock of thin AP logos used on them and then swapped over to the broader AP logo when those ran out.
For me it was the darker color dial and probably brighter font that made it click to a buy. The lighter dial with the light font looks like a watch that has come pre-aged while the new one feels fresher and newer and will now begin to age with me :) but all the variants of the Jumbo are wonderful in my eyes.
Mark I on the left and Mark III on the right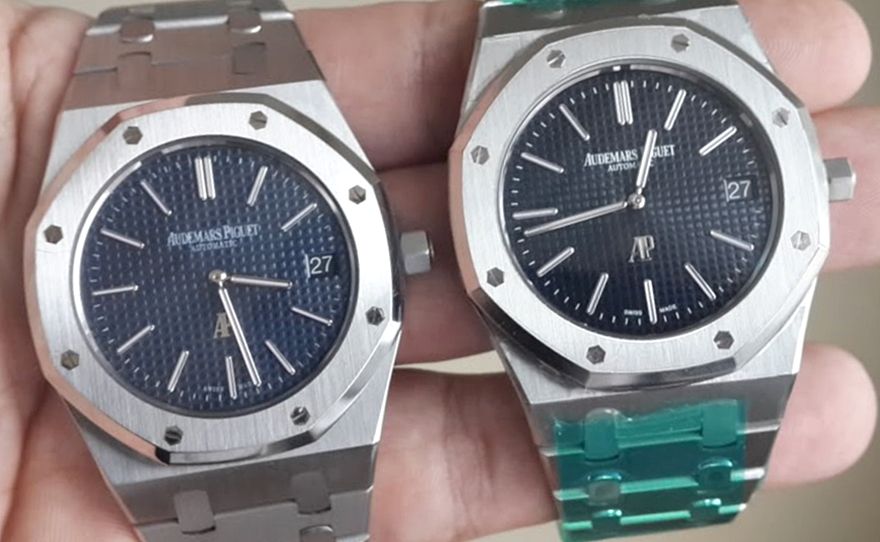 above image used with permission SendarFB @ forum.saatforumu.com
Maybe a Mark IV is needed. Everything of the Mark III and just back to the thin AP logo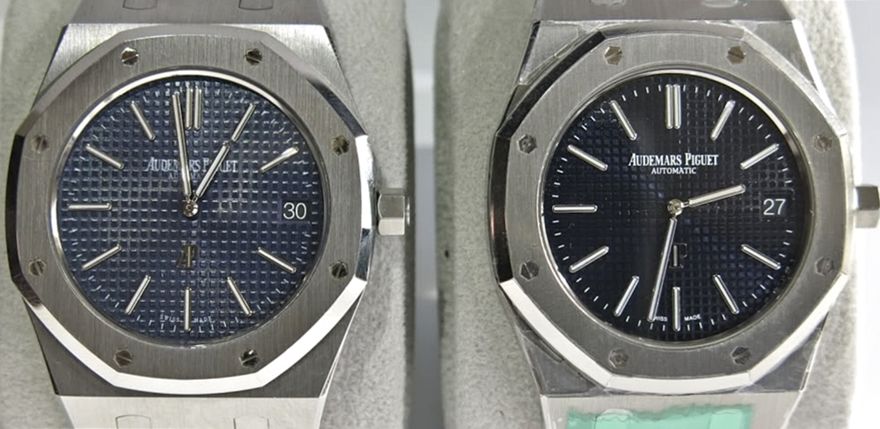 above image used with permission SendarFB @ forum.saatforumu.com
Last Word
Strange as it may sound, the Royal Oak really does have a regal-ness to... as if it knows... the steel and gold used in it, the hand finished parts that are hand assembled within it... it is as if they all know they have come together into an amazing and beautiful work.

A lovely watch to me and to many for good reason. I look forward to many great years ahead with this piece in my collection and on my wrist. hope u enjoyed this post and i won't be buying anything new for a looooooooonnnnnnnnnggg time. cheers, raph
[
UPDATE 14Sep14:
List price of the 15202 in SG is S$29,700 and the 15400 is S$22,400. the blue dial 15400 is a boutique exclusive with no discount and the non-blue dials can be had for discounts.
WALLPAPER of the image below in 2880 * 1800 can be found here LINK]