Update on 8 Nov 14: I saw this piece yesterday and I love it! it's amazing to me. Edited some earlier comments based on press pix alone ;)
TITANIUM EDITION : LIMITED TO 50 PIECES [Total of 100 pieces of the HM6 will be made]
The case of HM6 Space Pirate was machined from two solid ingots of aerospace grade Ti-6Al-
4V (Grade 5) titanium. It has a chemical composition of titanium alloyed with 6% aluminium,
4% vanadium, 0.25% (maximum) iron, and 0.2% (maximum) oxygen. This high-tech ti
alloy is both strong and light, has high resistance to corrosion and low thermal conductivity(
stable
at over 400°C).
While the strength of this titanium alloy makes it ideal for a space-age watchcase, polishing
and satin finishing Space Pirate's complex curves requires more than 100 hours of work.
Size is 49.5 mm x 52.3 mm x 20.4 mm but it looks to sit pretty well based on in hand pics out
there(google is your friend)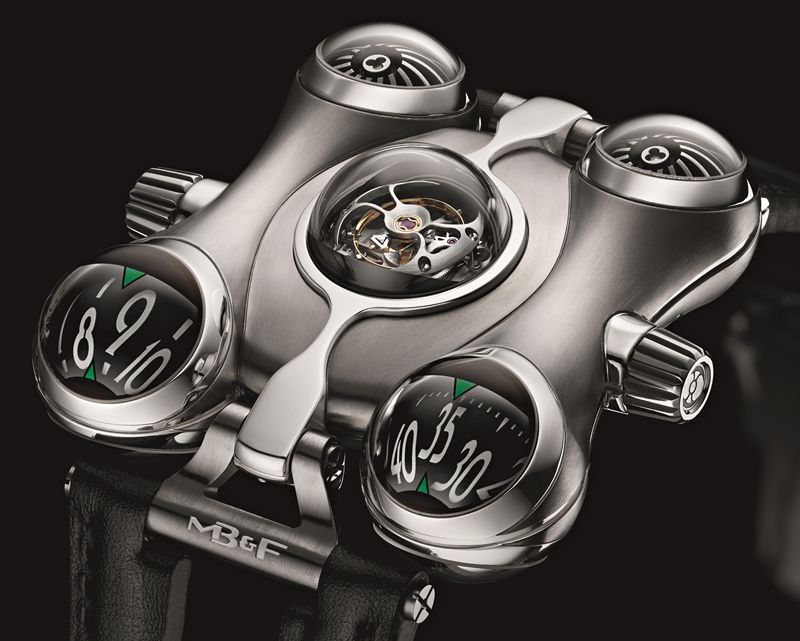 the first part of this post is my quick personal take on the watch and the next bit is more press release info from the team at MB&F. the watch blogosphere of course has blown up with MB&F articles and reviews, as it is worthy of attention. Max is a visionary in the watch realm and realisation of some of his visions are usuall extremely cool and while Max was inspired by a cartoon/anime Captain Future and his spaceship 'Comet' and bio-morphic bio-design 'nature inspired, fluid design' razzamatazz, I see some different aspects in this silver machine mechanism and it all piques my interest to feel it in the metal... to have tactile experience of this metallic mechanical creature... alien spaceships(or perhaps aliens) come to my mind... and for me some expensive and shapely well designed cars...
let's have Max explain the new HM first



what i like...

the design is cool, the flying tourbillon is cool, the movement is cool, the turbines are cool...
what i don't like...
- price!(this is a good thing of course for the folks who can afford to splash the cash for this. it shouldn't be something you're gonna see much of in the wild... except maybe in Singapore at one of the exotic car club meets ;) sorry boyz) will be exclusive coming in at US$230k retail and 50 pieces in this metal... [and another 50 to come for a total of 100 pieces of HM6 and that's it]
- on the whole it's a win for me design wise... but(oh no, the but...) there are a few little niggles for me personally just based on press pics. but final determination always comes from assessing it in hand...
What do you see in this wonderful piece? For me, I see a mercedes benz in it! Mercedes-Benz 300
SLR 1955 Stirling Moss
to be precise... maybe it's the silver... maybe it's the curves...maybe it's the lights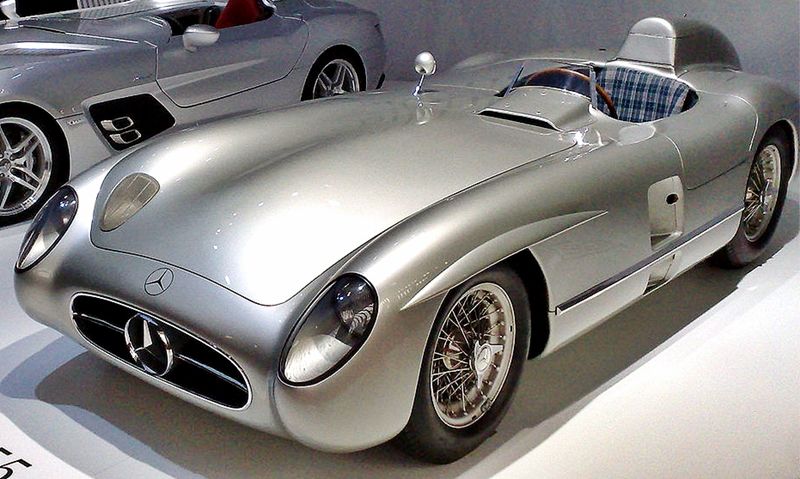 i love these curves...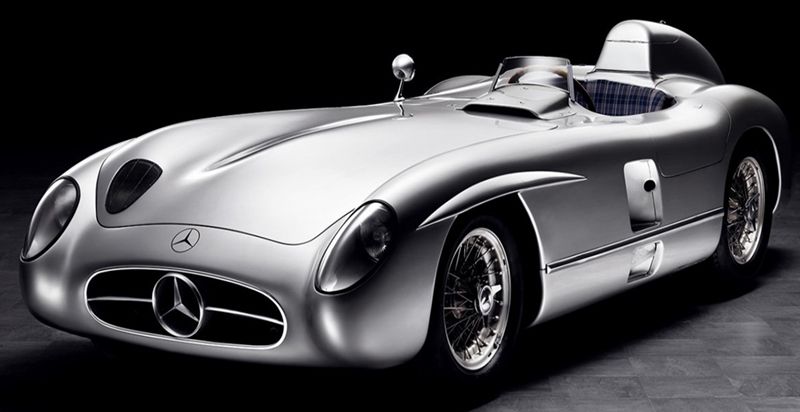 and I see a Ferrari Testa Rossa 250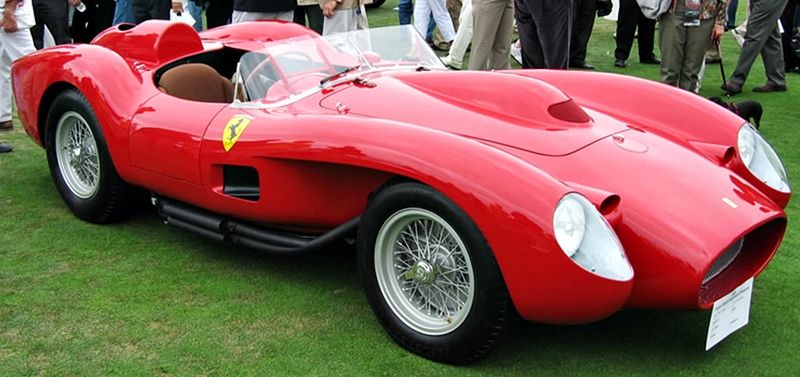 hmm is that middle thing a covered tourbillon?
no it ain't... such wonderful looking machines...

Onto some blurbs from the press release and more press pics...
The organic curved lines of Horological Machine N°6's case derives from an early 20th
century art movement labelled "biomorphism", in which art is modelled on the naturally
occurring shapes and forms found in nature and living creatures. Note the titanium brace
that runs longitudely around the central circumference of the hull, reinforcing the structure
and supporting the lugs...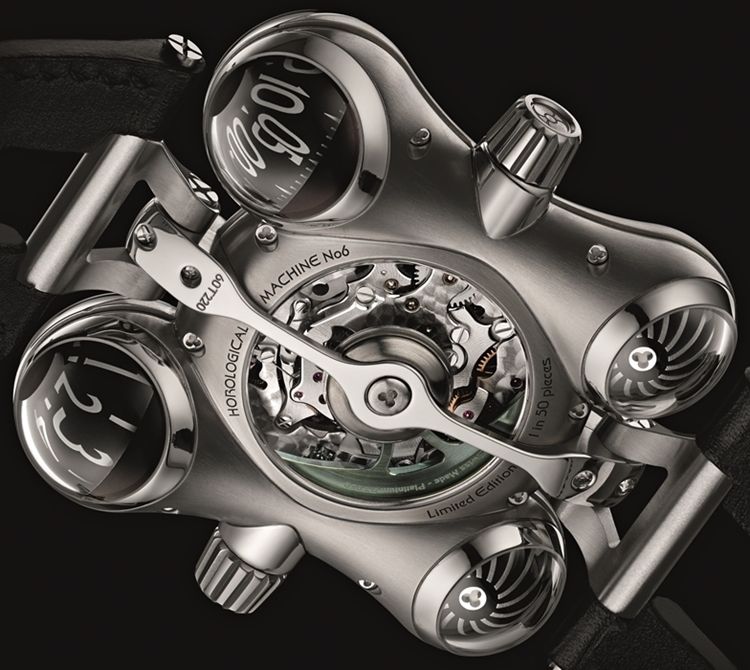 Space Pirate has a retractable, semi-spherical, titanium protective shield. When closed,
the cover blocks harmful rays (especially UV light) from prematurely oxidising the
Engine's lubrication oils. A crown at 9 o'clock opens and closes the cover in – and like –
the blink of an eye. With an incredible ten sapphire crystals, including two domes each (top and bottom) on
the time indications and turbines, the Space Pirate posed quite a challenge. Each dome was
first machined from a solid block of sapphire crystal. After diamond, sapphire crystal is the
second hardest naturally occurring mineral on earth and is an incredibly demanding material
to shape into complex forms. After machining each block of sapphire inside and out with diamond
tipped tools to create
perfectly shaped domes with walls of uniform thickness – the slightest inconsistencies
would result in disconcerting optical distortions – the domes, which are translucently frosted
after machining, have to be highly polished, both inside and out, to make them transparent

flying tourby in all it's glory... The eye-catching central tourbillon perched high above the
movement is a flying tourbillon developed by MB&F specifically for HM6. The choice of such a
sophisticated regulator was necessitated by the restricted space under the top of the sapphire
crystal dome, which could not accommodate the upper supporting bridge of a standard balance wheel
automatic winding with the iridescent green platinum 950 winding battle axe rotor... Back aft,
driven through multiplying gearing by the automatic winding rotor, twin spherical turbines
spin horizontally, automatically regulating the winding system in case of excessive speed
to reduce stress and wear
The two spherical turbines, each composed of no fewer than 15 curved vanes, are each
machined in two hemispheres from solid blocks of aluminium. These turbines are driven from
the rotation of the automatic winding rotor by a gear train designed to amplify the number
of rotations. As (air) friction increases exponentially (squared) as a function of velocity, if the
winding starts rotating too quickly – most likely due to highly active movement of the wrist
– air friction on the turbines increases and helps counteract the excessive speed to minimise
wear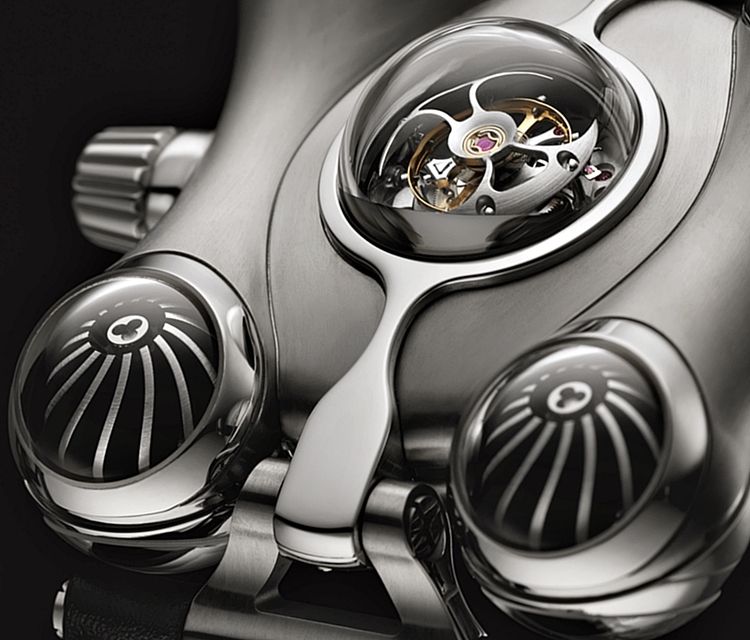 The aluminium indication domes displaying hours and minutes are machined from solid blocks
of metal to an ultra-light paper thickness and revolve on ruby bearings. The domes rotate
vertically, i.e. 90° to the plane of the movement, which is extremely rare in a wristwatch due
to the complexity of the drive train and gearing required
and that's it... driving off now or is it flying off? ;) cheers, raph