Watch lovers rejoice as there are loads of goodies at the upcoming Antiquorum auction in Geneva on 8-9 Nov 2014. Why 2 days you ask? Cause there's like almost one thousand lots! that's a lot of watch booty and there are some very interesting pieces in the catalogue of course.
Some highlights here

LINK

the preview is now in Dubai for the weekend than heading over to Geneva.

For more details on the pieces available, checkout the online catalog here

LINK

or the virtual copy of the physical catalog here

LINK
and for info on how to register for the auction click here for Bid form(LINK) or online bidding which requires registration of course(LINK)

note all the things around payments and shipping etc [you can select which of the 3 offices you want to pick up lots won or to manage the shipment to your address]
A lovely Patek pocket watch movement... minute-repeater and keyless with split seconds chrono
A selection of the watches travelled on the preview and my thanks to the Antiquorum team for giving me some time to have an in hand view and shoot these and E'collezione, for use of their premises. Now onto the watches!
(Note: i rushed through taking these pics so excuse the not so great images. for other looks at these pieces, refer of course to the auction catalog in the links above. words in italics below are per antiquorum site)
first up we have the sports watch darling at auction... the Paul Newman Daytona, beckoning me from a crowded tray
black or ivory for u? both are gorgeous dials... both would be nice but the bank account and my
CEO/CFO would disapprove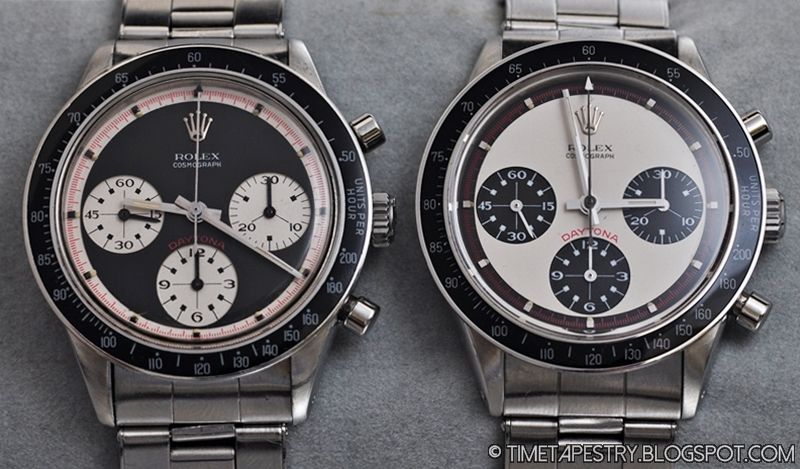 Rolex Ref. 6241 Paul Newman. Made in 1968 and from the property of an English collector,
this is a very rare stainless steel wristwatch with anti-reflective black tachometer bezel,
round button chronograph, registers and a Rolex Ref. 7205 stainless steel Oyster riveted
bracelet. Estimate: CHF 80,000 – 120,000
2 black dialed Paul newmans are available Lots 836 and 967 and other gold panda daytonas too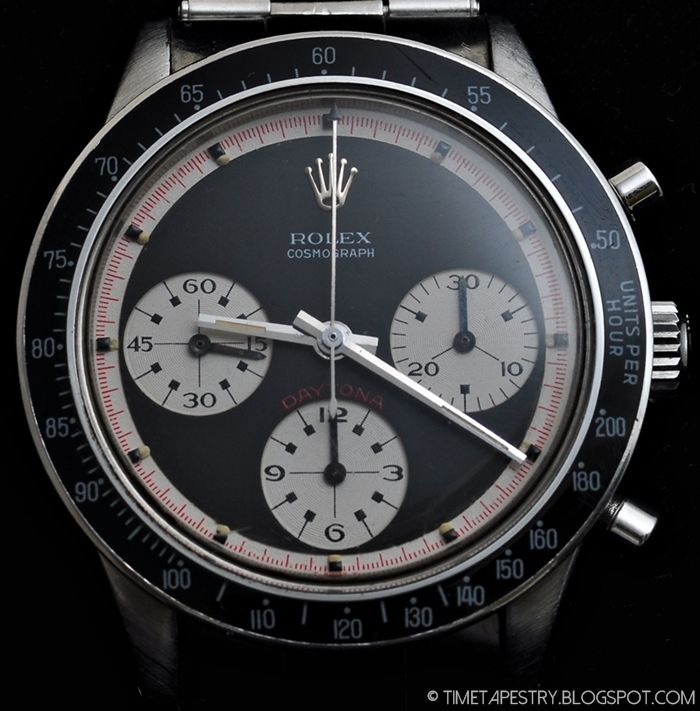 next up some Vacheron Constantins... the mercator and a lovely pocket watch...
Lot 736 VACHERON CONSTANTIN PLATINUM MERCATOR - AMERICA Vacheron Constantin
Genève, "Gérard Mercator 1594-1994" Sold on January 21st, 1997. Very fine and unusual,
self-winding, water-resistant, platinum wristwatch with retrograde hands on a hand-engraved
white gold dial with a champlevé enamel map of The Americas, with an 18K white gold
Vacheron Constantin double deployant clasp. Estimate USD 16-21k.
a great dial and
interesting
regulator watch, t
oo bad it's only 36mm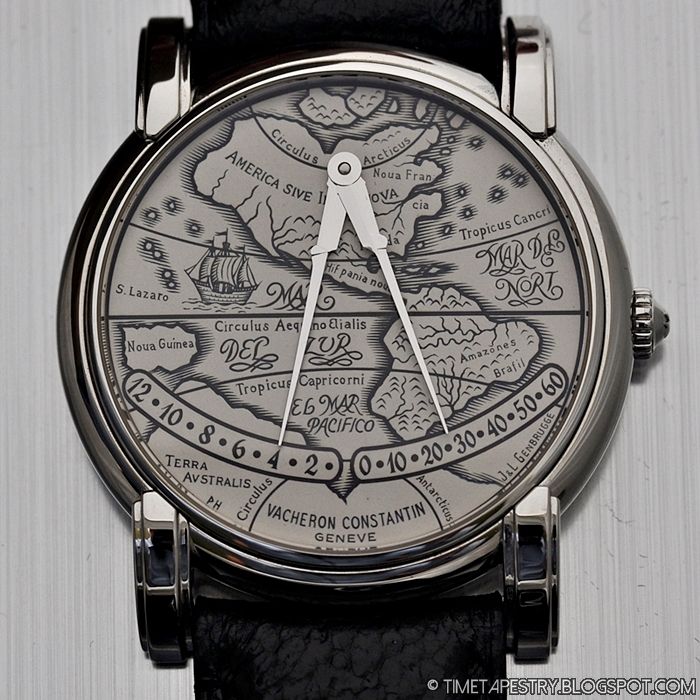 Lot 150 Vacheron & Constantin, Genève, "Chronomètre Répétition à Minutes Quantième Perpetuél"
Completed on February 19, 1902, sold on September 29, 1903. Very fine and extremely rare 18K
yellow gold, hunting-cased, keyless minute-repeating pocket lever Chronometer with perpetual
calendar, phases and age of the moon. Accompanied by the original Vacheron & Constantin fitted box,
spare crystal and a document confirming the date of manufacture and subsequent sale. Estimate USD 26.5-38k
and let's look at some Pateks... pocketwatches first...
Lot 982 PATEK PHILIPPE INDEPENDENT SWEEP
SECONDS WITH 1/5TH SECOND DIABLOTINE Patek Philippe & Cie, Genève. Made in 1868,
sold on June 12th, 1882. Very fine and extremely rare, large, heavy 18K yellow gold hunting cased
keyless pocket watch with tandem-wound two-train movement independent sweep center-seconds
"chronograph" and 1/5th second diablotine making one revolution per second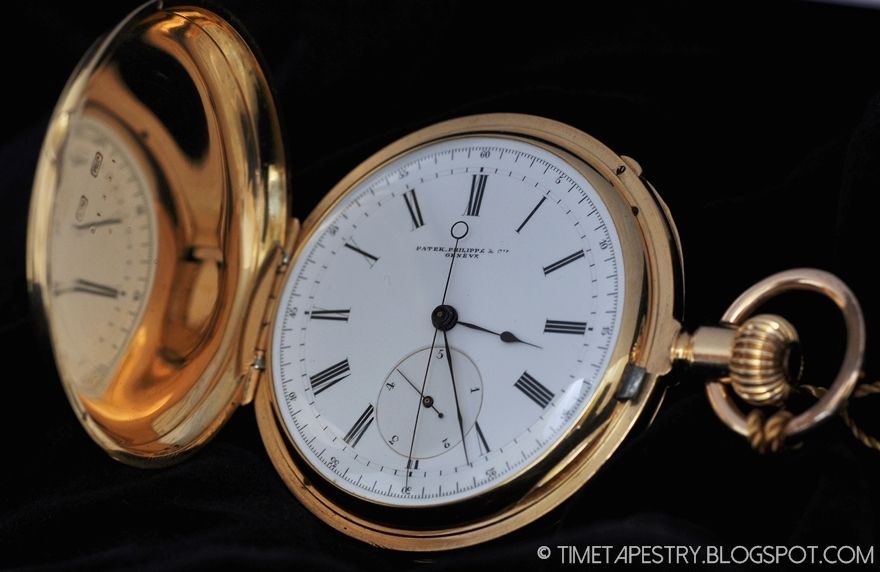 20" matte gilt brass, double level two-train movement with tandem winding, 33 jewels, counterpoised
straight line lever escapement, cut bimetallic compensation balance, blued steel Breguet balance-spring,
independent seconds and "diablotine" released simultaneously, stopped and locked by a push piece
and a bolt on the band
Lot 973 PATEK PHILIPPE MINUTE-REPEATING SPLIT-SECONDS CHRONOGRAPH Patek,
Philippe & Cie, Geneva, Switzerland. Made circa 1905. White enamel with painted Paris
numerals, outer minute divisions, outermost chronograph track divided into fifths, 60-minute
register at 12, 12-hour register at 6. Blued steel spade hands
with it's very impressive movement...
fausses côtes decoration, 35 jewels, wolf's tooth winding,
straight line calibrated lever escapement, cut-bimetallic compensation balance with gold meantime
and temperature adjustment screws, blued steel Breguet balance spring, swan-neck micrometer
regulator, registers driven directly from the motion train, repeating on gongs activated by a slide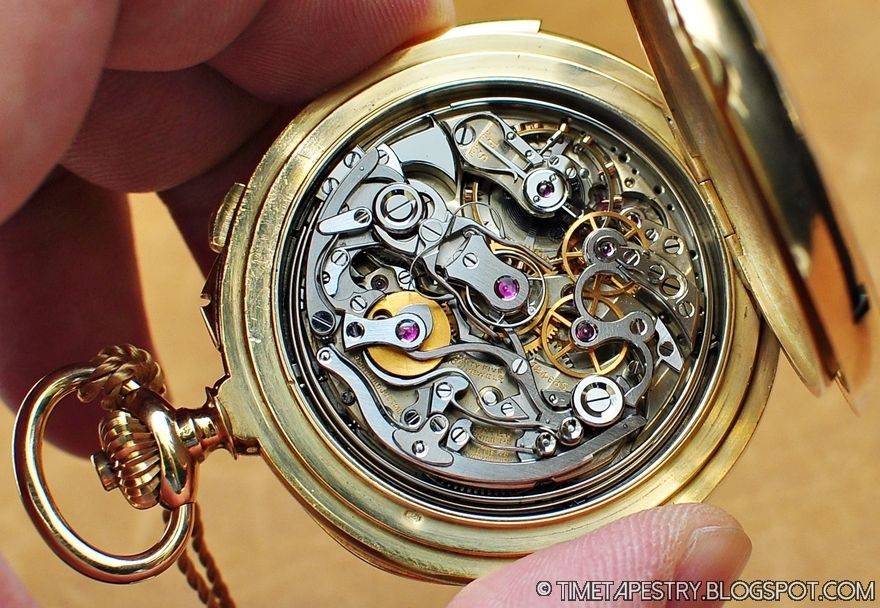 Lot 986 Patek Philippe, Geneve, Ref. 3970EG. Sold on October 1st, 1998. Very fine and important,
water-resistant, 18K white gold wristwatch with round button chronograph, register, perpetual calendar,
moon phases, leap year, 24-hour indication
oh and a last Patek pocket watch... just the back of the case
Patek Philippe Reg. 866/4 Unique
Watch with Enamel Miniature "The Shepard in Love" By Madame Bischoff. Made in 1972, this is a
unique and exceptional, 18K yellow gold keyless dress watch with polychrome painted
on enamel miniature "The Shepard In Love" signed M. Bischoff. Known as one of the great
enamellists who worked for Patek Philippe along with Suzanne Rohr and J. Pellarine LeRoy,
Madame Bischoff's work shows great depth and tonality particularly in the rendering of shadows
and the human form. Estimate: CHF 50,000 -70,000
next up... a Panerai and a pretty special one it is...
Lot 783 PANERAI/ ROLEX REF. 3646
G-TYPE Rolex, case No. 317526, Ref. 3646, first generation. Made in 1944. Very fine and
extremely rare, large, cushion-shaped, water-resistant, stainless steel military diver's
wristwatch. Estimate USD 37,000 - 53,000
all about the base aye? movement shot here LINK
All known watches of this number group
are equipped with a flat bezel as the dial are "California Dial" or the painted brass dial
(not the typical sandwich construction from Panerai, which needs a higher bezel because
of the HEIGHT of the dial itself). This particular dial, a black painted brass disc with
luminous material applied from the top, can be easily identified from a distance by
its "closed"
numbers 6 and 9, while on Panerai sandwich dials these two numbers are
"open" because of the different production process
treading into a more modern concept watch territory...
AP Royal Oak Concept
Lot 224 Audemars Piguet CW1, "Royal Oak Concept"
Made in a limited edition of 150 pieces from 2002
Extremely fine, rare and unusual, oversized, tonneau-shaped, water-resistant,
Alacrite wristwatch with visible one-minute tourbillon regulator, instantaneous
mainspring torque indicator ("Dynamograph"), linear power- reserve indication,
crown function mode push-button and indication, octagonal titanium bezel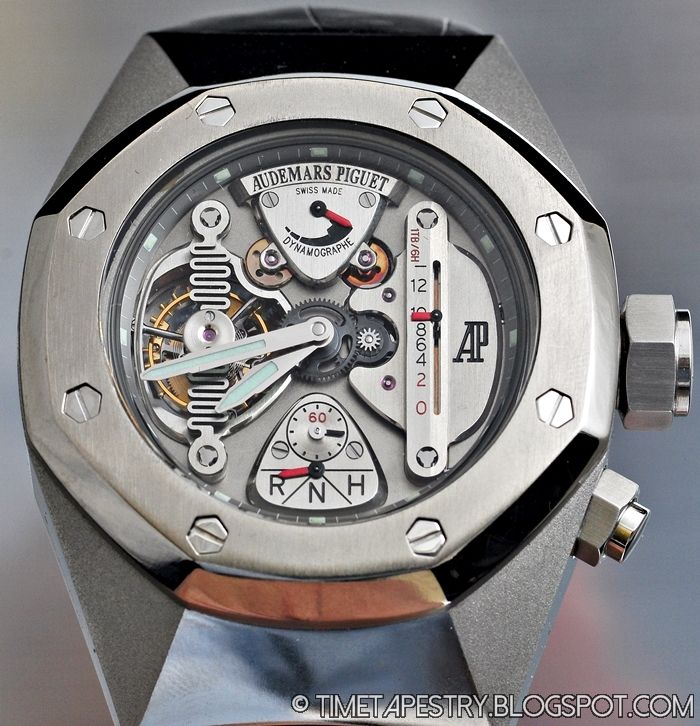 unfortunately the backs of the timepieces have a smudged up antiquorum sticker so
no decent movement shots to be taken here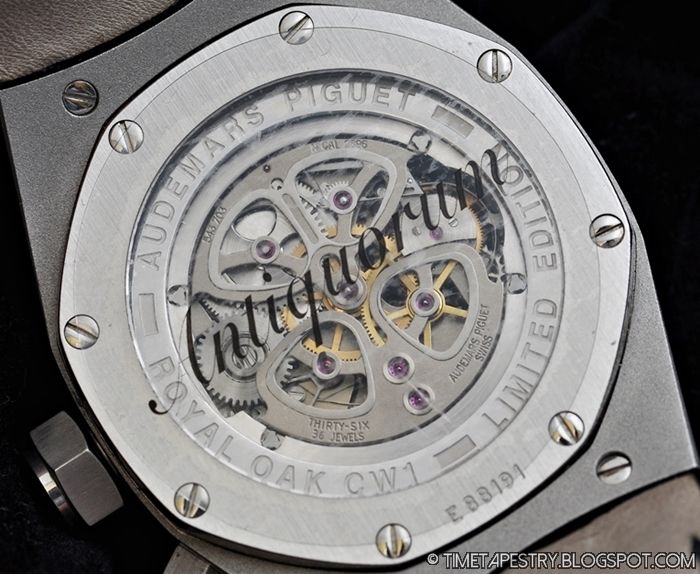 Greubel Forsey Tourbillon 30 ° Vision. Made in 2004, this is a rare and large 18K white gold
wristwatch with 30° inclined visible inner one minute tourbillon regulator, visible outer
four-minutes tourbillon regulator with four minute rotation indicator, twin barrels and
72-hour power reserve
enlightened...
The double off-set tourbillons featured in this extraordinary timepiece
continually compensate for gravity–induced errors on the oscillator in all positions,
allowing for superior chronometric performance
and we end off with 2 sizable dress watches... a warhorse first...
Lot 477 IWC IL DESTRIERO
SCAFUSIA PINK GOLD International Watch Co., Schaffhausen, "Il Destriero Scafusia"
No. 107/125, movement No. 2500101, case No. 2537086. Made in a limited edition of 125 examples
not much of a back shot cause of the sticker but just an idea then of what it looks like
let's get a little closer...
Production of this reference began in 1993, ended in 1999. Extremely fine
and important, large, heavy, minute repeating, 18K pink gold wristwatch with flying one-minute
tourbillon regulator, square button split-seconds chronograph, registers, secular perpetual
calendar, moon phases and an 18K pink gold IWC deployant clasp
the warhorse of schaffhausen... a very handsome piece
Lot 206 A.LANGE & SOHNE PLATINUM DOUBLE SPLIT FLY BACK A. Lange & Söhne,
Glashütte i. SA., "Double Split Flyback," No. 47302, case No. 154614, Ref. 404.035. Production
of this reference started in 2005. Very fine, rare and important, platinum wristwatch with
square button split-seconds and split-minutes fly-back chronograph, register, tachometer,
power-reserve indication
and that's all i managed in a very rushed hour-ish photo shoot. didn't have too much time as the previews typically happen on a work day. hope you enjoyed the pics and definitely check if there are pieces u plan to bid for at the auction. you might land something decent to very very nice depending on how much you want to spend of course ;) cheers, raph