Fresh from my sistem51 review LINK couple of weeks back, let's take a look at the 2015 new sistem51 models! I will most likely be getting one of 'em and have narrowed down to 2 definite maybes. Let's have a look
Sistem Pink SUTR401 ~ one of the potential buys! fun and bright colors
Sistem Green SUTG400 - another interesting piece, green with orange accents and markers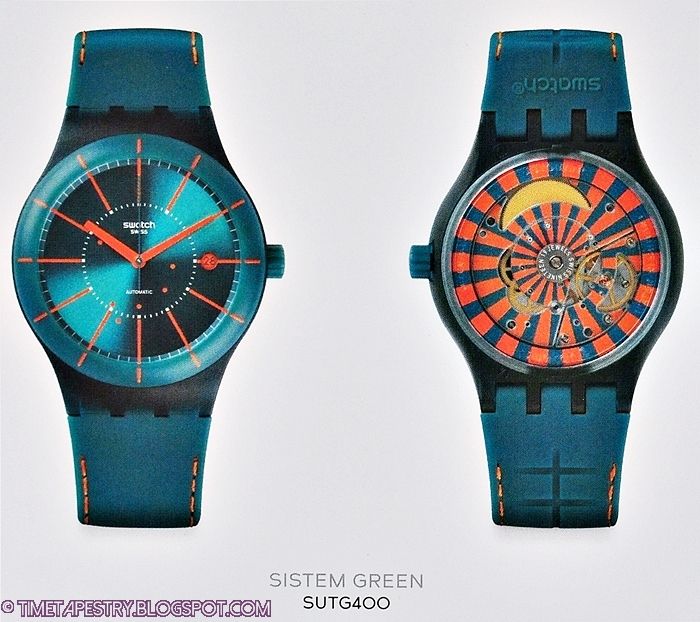 Sistem Cream SUTM400 - this looks good too and i like the look of the movement...
Sistem Class SUTS402 - movement side same as the blue piece from 2014(one i own) with a dial change
Sistem Chic SUTB402 - dial change for the black piece from 2014
it's cool to have more models to choose from for folks to land a design they like. May take some time for these pieces to come to Singapore though... when i know you will know if u readeth the blog :)
The 2015 material with me cause I decided to attend a cool swatch club event.
It was great meeting the fine team at Swatch and a putting faces to names :) kudos to the team for a fun event! Thanks to Charles, Michelle, Bronza, Alex, Audrey (& sorry if I missed out some as I didn't get introduced to all) for hosting us.
Venue for event at Orchard Gateway outlet
Charles welcoming us and introducing the new 2015 collections
Gran Turismo range with some fun pieces with speedometers on the dial. t
o have
a closer look at these
2015 ranges, check out this post from watch insider
LINK
Spring Breeze - the display setups are cool
my pet and me - this range had a lot of cute pieces
Chinese New Year Piece - I love the goat! :)
the piece with the nice box it comes in
Valentine's Day watch set for the young lovers out there :-* note the multiple keepers
Some games where winners take home a swatch from the new collection..
Alas I gave it a go at
one of the games but it was not to be mine...
Better luck next time :)
Good meeting some other swatch club members Melvin and Evangeline(hope I spelt your names right :) at this event and that's it for this short post and looking forward to my next Sistem51 Swatch purchase in 2015! Cheers, Raph
Some better pics of the displays thanks to Bronza! cheers