First off thanks to the cool folks at Red Army Watches for the invite down and SevenFriday for embarking on a world tour pre-Basel 2015 and stopping by Singapore...
And so i find myself surrounded by like minded folks, here to celebrate SevenFriday watches and imbibe in a little bit(or A LOT) of Japanese whisky. having owned my p2/2 for over a year now (review here
LINK
and my take on the original P range here
LINK
) what are my thoughts as an owner of this watch and the brand over a year on?
It still rocks! On the 'what you are paying for' front, i would put it down mostly to a great design and it being a fun, generous sized watch to have in the box. It is reasonably priced noting the offerings that are out there these days and what watch companies believe is acceptable to charge their customers for and so it's positioning sits well with me. Kudos to Dan and his team for churning out interesting timepieces and i look forward to more from the brand soon, and to Sugi and Red Army Watches
LINK
for doing a great job building up interest in SevenFriday
LINK
in this neck of the woods.
Reach Out... Touch Faith ;) Dan sharing on SevenFriday's journey and Sugi asking the questions and moderating
preaching to the converted... SevenFriday Lovers Unite!
The special cocktail of the night deserves a mention... Gilty Pleasure was a nice cocktail drink which I thoroughly enjoyed.
Made using a combination of the fine Hakushu Distiller's Reserve Japanese whisky(40ml) which is embraced for its herbal, gently smoky flavour; elegant yuzu juice(80ml); and exotic fennel seeds-­‐infused syrup(20ml
) and a good shake.
waitamoment it's on this coaster they gave out... oh u r supposed to wear your
sevenfriday when you drink it ;)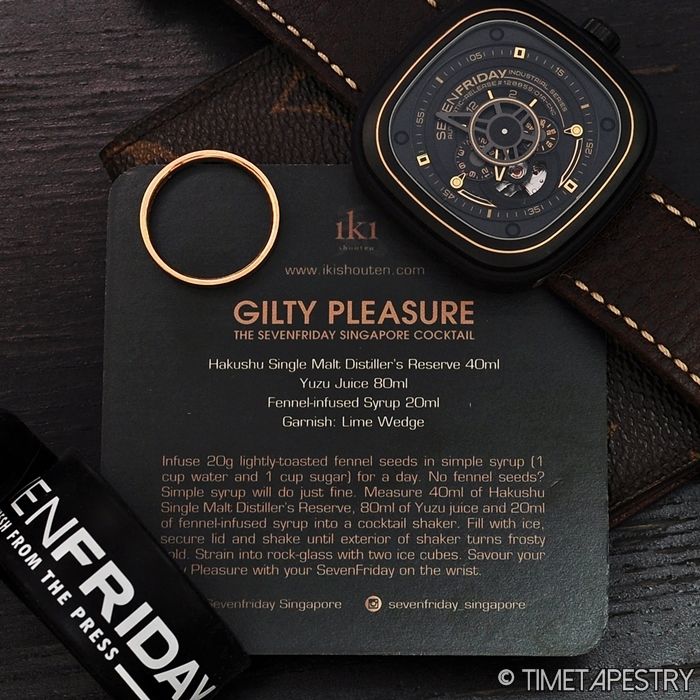 The Yamazaki and Hakushu on the rocks i had were both very nice and potent to me. Japanese whisky is huge now so was good to taste them but not being a connoisseur i just enjoyed it for what it was.

other wonderful drinks were available to us...
some fine Japanese whisky on the rocks
some hakushu for u? why not... why not indeed...
Hakushu is "the mountain forest distillery,"
located deep in the forest of Japan's Southern Alps.
It is embraced for its herbal, gently smoky flavour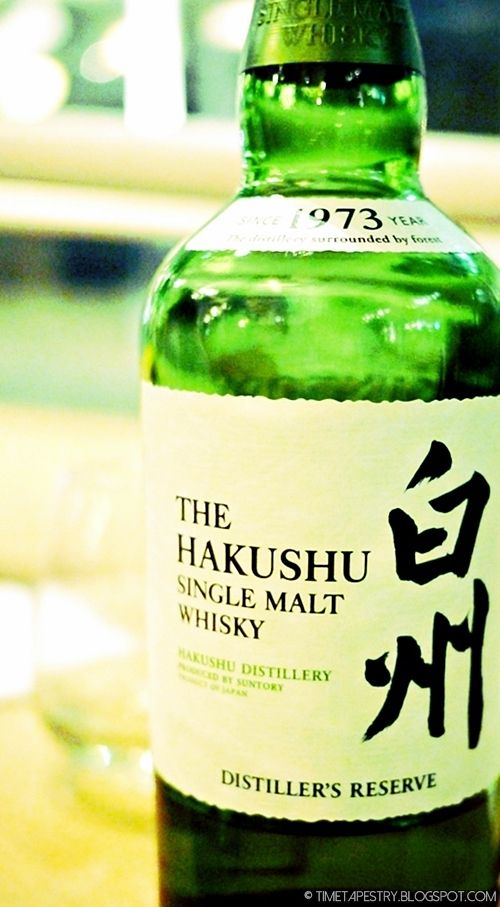 let's check out what was around and abouts shall we... Seven Friday watches of course!
very cool range of straps to go with your sevenfriday piece. some from the brand and some
sourced by Red Army... I need one of the denim ones i think :)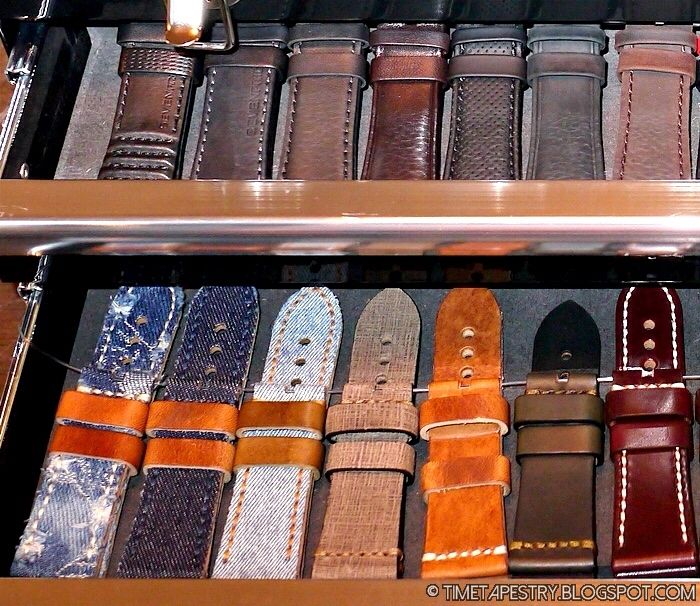 hmm and maybe one of the leather ones...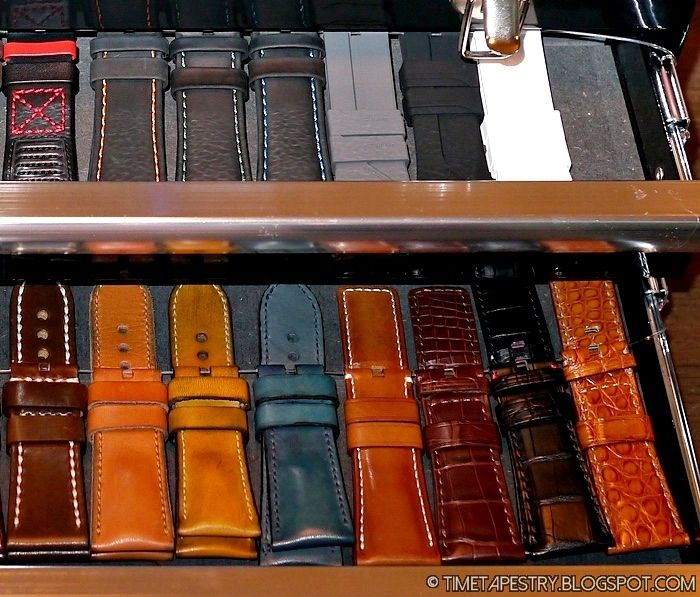 "For relaxing times, make it Suntory time" The Yamazaki was born in Suntory's historic distillery, the
first of its kind in Japan
free me Raphael! take me home! [i tried, i really did... :) ]
With Dan, the Man With The Plan
finger foods and desserts...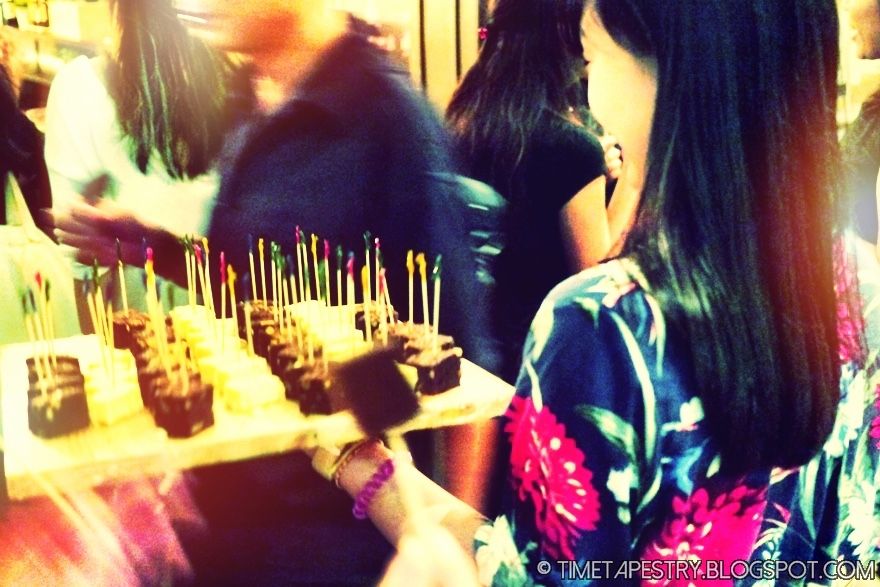 and the watch and whisky set on auction with proceeds going to the lasalle fund... will have more
info on the winning bid and info shared that night in the post party press release...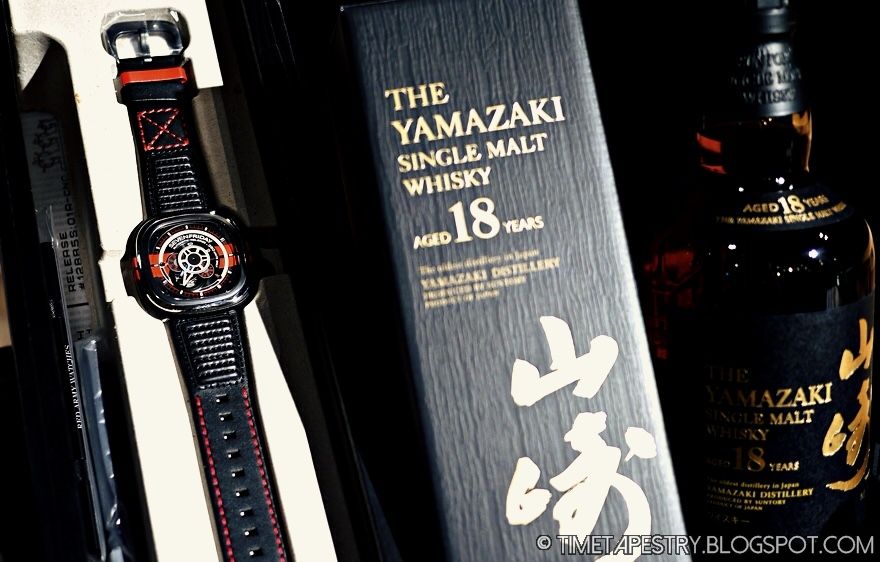 a close up of the big block limited edition watch (limited to 350 pieces)
Two distinctive racing stripes
in a metallic flaming red hue cut across the face of the famed "squircle" watch case and are evident on
the left and right sides of the eloxed matte black animation ring of the watch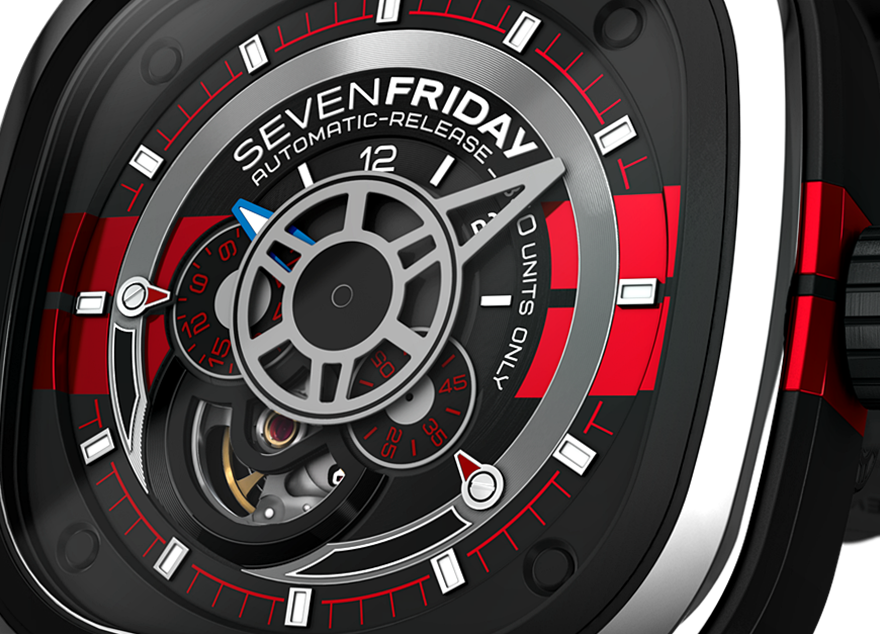 In terms of watch kakis there, was great to connect with Triton from SGROC(thanks for the pizza!) and Janet(our whisky connoisseur), Harry and Massi(professors and bloggers :) ... a quick hello to Aaron(the man who knows a thing or two about leather) and Teck Meng, Sam and his wife.
ol' skool bloggers... watching horology
LINK
since 2005 and timetapestry since 2007
PRESS RELEASE
Join SevenFriday Singapore for a Gilt trip
!
The Singapore leg of SevenFriday's 2015 World Tour promises to be a gilt-­‐ ridden one this time. 2015 has seen the series of popular SevenFriday World Tour and flash parties continuing. Ahead of the much-­‐anticipated SevenFriday at Jay's (#sevenfridayatjays) held in conjunction with BaselWorld 2015, SevenFriday founder Daniel Niederer will be making a pit stop in Singapore on 4 March.
Through rose gold-­‐tinted lenses
Different from last year's Carnivale theme, this year sees the SevenFriday Singapore event being a gilt-­‐ ridden one, as a teaser for things to come. Niederer, as part of his travels around the more than 50 countries where SevenFriday is now sold, is expected to share news on upcoming releases from the brand that fans can look forward to. The event also provides an opportunity for SevenFriday collectors and non-­‐collectors alike to mingle with Niederer and pose some interesting questions to "the SevenFriday Guy".
Indulge in some Gilty Pleasure with us
SevenFriday Singapore is also excited to be partnering with Iki Shouten, a proprietor of fine Japanese and Scotch whiskies as well as sake and various spirits and wines. As part of this collaboration, the experts at Iki Shouten has crafted an exclusive cocktail inspired by SevenFriday and created specially for the Singapore market. The cocktail will be unveiled at our upcoming event and is aptly-­‐named Gilty Pleasure – a tongue-­‐in-­‐cheek take on the rose gold theme as well as referencing the mellow gold hue of the drink. Made using a combination of the fine Hakushu Distiller's Reserve Japanese whisky which is embraced for its herbal, gently smoky flavour; elegant yuzu juice; and exotic fennel seeds-­‐infused syrup, expect Gilty Pleasure to be a burst of citrusy followed by mild savoury notes.
Last chance to own the highly-­‐coveted SevenFriday Big Block and do good at the same time
Continuing along the vein of a gilt-­‐laden evening – but with a chance to redeem yourself in the spirit of contributing to a good cause, another highlight of the evening will be the chance to bid for the last untouched piece of the highly sought-­‐after SevenFriday Big Block. Limited to only 350 pieces worldwide with only 15 pieces allocated for sale in the Singapore market, the handsome timepiece is inspired by the American muscle cars of the 60s. It is also the first SevenFriday to featured lume-­‐painted hour indices and hands. The SevenFriday Big Block together with a bottle of the desirable Yamazaki 18 Year Old whisky – known for its smooth, easy-­‐to-­‐drink, sweet strawberry notes – will be put up for auction during the SevenFriday Singapore event. 100% of proceeds from this auction will go to the loveLASALLE
Education Fund, in support of students in need of financial aid. SevenFriday is a brand steeped in art and design with available models thus far boasting strong designs based on industrial elements. Supporting the grooming of future art and design talents in the Singapore market is a natural fit to the brand ethos.
About SevenFriday
SevenFriday, a Zürich (Switzerland) based company, was officially founded in May 2012 by Daniel Niederer, though he had already been working on product and brand development for more than a year and a half prior to the official launch. The company started with three models P1, P2 and P3, which use different materials on the same design. These have since expanded to 9 P-­‐series models that will soon be joined by the M-­‐series, which was officially launched in BaselWorld 2014 with the first two models – M1 and M2 – being available for sale worldwide from June.
About Iki Shouten
Iki Shouten is a proprietor of fine Japanese and Scotch whiskies, as well as sake and other spirits and wines in Singapore. Fronted by two young but entrepreneurial individuals who are also connoisseurs of the spirits and wines they espouse, Iki Shouten aims to be the source of knowledge, innovation, convenience and value to our customers. Iki Shouten hopes to inspire and educe a sense of unbound adventure, and an openness to new experiences that engages all the senses. Services offered by Iki Shouten include but are not limited to the following: holding wine and whisky appreciation sessions, mobile bar services and bespoke luxury gift solutions for individuals and corporates.
About loveLASALLE Education Fund
Initiated in 2012, the loveLASALLE Education Fund is a financial support scheme that is developed to help students from families with financial difficulties and to provide them with the education they require to harness their artistic and creative talents to break out from the vicious cycle. The scheme aims to be self-­‐sustaining, with funds raised primarily through alumni giving and boosted by donations from corporate organisations and other benefactors. Find out more about how you can contribute HERE
a wristshot to end... with the cool band with press info in a small usb thingie at the end