First off, h
ere's Wishing All Folks Who Come Round These Parts A Blessed 2016!!!
I have been busier than usual with work and family and have been spending a whole lot more time taking non-watch pix and playing with camera gear. My camera and lens thoughts and pseudo reviews will come out soon-ish (i hope) but since I am unsure when it will see the light of the web, let me just say if u r keen on full frame digital cameras, look at Sony. From the 1st series, the Sony A7S is a fantastic low light camera and from the second series, the A7R MkII, is just an amazing digital camera but i digress...
this is a watch post :) i started this journey very much because of this watch. the Rolex No Date Submariner 14060M was my first real watch after i started my first job at Andersen Consulting and it has been with me, ticking strong, for around 14 years. it stayed in Rolex's offerings for a long time and was replaced by the 114060 about 2 years back. I will share some comparo pix of the 2 below, one looking visually larger and more in line with the current Rolex sports aesthetics.
So this was never gonna be a long post. There has been enough said about the Rolex Submariner and it is to me not only a mighty fine watch but one of the best luxury sports watches ever made.
new and old... both wonderful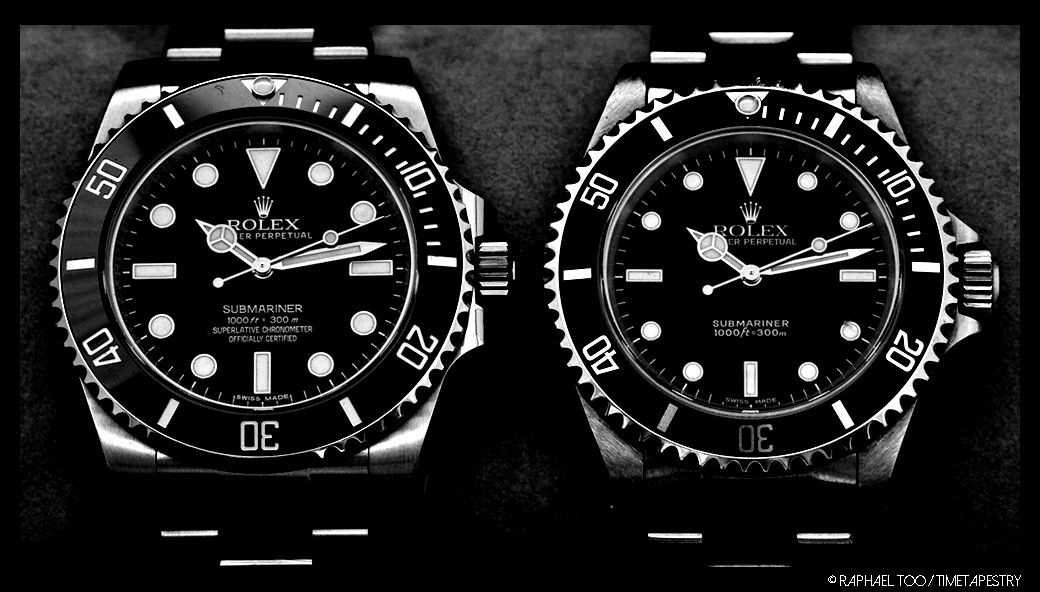 gettin in a little closer
and closer still...
some great looking watches hanging out
hmm maybe time for a more modern-y Rolex in my collection