as Mr Samuel L Jackson might say... "mm-hmm this is a Tasty Burger!" this is not going to be a long review of course. it's just a quick share on a great
burger in Singapore and some pix about the place. note taste is subjective but if you know burgers, u will know this to be a tasty burger ;) YMMV of course. side note, i pay for all my burgers and i am no food critic/blogger so what i get is what you'll get.
I haven't eaten at ALL the best burger joints in SG, as one keeps popping up every other month or so, but have done some of them and
The Suprette Burger
is better for me than the ones i've tried at De Burg, Omakase Burger, Bergs, Fatboys (pretty sad impo), daniel boulod DB Bistro Moderne
db burger (at I think twice the price), &Made (when they were around... i liked the burgers here too), Overeasy, Carvers & Co (nothin special),
The Butchers Club Burger (not tasty at all and a weak special sauce)
[Update 2 Apr 16]:
Three Buns at Potato Head Folk

dish out a good tasting burger too. Having looked at reviews on some food critic sites/aggregators, i think price was a sore point for some i.e. the burger be too teeny tiny for $20++ or more. I had the Baby Huey as part of a set lunch with a drink, dessert and fries and it came up to $30+ which was fine. Will do a more detailed review/writeup in time. For dinner, no sets, and $23+ just for a small burger eg I had the burning man on another occasion (like a big mac or smaller size) which i ate in about 5mins is kinda too much to ask for).

Dropped by MEATliquor & had the dead hippie. A good burger but a tad over on the taste. super juicy, they didn't ask done-ness but it was medium so it was ok. waited

over 30mins for a burger on a busy nite, not worth a return visit as there are better places out there.
Places I will try in time because of overhyped foodie reviews ;) :
Huber's Butchery & Bistro @ Dempsey, Two Blur Guys,
Roadhouse (
The Terminator challenge?
),
The Chop House, Burnt Ends (pulled pork burger), Third and Sixth
we descend upon kam leng hotel in jalan besar...
near some more interesting
watering holes in the lavender area... (there's also a ponggol nasi lemak nearby
if u suddenly have a nasi lemak and a crispy chicken wing craving :)
a cool old skool hotel with some nice touches about... sentries
an art deco clock that hasn't worked for some time i'd imagine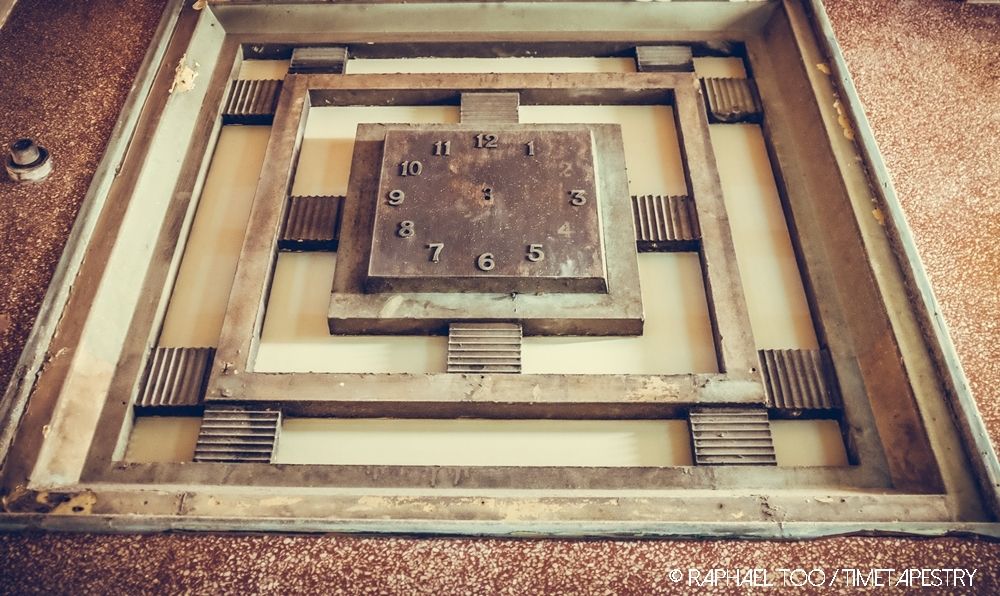 a lady that ain't foolin' no one
& it seems it used to have a restaurant with some excellent European food & drinks but these days it's occupied by...
SUPRETTE! it be located on the first floor & u can't miss it once u enter the hotel lobby
& this place serves some tasty hamburgers which as we know are 'the cornerstone of any nutritious breakfast!'
the suprette burger is delicious in my books, great taste, juiciness and texture, and i've gone back for it several times
the slightly smaller donkey burger with extra cheese-y goodness.. both i believe come with free flow of fries
which can range from
just nice goodness to overly crispy (this one ranged more for the times i've been down) the burgers though have been consistently good
if a liquid diet is more your thing... they have a pretty well stocked bar...
with lots of interesting beverages...
people enjoying good food there and it's definitely worth a try in my books (i've
not had other grub there but the burgers are enough for me to keep goin back)
& the last pulp fiction reference in this post...
[Vincent: you know what they put on French fries in Holland instead of ketchup?
Jules: What?
Vincent: Mayonnaise.
Jules: God damn!
Vincent: I seen them do it, man, they f***ing drown them in that sh!t]
I do too Mr Vega, I do too ;)
signing out...