So of course there is excitement with the Nikon D850 announcement and I am interested to see how that stacks up againt the top of the line mirrorless offerings. What are the top of the line mirrorless offerings? To me, it's the Sony A9 and the Fuji GFX. So sometime later this year I do hope to pit it against those cameras but for now...
thanks to the kind folks at Nikon Singapore and their comms/marketing/PR folks I managed to play around with the APS-C / DX format Nikon D7500 for a bit of time and these are my
personal opinions/
overall thoughts

from a light usage standpoint.
My Personal Preferences
1. APS-C is not doing much for me now. This has nothing to do with the D7500 but for me, I am not thrilled by high ISO performance of APS-C
2. I prefer EVF to OVF now
3. Mirrorless benefits make them better cameras to me than DSLRs for my type of shooting (portraits, fashion, street)
Some Specs
Updated 20.9MP DX-Format CMOS Sensor

EXPEED 5 Image Processor from D500

3.2" 922k-Dot Tilting Touchscreen LCD

Multi-CAM 3500FX II 51-Point AF System from D7200

Native ISO 51200, Expanded ISO 1,640,000 (yup that's a bit of a joke to me)
Pros
i. Some of the D500 mojo (
meter and processor
) and cheaper than the D500. for the body alone $1k less.
D7500 (Body Only): SGD$1,999

D7500 + 18-140mm VR Kit: SGD$2,419
D500 (Body only): $2,999

D500 + 16-80mm VR Kit: $3,999
D7200 Body only: SGD $1,469

D7200 Kit with AF-S 18-140mm VR DX Lens: SGD $1,879
ii. Reasonably good action cam with group AF
iii. carbon fiber body makes it light and it is small-ish
iv. 8.2fps shooting with a healthy buffer of up to 100 Frames
v. SnapBridge Bluetooth and Wi-Fi - I didn't play around with this but i think it's a basic requirement to have ability to transfer pix to and control your camera by phone now.
Cons
- The 4k video is cropped in 1.3x and it's already APS-C. This wasn't good for me as I wanted to take wide video and I couldn't due to space constraints and other items in the scene I didn't want to have.
- Colors were very warm on video for me. I am not a professional videographer and I just want good colors on my video off the bat and not have to color grade and play with profiles s-logs etc so this was not good for me.
- Pics wise, although the camera has super High ISO settings i.e. Native ISO 51200, Expanded ISO 1,640,000!!! (which most folks in their right mind won't use) I wasn't thrilled with it's regular ISO range picture quality which may be more of a factor of me being used to full frame (Sony A7s) and medium format (Fujifilm GFX50s) ISO performance.
- No 3D tracking af. AF in low light wasn't so great for me and i have missed af shots. AF doesn't focus on what i wanted in focus at times too.
- No dual slots so not an option in any way for professionals or folks who take on freelance jobs. you need to have backups as cards do fail. Not regularly but it happens and you can't explain it away to a client why u don't have images from *gulp* their wedding day.
My live pix using this camera follows and I used it as a walkaround camera for the Singapore Toys and Gaming Comics Convention (STGCC) 2017, 10 year anniversary.
My overall view from use of it there is that it is a very good camera for APS-C and a definite consideration (against it's mirrorless competition) if it meets your budget, size/weight, features requirements.
All the pix were converted from NEF to DNG and lightly edited in Lightroom (LR). Overall I did not find high ISO performance good enough for me. I have noted the ISOs for the pix below and noise reduction (NR). Note all pix had sharpening of 25 to 30s range applied with some above 40s. ISO up to 1250 seems to be good but above that some degree of NR is needed.
ISO 220 No NR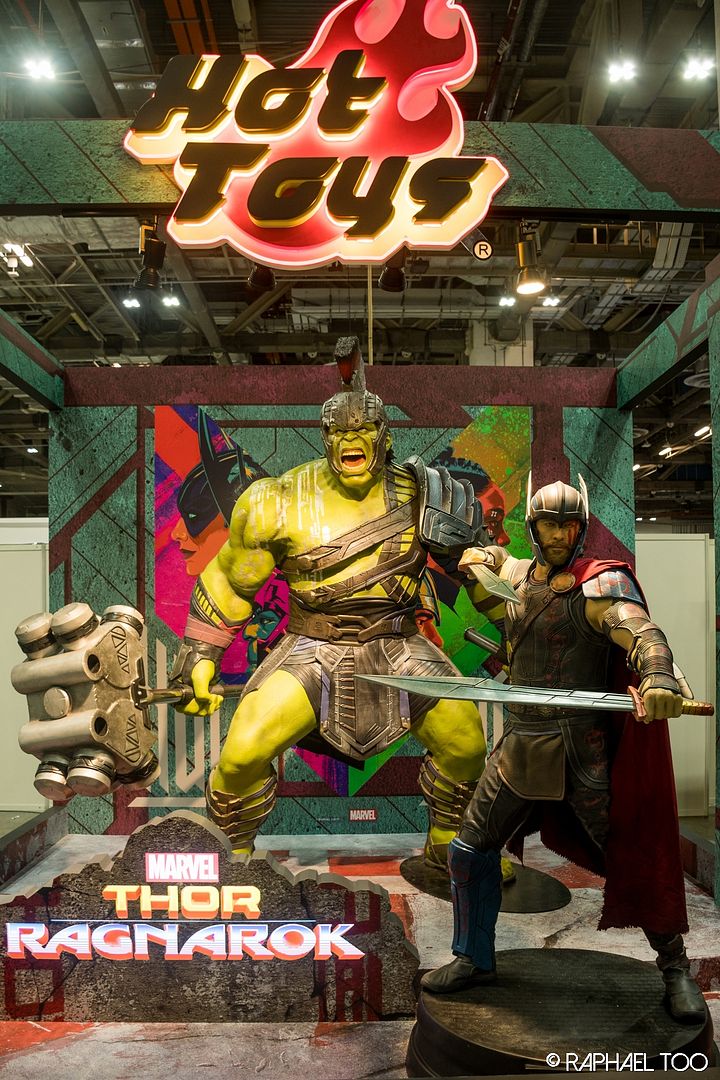 ISO 360 No NR
ISO 180 No NR. AF missed for this range of shots
ISO 1600 NR 20 in LR
ISO 3200 NR 45
ISO 400
ISO 2000 NR 19
ISO 100 with flash
ISO 1250 No NR

ISO 10,000 NR 23
ISO 2800 No NR
ISO 1000 No NR
ISO 2800 NR 31
ISO 7200 NR 30
ISO 1250 NR 26
ISO 2000 NR 35
ISO 500 NR 40 (Cropped in significantly from original image)
ISO 450 NR 20
ISO 1250 No NR
ISO 4000 NR 44
"Pursue incredible moments with the intuitive DX-format D7500. Designed to be agile, the D7500 packs an updated 20.9
-megapixel CMOS sensor and the EXPEED 5 image-processing engine,
a combination that creates images with superior definition and reduced noise even at higher ISO values,
into a durable and compact body, while a native ISO range from 100 to 51200
provides minimal noise in low-light scenarios,
giving you the freedom to shoot detailed images even in harsh lighting conditions. With its 51-point autofocus system and a continuous shooting speed of approximately 8 frames per second, this camera is a paragon of fast-paced shooting. The D7500 records up to 4K UHD/30p videos in breath-taking detail, so you can take your passion to the next level. Seamlessly shoot and share on the go with SnapBridge, an app that automatically transfers your images to your smart device via Wi-Fi®. Whatever your subject, the D7500 will always deliver reliable and unparalleled performance with every shot.
Designed to fuel the passion of photographers is the new Nikon D7500, announced today by Nikon Singapore Pte Ltd. Nikon's newest DX-format DSLR combines the performance of class-leading DSLR photography with outstanding agility and operability, creating endless possibilities for core photography enthusiasts and those on a quest to perfect their craft."