A bang and a whimper
A story oft heard… a swing of the arm without much thought… the oncoming gleam of the door handle (or that other watch, evil seat belt buckle or the harsh resolute solid brick wall) and … SSSCCCCKKKKRRRR!! (well it wasn't that loud but it certainly seemed like it didn't it? :)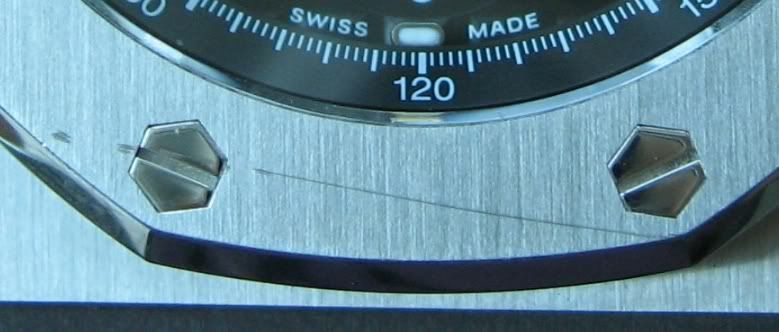 the shockwave traverses the length of your arm, nerves on end screaming, and that sick feeling in the pit of your stomach happens in the next instant. you hesitate to glance down but eventually you have to and you see it there... a ding, a scratch, an unwanted mark on your prized possession... it could be the case of your new fiddylicious 1950, a scratch on your new ceramic doppel, scraping off of the pvd on an end of days or la boutique, gouges on your titanium watch or the marring of the perfection that is the bezel of the royal oak or offshore… or any watch that u may have for that matter...
You then scour watch forums (if you haven't done so before) for advice on what to do next and you find that you are not alone. There are others out there. Others who love their beautiful watches and banged it, scratched it, dinged it and marred its brushed and polished perfections and you tell yourself, lets share with anyone else who unwittingly hurts their watch the information gathered from these searches. So for all the watch lovers who've happened to ding or scratch their watches (which has a higher probability of happening for roo's with a bezel of that size or watches above a certain mm) here are some options as to what you can do :
1. Live with it till you send it in for the next servicing at the original scheduled time(once every 3-5years) at yr watch brand's servicing centre and get it polished then. I did this for my ROO. It had to be regulated cause timing was off a few minutes a day and I asked them to just polish the bezel as it was just the bezel dat was affected, fyi i paid about s$220 or usd140 for this because of what you see in the next shot. the dent above the 12 o'clock and the scar next to the 2. they got it cleaned up thankfully :)

2. Send it in to get it refinished NOW! just get that unsightly mark out of there. Even if its few weeks old or you just got it back from the service centre you don't have to live with that unsightly scratch.

3. Get a watch restorer who knows what he's doing to refinish the watch. For some watches this may work. For the Royal Oak n offshores, e guy mus know how to maintain the original finishes and shapes and textures which may be tricky. Getting a guy outside to do this may also nullify e warranty so i'd totally advise against this option. Its not going to be cheap owning n maintaining an expensive watch yuh.
4. DIY touchups and fixits eg. To touch up light swirlies and hairlines and fine scratches, going at it with an ink rubber for ti, cape cod polishing cloths for POLISHED surfaces. Very bad idea for high end marques though. it is really not an option for me to take a cape code to a >$15K watch. possible for lower end marques or watches below a certain price range depending on yr comfort level yuh
5. For roo owners who have mangled their offshore bezels, I remember seeing one guy who wrecked his safari bezel or if ap says they can't maintain the finishing without taking off too much metal, an option is to change the bezel : most expensive and in my mind not really necessary unless its totally wrecked. price probably around usd$1200 or more n u're gonna bang it n scratch it again anyway. yes u will even if u say u will take such wonderful care of it n u know what not to do.. It is inevitable (voice of the emperor in star wars)
(NOTE: this advice is meant for s/s models but some are generic across other normal metals. Titanium is another matter. Often difficult for refinishers to work with and some will say that they will not refinish yr ti watch which is why i recommend never buying ti as there is a possibility u can't get rid of the scratches once there. The rbii in ti is an exception from this not because it wont scratch but because it looks so damn fine)
There is no right or wrong option of course, most importantly do what will allow you to enjoy your timepiece best. A few little marks here and there shouldn't matter but real unsightly ones may need attention if it takes away from the pleasure you derive from looking at your baby. After the first view virgin scratches, the pain typically lessens, depending on you. have faith that ap, rolex, richemont(keep fingers crossed) will make it like new when you do eventually send it in. most importantly, i stress again enjoy your watches and don't keep them in the safe cause you want to keep them pristine (unless you bought it purely for investment and to resell) wear them and enjoy them. i know someone who does, scratches, warts and all...

disclaimer : its all just advice yuh, listen, take heed or ignore, do what you want with it :) cheers