AP caliber 3125 in a Chanel J12 watch ...
rotor in ceramic and 22kt gold!! ... oh my GAWD!!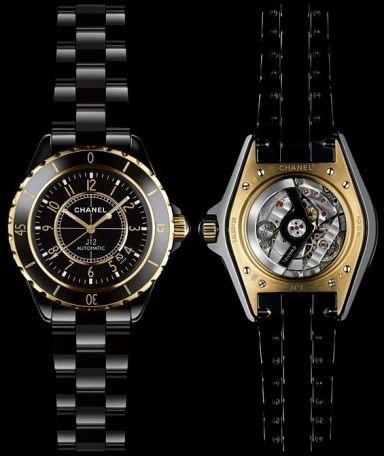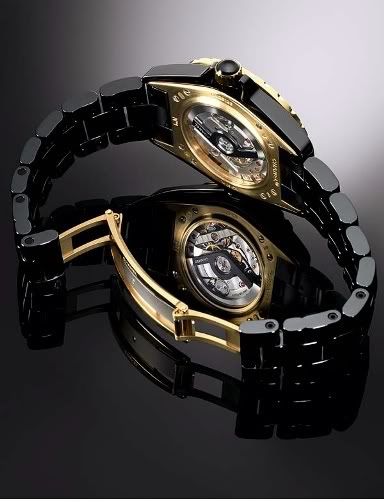 Ok thats it. somebody please make me the CEO of Audemars Piguet before they start making AP fragrances or sell movements to other fashion brands. the horror... sigh. i had been meaning to write about how brands were just going out of whack... but it was stuff i didn't care about. when a brand i do care about sells out, it spurs me a little as it rankles...

real examples all ... there is a 1000 over quid cologne by bugatti (NOTE: This is a car manufacturer, they know as much about fragrance as the florist knows about tuning a V8)...
giorgio armani and ralph lauren do just about everything, home products and such...
bulgari does hotels, chocolates and skin care...
oh and we have ralph lauren plus richemont watches to behold soon... yup i'll park it next to my collection of dkny, louis vuitton, prada, fendi, hugo boss watches, most of them quartz but some with nice eta movements... (please note i do not have these watches :)

mont blanc bought minerva and put minerva movements in their watches... uhm, you bought the company, why don't you just make minerva watches? i'd wear a minerva watch with a fine movement but hell if i'd wear a mont blanc watch. well maybe i will with my mercedes benz cufflinks and tiffany and co shirt (ok these dont exist, at least i dun think so.. maybe the cufflinks do ;)

brands get big for doing something right, when they start doing all kinds of sh!t under their brand name that they have absolutely no right doing, their brand equity suffers don't it or it loses some appeal, no? u'd think they'd figure that one out too yuh?

enuff for now...
well one last shot... oh limited production capacity you say... how interesting...
if they believe this is the way to keep ownership of the company IN the family... i say sell it all.