Part One: Watch Training Masterclass

Mysteriously, 2 white domes, somewhat similar to a certain item of ladies undergarment appeared in front of the open space in the middle of town in Singapore, at Orchard Road's Ngee Ann City Shopping Centre. Curiousity got the better of me and I strayed too close to the main entrance and a strong vortex sucked me into another realm... Holy Smokes! It was Le Sentier descended onto Orchard Rd. Well I always wanted to visit the Vallee de Joux and having a portal at the entrance my fave shopping mecca suited me just fine ;) what lies ahead though?
side view of one of the domes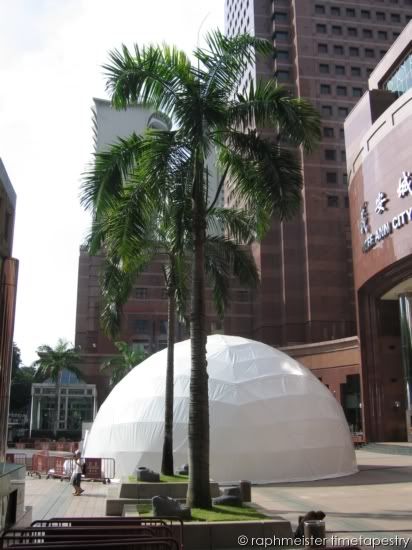 Apparently as the watchmaking gods would have it... it was time again to prove myself
at one of Jaeger LeCoultre's Masterclasses... Having displayed more valor than ability at
the classes conducted during Tempus, this seemed like an opportune time to redeem myself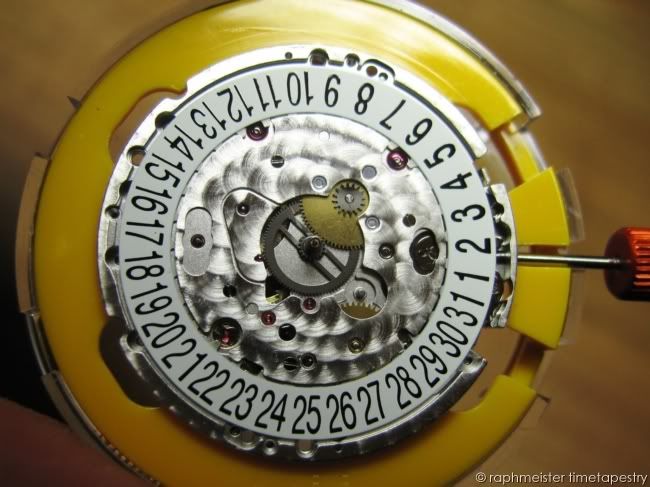 i had always wished to see what ticked inside my Master Compressor Extreme world chrono
and i found out that i would have a chance of dismantling and assembling the chrono... that is
SOOOO COOOLLL !!! ;)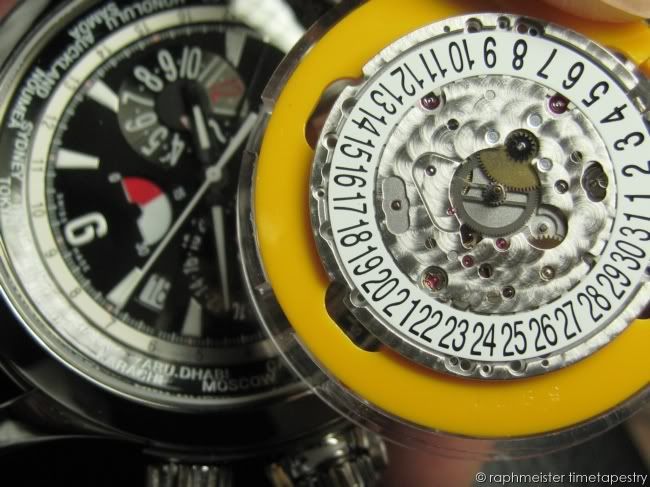 Our guide for this journey then... Mr Frank Martin. My teacher at the tempus class, Frank's a
top guy, trains budding watch makers back at Le Sentier and does these gigs too.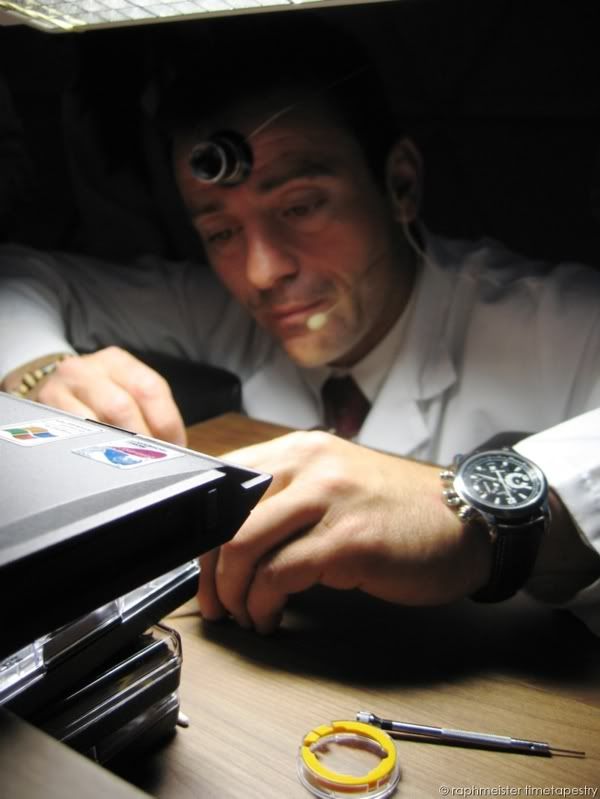 So our challenge today, the calibre 751/1 which is in the Master Compressor Chrono and as
mentioned is the movement in my EWC just without the worldtime complication. EWC Cal is 752

as part of the class we got to dismantle the chrono including the column wheel...
taking out stuff was the easy part, putting them back... that was a whole different ballgame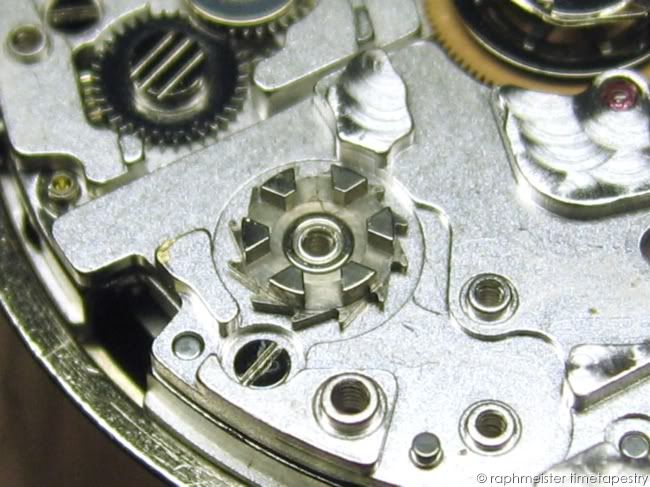 Frank at work... showing us the moves...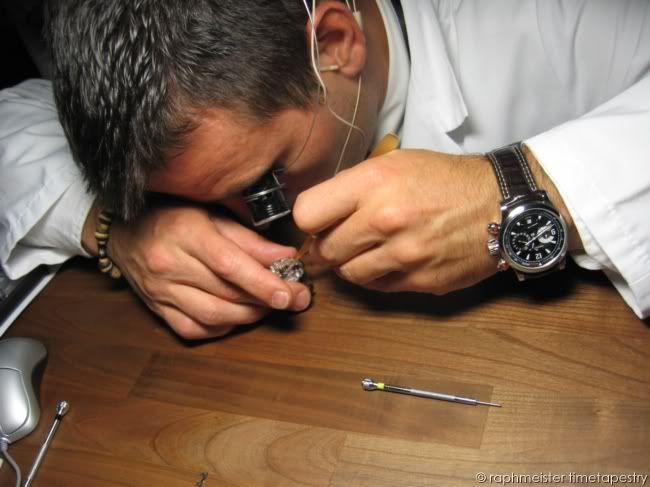 Chong from JLC, who is based here, was a great help to us too...



this guy, can't remember the name now... think he's that new employee in the service department, responsible for destroying several tourbillon movements... waitaminute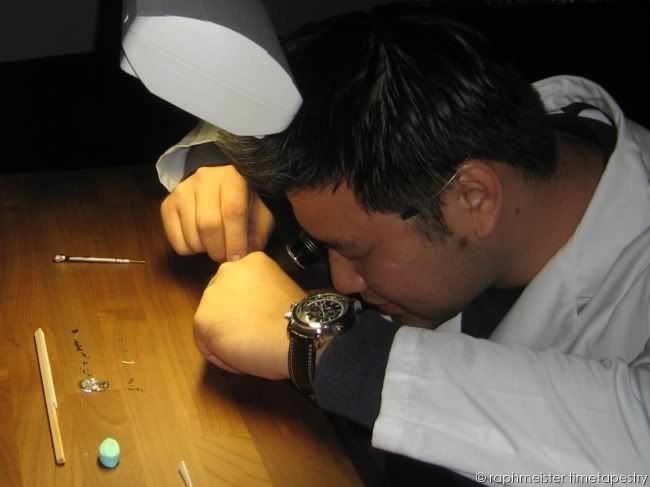 thats me :) yup the raphmeister is gonna work it out...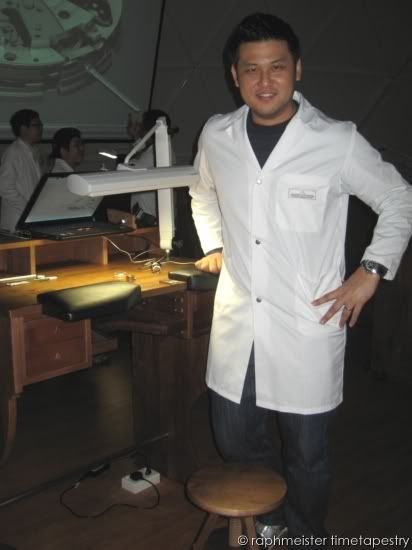 this was how far we got to in terms of stripping the movement...



wrist shot of Frank and my Compressors...



collecting the certificate... after 4 years of training...
uhm it was actually 4 hours...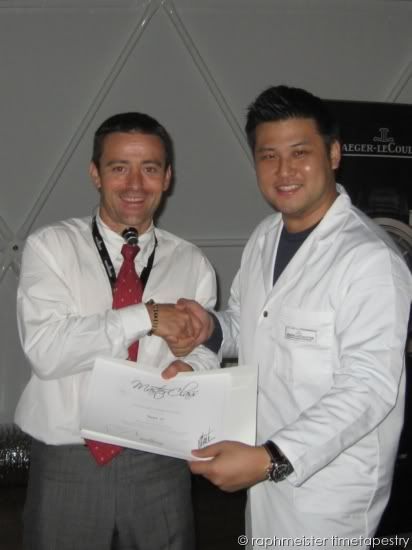 and there you go... the boy is certified... or is it certifiable? hmm
(note: the movement can't be taken home yuh. i know. i tried
and have the bruises from the security dudes to show for it... [kidding])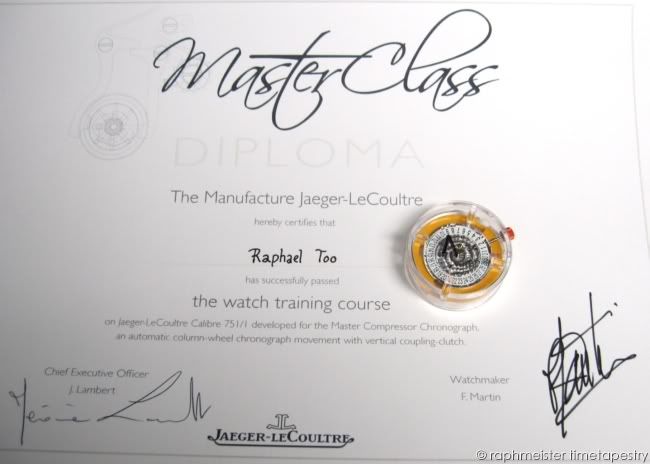 still part One: Decoration Class


a thorn amongst the roses... oops got it wrong ;) i meant a rose among the thorns...
alethea from jlc. top gal who helped in arranging our sessions and was busy and will be
busy till the end of the watchmaking week i suspect


the boyz... george, raph, eddie, lionel and kc (after a sumptious sashimi meal) harry who was
with us, is not in the shot... probably taking some mean watch pics somewhere else...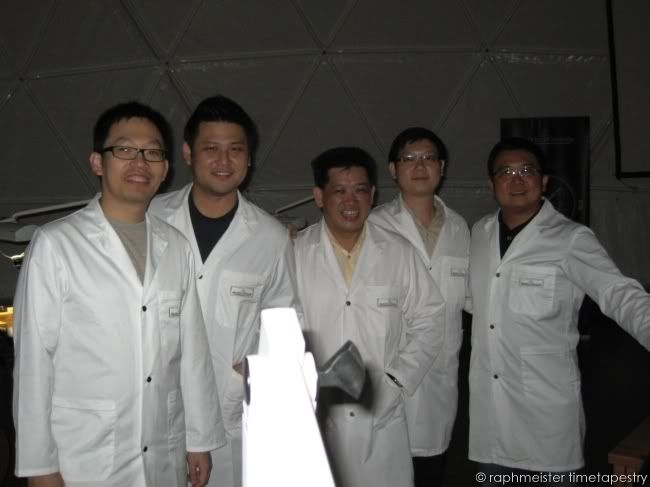 this is what i managed to do in 2 hours of the decoration class...

if u believe that than you'll believe anything :) of course that was the handiwork of this man...
Dominique Vuez, Maitre Graveur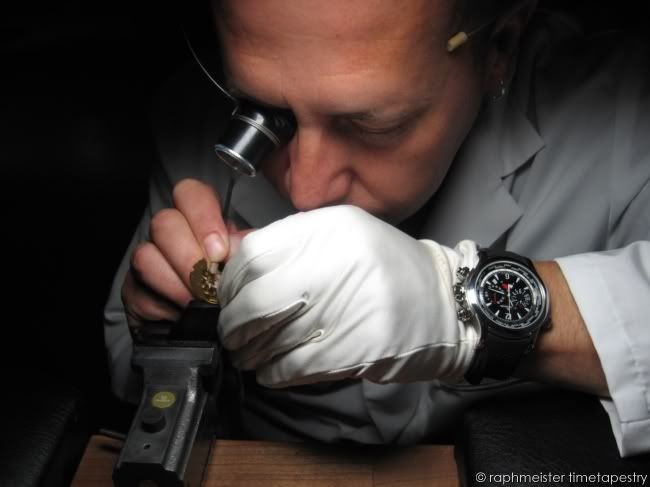 Dominique doesnt speak English and so was ably translated by Rachel who's in Marketing
and at the boutique and doing a whole lot of other stuff too... including looking fine i might add ;)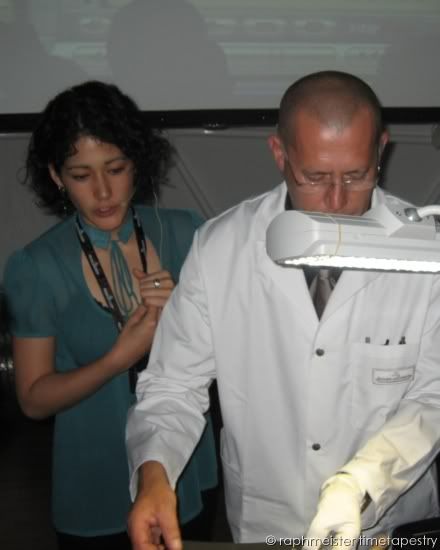 some parts he has been working on on display


my workbench and my weapons of destruction.. my first cuts to get the jlc logo out...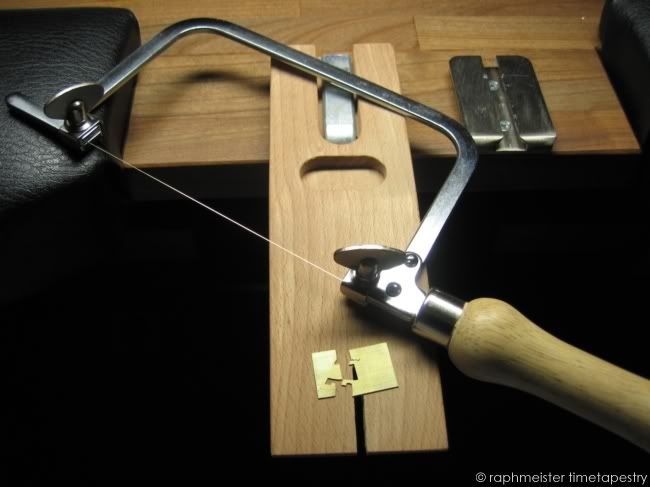 clamping it to finish it more... ohh looks pretty bad raphy

george going at it... the light weight of the team alinghi on his wrist not a hindrance
to his finishing efforts...


raphmeister trying to get it to shine... stress on the keyword 'trying'


dominique was wearing a familiar watch so the wristshot was mandatory :) 2 mc ewcs in
da house... err in da domes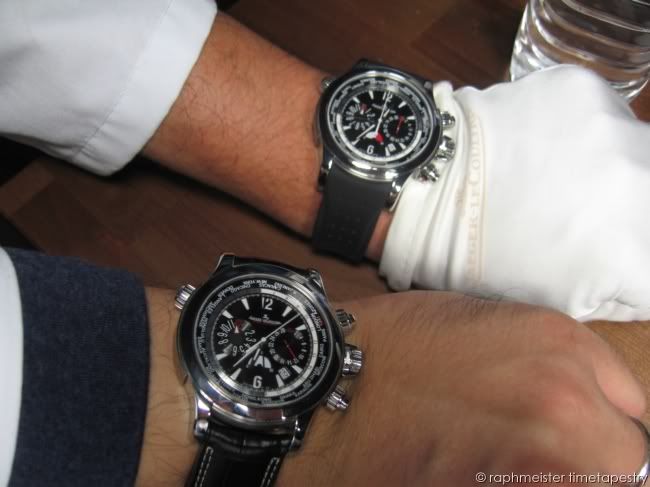 and another certificate :) at this rate, they are gonna give me a contract
of employment next ;) haha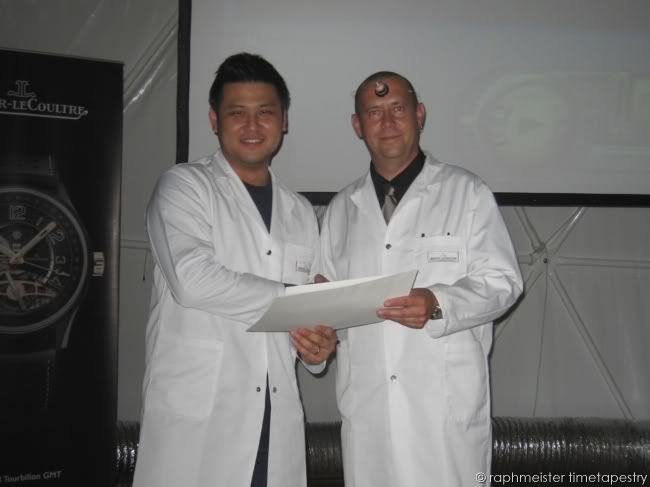 a nice memento... its not going into any watch but it was fun and a totally enjoyable experience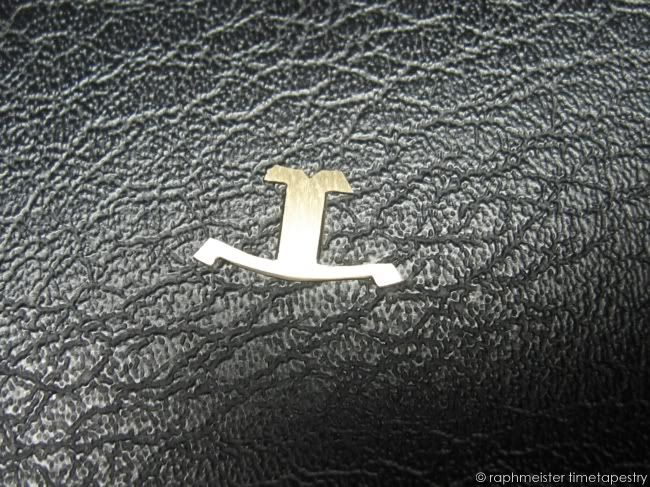 the takeaway from both classes is that A LOT goes into these mechanical watches, from the assembly of the parts, to the finishing of all the large and tiny bits of the movement, and it totally makes you appreciate your fine mechanical timepieces so much more which is all good with me :) wonderful way to learn more about the watchmakers art and craft and hopefully spread the passion. oh and make sure you have a JLC in the collection as they make damn fine movements and watches :)
my sincere thanks to the kind folks at JLC for having me... Stephane, Xavier, Rachel, Alethea, Garina... our class teachers Frank, Chong, Dominique et al and Jaw at Le Club and Horomundi... it was an absolute treat (look out for part 2 coming soon... )