IWC Portuguese... not exactly vintage but it looks the part don't it ;)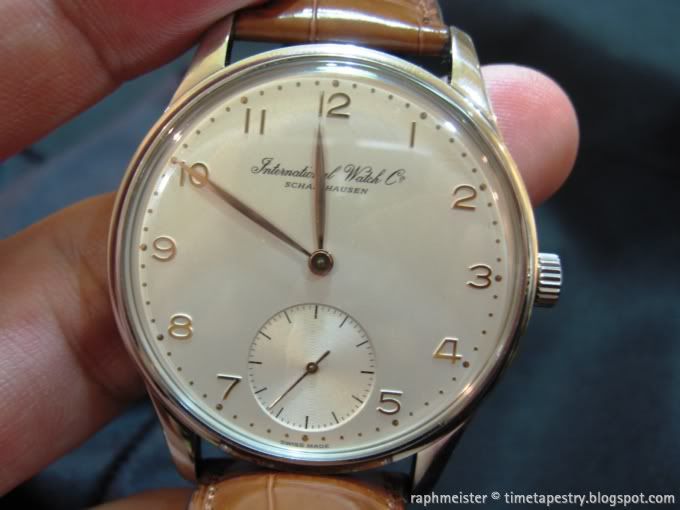 There are many great things to purchasing vintage watches. Some of the advantages of buying vintage include:
- getting good value for money. eg. significant movements at a reasonable price. Valjoux 72, 22. Lemania CH 27, Venus movements as some examples
- none(or less) of the marketing hoopla and limited edition stupidity to hype up a watch
At the same time, there are some factors to consider in your vintage watch purchase decision and here's a couple (totally non-comprehensive yuh, just some pointers :)
1. Condition... Condition... Condition...
If u havent got it already, condition is everything when buying vintage and is a key determinant in the price of a vintage watch. Always verify the condition of a vintage watch before you buy it. If the watch is in a distant land than get LOTS of pics. Its good to get pictures of the watch from multiple angles, dial side, case side, with and without its caseback and of its caseback to assess condition and if theres any corrosion on the watch you are eyeing if you can't see it in the metal.
For eg. U have yr eye on a vintage sports Rolex... U check it externally, it all looks fine but on opening the case back u see corroded metal and pitting. Now corrosion in older watches can be seen as to be expected but how much of it thats there and how much u r willing to pay for a badly corroded watch come into play. My advice is wait for a better example if you are faced with buying something in a shoddy state. Bad corrosion and pitting of the case for a Rolex watch should be a no-no and in terms of dial condition and hands condition, its really based on how you like the look of the aged dial/hands and what kind of condition of these are acceptable to you.
Rolex GMT 1675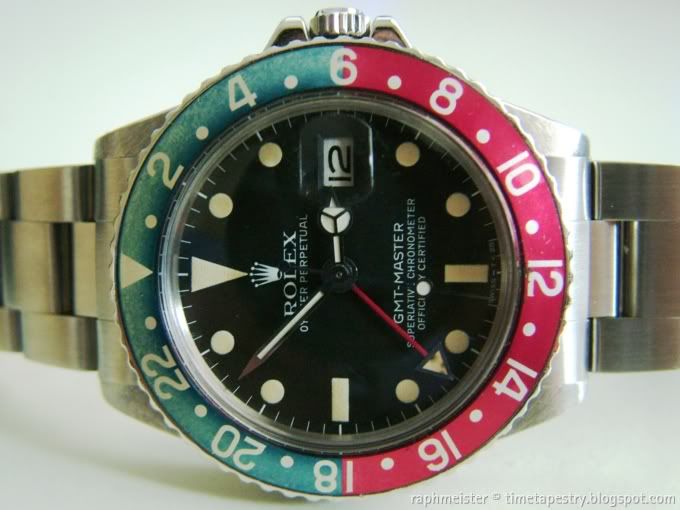 2.getting access to a reliable servicer is key
these are vintage watches with vintage movements. not everyone can fix em unlike common eta work horses. So do check around and find a reasonable watch servicer who knows how to handle and fix old movements from the pocket watch variety to the vintage wristwatch movements and classic chronos as I mentioned earlier.

Cal 321 Speedy

(Side note:

Why Rolex Servicing Sux Big Time... Panerai too for that matter...
The reason is simple. They can't service vintage watches. Ok to be fair, they can but they can't guarantee that they won't throw out your patina'ed tritium dial and hands and replace them with new superluminova replacement versions ... eeewwwww... totally wrecking any value of your vintage rolex. This boy below is never seeing the inside of RSC servicing dept in Singapore at least. I believe for some countries they actually can guarantee they won't replace the dial and hands if requested for by the owner)

Vintage Rolex Submariner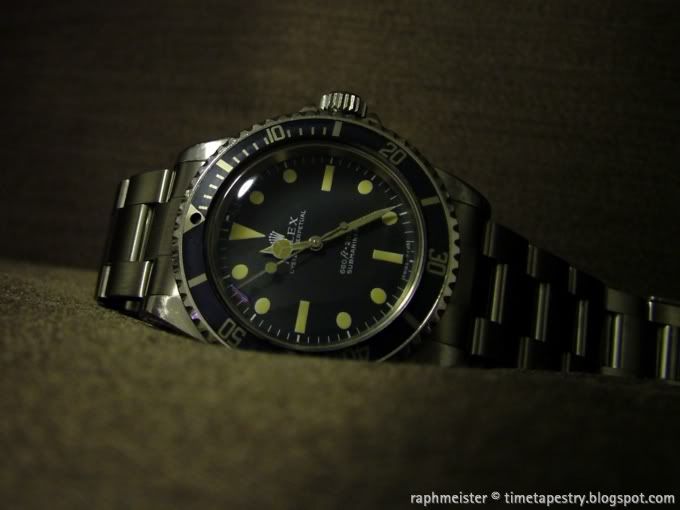 3. authentic and original
Authenticity is important so do get the authorised service centre or a good watch servicer who knows their stuff to check everything is as authentic and original as claimed to be. Whether the dial, hands, etc are their original parts and not touched up, redone or relumed etc, matter as well.
the 1st Omega Speedmaster Professional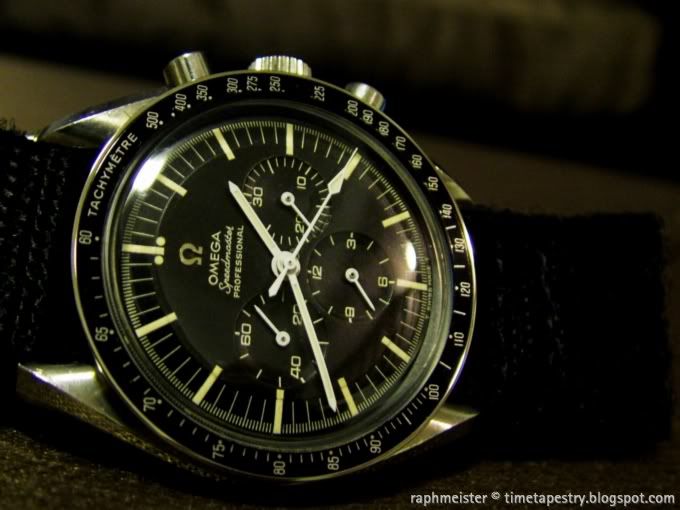 4.what's the price
its hard to determine whats the price for some pieces as they seldom come up for sale. The going rate for some vintage pieces will be based on what is it you are comfortable to pay for it.

Do your research on what it transacted for in recent times if this information is available at all and factor in condition to any estimated 'market price' based on past transacted prices.
5.trusted sellers
Its good to get a vintage piece from a trusted seller, be it a brick and mortar, click and mortar shop or an individual seller. trusted folk will more likely tell you if anything has been done with the watch before if they are the honest sort or have a reputation to maintain.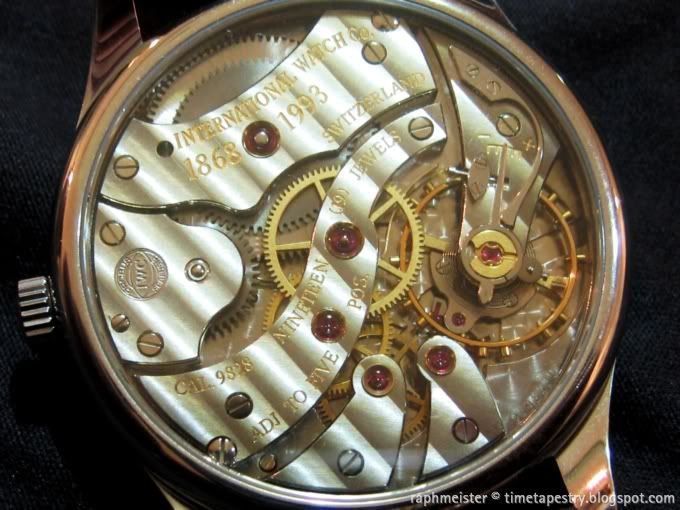 thats all for now but if i have more, I will update this post from time to time with more pointers and info...