internet travels that is... some watches of note in my surfing this past week... and some comments...
MBF 2 for Only Watch... Very Nice... collaboration between MB&F and Sage Vaughn, US artist/painter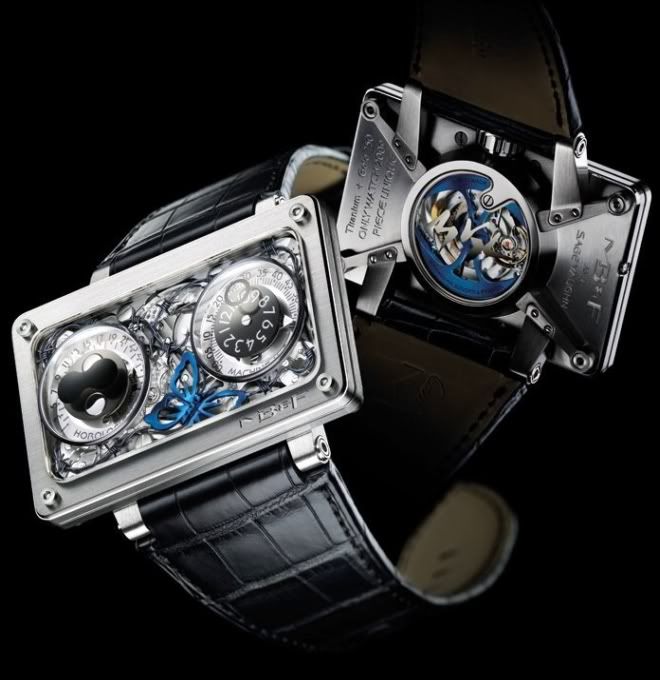 sadly mbf doesn't seem to be doing well on the pre-owned market... the mb&f rose gold hm1 sold for a very low... less than S$75k inclusive of buyers premium at an antiquorum auction in 27jun09 (note the list was s$270+k n after discounts i believe they all sold for around s$150k (on average). the auction price done was also below estimate and this after being featured in the press release for the promotion of the auction)
a new freakie for only watch... get your freak on...
get your freak on... get your freak on...
cabestan... a lovely piece... i prefer it in the darker metals or
rose gold myself but this is nice too...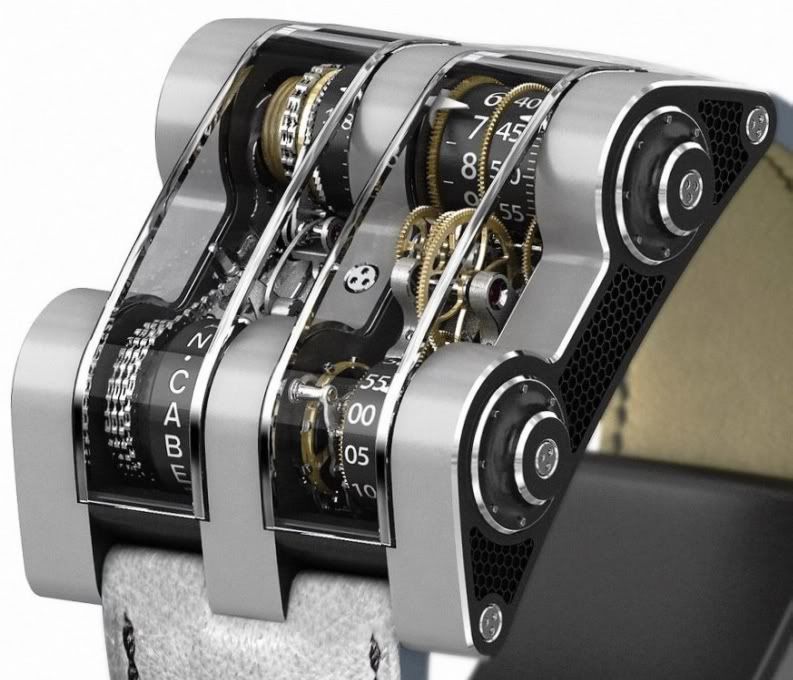 mr journe has come out with a new perpetual calendar... nice execution off the octa line and of course the innovativeness of having the movements being relatively the same thickness regardless of complication continues... hats off to a great living watch maker...
JLC is standing up and doing it in style... ultra complicated and cool... aesthetically, its ok for me but i think in the metal it would be amazing :) the Jaeger-LeCoultre Hybris Mechanica the World's Most Complicated Wristwatch 44mmx15mm means its chunky and a whopping 1,300!!! parts.
Westminster Chimes, Grande Sonnerie, Petit Sonnerie, silent mode, minute repeater, flying tourbillon, perpetual calendar, instantaneous jumping digital hours, minutes, days retrograde, months retrograde, date retrograde, display of the leap year, inertia blocking; tone power reserve, mainspring power reserve, time setting in steps of one hour and minute by one minute jumps, clockwise and counterclockwise... i'm out of breath :)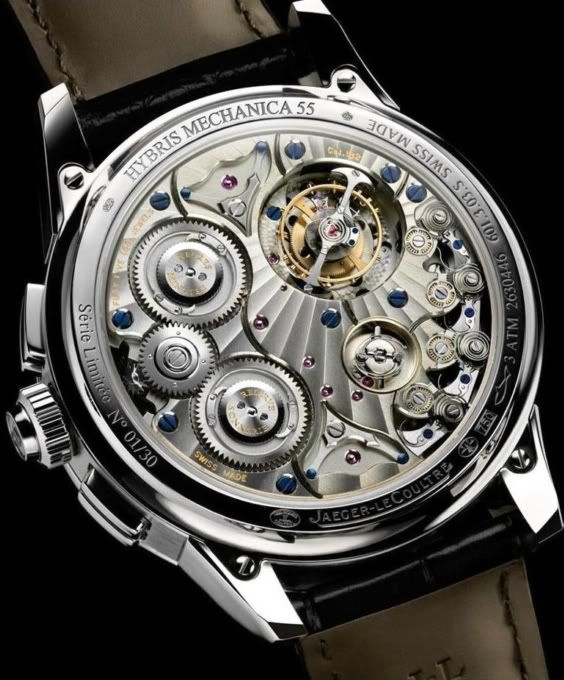 this one is not so good... gyrotourby with added stuff...
oh dearie me... this won't do... it seems richard mille is taking a leaf out of audemars piguet and milking their sporty chrono for all its worth, coming out with green, red versions and God knows what other color variations... the wrong way to go...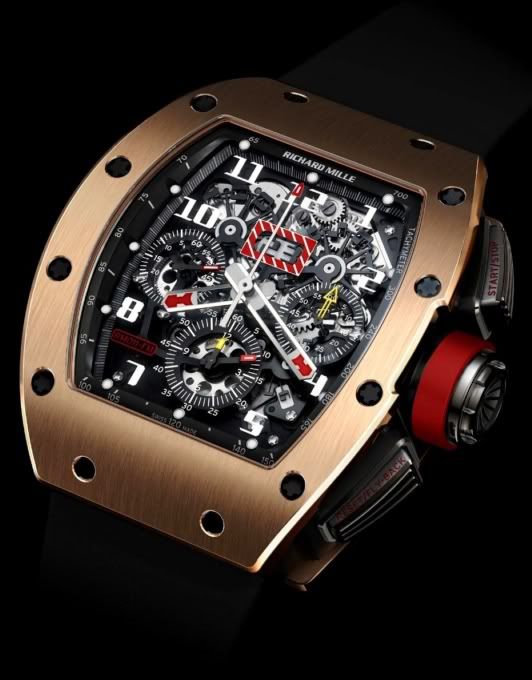 this is sooo bad... it looks like a replica RM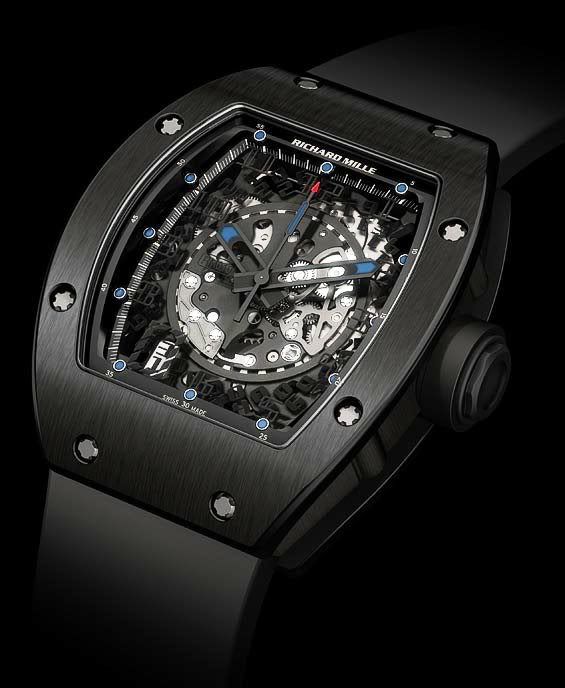 audemars piguet interestingly may have done a bit of a u turn... they came out with the bumblebee which tops a number of their so called limited edition offshores so in a way its an LE killer ;)
reminds me of this wonderful AP ROO LE of course :)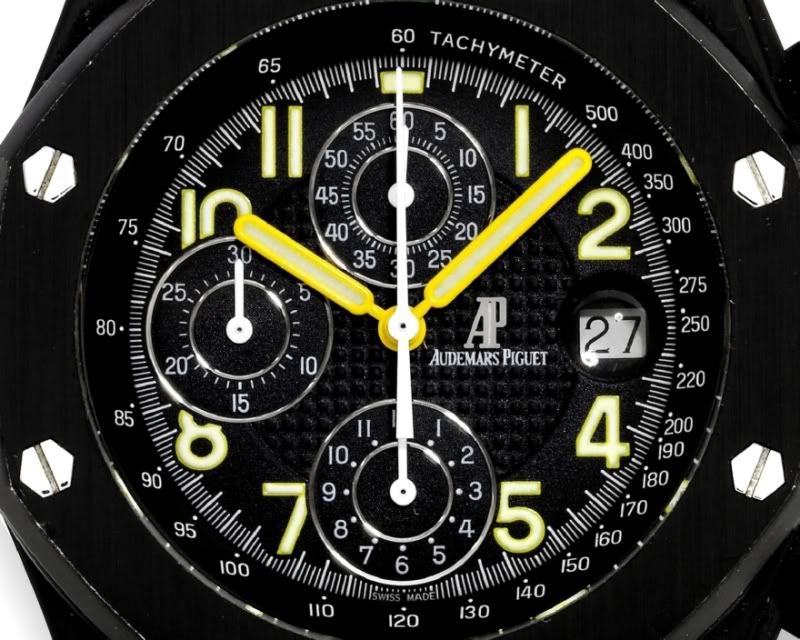 and lastly... a patek chrono that came up for auction recently... the only reason i am posting a pic of it and highlighting the fact is because its quite simply... beautiful... enjoy your watch surfing ;)