something interesting has been happening... over the year i have visited several watch shops together with my non-WIS mates who have minimal exposure to watches and i asked them one thing... 'which watch appeals to you out of the ones we see in the shop?' these folks not knowing much about the many brands and their offerings and with limited knowledge of values in watches...
and 3 out of 3 times they all went for the same watch... pretty damn amazing if u ask me. i know of another friend whose wife bought this watch for him probably coz she liked the look of it or he did then... so for the 3... one of them purchased it as a gift for his ol' man... the second friend saw it and is/was possibly thinking of it as a gift... and the third, a younger friend of mine zoomed in on it after seeing easily over 100 different watches... again, it must be some design coup for non-WIS... all this interest in a watch that i was pretty dismissive to on account of its eta 7750 base movement...
can you guess which watch it is? have you had a similar experience? ... i mean what are the odds? :)
...
....
.....
...
..
....
...
ok enough... its the iwc portuguese chronograph... the 3714s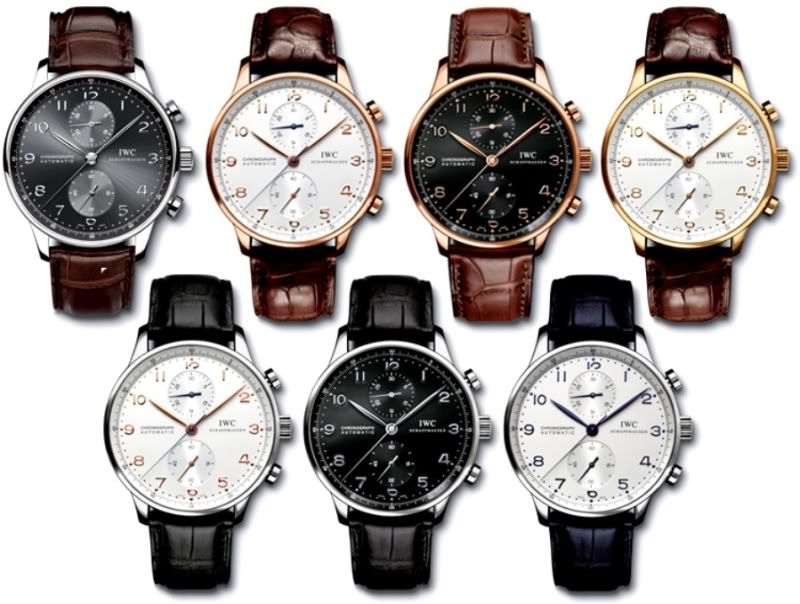 now I have to admit... i am not a fan of this watch. i dun like the chrono sub dials at the 12 and 6 o'clock, much preferring sub-dials to be at 3 and 9 if 2 of them need to be on the face... i am not a fan of its eta 7750 reworked by iwc movement and its wobble... at its S$7+k price point for the steel model. i like the portuguese line though but it was the others that appealed more to me from an aesthetics and movement standpoint... eg. the 7 day power reserve with pellaton winding portuguese... the vintage and limited edition portugiesers with in-house handwind or auto movements...
i liked these a lot... almost bought the black dialled one... but somehow it didn't grab me and shake me hard enough for my credit card to fall out of the wallet... noe wat i mean?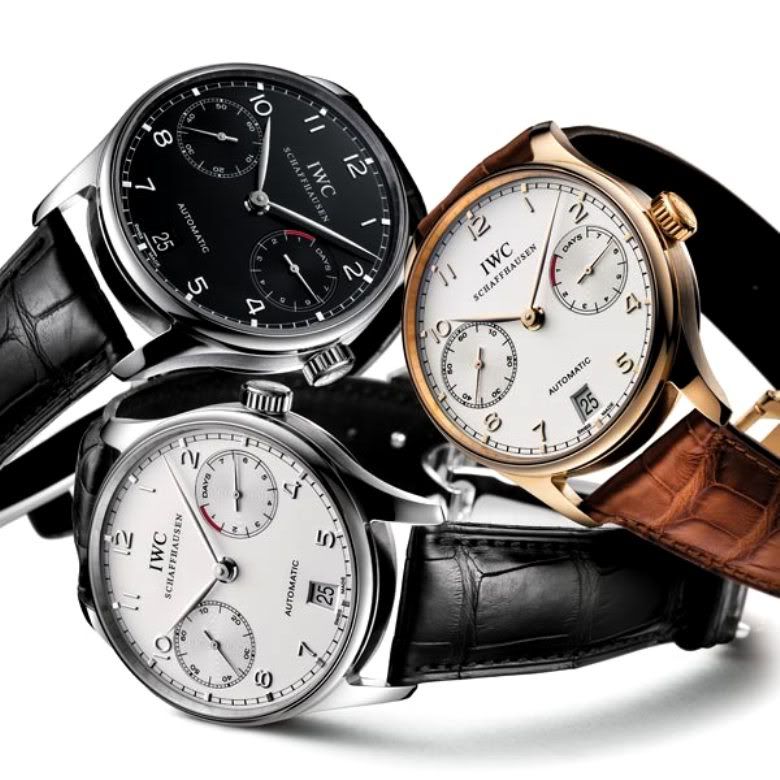 so what else is nice to me from iwc? skip over the big for bigs sake pieces... skip over the sports watch and the tacky marketing tieups... iwc to me is still about classic simple beautiful handwind watches... something from their pocket watch days... and they did this best in some of the watches i am about to mention...
the iwc portuguese jubilee limited edition ref 5441 coming in at 42mm... Introduced in 1993 to commemorate the 125th anniversary of IWC, with calibre 9828 ~ 250 in platinum, 500 in rose gold, 1000 in stainless steel. asking prices have gone up and up and its safe to say you won't be finding one these days for less than S$20k for the steel piece, the RG piece is in the high S$20ks or low S$30ks if I am not mistaken...
interestingly enough there is a 35mm smaller sibling the ref 3531 which because is a twin of the jubilee but smaller is pretty cool in the aesthetics dept on the dial side and its cheaper too with a different movement. reliable jlc 891 automatic caliber.... >USD3k to 5k for some metals, if you can find one... they don't pop up often probably because they are also such wonderful pieces...
you won't get to see many popping up for sale and when they do they normally go for quite a lot of change...
very nice handwind calibre reminiscent of the iwc pocket watch calibres of old... and its wrist watch calibre forebears like the cal 83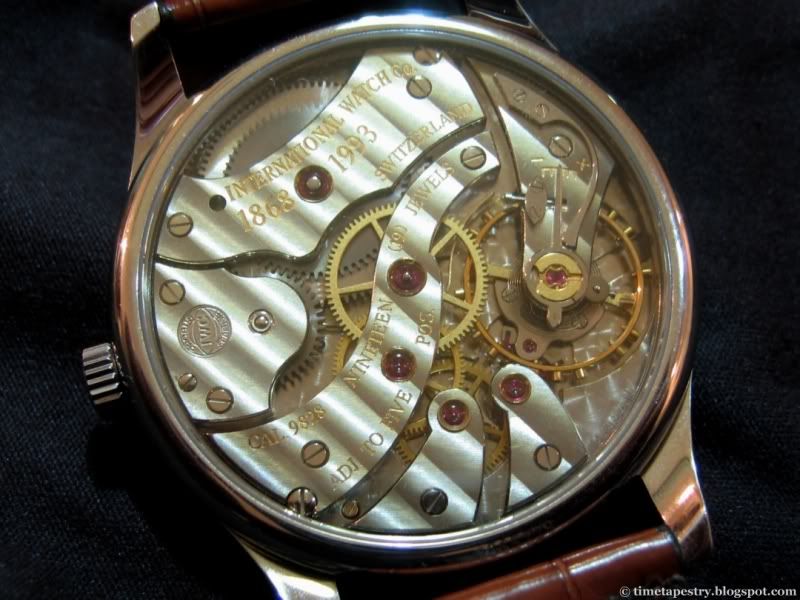 but i know this piece is not for me... why? i can't bring myself to pay S$20+k for it...
so i got this instead... a vintage iwc with the cal 83... as you can see, its more or less the cal the jubilee piece is based on and it itself is based on pocket watch hand wind movements of yore... pics of the front will come after i receive the piece... its gonna be an interesting discovery of it in the metal as i bought it breaking my rule of seeing it in the metal before buying... it is probably going to be too small for me but i am thinking of ways around that... hypno-theraphy is a consideration... repeat after me 'this 35mm watch is NOT too small for you...'
sellers pic for now... can't wait to get it... no swan neck but still fine in my eye :)