one 'fiddy' to rule them all? ;)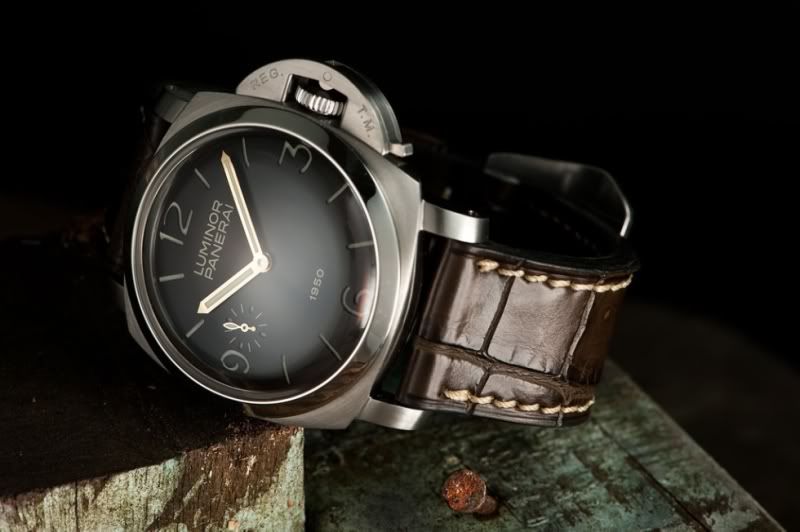 i haven't thought about panerais in a bit but as the new pams are getting delivered and theres a lot of interest in some sites on it, i thought of having a look and checking out the hype. now on a popular panerai forum site, they have been very good at building up interest in pams and creating "SUPERHOT" pieces at different times... the 127s (fiddy in the pic above) went through it, the 217s, the 249s, most black PAMs, pams with pigs... and the evergreens that are always cool 203s, 195s, bases etc
with the new arrival of the in-house p9000 movement for the entry level in-house models, the 312s, 320s are now in focus. the 312s getting the heat as pieces are being delivered. now its very easy to get swept up in hype but pause a moment and instead of baa-ing 'its coooollll...' lets just have a level headed look at it shall we...
PAM 312 ~
list price in sing is S$9,850
note this is all just a personal opinion and you may have different views or you may even own or want to own this watch. its all good yuh, u're entitled as am I :)
- the 312 is much nicer in my opinion than the eta based 104...
- nice 1950s case and sandwich dial is cool in my books
1) its not so in-house - its a valfleurier for panerai movement.
i don't subscribe to the whole in-house for in-house sake thing so this is not important to me.
if the price goes crazy then it gets to be an issue if its for a watch i like though :)
2) movement could have been better couldn't it? considering what they've done before?
- 3 days power reserve... the 233 has 8 days (handwind) and the other in-house movement i believe is 10 days so just 3 days for the latest?
- its black its red, what is it? the answer is that is a power reserve indicator... for the 320, they have a black 'alls well' and a red 'scotty we need more power' indicator on the back of the watch... a normal 'fuel gauge' style indicator would be better and achievable i would think, yes even with the rotor...
- on the 320, the gmt hand doesn't do a 24 hour indication for the gmt timezone which is fine if it had an am/pm indicator but there isn't one. i guess its good that the gmt hand can be hidden behind the hour hand since its a 12 hour indication though...
3) Purely personal nitpicks... they're both not really here nor there...
- the 312 is not simple enough with the date. i would have liked it so much better with the 3 and without the date and with a domed sapphire (baby fiddy anyone? :)
- the 320 is not gadgety enough with its lack of a proper 24 hour gmt indication (or am/pm) and lacks a proper PR indication and has a piffling 3 days PR...
the pam 320 was looking mighty fine to me... but it has its shortcomings ~ list is S$11,850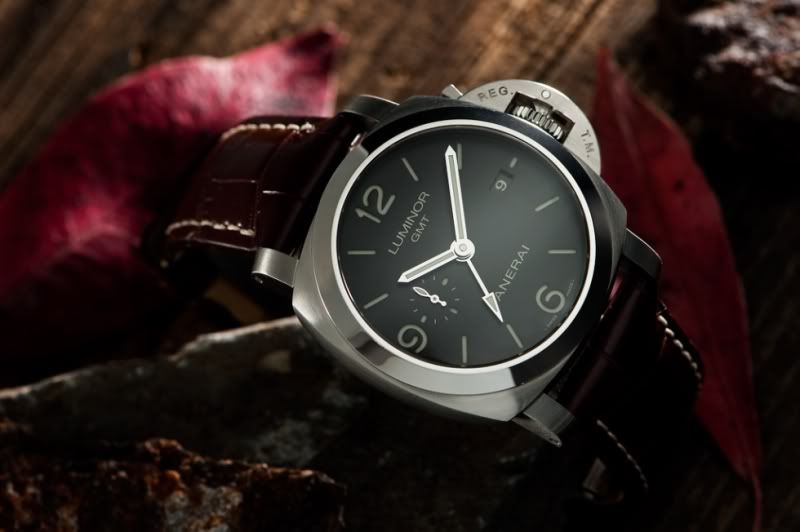 so the verdict from me then...
they're both nice especially looking at some of the fine pics above but i think they could have been better... and therefore these are not so much for me. actually i kinda think panerai may sometimes plan to come up short on some models to come out with a better iteration the next round but what do i know ;)
i do recognise some good things about them both but the pricing is the key thing putting me off them. it may be that the only pam i can buy is the simple zero as it has the looks and does cost about S$5k pre-owned (i believe, havent checked in a bit) panerai price inflation is i guess the biggest issue i have with the brand and wish that they had stuck to making nice looking big watches at a reasonable price and more accessible to the pam fans out there.
simplicity may be the best thing for pams...
something cool to note...
some of the pix above have been noted as taken by one martin wilmsen. he has taken some amazing panerai pix and has shared photography tips as well... all this can be found at
wristwatchphoto.com
so do check it out. thanks to martin for use of the pix above. he also does some great posts, check out the one comparing the 233 and 312
here
.
... and uhm something totally irrelevant...
in my google searches for PAM info/images, one PAM just kept on popping up over and over again and so this image to share for the big watch loving boys out there who may like other stuff BIG as well ;) haha... its jus for fun kids. cheers, raph
PAM 'thanks for the mammaries' andersen