ok so I found myself walking around town a couple of days ago and i tried on a couple of watches on my wrist and made several observations...
1) the MB&F HM2 is a great looking watch but it didn't sit nicely on my wrist this time round.. i dunno why but definitely if u're keen on this piece give it a try on your wrist first. also i had to give some thought into whether its a watch i can wear often. i.e. to work and i don't think so. it can't go under shirt sleeves and its a lot to pay for just a weekend watch for me... at a list of S$99.3k and selling for around S$70k give or take a couple of k for newer and older versions... its still a contender but there are doubts...
CONCLUSION: No HMs for raph? but its real nice... ok it stays on the list... perhaps... AAARRRGGGGHHH!!!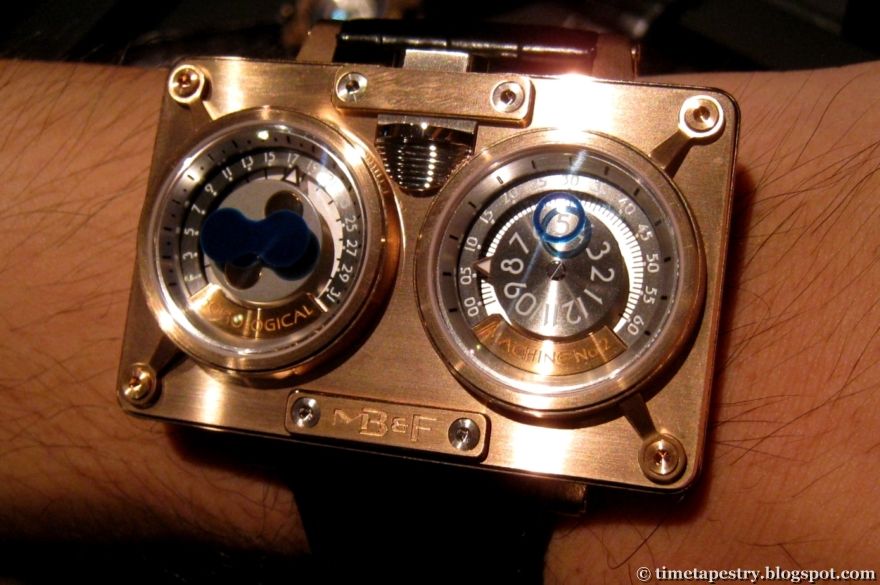 2) i had thought of getting a pam zero for the fun of it. but when holding it in my hand, a funny thought went across my mind, which was 'it looks like a replica' :) of course it was real but because its so easily replicable there are tons of copies out there. i guess the same can be said about Rolex. my view is just say NO to fakes, and yes they are for fake people :) my major issue with pam is on how serious it got over a short period of time (serious both in its ambitions to be a manufacture and a serious watch company and its very serious pricing too... seriously ;) for what was once simple fun watches with a great history and dna. somehow i don't feel a pam will be in my future... undecided too... will see...
CONCLUSION: No pams? think think think...
3) Corum golden bridge is nice... got to get the wife to give it a try and see how... this is a possible purchase for the wife... the list is pricey S$43,442 for the pink gold version but discounts are high and u're looking at mid to high 20s for a piece from an authorised dealer. on the gray market it goes for less though...
strong contender for the wifey...
4) Saw the RM11 singapore f1 2009 version with white rubber strap and dlc case and white flanges... the inner thingie... is list at S$136k and as its limited so theres no discount. some issues with RM for me... RM4v2 is a bit small and too pricey. the Rm11 is too big and too pricey for what it is... it has a not too fantastic vaucher base(same as the RM10 and RM5) with a dubois depraz chrono module (same as what AP uses for the ROO) and an unhealthy price...
look something like this but all the green bits are white on this one if i remember right...
CONCLUSION: No RMs for me... hmm but the RM005FM below S$30k is an interesting proposition :)
5) the A Lange and Sohne 1815 is at S$28200 and around S$21k retail at ADs... it is a very nice watch in the metal and its proportions are much better than the too big richard lange, the fat and small diameter dato, the humongous double split... lange has a bit of a size issue i think so it was interesting to find this 1815 a good size in the metal and on my wrist.
6) the Patek 5711 is about S$30k brand new... enquired for a friend. but the 5712 is low 40s new so is a much better buy impo. getting it from gray it would be high 30s but availability would be low now...
7) watch geeks pay too much attention perhaps to the movement and not to the front... case in point the A Lange and Sohne Richard Lange Pour Le Merite, men's watch and watch of the year winner at the GPdHdGAE09... most of the real pieces dials are in not so great shape. jagged edges which lead to visual imperfections on the dial. my thoughts are why focus so much on movement finishing when you can't do the face right. fired enamel for multiple dials is tough though but if u want to do it, then u gotta do it right no? definitely not the watch of the year for me...
and about the
Grand Prix d'Horlogerie de Geneve Asia Edition 2009...
... the c
ontenders
are noted below...
& the
raphmeisters picks
vs the
judges selection of winners
MEN's
...
Breguet La Tradition Tourbillon
vs
ALS RL PLM

(the ALS would be 2nd for me)
LADIES' ...
RM19

[Judges made the right choice ;) ]
COMPLICATION ...
Greubel Forsey Quad Tourby

[Judges made the right choice ;) ]
DESIGN ...
MB&F HM3
vs
Urwerk CC1

(CC1 is just a bad design for me)
SPORTS ...
AP ROO Bumblebee
vs
Urwerk Tarantula

(The Tarantula is quite nice but its not a sports watch... unless 'pulling' is an official sports in the olympics or somethin ;)
JEWELERY ...
Hublot if I am forced to choose
vs
Cartier Panthere
WATCH OF THE YEAR ...
Greubel Forsey Quad Tourby
vs
ALS RL PLM

(the greubel forsey rulez...it just does... nuff said)
some other info...

Lifetime Achievement Award ... Nicolas Hayek of Swatch Group
Trailblazer Award ... Karl-Friedrich Scheufele of Chopard



The Nominations Committee:


Dr Bernard Cheong (Singapore)
Mr Su JiaXian (Singapore)
Dr. Masanori Kondo (Japan)
Mr. Bertrand Mak (HK)


the winners were decided by a jury comprised of enthusiasts and collectors and they were...
Ms Jenni Wu (Singapore)
Ms Lee Kian Hoon (Malaysia)
Mr John Clang (Singapore)
Mr Daniel Liu (Japan)
Dr Xu Zhiming (HK)
Mr Sumate Lopinich (Thailand)
Dato Mokzhani Mahatir (Malaysia)
Mr Michael Seet (Singapore)
Mr Laurence Wee (Singapore)
Mr Peter Chong (Malaysia)