13+ years ago that is... The Mare Nostrums...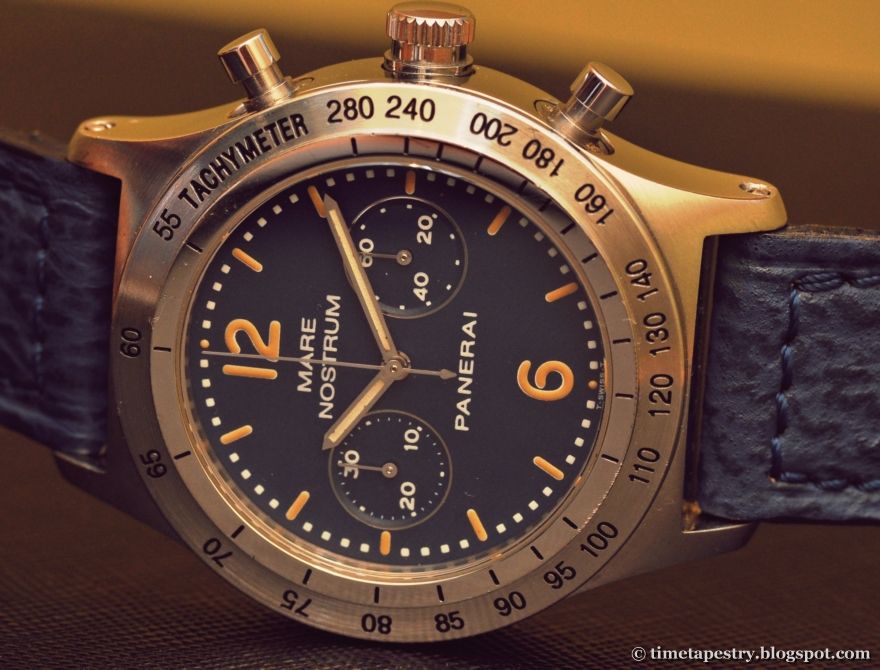 the more funky / derivative / contrived stuff they come out with the more i look at the older releases... here's one that came out Pre-V, followed by Pre-A & A. [the V in Pre-V is for Vendome which bought over Panerai from the family in 1997. Vendome is now the Richemont group and the A is just somehow seen as the 1st series of Panerai that was released by Vendome in 1998. So the Pre-As are panerais that they released prior to the A series ie sometime in 1997. Part of the pre-A lineup consisted of a chronograph model with 3 different colored dials, blue, white and black, the pam6, pam7 and pam8, the mare nostrums (latin for our sea, which is what the Romans called the Mediterranean sea)... all in about 400 of these were made in all.
photos don't do these watches justice... in the metal and with a good patina going, these watches KICK A$$!
it was made with deck officers in mind for wwii. the proto was 52mm... and well they came out with one this year thats... 52mm... but 52mm is pretty damn big even for big boyz so the 42mm that these ones were at just make a whole lot more sense...
Pre-Vendome... differences between this and the A and Pre-As is the flat bezel, the km/h instead of tachymetre, fonts and indices... both though are really really nice :)
i would like to thank the owner of these watches for sharing them with me over a meal and good conversation... its always nice to meet other cool folks along this journey and there are some fine ones indeed in the paneristi crowd... shout out here to Gabriel... a cool watch/panerai collecting dude indeed... starting out young too :)
all current or future classics impo ;)