prototype of a kick-a$$ tourbillon... kick-A$$! was informed that M. Journe sold this to his friend and first client...
i like asking other watch passionistas whats next for them... what have you been researching on? hunting for? is it an elusive iwc or patek? is it a vianney halter classic or antiqua... well what is it??!?! :) for the raphmeister... the phrase oft heard by mrs. r is 'this is the last one honey... no more watches for me' and we both know its BS of the highest order... after my freak acquisition it was
'no more watches for the year!'
... and i got the antiqua a few months later (head scratching...) but this is a definite thing... raphmeister having very finite resources will be getting only one last cheap watch this year... and no more!
(for the year :)
but if i had the money (eg if i struck the lottery or have a rich distant relation that i have never met pass on and bestow a couple of 100k to me or any sudden windfall from sale of body parts that i don't need 2 of) i've decided... the one tourbillon that i want will be mine... the FP Journe Tourbillon Souverain à remontoir d'égalité or the one wif avec Seconde Morte... hubba hubba hubba
no official numbers of the original tourbs made but it is believed that there are less than 400 out there today... about a 100 ruthenium dial LEs, 200 in plat, 50 in rose. for same dial and case combos, about 80s out there. its the first wristwatch made in the world with remontoir = a more constant outflow of energy from the escapement to hopefully give u more accuracy (isochronosim) for the time. end of day its just a time only watch yuh :)
there are 2 versions of FPJs tourbillon remontoirs.. the first sans dead seconds is this one... which is probably my fave dial color combo for this version...

and the second one up is the one with dead seconds. what does dead seconds mean raph? well u know those quartz watches that tick second to second? well thats what the dead seconds is about. instead of sweeping it jumps from second to second like uhm an analog quartz watch... but of course this is a mechanical wonder and art (said with no tongue-in-cheekness) after the second is up, it jumps to the next second so it should be ultra accurate to the second... u see comparo pics of the 1st and 2nd one below...


note the orientation of the power reserve indicator at 12 o'clock position for the 1st and 2nd one... one without and one with the seconds dial... the cock attachment shown on the dial to hidden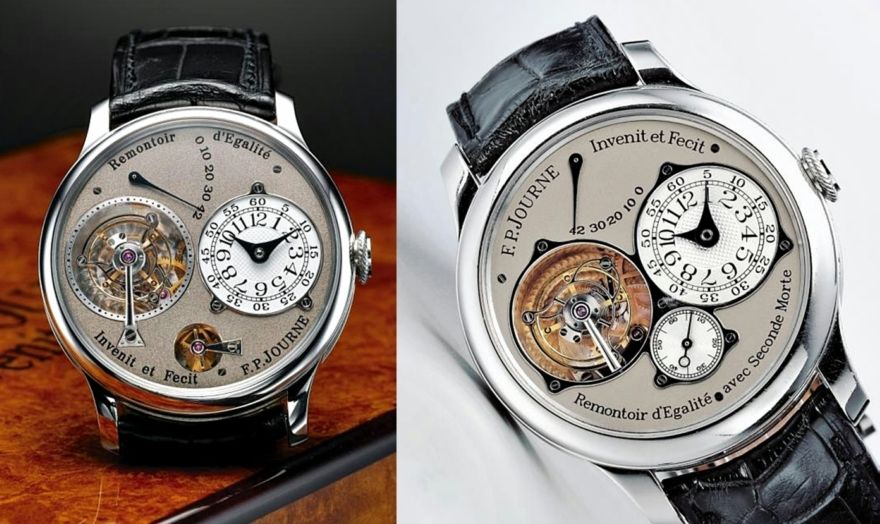 one thing to note about fpj is that he creates and prototypes them beautiful watches and once they are created fresh and new and working ok for awhile, he outsources production of all the bits and pieces that go into it. when these bits and pieces are made they ship to his shop and he has folks that put them altogether working for him in montres journes. so the quality of the watch then is dependent on the quality of the stuff his suppliers make. if they give quality stuff than u have a quality watch. if they give stuff that isn't up to it in terms of tolerances and fine-ness than well u might get a not so great ticker.
[note: i believe as of 2006 most of the production has been done in-house. a source states over 90% is done in-house. note what this could mean is that Journe bought over or into the companies that supply to him the parts which is perfectly fine of course. some of it may be done in their own buildings though. i won't know the %s...so if your watch is made post 2006 and has issues, it means Montres Journe QC is not up to scratch]
many fpj owners will be able to relate quality issues they have faced with their watches. also of repairs needed within the first year of ownership. dates that went past 31... power reserves that couldn't hold power... etc etc etc. now some folks would jump up and down if their $10k watch behaved this way. if their $50-100k watch behaved this way... well u get the picture...
uhm lets see... what version is the bestest? i'd take the dead seconds with a dark dial ruthenium or black mother of pearl... and for the 1st version probably the yellow gold dial...

so i would say fpj, and a fair number of the independent manufacturers who have small volumes and require specific parts, beholden to certain suppliers out there could be not the best choices for folks who can't accept that their exotic timepiece may require more tlc or more trips to the factory than say an eta/unitas workhorse at a fraction of its cost. how we suffer for our love of art ;) [side note... a bit of history... in 1989 THA had fp journe, denis flageollet of de bethune and one vianney halter working for it :) 3 french watchmaker buddies who worked in a movement concept company and did some astounding work before they went their seperate ways...]
oh but what lovely art it is...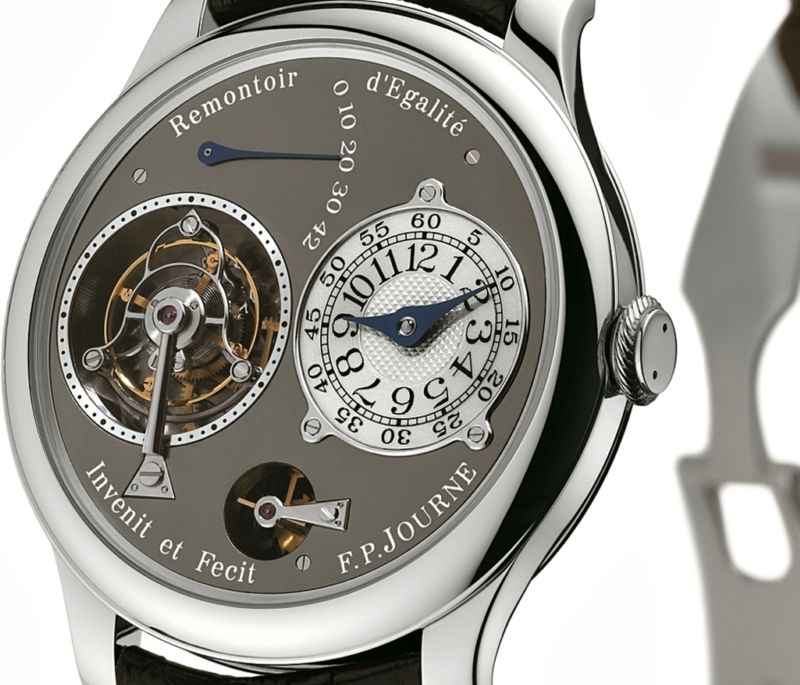 retail for the plat is about US$150k if memory serves me... rose gold at US$130-140k maybe... retailers will give u some discount so we're probably still looking at above US$100+k... in the secondary market though it goes for about US$50-80+k at dealers and auctions... the black label going for about US$100k in the past. these are so rare though so they may go for more if they ever popped up... theres one coming up on may 2010 (
click the link to go to auction info: Estimate US$37-56k
)... 38mm, white gold dial, brass movement may not be the bestest combo though... but if u want a proper tourbillon, i would recommend this over all the junk shown in the last few years... another nice tourby is the
haldimann h8
but i think that'll cost a fair bit more...