this is something that i chanced upon a while back and on communication with its author he noted that he was fine with me using some text and photos from his experience. the story in full can be found here
(
CLICK THIS
)
and i do recommend that you check it out..
. but over here i just wanted to point out some things that are done at the atelier and some of the photos that interested me from that post. so my hats off to
Steyr for his detailed report on his four weeks at the atelier and my thanks to him for letting me repost some of the photos which have been tweaked by the raphmeister... so through his captures and my re-visioning... do come with us through the looking glass :)
the cases of the watch which most people outsource is done in the manufacture and the polishing too...
People who know watches, know that a lot of whats made these days are outsourced or provided by suppliers. A few manufactures do however look to do more parts of the watch in house then others. it goes back to a philosophy i suppose. the best way of ensuring that you
get something done right and to the quality that you demand
is if u do it under your own roof... so in the next series of photos and text, i will share a bit on what exactly is done under the roof at the Manufactures Janvier...
* Conceptualisation and design of the movement to testing & development
* Creating most of the watch's parts with machines in the manufacture...
* Hand engraving of the dial and case
* Crafting and manual bluing of the hands
* Making and finishing the case (eg.
the case of the antiqua is made out of 6 different parts assembled by invisible soldering... and the finishing is pure perfection :
)
* Constructing the watchwinder which is also the watch box that the Antiqua comes in
* Finishing the watch movement, application of perlage and cotes de geneve
* Hand assembly

a movement of an antiqua waiting to be cased... it takes over a month of work in pre-assembly and the assembly to get it to this point...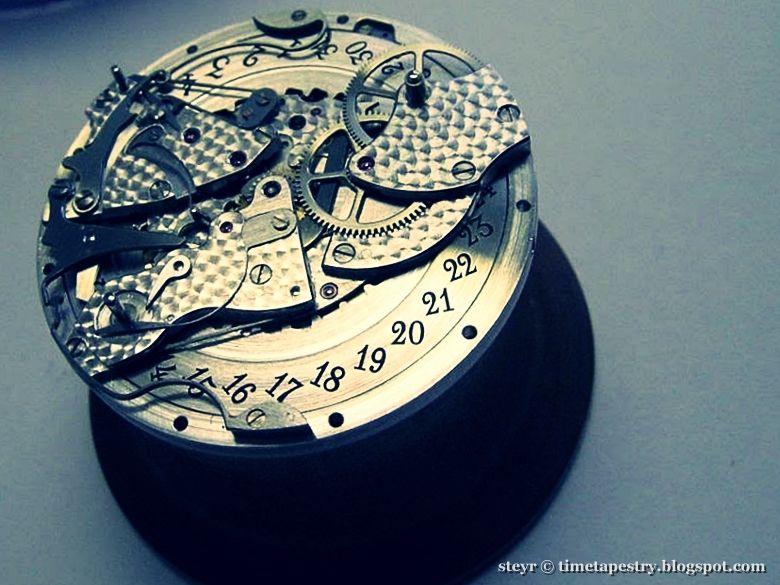 hand assembly done by one of the watchmakers at the manufacture... Christian L
and after it all comes together... an art time piece that can make one dream...
[ click to read the rest of the post... expand or collapse ]