ooh look at what the mailman brought today

My belief is that a strap can make a watch so finding the right strap is always important. With certain panerai models, coz of the ease of strap changes, lots of folks end up getting tons of straps they like or think that they will like, never having seen the live sample as alot of these deals are conducted online, and they soon find their way onto the accessories corner of paneristi or via paneristi having been hardly worn, some never even mounted.
I decided i would rather buy only straps i think i will love not having the chance to see most of them in the leather and be ultra selective with them as wif my watches as end of day, the strap doth maketh the watch :) and u can only put 1 strap on at a time, similar to only wearing one watch at a time...for most regular folks anyway :)
So the hunt began and thanks to paneristi, tz op forum and the strap sellers,u can see literally thousands of straps online on different pams and in different live situations. Many great straps n sellers are noted as well... greg stevens, simona, zeugma, xamas, kevin bigb wwII ammo, piotr makeuch tiratore scelto, abp, hktan, strapculture, of course the panerai oems...and then there is gregoire texier...
gregoire's straps are amazing works of art. it has a distinctive rugged vintage look about it and the amazing abiliy to transform your panerai into a mean looking sunofabeeyatch and it was a winner in my books from the getgo and i had to have me one. After some effort on my part its finally here on my watch, not on my wrist as yet as I got to punch some additional holes. Gregoire was a gentleman to deal with and this was a very very happy transaction. enuff of words then...a couple of quick and dirty shots tonight. came home from work at 730pm and had to post something tonight. it is amazing
signed by the master with a great personal touch
thanks gregoire... its right to have my name on it as i will never EVER
part with this ... some watches may come and go but this strap stays :)

very quick and dirty shots for now better ones will come over the weekend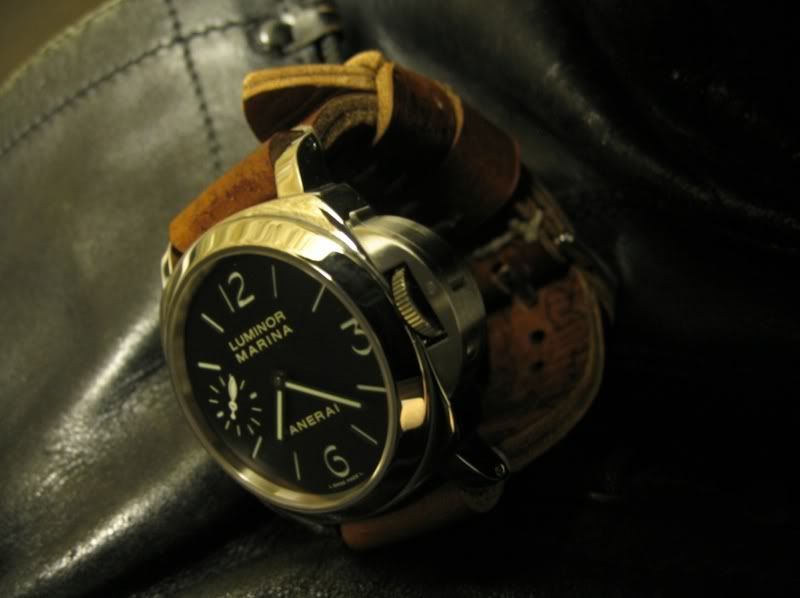 sorry did you say you like em long?

some tail on this baby and the keepers are AMAZING
I am getting the holes punched tomorrow and it will be on my wrist then... stay tuned for more pictures of this amazing strap over the weekend ;)
merci gregoire