GTG in full effect... Cool people... Cool watches...
& the raphmeister gettin
his hands on some PAMs ;)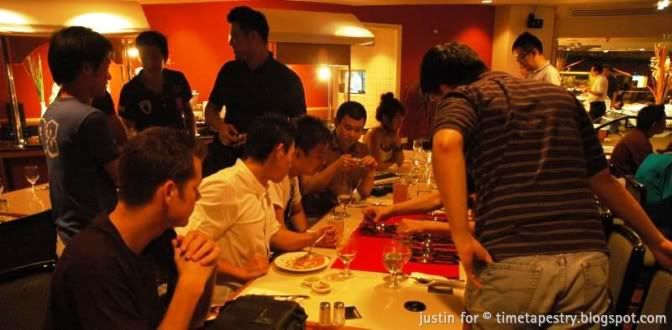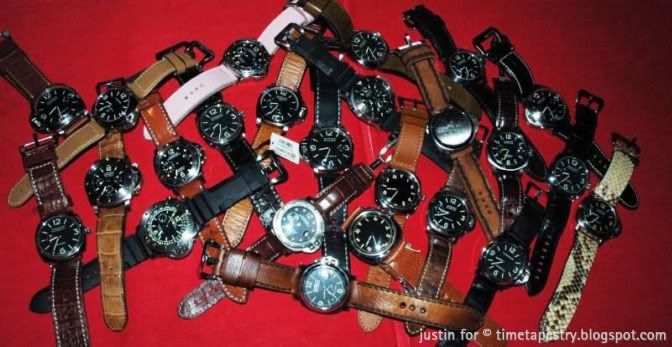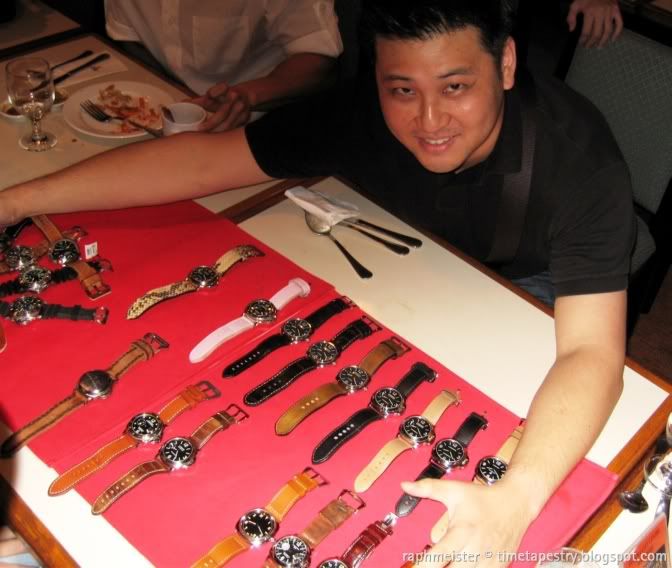 I remember a time when i spent a fair amount of my surfing time on paneristi.com and other sites with lotsa panerai content. It was interesting to observe the camaderie n the clique-ishness of the members on some of these sites... In general though, paneristi.com seems to exist to promote the passion for the brand, the purchase of more and more of its product and the continual upgrade of models until you hit the hot pieces with a lot of straps thrown in for good measure.
What is interesting to note as well is it also seemingly decides whats hot and whats not from time to time. So sometimes(or nearly always) the fiddy is in play, sometimes the
cali
is in play..then the turn of the 217, 232..the base models get love..logos get love, pre-A n pre-Vs n the 203 gets love... n cycle, wash, repeat...(note i think all models have their day in the sun or is it suds ;) and of course the constant refrain... 'you wont be complete without a t-dial or ceramic/pvd panerai'
t-dial rules as always... this luvly piece on cool python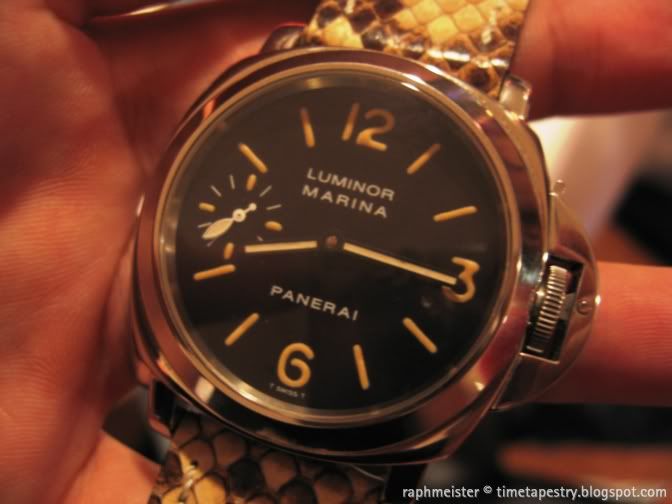 Other than this, there is also the
gtgs
. Where they meet up, do shots of prized pieces, may do giveaways n chat abt their passion for panerai. I tink some other brands would love to have this same type of following behind their watches but its not so easily created. panerai somehow had all the right elements ... the military history, clean, rugged looks, marketing power mixed together produced the fever and the passion...
Although panerai has in recent times focused on its manufacture credentials, i believe that to be a waste of time. Check it..The hottest pieces in recent times have eta bases n 1 can easily conclude that its nearly all abt the looks n their similarities to historical pieces. The watches wif minerva movements r just confused. They would hv been just as popular if they had eta movements given the small number made. Basically panerai wants to make as much as they can from potentially hot pieces rather than let flippers n the grey market make dat money n they cant go too crazy on the list price if its just an ETA inside. So in the name of profit maximisation, do anything other than eta/valjoux/unitas.
For me and some others I know then, panerai is about the looks and its very little about horological significance. For me personally, it doesnt make any sense to pay anything above US$5k for a simple ETA based watch that i'm getting coz it looks nice... but this is a very personal choice of course as I have friends who have spent US$10k to >$30k on watches with ETA bases. (not referencing those with greater complications piled on top of them)
whatever the case, panerai look to continue to reel new people in and it wouldn't be wise to bet on this steamroller slowing down anytime soon... even if i am critical about moves they have made in recent times :) with that i leave you with more pics of the
singapore paneristi gtg.
.. nice guys and gals enthralled in the spell woven by this brand from firenze...
the organiser with the crooked brow taking his shots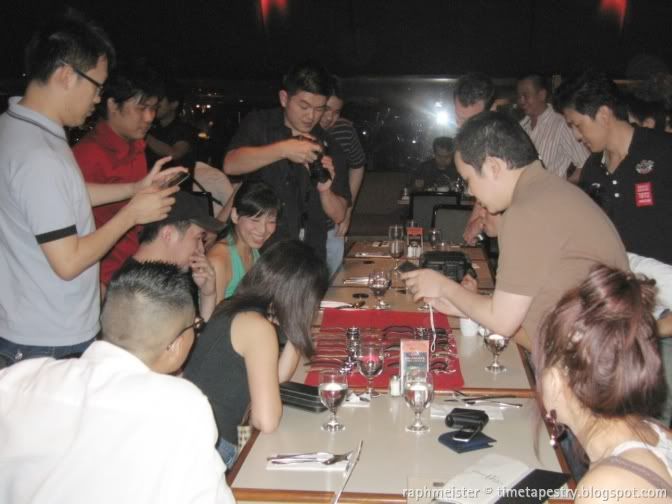 george spied something he likes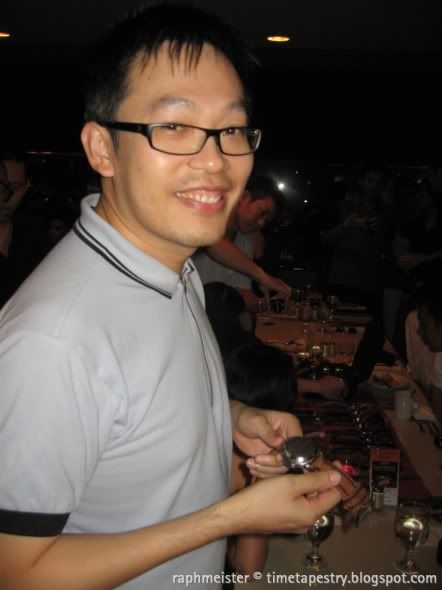 ooh its 'purdey'... as in the panerai purdey blackseal or pam 76
count em ... 1,2,3... 3 217s in da house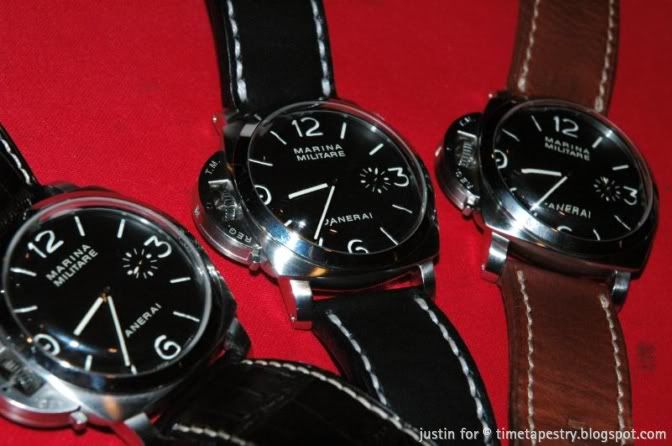 some radiomir cased luvlies too... the calis and the 232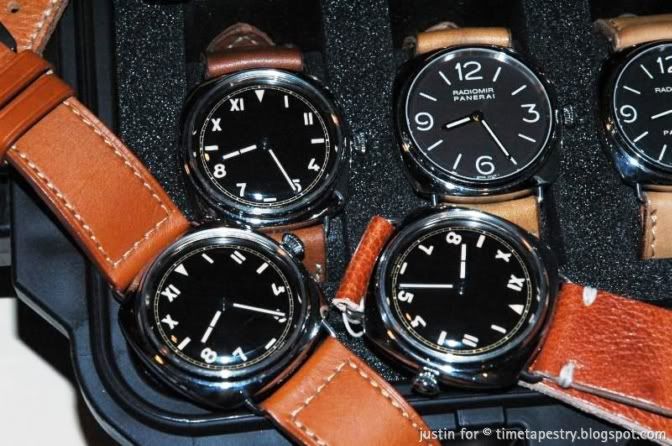 some cool special editions pieces...