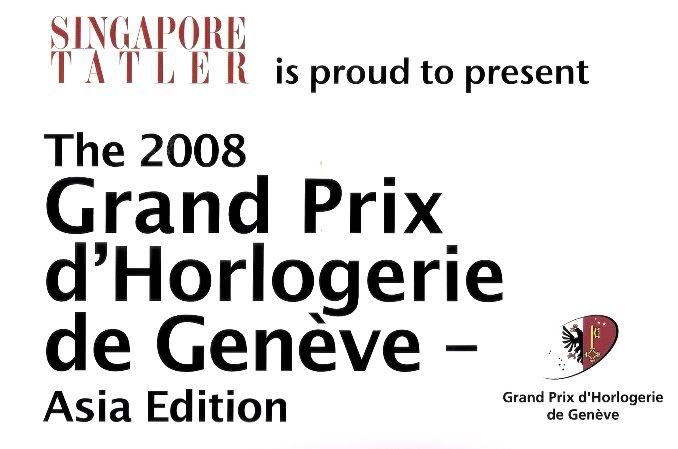 the venue was the wonderful Four Seasons Hotel Ballroom...
an excellent choice... the watches in contention on display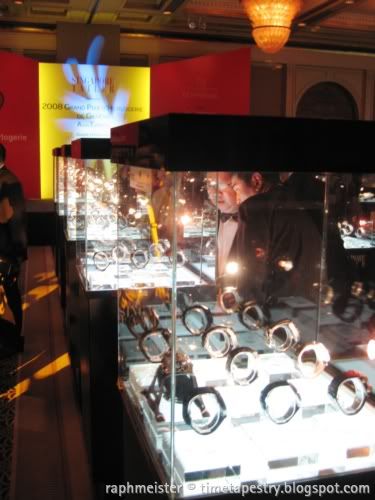 fp journe, a watchmaking genius, jean todt, a ferrari man... ceo and former scudeira head and richard mille, a creator and visionary...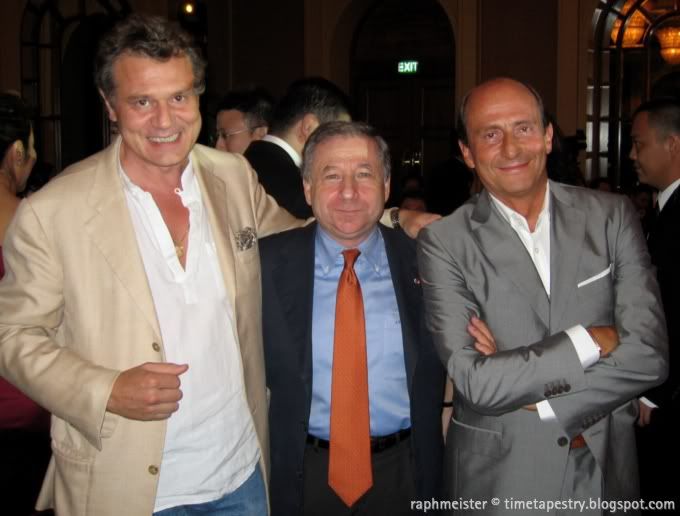 Ok so what is the GPHH? The easiest way to break this down for someone who doesn't know much about it is that its the
'academy awards' equivalent for the watch industry... the
most prestigious awards ceremony and this Asian edition is the first one held outside Geneve and Singapore was chosen for it...


Congratulations to all the prize winners for the nite, the excellent co-chairs Dr. Bernard Cheong and Wei Koh, the great jury selected and Singapore for hosting a wonderful Asian edition of the GPHH. It was nice meeting some of the jurors in person... I had a short chat with Linda, a great collector and enthusiast and met Audric on the nite... Audric is a top chap and shares similar views on the perception of fine timepieces as art... a living and evolving one... we share a common passion for works such as mb&f, freak, vianney halter and other independent horological machines...
Some of the fine jury panel with co-chairs and organisers, Minister Lee & VIPs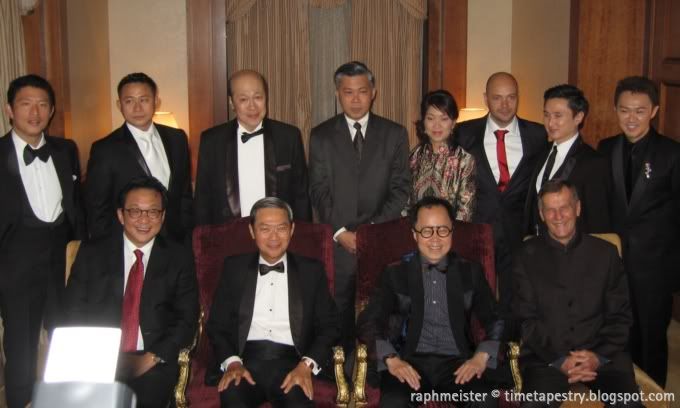 On to the prize winners then... and my predictions, some right on the $$$ and one or 2 off by a mile :)
ladies watch -
Winner is the Little Lange 1...

I still think the
van cleef and arpels should have won... i liked the Cartier next and then the Piaget... Lange for ladies? hmm

mens watch -
Winner is the Harry Winston Ocean Dual Time...

It is nice but I preferred the vc quai de i'ile in this category...

design watch -
Winner the AP Carbon Concept!

Yes! :) I had wanted this watch or the cabestan to win... both are just fantastic in the metal... the only bad thing on the cabestan in the pick below is that whole titanic metal thingy...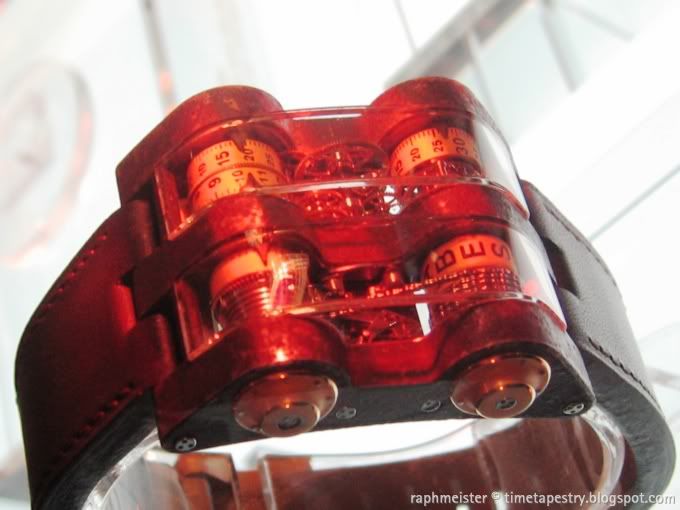 AP has a winner here... this black beauty totally works...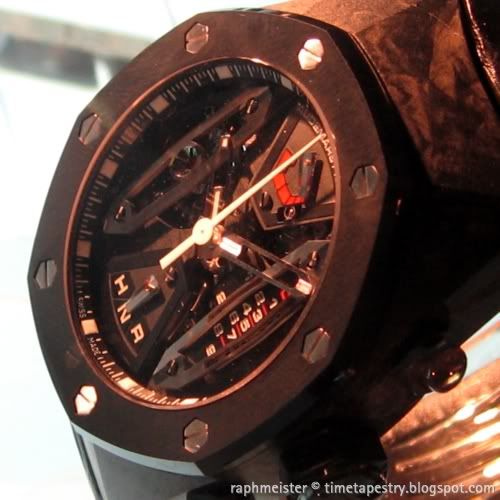 jewellery watch -
Winner cartier panda...

My choice and fave in the lineup... the panda is too cool... spot on for this
complicated -

Winner
jlc gyro II...

Got this right
sports watch -
Winner jlc diver...

Got this right too


full calendar watch -
the hermes won
... this was a bit weird for me as i would have bet money that it would be one of the last selected to win... For me I had hoped the AP Jules Audemars Equation du temps squelette or the Harry Winston
would pick up the honor
Public prize

- AP Ladies ROO...
uhm, my thoughts are that this may have to be managed better next year... i am not sure how many votes they received and if enough time was given for this to be in the public consciousness for a selection by the public to matter... more publicity, earlier would have been great... (just some lite constructive tots yuh)


Watch of the year

- JLC Gyro II... an obvious winner and
most deserved one too...

this watch is poetry... a ballet... and so very special... it would win in most fields of competition for watches


2 awards presented to individuals on the nite went to Richard Mille and Rolf Schnyder, a legend in the making and a legend, in the watch industry... congrats to the 2 fine gents...
richard mille and raphmeister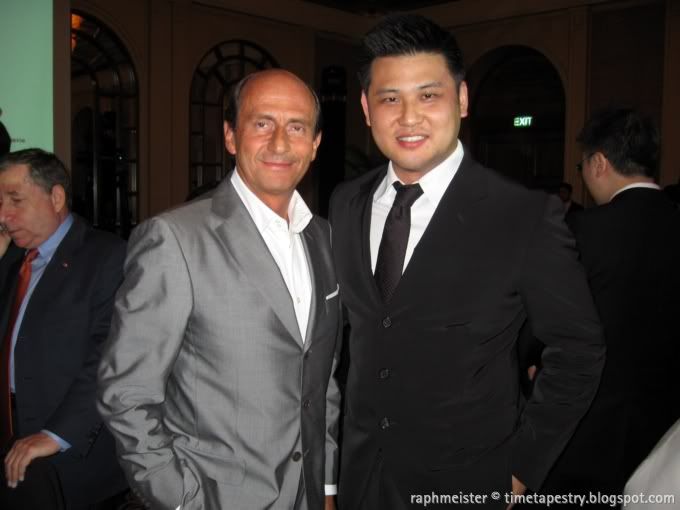 Two things made this night really cool...
and are important to note...
The first is Bernard Cheong...
for his efforts in having this event in Singapore and rounding up a credible jury from countries in South East Asia and a solid voting system by engaging Professor Landi. Bernard is an influential voice and all round top chap.. an enthusiast and significant collector and his contributions to the watch community here have been just tremendous and greatly appreciated...
The second is these guys...
my watch nut friends ;) ... Its great to see not just the ultra high rollers but the enthusiast /collector community was able to participate in this significant event... we enjoyed ourselves tremendously...
Professor Massimiliano Landi, an awesome guy who came up with the voting
system for this event, me and Dirk, an all round great guy who has a penchance
for pocket watches other than wrist watches... some of us came double wristed
but Dirk had to have a 3rd somewhere bouts his tummy :)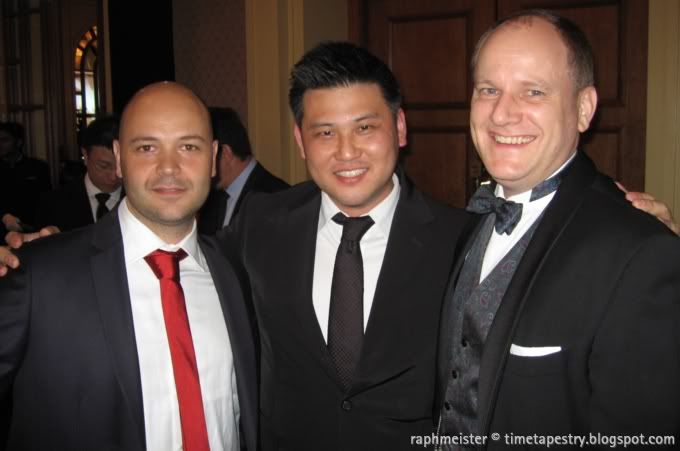 the wrist shot :) the boyz doing it in style
and lastly whats a party without some fine lookin ladies... 'hey good lookin'
one of the delectable twins... may, i believe, resplendant in red...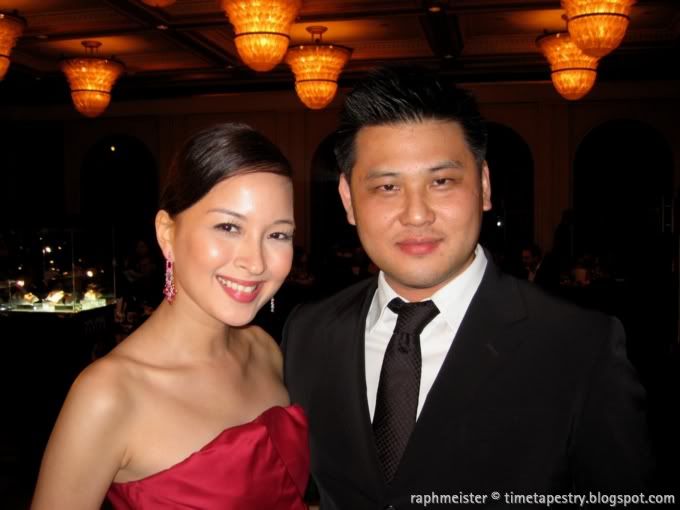 michelle yeoh... she had many admirers/fans seeking photos etc and
i admired her graciousness thru it all... a fine and lovely lady indeed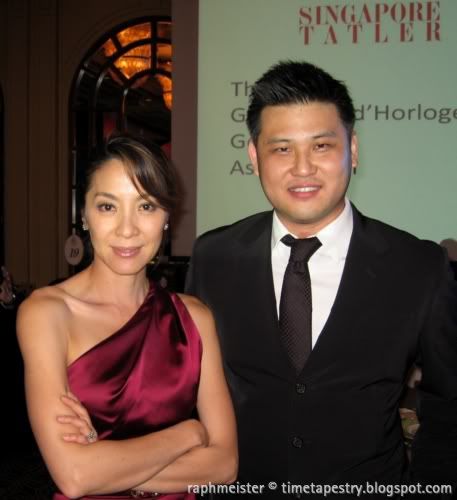 Caught up a little with Irin... lookin fine as always...
she has been busy with her Bucherer event which is
comin up soon i believe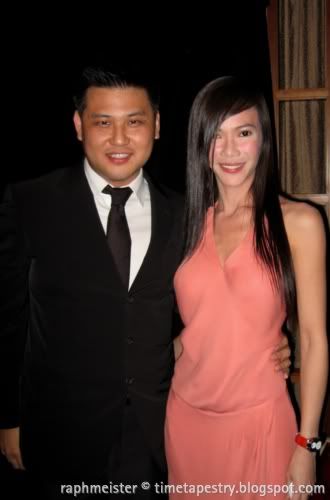 and whats a cool Grand Prix nite without an F1 driver ey... uhm oh its not that
kinda Grand Prix... oops... :) anyways sad for his bad luck at the

Sing F1 GP



but there are a couple more races to go and more championships for him ahead...
keep yer head up mate ;) Felipe Massa and tifosi raphmeister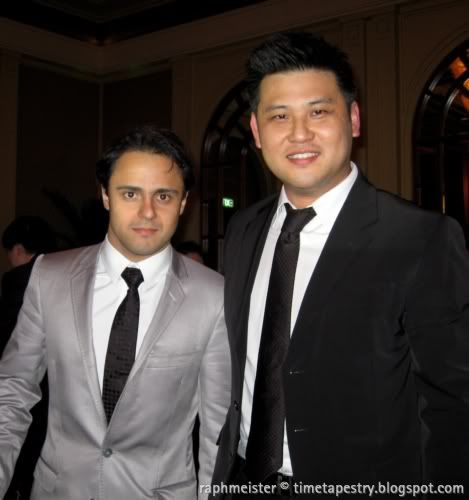 and thats all from me for this amazing nite... once more a
HUGE
thanks to the organisers edipresse, tatler, daum, singov and all involved parties for making this such a wonderful event. i look forward to the next one and many after and hope to lend my support and contribute more towards it.. this was just a fantastic nite and a resounding success on all counts... hope u enjoyed the report :) cheers