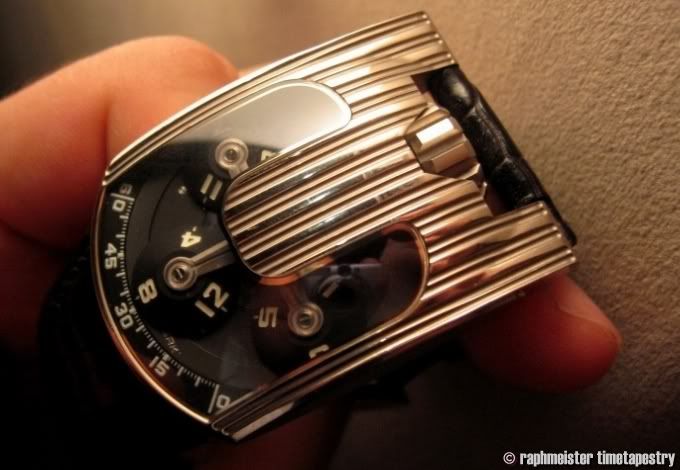 we're coming to the end of 2008 and winding down to what has been a very topsy turvy year. t
he financial crises and how deep its impact has been was unexpected by many... but life goes on :)

As we head into the holidays, I wish all of you my dear readers, that you and your loved ones are doing fine and well through these turbulent times. And although there are signs pointing towards more challenging times ahead, that you will weather this storm with peace, joy, happiness and shalom in your hearts and homes.
i was going to wax philosophical and talk about whether you have stopped to ask whats important? about how you perceive yourself - your 'self image and coolness'.. and what it is you hope to obtain by buying expensive toys and adornments and how the marketing folks are feeding off it.. and the biggie 'what exactly is it you're looking for and have you found it?' wading through recognition, spirituality, true love and acceptance.. but lets not go there right now :)
instead i leave you with watch ideas that i was thinking of doing full blown articles for but they're here for you for free during this season of giving ;)
1) What watches to buy in times like these?
Note this advice applies to you only if you have the $ to spend and my suggestion is wait it out a bit longer as prices will decline further. (thats about the same advice for many things right now i suppose :)
What not to buy is regular production watches which u can get in good times and bad. although slightly cheaper now, you can always get it in future when times are better.
What to get, finances allowing, are the more elusive and rare watches that are popping up for sale as times get worst, at the price that you are comfortable with. the older and rarer Pateks & Rolexes, the independent works of horological art,
select
limited editions and limited production watches... but most importantly you must love these watches. i would recommend you never buy watches purely for investment purposes.
this lovely Dufour is an example of a watch that should
be grabbed if available on the secondary market

2) What are your recommendations in the different Singapore $ price ranges?
This question gets asked and answered rather often in watch magazines but they don't have the breakdown i am giving below, the mags normally having much broader price bands and not many recommendations to make. Do know that I have seen and held a fair number of watches including those recommended below and these recommended pieces and ranges just reflect my taste and loves in the watch world (a small number of which i own or plan to own someday :)
ok lets begin.. & do note the following.. po=pre-owned, a watch noted as po in the price bracket its in is because it should be considered to be purchased pre-owned. some because they are not current production pieces anymore and some because of softness in secondary market prices.. all numbers below in singapore dollars in thousands of course :) [use a currency converter to change it to your currency of choice yuh]
raphmeisters watch recommendations
across price ranges


0 - 1:
Select Seikos, Casio G-shocks, Swatch and Fossil Starck Watches
1 - 4 :
Select Sinns, cheaper Rolexes(po)
4 - 6 :
Rolex No Date Sub (14060M po), Vintage Omega Speedmaster with Calibre 321 (nouvelle lemania 2310)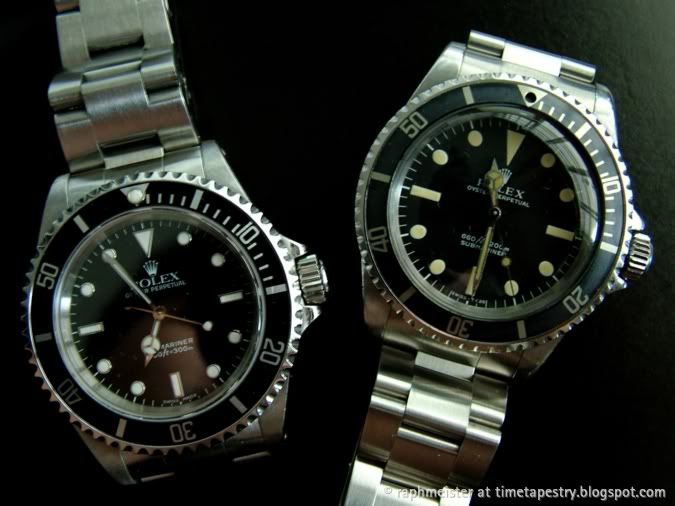 6 - 10 :
Modern Rolex GMT IIc, Milgauss GV. Seadweller 16660. Vintage Rolex 5513, 1675
10 - 15 :
Audemars Piguet Royal Oak 15300, IWC Portuguese (black dial), JLC Reverso GMT, JLC MC EWC, Gerald Genta Mickey Fantasy Sailor or Aviator
15 - 20 :
Audemars Piguet Royal Oak Offshore Themes Black(po), Rolex Zenith Daytona, Breguet La Tradition(po, manual wind yellow gold), Vacheron Constantin Overseas Dual Time black dial in Steel
20 - 40 :
FP Journe Octa Reserve de Marche, Vianney Halter Classic, Lange 1, Vianney Halter Gold Pfeil, Patek Philippe 5296, 5196 calatravas or simple annual calendars like the 5396
40 - 60 :
Lange Datograph (the rose gold black dial first, the platinum second and the light dials last), Audemars Piguet Royal Oak Quantieme Perpetualle Squelette(po),
Ulysee Nardin Freak 1 in RG(po.all time fave)
60 - 100 :
Patek Philippe 5140 (or other PP perpetual calendars), Patek 5070, FP Journe Resonance, Rolex Paul Newman Daytona, Max Busser and Friends HM2,
Kari Voutilainen Observatoire(my fave this year),
Lange Dato Perpetual, Urwerk 103,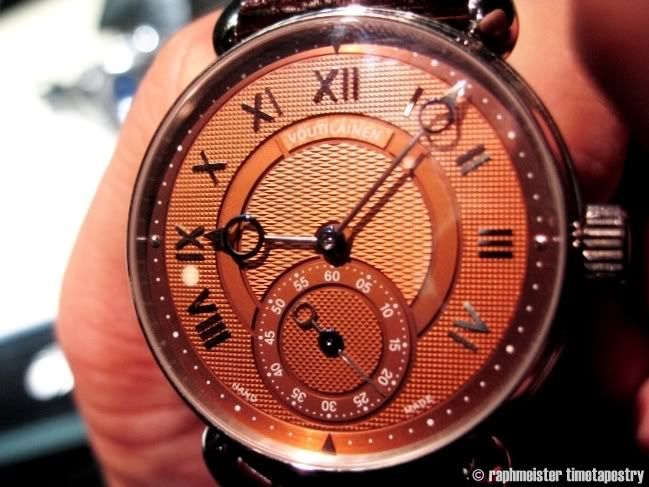 Above 100 :
Vianney Halter Antiqua RG(all time fave)
,
JLC Gyro-tourbillon II, Urwerk Black Shark, Harry Winston Opus 3 and 5, Cabestan, Vacheron Constantin Malte Openworked Tourbillon. Offerings from Greubel Forsey, Philippe Dufour, Kari Voutilainen, FP Journe, Patek Philippe Grand Complications, Audemars Piguet Cabinet and Concept series, Richard Mille Tourbillons (with work by Renaud et Papi)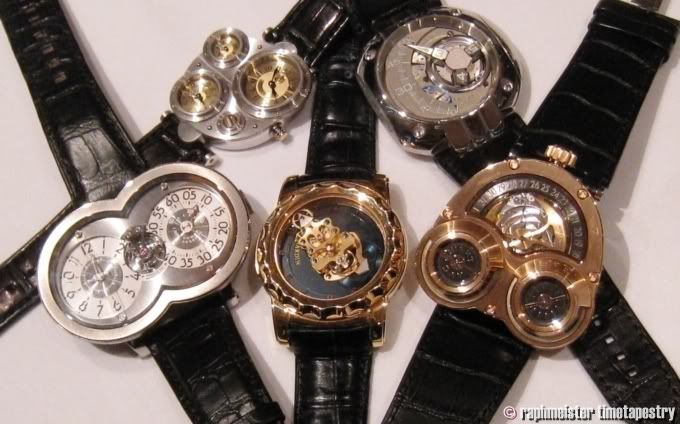 if they didn't make the list, its because i know them and they don't do it for me across all the watch groups(Richemont, Swatch, Sowind, Movado, Bvlgari, LVMH, Hermes, Watchland etc) to independents (AHCI folks & others).. yes i know, mih is not there and mr oeschlin's new line also doesn't do anything for me, vaucher based RMs, and grand seikos aren't there as they're not for me too..
If u agree with >80% of the picks here, you are cool in my books… 50-80% we gotta have a chat… less than 50%, then we will need to re-brainwash u ;)



Have a great year end, a Happy Christmas and New Year!
Cheers, Raphael