The following post is a short report from some time I had with two amazing timepieces by Greubel Forsey... My thanks to their excellent Marketing & Communications team and the fine folks at Yafriro in Singapore for this.
Greubel Forsey
is a high end watch manufacture producing some of the most exceptional and exclusive timepieces in the world today. From my short journey in learning more about them, to my knowledge, their philosophy is on
inventing innovative and new mechanisms in horlogerie, as evident in their pursuit of inventing relevant tourbillon systems
for the wrist watch,
which will actually contribute to its accuracy and chonometrie [as most watch enthusiasts know, the main purpose of the tourbillon in its original form was to negate the effects of gravitational pull in the vertical position for pocket watches as it was worn in that manner].
In this pursuit, they first came out with the Double Tourbillon 30° at Baselworld in 2004 (which has a second carriage inclined at 30° placed inside the first carriage), followed by the Quadruple Tourbillon Differential in 2005 and the Tourbillon 24 sec incline in 2006, creating what many, myself included, view as highly sophisticated mechanical wonders.
In the metal, these watches are pretty spectacular. they have a nice substantial feeling, a certain lustrousness to them, a solidity in the hand and on the wrist. An impressive aesthetic all round… the fine hand finishing of the frosted bridges married with wonderful beveled edges and black polish, speculaire combined in the harmonious architecture of its movement… and the dance of its 'whirlwinds'… magnificent…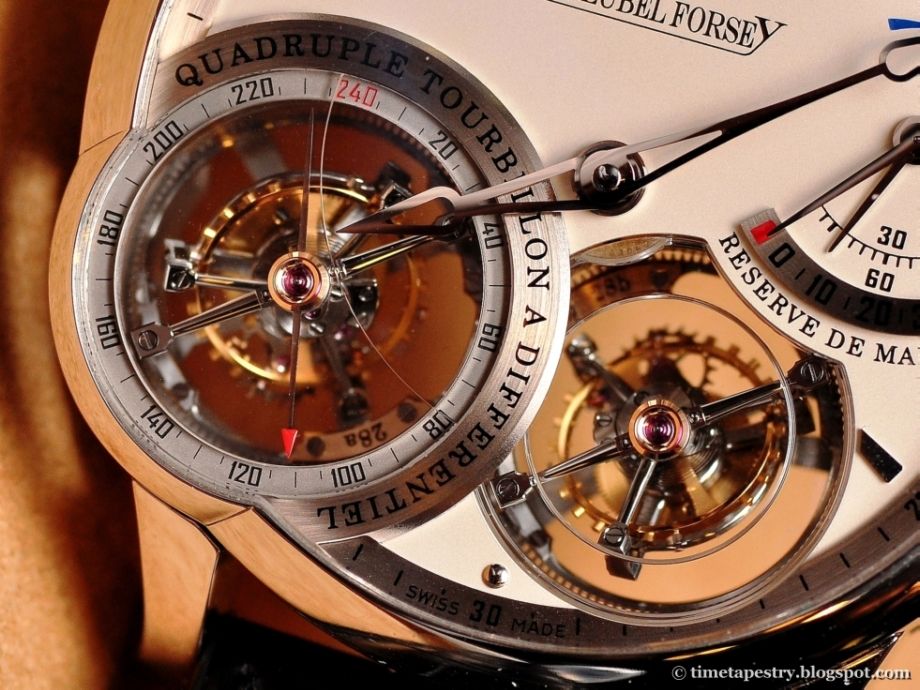 So who is responsible for crafting these fine testaments to contemporary horological art and science? Two gents from very different backgrounds… one from Alsace, France and one from St. Albans, England. One the son of a watchmaker and the other with a grandfather who worked in Bentley and Rolls Royce and a father who was an industrial chemist … their worlds came together when Robert brought Stephen into his team at AP Renaud et Papi and the rest of it? Well, its history in the making :) Recent deserved winners in the
Grand Prix d'Horlogerie de Genève 2009
[Double Tourbillon "Technique" was awarded with the "Best Complicated" prize during the Grand Prix d'Horlogerie in Genève 2009 and the Quadruple Tourbillon won the "Best Complicated watch" at the 2009 Asian edition] and a 2009 Prix Gaïa at the MIH for the 'Esprit d'entreprise', i think its safe to say that they will be receiving a lot more awards & plaudits in the future… [one to keep a look out for is the
Chronometrie 2009
competition organized by the Watchmaking Museum in Le Locle with results out 3 Dec 2009… the results of this will be most interesting, whoever wins it…]