sorry had to quote from Col Jessup there [if u don't get the reference, go watch 'A Few Good Men' the speech is a classic :) ] this post is about my perceptions & observations of the watch market in Singapore and on the notion of a willing buyer and a willing seller. It could apply to other watch markets as well but I won't choose to assume.
Some concepts to clear out of the way first.
FS prices = For Sale prices / asking prices.
These are NOT transacted prices. they are just prices sellers ask. Same as you opening the classifieds and seeing folks ask for crazy amounts for properties, it works the same way for FS ads from both watch dealers to folks selling their own pieces.
To see some examples of FS prices go to these sites:
Watchnet Luxury Time
,
Chrono24
, or Watch Forums with a Buy and Sell corner/marketplace... Timezone, Watchprosite, Watchuseek, Paneristi.com, Viapaneristi.com etc
Real transacted prices = what the price really is.
the prices that are actually done for a specific piece in its specific condition. No one publishes this as when a FS post is closed, nobody reports as to what the final price was done at. Of course for some pieces its even more difficult to establish the real price as they don't pop up to the market often or rarely do. for those perhaps there is no choice but to look at auctions but even then the auction prices may not be true. But for some pieces, eg. more well traded Panerais, APs, Rolexes, Pateks etc, their market prices can be somewhat established by the range of FS or real transacted prices(if u can get this info from a dealer) setting aside those that fall out of a certain mean. i.e. you will hear someone make a good deal of selling a S$10k watch for S$12k (hey thats 20% more) but if its a one off case and the buyer was a SUCKER than its a question of whether you can find more of such suckers. if buyers bother to do their homework, the S$10k price should be it.
(A) I'M RICH BEEYATCH -
the kind that has money to burn and don't care about asking prices so much. they never or rarely ask for discounts and buy whatever they want to buy. For rarer pieces, they are also open to paying premiums. Whats real wealth if you don't flaunt it a little ay? Best egs i know of would be Chinese tourists in Singapore with loadsamoney (dun ask where it came from yuh ;) or our friends from neighbouring South East Asian countries (Thailand, Indonesia, Malaysia etc) and sometimes even to our other North Asian friends that make their way here. Bring on the pricey Pateks and the blingy bling.
[Side point: The Chinese Are COMING!!!
Luxury goods is the game and China is rising in it. they have overtaken the US and now are behind Japan only. the wealthy there are spending loadsamoney on luxury products, some as gifts, some for personal use and uhm well i am sure theres a fair amount that go into luxury items coz of money laundering or tax evasion.
Based on the Hurun Report that looks at China's wealthy, out of 825,000 wealthy in China, 520k folks have between USD1.47 to 7.3mn, 165k folks have USD7.3 to 14.6mn and 14ok people have over USD14.6mn. now thats a lot of multi-millionaires but of course at the highest end they have a fair number of billionaires too. and of course again theres the undeclared rich folks :) ]
"i want some of these 5970s" overheard from a Chinese tourist with a BIG suitcase ;)
(B) Typical Singaporean Watch Buyer -
the "best deal" mindset is in play here. any watch shop or dealer they go to they will try and press the price and see how much wiggle room there is. some will push a little harder and some will just stop at getting a little. Sales people can gauge this type of buyer of course and what tactics are needed to keep them satisfied without the shop making too little.
(C) The Passionate Idealistic Buyer (ie. dumba$$) -
They believe watches should cost a certain amount based on their assessment of the value of the watch and it should command that price. eg. i look at Watch A and noting the level of innovation and technical creativity excellence that goes into it I price it at $X, where the real market price is $X-Y. Another watch its clearly art and should cost $Z but the market could be $Z-Y again. These are also influenced by list and Authorised dealer asking prices which are a reflection of real transacted prices but it could be because the buyers are all from Category A!! damn.
A note here I am a combi of B and C :) Sometimes get it right and sometimes being a dumba$$ on the assessment of pricing. I am pretty much familiar with some(note i said some and not all) Panerai and AP models but thats about it. Rolex is hard to call these days.
Onto the SELLERS... Some truths (in case u were blind to them :)
Watch dealers all of em, authorised or grey, are in it for the money. Some may say we wish to educate and enlighten, but its really saying that we hope you drink our kool aid and buy what we tell u to buy at the prices that we say it is. They aren't non-profit organisations and most or every event / every act is for one thing only, to get more revenues and profits. its not for love, its for money. some try to hide it some don't bother. some are better at hiding it than others.
Nothing wrong with this yes. If I went into business selling watches, I would want to profit from it as well and think up all means to do so. One of the oft used tactic is to keep them wanting more, keep em hungry (but not for too long lest they go for other prey). You want this watch? its not available. We're sold out. but let me know what u're looking for and i will see if i can get it for you. All this said while there are 10 pieces of that watch in the shop safe just as an eg. What they get then is some leverage on the relationship when they produce the watch to you and are willing to give you the best price they can offer. But this is just one eg. Do what needs to be done to sell the luxury watch. Assess the buyer, what sort is he and go in for the deal.
Of course there are some who are not so hungry and don't bother with these things at all. This is the price if you want it at this then fine, if not its ok. Some can hold stock without issue and some just want to do the turn. sell and move on. Sales people and branch managers have sales quotas too yuh and after they see you for a bit they probably start to see
$ signs as to how much you contribute to their quotas or have potential to in the near or long term.
The smart sales folks who are in it for the long haul look to establish long term relationships with local watch buyers, recognising that a person who is hot for watches will spend a certain amount of money on watches in a year and they would want them to keep coming back to them. nothing wrong at all in this as its their business.
integrity is important though so hopefully they know not to screw customers over on things like servicing costs. one can hope and pray :)
I have purchased watches from the first 2 but not Cortina so far. I have helped friends close deals for all 3.
View on grey market dealers
They are opportunists and theres nothing wrong with that. They look to profit from arbitrage opportunities where in one market, Market ABC, a commodity costs $11k and in another, Market XYZ, it costs $16k, they buy said commodity from Market ABC and sell it to someone looking for it in Market XYZ at $14k and make themselves and the buyer in market XYZ happy. Win win no? They could be buying from Authorised or grey market dealers or pre-owned pieces in Market ABC but often they will be selling to retail buyers in Market XYZ to make the most profit.
Some grey traders do play certain games though to boost market price of pieces. like using folks to post WTB ads or do supposed deals of watches on the net at certain prices to give the impression that the watch was done at that price. Just watch out for these and don't get suckered as much as possible yuh. [of course the opposite exists as well where some folks might want to try to push prices down by doing the opposite but these things rarely succeed.]
Hmm actually its kinda like Watch House A buying its own pieces at auction at inflated prices. After the auction is done and memory of who actually paid $X for it is faded, people will only remember that model went for $X. Sellers of that watch might only emphasise the amount paid and never mention that it was bought by Watch House A. Easy to burn folks who don't do any homework with this.
Another tactic is selling watches not as described. Eg. A used watch as new. A polished watch as non-polished, a serviced watch as unopened and LNIB etc.
Again although some get up to shenanigans, most of them are fine but its hard to vouch for anyone as your experience with them may differ from my experience with them. So while Person 1, 2, 3, 4, 5 had a good deal with them, Person 6, 7, 8 may have had a bad experience with them so it is tough to make any recommendations.
So to non-authorised dealers in Singapore [Note all this is information available online HERE or at paneristi.com or viapaneristi.com sales sections. I am just putting just a little bit of it on my site. I am not mentioning all in that web page here but those i have had some exposure to or had good or fair dealings with.]
With Websites(u can click on the links to see whats on offer):
Kenneth Chen & Barry, Collectors Haven, 5 Balmoral Crescent (Inside VIP Hotel) Singapore 259895 Email: kenneth.kc.chen@gmail.com Tel: 68366789/98580988 - Deals with a range of watches and has a fair bit of PAMs and APs. Kenneth has been good to deal with for me personally and a good guy to speak with.
Horological Restoration Centre at Lucky Plaza #02-102 Tel: 68362179 - Diversified offering.
Without Websites &

Panerai Focused
William Loi and Philip Loi Email: loikc107@singnet.com.sg Philip Loi Tel: 96382438 - Only deals in new pieces from ADs and does not do pre-owned. Good dealing with them personally.
Time Will Tell, Richard and James, 35 Selegie Rd, #04-09 Parklane Shopping Mall, Tel: 63331608 - Call before u go down as their opening hours seem erratic.
The thing is you can get good deals from some of these folks. An example:
lets look at richard mille timepieces. i do like the styling of many of their pieces but the prices are staggering. take the RM11 for eg. it is the hot watch for them with multi-color variants popping up. list prices for it in gold is above S$140k and in Titanium around S$130k if i'm not mistaken. at the boutique, i think you won't be getting much in way of discounts, maybe 10-15%. Authorised Dealers may start off with a 20% discount wif a little bit of wiggle room because the margins are so damn high. lets say for eg the best deal from them is 20%+5% its still above S$105k.
the grey market guy is offering the same piece for high 70s in titanium and low 80s for gold. So for a gold RM11, you could make a 20k saving right off the bat. Thats one steel AP ROO there :)
a slightly more expensive RM11 variant...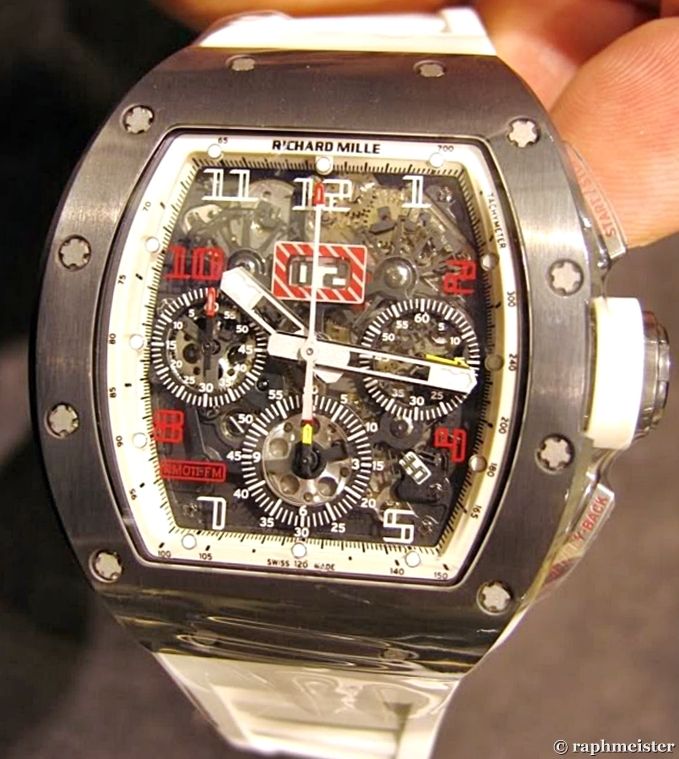 & you can get burnt too... Example 1:
You buy a watch from them and when you want to sell it back to them or trade with them for another piece, they will tell you that theres not much demand for this model anymore and they have so many of these type of pieces in the shop blah blah blah. so u can get screwed too with those who deal with pre-owned pieces.
Example 2:
when you pop into the shop, shop owner comments on what a great watch it is and how its doing so well on prices. next time when you come in to want to sell, they say this is the price I will take it in at which is a super crap price. sh!t happens.
For the watch brands to control this circus on pricing, they have to maintain supply at the right level. work together with their authorised dealers for the right balance. its luxury, so they have to work together to manage the products' exclusivity, manage the discount policies in place in different markets closely and ADs will need to inventorise effectively.
ok enough of that. this is all NOT what's important to folks who are passionate about horology and do genuinely love timepieces. this is just sharing of info and a view and you may disagree. End of day, I still hold by and recommend that u
(1) buy what u love, wear what u buy and enjoy it.
if for any reason you need to sell a piece u buy one day than at least know what u may be in for.
(2) go into the purchase eyes open, dun do it for investment but know what it may cost you.
other than servicing costs every X number of years(u determine X), theres the potential gain/loss (mostly loss or >90% of the time it will be a loss) on the secondary market if u have to move your watch one day
[Eg. Sure by all means buy Watch X from XYZ company because you absolutely love it but do it knowing that you may lose more than 30-40% of what you really paid for it if you do wish to sell it right after you purchase it. if u buy pre-owned its not so bad a hit as compared with buying brand new though yuh]

, either for another watch u want or for a rainy day(which i hope never happens to anyone i know or u dear reader :)
thats it for now. let me know your thoughts if any. cheers, raph
highly exclusive but more importantly... real art in the watch world... skip over the bs for a change :)