some of the finest steel tool sports watches ever made (why do i say that, coz i own em man ;) haha
following on from the last post, i wanted to zoom in on one aspect first and that is
the love of exclusivity & my take on it, which is... SET IT ASIDE some of the time :)
not all of the time but some of the time. now if u were focused on exclusivity you would only buy and wear the rarest pieces... piece uniques and ultra limited editions with 100 pieces or less. these may cost a lot and of course no one might know them as they're sooo exclusive ;) now even if u don't mean to be showy, if u have a lets say >$100k watch strapped on u would appreciate some recognition at least from connoisseurs, enthusiasts and watch salespeople am i right? right right right

[see 'groundhog day' for ned ryerson]
ok but back to my point... u dont have to be wearing your most exclusive watch(es) all of the time. collectors invariably will have different types of watches and will love different expressions that we simply have to have. so onto this post then which is about wearing watches that
many others will own as well
;) and
loving different expressions part II - the luxury steel sports watch in full effect... [to read part I click here]
first of all... why steel? its just the right metal for it.
with new fangled materials u aren't sure if u're gonna smash it, break it, scratch it and not be able to fix it. eg. it might require you to replace the bezel or case and thats gonna cost. with pvd dlc black cased watch u will scratch off bits of the pvd over time and if u wisht to re-pvd/dlc it, it will be at a fair amount too. even titanium if dinged may be a problem.

so stick with steel.

ANY watch servicer can deal with polished and brushed surfaces of the steel watch. watches that can be worn hard are made of steel not some new material that if u dropped from 5 feet would shatter. golds or platinum are heavy and more pricey and don't fit the whole sports watch thing being overly flashy and non-tool-ish at all and if u ding them u are gonna be crying.
sports watch or pseudo sports watch -
u aren't meant to do anything sporty with these yuh. just like u should be using a dive computer on dives and not a rose gold dive watch from any of the haute horlogerie houses. they are meant to have a sporty aesthetic and feel about them and thats it. some have the looks of dive watches but have miserable water resistance ratings of 30m (which means you shouldn't even be bringing em in the shower ;)
so what should they have at minimum? they should have robust movements... be durable, reliable and totally unafraid of being worn hard... from desk diving to dips in the pool or ocean, from boardrooms to war zones, outer space, lunar landings to panamanian jungles or used in fighting in built up areas... they shouldn't be too costly as they really are meant to be daily wearers. all the ones noted in this post can or could be obtained below S$10k (at one point in time at least).
a great movement in a great watch... cal 321... nouvelle lemania 2310 in the omega speedmaster... the first watch worn on the moon...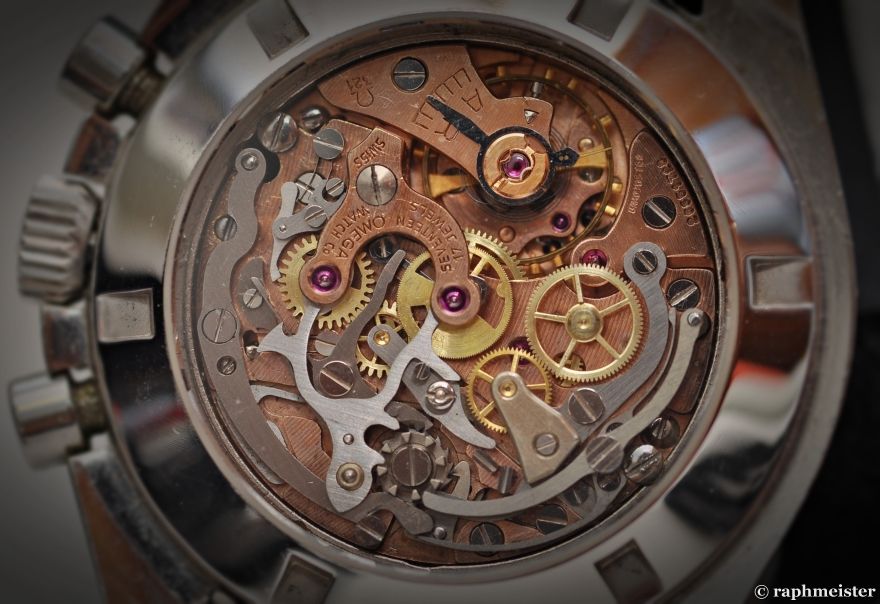 these then are [to me] some of the finest steel sports watches made that live up to this and deliver in spades.

..
vintage n modern no date submariner and gmt...

the vintages 5513 and 1675 are 40+ years old and are going very strong. these watches were made to last. the modern no date 14060M is just a great first real watch.

the omega speedmaster moon watch...

what more can be said. read this review i did. if it could survive all the torture tests thrown at it and be ultra reliable for moon missions, it is the benchmark. undervalued and should be priced higher in future. lemania 2310 calibre which is a great chrono cal. just ask patek ;)

the PAM000 base logo...

the closest thing in the current lineup to the panerai logo of past, the 5218-201A. solid case back and a decent depth rating of 300m

(corrected from 100m...DOH!)

. yes u can swim with it without worries :)
and drumroll please... INCOMING!!!

the latest addition to the collection...
the
PAM232
... Panerai Special edition with 1938 pieces made in 2006 and 40 pieces Out Of Range (OOR) made in 2009 [if i am not mistaken]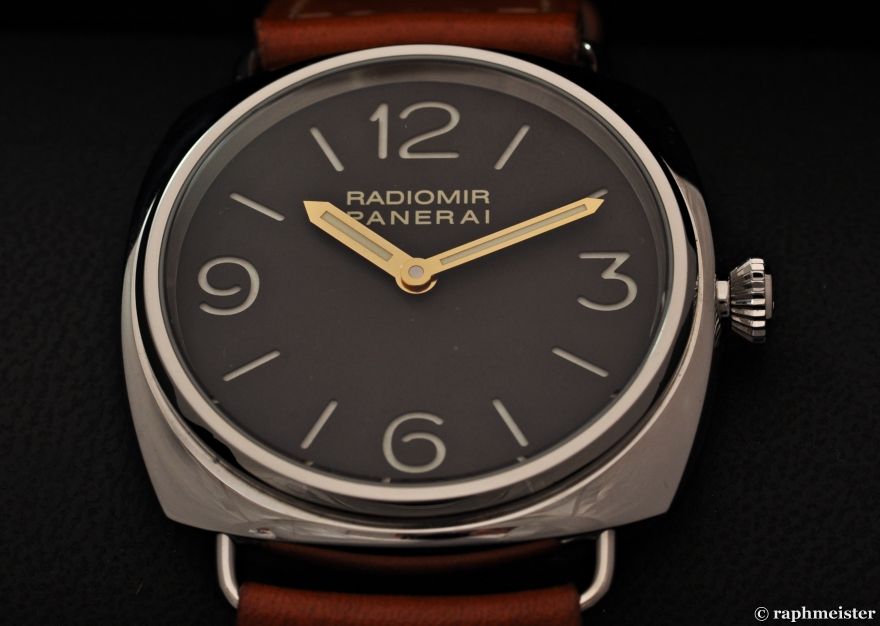 Why the 232 just makes a lot of sense and is Totally the Right Buy for a Panerai :) [well for me at least]
a hommage of the 3646 which was the first production Panerai did in 1938 and worn by the Xmas italian naval submersible units... its got all the DNA of that watch and the PAM21 (which is out there at asking prices of >US$200k!!??!! which is jus crazy)
its huge beautiful dial just brings a smile to my face when i look at it :) it must be love [note its on the original not so great strap that comes with the 232... over time it does take on a nicer patina though ;) ]
The 232 at most dealers is going for low S$11k to low S$12k depending on condition and whether the dealer is based in US, HK or Singapore. in 2006/7 when it was released to the market it could be had for low S$8k and some may have transacted below that. this then slow and steadily increased over time. in 07 it was goin for S$9k, in 08 it moved to high S$10k region and now in early 2010 its bout S$11-12k.
officine panerai... OP logo on crown in a great 47mm radiomir case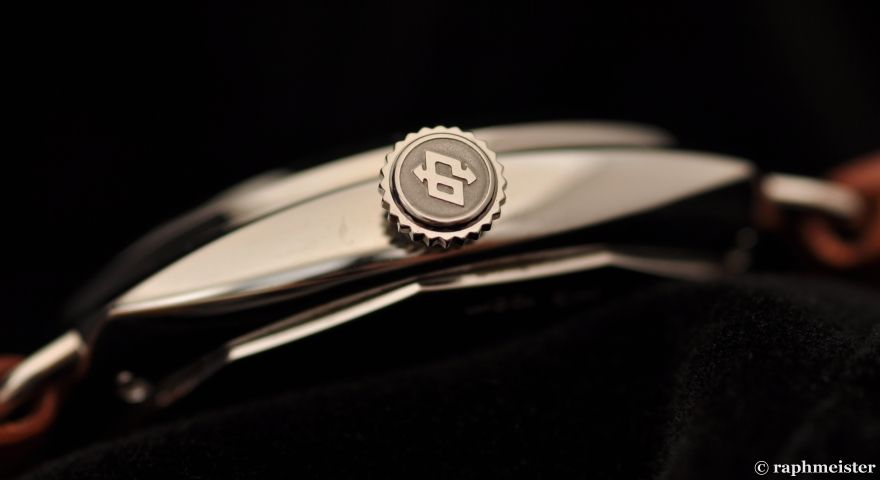 Some folks may be thinking why not go for a PAM210 and upgrade it to gold hands? well its a modification. not everyones comfortable with doing these mods as it makes the watch un-original, meaning it has changed from its actual form that it was sold by the manufacture or watch house. the 210 though retails for about US$3.5-4k and with the mod its just a bit more so u get a 45mm radiomir base with gold hands and sapphire back if thats what calls to u for less than half of what the 232 goes for now. but it ain't strictly original u know...
a good balance between them... one sandwich dial, one painted dial... one radiomir case, one luminor case... one tobacco dial with gold hands, one black dial with black hands... both bases... both closed backs with decent depth ratings... both with A LOT of brand DNA going for them...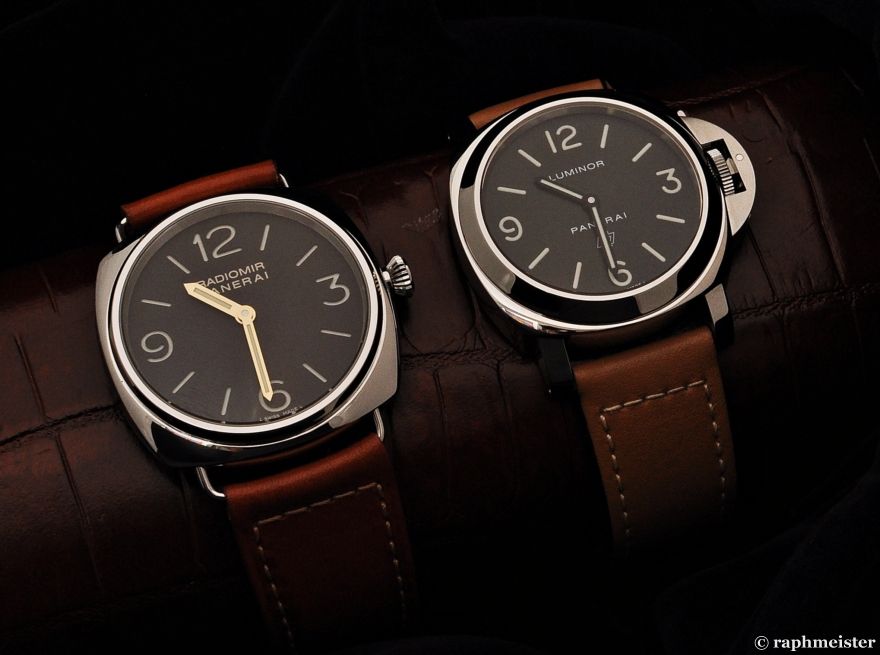 yes u can even read watch books, magazines and panerai catalogues by the light of their lume ;)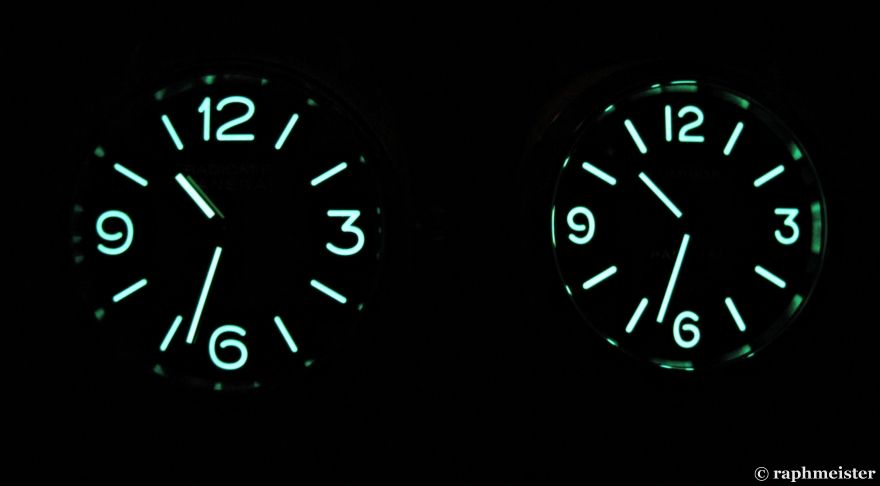 to conclude...
these watches are bombproof (not literally yuh so dun blow them up with c4 or somethin but u know what i'm getting at, well at least i hope u do :) ultra reliable and robust with decent depth ratings so u can lounge by the pool with them ;) if u need to rationalise your purchase and justify why u spent what u did on these babies, they certainly can do better than 'uhm they tell the time'... good looking STRONG watches that are highly versatile and go with work attire(shirts and suits) to weekend wear(jeans and berms) and all below S$10k list to boot. why don't u have one already? :)
[last bit of course meant for those who don't hv a tool steel sports watch yet yuh and you don't have to restrict your selection to these. there are offerings from other brands under richemont or swatch group that may fit the bill for u. thats all then, signing out]
and one more of my raddy with new shoes baby... yeah baby yeah!! I love the smell of gator leather in the morning ;)
and a last group shot :) my steely lovelies...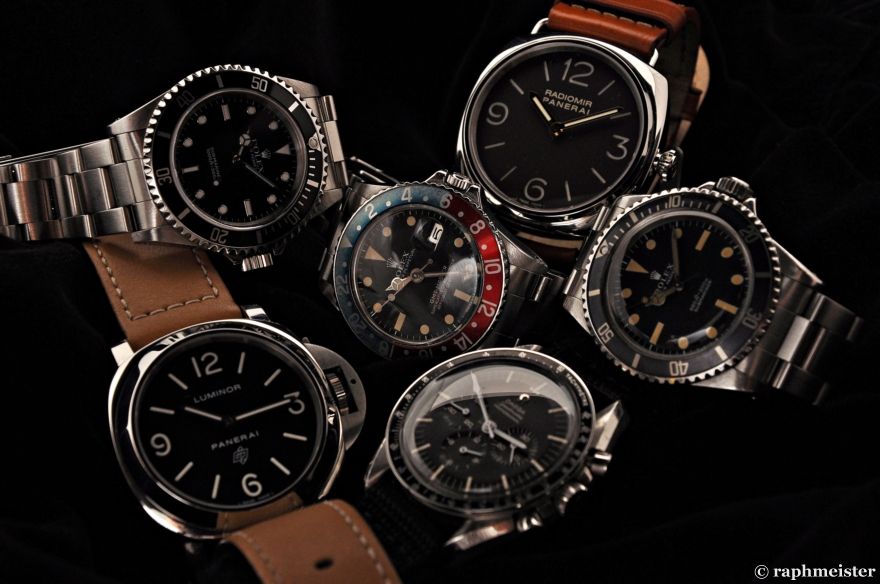 cheers, raph